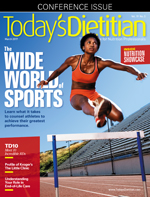 March 2017 Issue
The Wide World of Sports
By Lindsey Getz
Today's Dietitian
Vol. 19, No. 3, P. 20
Learn what it takes to counsel elite athletes to achieve their greatest performance.
Food fuels the body—that's true for everyone. But when it comes to competitive athletes, the right fuel can play a dramatic part in their performance and overall success. That makes the role of the sports dietitian integral to an athletes' training, whether they're at the amateur or professional level. It's a big responsibility that's both exciting and challenging. Sports dietitians say they enjoy the opportunity to collaborate so closely with athletes who want to be at the top of their game. But it also takes tenacity and much confidence to work with some of the world's greatest players. When working with athletes who are striving for greatness, sports dietitians must always be at their best—and there's a great deal of pressure that goes along with that.
Today's Dietitian (TD) recently caught up with some of the nation's most successful sports dietitians, and they all stressed that sports nutrition isn't exactly an entry-level career—at least when working with athletes at the professional level. Highly competitive athletes are seeking nutrition counseling from experienced professionals who have built up an arsenal of knowledge based on tried-and-true practices. The only way to really succeed in doing that is to have been practicing in the field for some time.
TD speaks with five different sports dietitians about what it takes to practice sports nutrition, what they love about it most, and how they're implementing strategies that really work.
Value of Knowledge and Experience
The world of sports nutrition is undoubtedly exciting. It often involves dealing with performance-driven clients looking to implement the best nutritional practices to fuel their bodies. That equates to clients who are ready and willing to listen—at least most of the time. The dietitians TD speaks with say that although most clients are eager to implement nutritional strategies, there can be challenges in sports nutrition similar to what dietitians face in regular practice. This may include chronic diseases, eating disorders, or even a disagreement over what's truly best for that individual. Of course, athletes aren't exactly your everyday clients. While the average person likely doesn't have much nutrition knowledge, most athletes do.
"The athletes I work with are savvy and they know a lot about nutrition," says Nancy Clark, MS, RD, CSSD, an internationally respected sports dietitian and author of the best-selling Nancy Clark's Sports Nutrition Guidebook. Those clients, over the years, have included members of the Boston Celtics and Bruins, and various collegiate and Olympic athletes. Clark recently finished out a contract as the Boston Red Sox team dietitian in order to focus on her Newton Highlands, Massachusetts-based private practice for her elite athlete clients.
Clark says that working with top-performing athletes typically means you're not starting with the basics. That's where plenty of experience and know-how on the part of the dietitian come into play. Successful athletes are looking for more than a rudimentary lesson in nutrition.
"These are individuals who know how to read labels, are quite familiar with quinoa and kale, and already have a really good concept of what's healthful," Clark says. "When they seek me out in private practice, it's typically because they've come upon a problem they can't solve themselves."
And that's where Clark turns to her experience. The other dietitians TD speaks with echo a similar sentiment: The more background knowledge you have, the more value you bring to the table. Leslie J. Bonci, MPH, RD, CSSD, LDN, owner of Active Eating Advice in Pittsburgh, says that sports dietitians become "invaluable when they can provide expertise across the board." Bonci started out in the field of public health. Her very first job was working at a cardiac and wellness center before she ultimately started working in sports nutrition for the University of Pittsburgh and its collegiate athletes. Bonci also was the sports dietitian for the Pittsburgh Steelers for more than two decades and has worked for the Pittsburgh Penguins and Washington Nationals, among many other teams.
To gain experience across the board, Bonci says that aspiring sports dietitians can't "pick and choose what they want to learn." They have to put in the time logging those clinical hours to provide the best services to athletes. She says it's a matter of "paying your dues" in order to have a full-scope understanding of dietetics.
"That clinical background is so important in sports nutrition because a lot of athletes come with baggage," Bonci says. "They have hypertension, diabetes, and disordered eating, too. First and foremost, you must be a registered dietitian. Only then can you really hone in on sports nutrition."
Of course, experience also leads to better results. As someone who has been practicing sports nutrition for several years, Cynthia Sass, MPH, MA, RD, CSSD, sports nutrition consultant for the New York Yankees as well as a private practice sports dietitian in Manhattan, often uses case studies (without using actual names) about experiences and outcomes she's had with other athletes. Sass has a good sense of what works—and what doesn't—because she's already worked with many athletes and learned from those experiences.
A Day in Sports Nutrition
It's hard to pinpoint what a typical day as a sports dietitian looks like. One of the most exciting aspects of being in the sports nutrition field is that every day can be different. The dietitians TD interviewed all say they've had varying roles and responsibilities over the years depending on the teams and the athletes with whom they've worked. The ability to adapt to an ever-changing schedule also is part of what it takes to be a sports dietitian.
"Being a sports dietitian is not a nine-to-five job," Bonci says. "A sports dietitian must be able to be extremely flexible, as that's just the way sports can be. You have to be ready to work weekends and holidays and willing to adapt to changing schedules."
For Bonci, that has meant being able to adapt a 25-minute nutrition talk into five useful minutes when told on the spot that was the only amount of time she'd get to address the Steelers on their opening night of training camp. Bonci says a sports dietitian must have the ability to "react on the spot," and constantly adapt. As the first female to ever address the team, Bonci says that not buckling under pressure meant everything in being hired.
Sass also has dealt with the challenges that schedules can pose. In baseball, there's very little down time and no "practice days." That means trying to carve out time to talk with players pregame—which Sass admits isn't always easy. Like Bonci, she often finds she must fit in a condensed counseling session while truly on the clock so players can get out on the field. Sass works one-on-one with Yankees' major league players and also collaborates with their culinary team and sports medicine staff.
Being a sports dietitian often means giving "talks" to players both as a team and in that one-on-one setting. But it also can mean performing many other unique tasks. Mitzi Dulan, RD, CSSD, coauthor of The All-Pro Diet (cowritten with shoo-in National Football League Hall-of-Famer Tony Gonzalez) says she has done everything from taste-testing team food to grocery shopping with players or their wives. Dulan has worked with the Golden State Warriors and the Kansas City Chiefs, and spent the last 11 seasons with the Kansas City Royals. However, she recently finished out a season with the Royals to launch her own food business simplyFUEL after having great success with the protein balls she had been making for players. In working with professional athletes, Dulan says she learned that they often appreciated that she always wanted to ensure they were eating food that wasn't only healthful but tasted good, too.
"I remember when I started ordering sushi for the KC Chiefs every Wednesday, as I knew they would love it," Dulan recalls. "Some other folks weren't originally sold on the idea, but we ran out of sushi that first time. It was a big hit and became a staple for lunch every Wednesday during the season."
Like Dulan, all of the sports dietitians interviewed say their roles often extend beyond nutrition talks and counseling. Bonci says she has worked with hotels and airline carriers to ensure the athletes were still meeting their nutritional needs on the road. And she has traveled with teams and been available on the go.
In private practice, Sass says that in addition to counseling, she often coordinates with players' personal chefs on their menus, portion sizes, and meal timing. She also has created personalized meal plans and tailored recipes, consulted on dietary supplements, and provided advice on hydration products.
Rebecca Scritchfield, RDN, HFS, author of Body Kindness and honoree of this year's TD10, runs Capitol Nutrition Group, a counseling practice in Washington D.C., and sees many collegiate athletes and serious youth whose goals often are to pursue a professional career. As part of her counseling, Scritchfield does home visits where she shops, cooks, and eats with her clients so they can get a real experience in all the factors that influence their food intake. During home visits, she'll also peek inside their pantries to offer advice on what foods they may have to eat less of, eliminate, or include more often in their diets. Scritchfield also may help monitor weight and review food journals as her athletes aim to adjust their performance goals.
"Based on problems or complaints, we'll talk specifics about prefuel needs [and] recovery needs, and generate food ideas," Scritchfield says. "I have athletes write out their notes and goal sheets, and I review them. I find they're more engaged this way."
Engaging With Athletes
On top of everything else that sports dietitians need to be, perhaps above all else is the ability to be engaging. There's simply no room to make a difference if dietitians are unable to keep athletes' attention. Of course, as mentioned previously, the time constraints and the ability to work on the fly can make this a challenge, but the dietitians interviewed all say that being creative really can help captivate their audience.
Clark says that keeping talks interactive is a huge key to success. She often uses pop quizzes to test athletes on how much they know. For instance, she may ask, "Which has more sodium: a bottle of Gatorade, a slice of bread, or a packet of potato chips?" Questions and interaction keep athletes involved. Clark says she also tries to keep her coaching very food-oriented. She says many athletes and trainers already know much about nutrition—but don't always talk food specifics.
"In other words, these athletes already have been taught a lot about carbs and protein and fat," Clark says. "They might count calories so much that they know more about it than you. Instead of talking about those things, I talk about oatmeal and broccoli and oranges. I make it about real life. About what you can actually eat to get those nutrients you need. Sometimes it's a challenge to convince athletes that food works. There's been such a shift toward engineered food and drinks, and they sometimes think they're better, but that's not what the science says. There are so many wonderful nutrients in real food that you won't get in engineered foods and drinks."
To keep athletes engaged, Bonci has substituted traditional lectures for cooking demos. She says that by actively participating, athletes are gaining knowledge and cooking skills at the same time. She has done a variety of cooking demos and admits they can be overwhelming if doing them with a large team and on a budget.
"I've done some large demonstrations with the help of students that were chaos but also a lot of fun," Bonci says. "The athletes will really get into it and appreciate that they have some ideas for things to make—and how to make them—when they're on their own."
Of course, it's often just a matter of being specific with players and about their needs, as these can vary. Sass says some players may be focused on reducing body fat, gaining muscle, or both, while others may be working on injury recovery. Still others may have special diets such as gluten-free or dairy-free. All of this must be taken into account.
Dulan points out that working on nutrient timing with players also is important. And recovery nutrition is one of the very first assessments she'll do with players.
"I want to make sure they're getting their protein plus carbs in a liquid following their workouts and I would bring Organic Valley Fuel into the clubhouse," Dulan says. "I also want them eating immune-boosting foods like fruits, vegetables, nuts, and seeds."
While some players are aiming to lose weight, others are trying to gain. Dulan says with weight gain players she'd always encourage dried fruit, nuts, and boosting calories in their smoothies.
At the end of the day, like any form of nutrition counseling, sports nutrition often comes down to what works best for the individual. Scritchfield says she has learned from Clark and her book that "nutrition can make a good athlete great or a great athlete good," and she finds athletes are motivated when they learn the potential of nutrition to improve their performance. She encourages an "athlete's plate" instead of calorie counting. Working with their favorite foods, Scritchfield will recommend portions based on hands, fists, and fingers. She finds that they're much better at visually estimating portions than weighing or measuring. It's these types of strategies that help athletes implement real-life changes.
Finding Joy
The field of sports nutrition obviously involves a great deal of work, but sports dietitians say it's also incredibly rewarding. Often, these dietitians get to know their players well and work closely with them and sometimes even their families.
Clark says there's a tremendous amount of satisfaction in helping athletes transform food into "high-performance fueling." She particularly enjoys working one-on-one and seeing her clients implement changes.
Similarly, Bonci says that watching an athlete become successful and knowing you had at least some small role in that success is extremely gratifying. She says a winning athlete is a "team effort," but at the end of the day, dietitians must realize it's the athlete who gets the credit.
"We're the pit crew, and they're the drivers," Bonci says. "You go into this field knowing that the athlete will be the one getting all the glory. But just knowing that you were a part of something great is incredibly exciting and worth all the hard work."
— Lindsey Getz is a freelance writer based in Royersford, Pennsylvania.