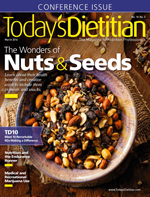 March 2016 Issue
Culinary Corner: Artichokes
By Jessica Fishman Levinson, MS, RDN, CDN
Today's Dietitian
Vol. 18 No. 3 P. 66
Spring into a new season with this versatile, antioxidant-rich vegetable.
Spring will soon be in the air and with it comes a whole new crop of fruits and vegetables. Artichokes are in their prime in the spring and are fun to eat and enjoy. Clients may shy away from cooking with artichokes because of their prickly leaves and the prep work required to get them on the table, but they're well worth the effort for their delicious flavor and amazing health benefits.
It may be surprising to learn that artichokes rank at the top of the list of fruits and vegetables for antioxidant properties.1 Two phytochemicals in particular, silymarin and cynarin, may play a role in promoting liver health.2 Artichokes also are an excellent source of fiber and a good source of potassium, both of which are among the nutrients of concern, according to the 2015-2020 Dietary Guidelines for Americans. Other nutrients clients can benefit from when eating artichokes are vitamin C, magnesium, and folate.
Moreover, there are many varieties of artichokes, including baby, long-stem, heirloom, and the most common, globe artichoke. When purchasing, your clients should look for olive green artichokes that are heavy for their size and have tightly closed leaves that squeak when rubbed together. Artichokes are best eaten fresh, but can be stored in the refrigerator for two to three days.
While there are many ways artichokes—and their prized hearts—can be enjoyed, my favorite way to serve them is also the most fun. Artichokes are simmered in seasoned water and then served with a vinaigrette or your favorite dipping sauce to be savored leaf by leaf, scraping the meaty flesh off the leaf until you get to the artichoke heart. The fuzzy top of the artichoke heart should be thrown away before digging into that prized possession.
— Jessica Fishman Levinson, MS, RDN, CDN, is a New York-based nutrition consultant, writer, and recipe developer, and the founder of Nutritioulicious (www.nutritioulicious.com).
References
1. Halvorsen BL, Carlsen MH, Philips KM, et al. Content of redox-active compounds (ie, antioxidants) in foods consumed in the United States. Am J Clin Nutr. 2006;84(1):95-135.
2. Féher J, Lengyel G. Silymarin in the prevention and treatment of liver diseases and primary liver cancer. Curr Pharm Biotechnol. 2012;13(1):210-217.
Artichokes Vinaigrette
Fiber-rich artichokes are cooked whole and served with a lemon Dijon vinaigrette for dipping. Enjoy the meat of the leaves until you get to the prized artichoke heart.
Serves 4
Ingredients
Artichokes
2 large or 4 small artichokes
1 lemon, cut in half
Small handful black peppercorns
2 sprigs thyme
1 bay leaf
Kosher salt
Vinaigrette
1 clove garlic, minced
2 tsp whole grain Dijon mustard
2 tsp low-fat plain yogurt
4 tsp lemon juice
1 T extra-virgin olive oil
Directions
1. Pull off the short, tough outer leaves of the artichokes and cut off the top half inch of each. Using kitchen shears, trim off the sharp points of the remaining leaves. Cut off the stem at the bottom of each artichoke so the artichoke can stand upright. Rub the top and bottom of the artichokes with one-half of the lemon.
2. Fill a large, straight-sided sauté pan halfway with water. Slice the remaining half of the lemon and place in the water along with the peppercorns, thyme, bay leaf, and a large pinch of salt. Bring to a rapid simmer.
3. Add the artichokes to the pan and simmer, covered, until tender, about 20 to 30 minutes, depending on the size of the artichokes. Remove artichokes from pan and set aside to cool slightly before serving.
4. In a small bowl, whisk together the garlic, mustard, and yogurt. Add lemon juice and oil, and whisk until dressing is emulsified.
Nutrient Analysis per serving
Calories: 75; Total fat: 4 g; Sat fat: <1 g; Trans fat: 0 g; Cholesterol: 0 mg; Sodium: 129 mg; Total carbohydrate: 10 g; Dietary fiber: 5 g; Sugar: 1 g; Protein: 3 g; Vitamin C: 12 mg