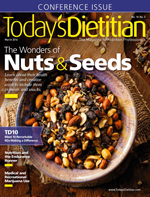 March 2016 Issue
TD10 — Today's Dietitian's Seventh Annual Showcase of 10 RDs Who Are Making a Difference
By Lindsey Getz
Today's Dietitian
Vol. 18 No. 3 P. 38
Becoming a dietitian is no small feat, but the journey is exciting and rewarding for many as they look forward to countless opportunities to counsel clients and patients in various health care settings; spread nutrition messages through public speaking, books, and social media; help stamp out hunger through charitable organizations; become a voice of sustainability and sustainable food systems; and become media spokespersons.
Most, if not all, RDs work hard in the field of dietetics, but there are those who do far and above what's expected of them. They're making a huge difference in their local communities, nationally, and even globally. Each year Today's Dietitian (TD) asks our readers to nominate colleagues and mentors they believe are going above and beyond their call of duty to make a positive impact in the dietetics field.
In honor of National Nutrition Month® and Registered Dietitian Nutritionist Day, TD has chosen 10 outstanding dietitians who deserve recognition for their exceptional work in the field. Some of them are entrepreneurs, authors, and leaders in clinical care, foodservice, community nutrition, and sustainability. They're motivating employees to do their best work each day, offering nutrition education and counseling services to clients and patients locally and abroad, and providing healthful meals to food insecure and underserved populations. We hope you're inspired by their stories as much we are and will continue to do the amazing work you do in the nutrition profession.
Jenny Westerkamp, RD, LD
CEO and Founder of All Access Internships in Chicago
The level of competition for securing a dietetics internship is fierce with the acceptance rate hovering around only 50%. As Jenny Westerkamp began the process of applying for an internship, she recognized a vital need for more resources and guidance. Instead of becoming frustrated, she set out to create a one-of-a-kind company that would provide the resources she felt were missing.
In April 2008, Westerkamp founded All Access Internships, a company that provides one-on-one coaching, résumé writing services, Q&A sessions, study materials, and live webinars for students applying for dietetics internships. Whereas Westerkamp once felt as though she was on her own in searching for that perfect internship, students can now turn to the supportive virtual community that All Access offers. As a result, students learn from one another along the way. The concept is unprecedented, and it was created when Westerkamp was only 21 and still going to school. She says she spent her days doing her dietetics student duties and her nights building the business.
To date, Westerkamp and her team have helped thousands of dietetics students get into highly competitive internship programs. She says the "Thank You" e-mails that come in from former students who say their "dietitian dreams" have come true regularly inspire her. Though her profit is made through various coaching and teaching services, Westerkamp also offers several free resources, including some of the webinars and blog material.
"I was lucky to have a lot of mentors when I was starting out," Westerkamp says. "Now I have the opportunity to give something back."
Lindsay Keach Bronstein, MS, RDN, LD
Manager of Nutrition Services at Community Servings
Lindsay Keach Bronstein began her professional life in the fast-paced, creative world of graphic design. She put in 12- to 15-hour days—and the occasional all-nighter—directing photo shoots, but a 2001 diagnosis of Crohn's disease stopped her in her tracks.
Because of this major health crisis, Bronstein took much time off. But she says through dietary experimentation with foods she could and couldn't eat as well as lots of nutrition counseling, she discovered "how powerful food can be—particularly for chronic illness." For her own edification rather than making a conscious career change, she entered a dietetics program, but says it didn't take long for her to realize it was what she was "meant to do."
Since securing her dietitian credentials, Bronstein has worked in several roles. While living in San Francisco, she devoted approximately 75% of her time to private practice work and 25% to nonprofit work. But when she moved across the country to Boston, she decided to devote more attention to nonprofit work.
Today, she serves as the manager of nutrition services at Community Servings, a not-for-profit food and nutrition program in Massachusetts that provides services to individuals and families living with critical and chronic illness. Each week, Community Servings prepares and delivers 9,600 free lunches and dinners to the homes of almost 1,600 individuals and families who are homebound because of illness. Bronstein also conducts individual nutrition assessments and provides counseling for all clients, as well as oversees the nutrition education programming, including curriculum, recipe development, and workshop implementation.
"This role has given me the opportunity to also do teaching and speaking, which is something I love," Bronstein says. "So often with illness the focus is restrictive—what the person can't have. What I love is showing people what they can have. It's incredibly rewarding to help people fall in love with food that makes them feel great."
Amanda Mullane, MS, RD, CDN
Clinical Nutrition Manager at Jersey City Medical Center
After graduating from New York University, Amanda Mullane went to work as a high school math teacher in New York City, while finishing her schooling in the evenings to turn her minor in nutrition into a full-fledged RD credential. But after transitioning into the clinical setting to complete her dietetics internship, Mullane fell in love with the field.
In 2014, Mullane left her neonatal dietitian job in Newark, New Jersey, and came to Jersey City Medical Center as a clinical nutrition manager, bringing both passion and a whirlwind of change to the hospital. In less than one year, Mullane revamped the hospital screening process to make it more comprehensive for patients, increased the presence of dietitians by giving presentations on nutrition during rounds, and created a new neonatal dietitian position, which she filled herself, in the neonatal ICU. Though Mullane says the hospital was already "baby and breast-feeding friendly," there was no neonatal dietitian on staff. Mullane believed there was a need and lobbied to handle the position herself—on top of her other responsibilities.
But it's Mullane's ability to inspire and motivate employees on a daily basis that sets her apart. She created a coupon club to encourage employees to buy more healthful foods, started a running club to inspire workers to exercise, and hosted a health fair during National Nutrition Month® to give employees access to local discounts for things like yoga and fruit smoothies. On a daily basis, Mullane goes above and beyond to keep her employees excited about coming to work—even though the job of caring for the critically ill can be challenging and seldom cheerful. Mullane says she does it because dietitians are an "essential part of the medical team." Her goal, every day, is to "empower dietitians to feel valuable and to know that what they're doing is important work."
Molly Parker, RD
Founder and Managing Director of Turambe Nutrition in Rwanda
After briefly visiting Rwanda in the summer of 2014, Molly Parker knew she'd be back. She'd fallen in love with the country and its people. What she didn't realize was that she'd make Rwanda a more permanent home. In February 2015, Parker moved to Rwanda from Arkansas and founded Turambe Nutrition, a nutrition consulting service that teaches evidence-based and sustainable nutrition practices to both individuals and groups, such as schools.
Although Rwanda is considered a low-income country, income levels have been steadily growing since the recovery began from the Rwandan genocide in 1994. As families began to bring in more money to spend on food, there has been a growing need for nutrition education. Parker says that for a long time, being fat was considered a good thing—because it meant you were wealthy. Through her business, Parker provides nutrition and counseling services. She runs a for-profit, tax-paying business, but aspires to use some profit to create and support nutrition-related programming for the more vulnerable populations of Rwanda.
In addition to providing counseling, Parker recently added a to-go meals segment to her business that includes mostly lunch and dinner items like soups, salads, and entrées such as local farm-raised chicken breast basted with homemade barbeque sauce with a side of roasted potatoes and dodo (a local ingredient similar to spinach). Parker made a chicken salad using plain yogurt and other local ingredients; it has been incredibly popular, as it's unlike the foods available in the local grocery store. Parker says the need for healthful convenience items is a new concept to the Rwandan people.
Parker believes she will be in Rwanda for at least two more years. Her goal is to equip the Rwandan people with nutrition knowledge and cooking skills and ultimately leave the business in the capable hands of a Rwandan manager, who can continue her work. Though she's on the other side of the globe, Parker feels she has found a "home away from home" and is grateful to have been so lovingly embraced by the community.
Chris Vogliano, MS, RDN, LD
Agriculture, Nutrition, and Health Research Fellow at The Academy of Nutrition and Dietetics Foundation
While studying nutrition at Kent State, Chris Vogliano was struck by the need to provide more healthful options not only to the average consumer but also to those in low-income communities. He became actively involved in Kent State's chapter of the Campus Kitchens Project, an organization that helps recover safe and unused food from local businesses, caterers, and farmers' markets, and repurposes them into meals for low-income clients.
As Vogliano began exploring the Campus Kitchens Project, he realized it was run mostly by those with a passion for hospitality who had a real heart for serving others but didn't necessarily have a nutrition background. Vogliano was instrumental in making nutrition outreach part of the existing Campus Kitchens Project, giving dietetics students an opportunity to apply what they were learning in a real-life setting at food pantries and soup kitchens. As the program thrived, it led Vogliano to his first job as the nutrition manager of the Greater Cleveland Food Bank where he created a nutrition policy that helped increase the nutrient density of more than 30 million pounds of food annually. He also served as cochair for the Healthy Cleveland Nutrition Committee, where he helped draft healthful eating guidelines that the city council passed. These guidelines are intended to help nonprofit meal programs work toward serving more healthful meals.
In his current role, Vogliano serves as the first selected fellow of the Academy of Nutrition and Dietetics (the Academy), with a focus on sustainable nutrition, and helps manage a variety of projects including a national food waste research project. Through this project he collects data at various foodservice facilities with the help of dietetics interns to pinpoint the greatest areas of opportunity to reduce food waste. These results will be publicized in the Journal of the Academy of Nutrition and Dietetics, as well as at various conferences.
In his free time, Vogliano volunteers at local food banks and a local organic farm. He also has mentored dietetics students and interns in various capacities, most recently serving on a panel for students hosted by the Greater Seattle Dietetic Association.
Susan Moores, MS, RD
Food and Nutrition Consultant at SDM Communications, LLC
Over the years, Susan Moores has become one of the well-known voices in dietetics with many articles published in magazines, newspapers, and websites. She's also a regular guest on local television stations, providing evidence-based nutrition messages that engage viewers.
But it has been the role that Moores plays in the program she created, called Roots for the Home Team, where she really shines in the public spotlight. Roots for the Home Team is an innovative youth gardening program that encourages kids to grow their own produce. Moores was inspired to create such a program when she learned about youth gardening programs that catered to at-risk youth in impoverished areas of Minnesota's Twin Cities. She loved what was being done to encourage kids to embrace a more healthful, homegrown lifestyle, and she wanted to do something to bring that message to a larger audience. That's when she thought, "Why not a ballpark?"
Every year in March, the youth involved with Roots for the Home Team get together to create eight different salads using the produce grown in their gardens. The kids name the salads and sell them at Target Field during the Minnesota Twins' weekend home games.
Moores says the program not only gives these at-risk kids the entrepreneurial opportunity to work in a ballpark, but it gives spectators a healthful food option while watching the game. She calls it a "win-win" for everyone. While peanuts and popcorn have long been held as the most popular ballpark fare, it isn't uncommon for the tasty salads to sell out by the fifth inning. And the program has been so well received that it's now expanding to sell salads at TCF Bank Stadium at the University of Minnesota football games.
Melissa Bryan, MS, RD, LDN, CNSC
Lecturer in the Department of Nutrition & Health Care Management at Appalachian State University and Performance Dietitian for Appalachian State Athletics
To say that Melissa Bryan is busy would be an understatement. The married mother of two young children serves in her church, volunteers in the community, and runs half-marathons—in her free time. In her professional life, Bryan is a full-time lecturer in nutrition at Appalachian State University (ASU). She also serves as a performance dietitian for ASU athletes. In this role, she created and now manages athlete "fueling stations" stocked with high-performance foods and beverages that help keep ASU's 500 student athletes performing at their highest level.
"We created the fueling stations 18 months ago, after the NCAA deregulated the restrictions surrounding how often our athletic department can feed the athletes," Bryan says. "Due to increased energy needs and the importance of meal timing for athletes, we created fueling stations to make it easier for them to meet their nutritional needs for optimal performance."
The stations include items like protein shakes, fruit smoothies, and peanut butter sandwiches. Bryan says that one of the most rewarding aspects of being a performance dietitian at ASU is seeing the athletes attain their goals.
Before working for ASU full-time, Bryan served as a clinical dietitian at Appalachian Regional Healthcare System, while also consulting for the ASU athletes and teaching as an adjunct professor. Feeling as though she was juggling too much, Bryan boldly approached ASU about negotiating a full-time contract. Her tenacity paid off—but she's just as busy. A typical day may include teaching the earliest morning classes of the day, running over to the fueling station and working with athletes, teaching afternoon classes, getting her children off the school bus, and then heading back to ASU for an evening team talk. She says the students keep her motivated.
"When I see students have that 'aha moment,' it's really motivating," Bryan says. "If you look at the health status of our country, it makes me feel like what I do can make a difference. I'm helping train future dietitians who are going to solve these problems."
Angel C. Planells, MS, RDN
Home Based Primary Care Dietitian at VA Puget Sound Medical Center
Angel Planells is the kind of person that brings 150% to everything he does. Whether it's working with veterans, bringing more diversity to the field of dietetics, or even coaching soccer, Planells is passionate about making a difference.
Through his primary career as a dietitian at Home Based Primary Care with Puget Sound VA Medical Center in greater Seattle, Planells provides nutrition care in the homes of veterans with serious medical, social, and behavioral conditions. He says the goal is to keep veterans out of nursing homes and hospitals and to make an impact on their lives through nutrition. Planells has been with the VA for nearly a decade and says he's inspired daily by the nation's vets.
Outside of work at the VA, Planells is driven to make a difference in the field by inspiring more men and minorities to become dietitians. In 2012, Planells was nominated as chair of the National Organization of Men in Nutrition. He has been featured in several videos used to promote male dietitians, including one released by the Academy. Planells says that reaching out to colleges and showing them video footage of men in the field has been an effective recruiting tool. For his efforts in recruiting more men to the field, the Academy has featured him as a "Nutrition Hero."
Planells also serves on the nominating committee of the Washington State Academy of Nutrition and Dietetics, on the public relations/fundraising committee of the Greater Seattle Dietetic Association, and is the owner of ACP Nutrition, his new business offering both nutrition counseling services to clients as well as consulting services on a larger scale to groups within the community.
When he isn't working, the father of two is volunteering as a youth soccer coach. "I feel fortunate that every day I get to go home and feel satisfied with the work that I did that day," Planells says. "I'm able to stay so busy because I truly love what I do."
Alexis Joseph, MS, RD, LD
Cofounder and Director of Nutrition Communications at Alchemy Juice Bar + Café
Within just two years of becoming an RD, Alexis Joseph launched a restaurant, started a blog, wrote articles for online and print publications, and began a monthly televised healthful cooking segment on FOX 28 in Columbus, Ohio. Putting in more than 60 hours per week of work, Joseph goes above and beyond on a daily basis.
The restaurant, Alchemy Juice Bar + Café, was born from an idea she and a friend had during a nutrition class at Ohio State. Joseph wanted to combine food and nutrition guidance under the same roof so customers could come in for a healthful and delicious salad or smoothie and receive nutrition counseling in an office upstairs from the restaurant. Joseph calls counseling the most "treasured" part of her job, as she enjoys showing people how they can make the kind of food they enjoy at Alchemy in their own home. Joseph also has been hired to do in-home cooking demonstrations and counseling for individual clients as well as corporate nutrition seminars. On St. Patrick's Day 2015, she did a green smoothie demo at a local law firm. And she recently hosted a catered lunch and healthful eating presentation for Nationwide Insurance.
Her blog (hummusapien.com), freelance writing for national publications and online outlets, and live healthful cooking segments featured on FOX 28, keep her busy in her "off" time. Joseph says she has a "passion for media" and uses these outlets to get her healthful eating message out to the masses. Joseph even willingly "gives away" the recipes of popular foods in her restaurant on her blog—a nontraditional approach, but one that she says hasn't caused her to lose any business.
"The entire concept of Alchemy and the other things I do is to promote healthful eating," Joseph says. "People get excited by the idea that they can make healthful foods that they like to eat at home, too. But it hasn't stopped them from coming back!"        
Anne Patterson, RD
Owner of Living Earth Farm
Although she grew up on a farm, becoming an organic farmer was something new for Anne Patterson. Since founding Living Earth Farm in 2001 in Central Illinois, Patterson says she had to relearn many farming practices to be considered organic. Once she did, she began producing a harvest. Since 2001, Patterson says she has grown 65 different crops including fruits, vegetables, herbs, and nuts. She has sold her produce at farmers' markets and directly to restaurants, and has launched a multiple-farm community-supported agriculture project that became incredibly popular within the community.
In addition to growing and selling food, Patterson also works within the health care community through a program she helped develop called Cook Well, Eat Well, Live Well, which is sponsored by the University of Illinois, College of Medicine at Peoria. The program features a series of four teaching events that include a keynote speaker and various nutrition topics, such as "the impact of food on inflammation." The target audience for these sessions is local doctors, who take time out of their busy schedules to learn more about nutrition's impact on chronic disease. Patterson has partnered with other RDs, chefs from Illinois Central College Culinary Arts Institute, and the nonprofit Spence Farm Foundation to make these sessions a success.
"It's amazing to see very busy doctors show up for something like this when they have very little time for extra activities in their schedules," Patterson says.
Before she developed this program and her farm, Patterson was a clinical dietitian followed by a successful career as a food consultant for food companies, supermarkets, and commodity groups. Today, she also stays busy going to Washington, D.C., to lobby for organic farming rights and believes that dietitians have a powerful voice in the future of agriculture.
— Lindsey Getz is a freelance writer based in Royersford, Pennsylvania.