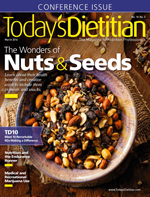 March 2016 Issue
Celebrating Nutrition
By Juliann Schaeffer
Today's Dietitian
Vol. 18 No. 3 P. 34
Retail RDs across the country are hosting creative food demos, cooking classes, and other innovative programs as they observe National Nutrition Month®.
March kicks off an exciting time for supermarket dietitians across the country, because many, if not all, are celebrating National Nutrition Month®, a nutrition education campaign sponsored by the Academy of Nutrition and Dietetics.
This year's theme is "Savor the Flavor of Eating Right," which encourages everyone to enjoy their own food traditions and value the flavors and social experiences food brings to their lives. If you're like any one of the supermarket RDs Today's Dietitian interviewed, you may be planning fruit and veggie scavenger hunts, featuring favorite dietitians' picks, or getting kids cooking—all in the name of highlighting healthful nutrition choices and promoting community wellness. How might all this happen in a supermarket? Read on to find out how retail RDs around the country are getting creative and promoting healthful eating in their communities.
What Stores Are Doing
Dietitian Picks
Katie Stitzel, RD, LD, is a regional dietitian for Giant Eagle, Inc, which has stores throughout western Pennsylvania, north central Ohio, northern West Virginia, Maryland, and Indiana. The health and well-being of employees and customers is a clear goal, says Stitzel, who points to the company's Health and Wellness Tag program, which is meant to bring this focus to the forefront.
The program, highlighted by 15 different categories, includes a Dietitian Pick that is featured on shelf tags, weekly circulars, and television commercials. All Dietitian Picks undergo a universal filter for certain nutrient thresholds for total fat, saturated fat, cholesterol, and sodium, and all must have at least 10% DV of at least one of the following: fiber, protein, calcium, vitamin A, vitamin C, and iron, Stitzel says. The goal is to use RDs' nutrition knowledge to shine a light on nutrient-dense foods—some of which may be unfamiliar to customers. Dietitian picks include organic grape tomatoes, steak-sliced portabella mushrooms, avocados, fresh tilapia fillets, boneless salmon, top round London broil, and yogurt and smoothies.
For National Nutrition Month® specifically, Stitzel says she plans to use the opportunity to help customers refocus on nutrition efforts and goals that may need some fine tuning since making those New Year's resolutions a few months ago. And in-store RDs will be using those Dietitian Picks to do just that.
"As many customers may stray from the nutrition goals made in January, our registered dietitians can help get them back on track by sharing tips and Dietitian Pick options so customers don't get bored with their standard diet foods," she says.
Giant Eagle also offers, for a small fee, monthly workshops geared toward teaching customers about various nutrition themes. This year, Stitzel says all Giant Eagle RDs will be offering a wellness workshop that aligns with the National Nutrition Month® theme, "Savor the Flavor of Eating Right." The workshop, "Best Snacks for Your Worst Cravings," is intended to help customers make better food choices, with the goal of getting them comfortable with utilizing the dietitians in their local supermarket.
"Our workshops are designed to be educational, interactive, motivational, and action-oriented," says Stitzel, who notes that this workshop is a great avenue for anyone seeking to take a more active role in their health.
Hands-On for Health
At one Hannaford store in New York, Consultant Dietitian Fran Weiss, MS, RD, CDN, has much in store to get customers excited about National Nutrition Month's® theme on flavor and nutritious food. Through various programs and activities, she plans to address an array of consumer interests, including pediatric eating concerns, adolescent sports nutrition, osteoporosis, organics, weight control, diabetes, high blood pressure, and eating on a budget.
One program that was popular in the past and that Weiss is excited to implement again this year is the scavenger hunt, which gets kids of all ages roaming the supermarket aisles while learning about lots of new ways to eat more fruits and vegetables. "The fruit and vegetable scavenger hunt has proven to be lots of fun and educational," she says.
"Starting in the produce department, I ask participants to think in new ways, such as finding fruits that grow on branches, vegetables that have a stem, fruits that ripen after being picked, a vegetable that grows underground, and a vegetable that's preserved to make pickles," Weiss explains. "The scavenger hunt continues throughout the store to locate additional areas to find fruits and vegetables besides the produce department. One place that surprises many is the spice aisle."
In a previous year, Weiss offered all young participants a taste of a dragon fruit—their choice for a new piece of produce they most wanted to try.
Also on tap for National Nutrition Month® is a cooking demo where customers get to take home the featured recipe. This year, Weiss is planning to make a no-cook oatmeal that customers can take home in a reusable container, refrigerate overnight, and eat the next day. "The oatmeal will be prepared with a choice of a variety of fruits, spices, chia, cocoa, milk, maple syrup, nuts, and yogurt," she says.
Other hands-on activities, all with the overarching purpose of providing nutrition education, include various nutrition games and prizes, such as asking customers to guess the connection between a golf ball and a jar of peanut butter, as a means to discuss portion size.
Various make-and-taste-your-own creation stations, involving guacamole, yogurt, and even soda, aim to show customers the how behind personalizing healthful foods for their particular taste preferences.
"The healthy soda, or 'mocktails,' bar consists of displaying a variety of Hannaford plain and flavored calorie-free seltzers set up with a variety of unsweetened juices, low- or zero-calorie antioxidant drinks, and fresh lemon and lime slices," Weiss says. "The participants will be encouraged to create their own. This activity is free of extra sugars, corn syrups, preservatives, sodium, and artificial colors."
Keying in to the Community
ShopRite, a registered trademark of Wakefern Food Corporation—a retailer-owned cooperative based in Keasbey, New Jersey, with ShopRite supermarkets located throughout New Jersey, New York, Pennsylvania, Connecticut, Delaware, and Maryland—has many activities planned during National Nutrition Month®. "We celebrate National Nutrition Month® in different ways at the store level, as we try to tailor each program to the unique demographics and specific interest level of the shoppers in our stores," says Natalie Menza, MS, RD, manager of health and wellness for Wakefern Food Corporation.
The stores plan to host several in-store product demonstrations, each with the goal of inspiring customers to "try before they buy." In-store dietitians plan to give customers unique and exciting ideas on how to incorporate more healthful choices into their everyday lives, and this information will be shared on the company's digital, social, and print channels to reach and educate as much of the community as possible, Menza says.
Dietitians also will team up with chefs for in-store cooking classes to demonstrate ways to make healthful, weeknight meals families easily can re-create in their own kitchens. There will be activities specifically for kids, including various kid-friendly cooking classes and scavenger hunts designed to teach them about good nutrition in a fun and entertaining way, Menza says.
"This month gives us an opportunity to highlight the importance of good nutrition and the role our retail dietitians play in helping consumers make better choices when it comes to health and wellness," she says, noting that it really all comes down to knowing the community and responding to their respective needs. "Our dietitians often work one-on-one with our customers and associates, and we believe that personalization is one of the most successful ways to encourage our customers to achieve positive behavior change," she says.
In-store dietitians ensure they're offering their customers the information and education they want by creating specific programs based on their requests. "Subjects range from weight management, diabetes, heart health, prenatal care, gluten-free foods, and much, much more," Menza says. During these sessions, dietitians may discuss with customers subjects such as label reading or how to decipher key marketing claims. By listening to, and pairing with, the community so closely, she says they hope to maximize the potential for improving health.
"We believe that allowing our customers free access to the wealth of knowledge and expertise our dietitian team offers is a powerful way to not only tell but also show customers how health and wellness lives in every aisle of our stores," Menza says.
This level of community involvement doesn't end with National Nutrition Month®, however. And that's to everyone's benefit, Menza says. "Our dietitians are part of the communities they live in, and our stores are very active in their local community. Some of our dietitians partner with local schools to provide nutrition education in the classroom. We'll also go out into the community, attending community fairs and events, or sponsoring free seminars at local libraries, senior centers, or in partnership with local doctors and hospitals. We often work with clinical dietitians to help our customers understand and carry out prescriptive diets."
There's no one-size-fits-all model for health, Menza notes, but working closely with the community can help to decipher specific customer needs while maximizing nutrition efforts—and health improvement victories.
A Focus on Mindfulness
At Weis Markets, a family-owned and -operated food retailer with stores in Pennsylvania, Maryland, New York, New Jersey, and West Virginia, the RD team will be demonstrating to shoppers what makes dietitians such great nutrition experts while focusing on mindfulness for this year's National Nutrition Month®.
"National Nutrition Month® is the perfect time to celebrate registered dietitian nutritionists as the primary nutrition experts," says Erin Long, MS, RDN, LDN, retail healthy living coordinator for Weis Markets. "In line with this year's theme to 'Savor the Flavor of Eating Right,' we plan to introduce the concept of mindfulness to our customers through various health and wellness events. The ultimate goal of these events is to bring back the enjoyment of home-cooked meals by teaching customers how to truly savor the flavor of real, whole food with simple and approachable cooking methods."
One way to get people excited about cooking is by showing them how to make their favorite foods, albeit with a healthful spin. And Weis RDs have a great family favorite demo lined up for National Nutrition Month®: Slow Cooker Tex-Mex Pulled Pork.
"Cooking demos are a powerful tool to get people back in to the kitchen," Long says. "We've all heard about the positive benefits of sitting down and eating family meals together. Our interactive demos are designed to show customers just how easy it is to get a delicious, healthful meal on the table. Visual demos have a lasting impact on customers. They can see firsthand how to prepare an ingredient they may not have been familiar with while also learning about its nutritional benefits."
Lindsey DeCaro, RDN, LDN, retail healthy living coordinator at the Huntington Valley and Doylestown Weis Markets stores, located in the greater Philadelphia area, says cooking demos are a win-win. Customers love them, and dietitians love all they have to offer.
"It's a great opportunity to showcase basic cooking skills, ingredient selection, food prep, and nutrition all in one place," she says. "It offers opportunities for nutrition education, sampling, meal suggestions, and interaction. It gives the customer the confidence to go out and try the recipe themselves."
Weis Markets also offers Cart Smart Tours once per month and by request, during which RDs give customers information geared toward a certain theme. This month's theme? You guessed it: mindfulness.
"This year during National Nutrition Month®, our theme is 'Spring into Shape,' which will cover general shopping and cooking strategies as well as mindful eating techniques and eating for wellness," Long says. "Store tours are one of my favorite ways to educate customers because they learn basic shopping techniques such as how to read and compare labels and serving sizes and how to select and use different produce. I believe visual presentation leaves a lasting impression, and store tours are the perfect way to execute this type of learning experience."
Long says stores conduct various monthly tasting events, featuring healthful and practical recipes from its Healthy Bites magazine. For this year's National Nutrition Month®, stores will be offering a special Whole Grain Sampling Day on March 30. Partnering with Oldways for this event, stores will feature recipes and information on the benefits of whole grains as well as tips on how to use and cook them. Long hopes this event will spur customers to try some grains with which they may have been previously unfamiliar. "Customers are more likely to buy and make something after they've tried it first," she says. "Many people do not know what a certain product is, let alone how to properly make it. Teaching customers how to use easy, affordable, and nutritious ingredients that taste great is one of the easiest ways to guide them to healthier choices."
Through all of these activities, DeCaro says she hopes to offer customers an opportunity to learn about health and wellness. "At its core," she says, "that's what it's all about—showing customers how to prepare recipes, how to select ingredients, or how to make ingredient swaps that improve the nutritional quality of a recipe. All these things enable them to learn more about nutrition and to apply it to their daily life."
Savor the Flavor, However You Choose
Whether they're setting up scavenger hunts to get kids excited about vegetables or talking about mindfulness to get customers more in tune with their relationship to food, retail RDs are pushing the healthful eating envelope in March. And according to Barbara Ruhs, MS, RD, LDN, owner of Phoenix-based Neighborhood Nutrition LLC and coordinator for the annual Oldways Supermarket Dietitian Symposium, this year's National Nutrition Month® theme allows for limitless potential for jump-starting conversations about healthful habits.
"I think the theme 'Savor the Flavor' is a perfect theme for this year's National Nutrition Month®," she says. "Focusing on how foods taste and being more mindful while eating is a great reminder for dietitians to share with everyone. Whether you're trying to lose weight or simply eat more healthfully, savoring the flavor of any and all foods from vegetables to dessert is a great strategy to enjoy food and eat to satisfy both hunger and enjoyment."
For many people, such conversations couldn't come at a better time, Ruhs says. "March is a great month for National Nutrition Month®, as it reinforces and reminds consumers about health three months in a row. [They] start off the year with resolutions, continue into American Heart Month in February, and March continues the focus on health just when consumers may be falling off track. Even if the theme is not quite right to execute an in-store display, generally using the theme of National Nutrition Month® during the month of March is an opportunity for retail dietitians to customize to their preference, promoting the foods and items that meet the specific needs of their audiences."
However they choose to celebrate National Nutrition Month®, retail dietitians are finding new ways to get the message of healthful food and healthful habits into customers' minds. "Anytime, any day, supermarket dietitians are using their stealth marketing talents to fit the message of good nutrition in the minds of hungry consumers," Ruhs says.
— Juliann Schaeffer is a freelance writer and editor based in Alburtis, Pennsylvania, and a regular contributor to Today's Dietitian.