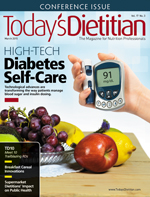 March 2015 Issue
Culinary Corner: Carrots, Tahini, and Chickpeas — Ingredients That Can Make a Tasty, Creamy, Vitamin-Packed Soup
By Grace Dickinson
Today's Dietitian
Vol. 17 No. 3 P. 66
While raw carrots certainly make for an excellent snack, their cooked version takes them to a whole new level. Allowed to caramelize and soften in the oven, this crunchy snack quickly transforms into a much sweeter, velvety treat. The following recipe capitalizes on that sweetness, creating a creamy bowl full of beta-carotene designed to perk up your soupspoon.
Take note—the deeper the orange color of the carrot, the more beta-carotene it contains. Beta-carotene is the compound responsible for a carrot's color and is converted by the body into vitamin A. However, there's no real need to spend too much time at the store searching for the most color-saturated carrot in the produce aisle. A medium carrot alone contains 200% of the DV of vitamin A. As long as it's orange, there should be plenty of vitamin A to go around. Purple carrots have an orange center and will provide vitamin A as well as anthocyanins. However, white carrots don't contain significant amounts of vitamin A because they're bred to be lower in carotenoids.
In this soup recipe, nutty cumin and smoky paprika are incorporated to play off the natural sweetness of the carrots. The spices coat the chickpeas before they're placed in the oven to roast. Afterward, the crispy peas add texture—in addition to protein—to the pureed soup. One-half cup of cooked chickpeas contains 8 g of protein as well as 6 g of fiber, making this an excellent source of plant protein. A swirl of sesame tahini—a peanut butter–like paste made from sesame seeds—pulls it all together and adds an element of heart-healthy richness. Don't skip this topping, as it makes the soup pop with flavor. And give butter the boot. Consider smearing some additional tahini on a crusty slice of bread to pair with the carrot soup along with a side salad. This is a hearty soup that will make you rethink what it means to chomp down on carrots.
— Grace Dickinson is a photo enthusiast, food blogger, and recipe developer for FoodFitnessFreshAir.com.
Carrot Soup With Tahini and Roasted Chickpeas
This recipe creates an exceptional, velvety soup derived solely of vegetables—with carrots in the starring role. Spiced, roasted chickpeas add a flavorful and protein-packed crunch while sesame tahini finishes it off with another element of creamy richness.
Serves 4
Ingredients
11/2 lbs carrots, chopped on a diagonal into 1/2-inch slices
31/2 T extra virgin olive oil, divided
1 small onion, chopped
4 cloves garlic, minced
1/2 tsp ground coriander
1/4 tsp red pepper flakes
1 quart vegetable broth
11/2 cups cooked chickpeas
1/2 tsp ground cumin
1/2 tsp smoked paprika
Salt and pepper, to taste
1/2 lemon, cut into wedges
¾ cup plain Greek yogurt
4 T sesame tahini
Handful of parsley, chopped
Directions
1. Preheat oven to 425° F. Line large baking sheet with aluminum foil, and toss carrots with 11/2 T of the olive oil. Sprinkle with salt. Roast for 25 to 30 minutes. Stir carrots after 15 minutes.
2. Heat 1 T of olive oil in a large pot over medium-high heat. Add onions, and sauté for three minutes, or until they begin to soften. Add the minced garlic, coriander, and red pepper flakes, and sauté for two minutes longer, until the onions begin to caramelize.
3. Add the roasted carrots and veggie broth. Bring to a low boil, then reduce heat to a simmer and cook for 10 minutes. Meanwhile, scatter the chickpeas on the roasting pan used for the carrots. Toss with remaining olive oil, cumin, smoked paprika, salt, and pepper. Toss to coat evenly, then roast for 15 to 20 minutes, stirring halfway, until chickpeas start to get slightly crispy.
4. Place soup in a blender and puree until smooth. Return to pan, and squeeze in the juice of the lemon. Adjust salt, if needed.
5. Spoon the soup into bowls. Top each with a spoonful of yogurt and 1 T of sesame tahini, as well as a handful of the roasted chickpeas. Sprinkle with parsley. Serve.
Nutrient Analysis per serving
Calories: 325; Total fat: 21 g; Sat fat: 3 g; Trans fat: 0 g; Cholesterol: 0 mg; Sodium: 685 mg; Carbohydrate: 28 g; Dietary fiber: 7 g; Sugar: 1 g; Protein: 9 g