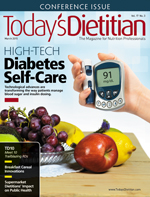 March 2015 Issue
Editor's Spot: Take a Bite
By Judy Riddle
Today's Dietitian
Vol. 17 No. 3 P. 5
Last month when I visited my primary care physician for my yearly physical, she said I should begin taking a calcium and vitamin D supplement to protect my bones and promote other aspects of my health. "I'm a cold cereal eater so I drink about a half-gallon of skim milk every week," I bragged. "Wow that's great," she said, "especially since most adults don't drink much milk. But you may not be getting enough even though you drink a half-gallon of milk a week. So you should take a supplement." She didn't tell me how much calcium and vitamin D I should take each day, nor about the types of food I should consume that contain these nutrients.
Had I visited an RD, he or she would have told me exactly how much calcium and vitamin D I needed each day based on my age and gender, and what foods I should eat to boost my consumption.
My conversation with my doctor reminded me of this month's theme for National Nutrition Month®, "Bite into a Healthy Lifestyle" with informed food choices. The Academy of Nutrition and Dietetics is encouraging all RDs to assess their clients' individual nutrient needs based on their age, gender, body type, family history, and existing health issues; teach them which foods contain the vitamins and minerals they need; and show them how to make sense of health claims on the front of food packages, the Nutrition Facts panel, and ingredient lists so they can make the best food choices for their health.
Today's Dietitian proudly celebrates National Nutrition Month® and Registered Dietitian Nutritionist Day with its sixth annual "TD10" feature on page 30, which includes interesting profiles of the top 10 dietitians you helped nominate for the awesome work they do in dietetics. The winners come from different backgrounds, and they're passionate about spreading nutrition messages in fun, creative ways to promote health and wellness. We thank you for nominating your peers and giving them a chance to be recognized and honored for their hard work. Enjoy reading their stories and the rest of the features in this issue, including articles on high-tech diabetes self-management, supermarket RDs' impact on consumer health, trends in breakfast cereals, and dietitians' food industry relationships—TD's second and final article in our series on corporate sponsorships. Tell us what you think of these articles on our Facebook and Twitter pages. And please enjoy the rest of the issue!
Judith Riddle
Editor
TDeditor@gvpub.com