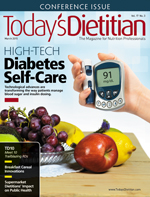 March 2015 Issue
Dietitians' Food Industry Relationships: What Is Ethical and What Is Not?
By Sharon Palmer, RDN
Today's Dietitian
Vol. 17 No. 3 P. 44
Editor's Note: In part two of Today's Dietitian's coverage on corporate relationships in the dietetics profession, this article will focus on how dietitians can build positive, ethical relationships while working in the food industry. See January's edition for part one of this series.
A dietetics career in the food industry has its perks. Higher wages, opportunities for travel, and intriguing work are but a few. It's no wonder that more and more dietitians are entering the food industry workforce, including retail settings such as supermarkets, food companies of all sizes, food commodity boards, food organizations, and public relations companies. Today, it isn't uncommon to see a dietitian's name and face on a poster in a supermarket aisle, food company website or newsletter, or food company-sponsored blog.
"Professionally, a food company offers incredible career opportunities for a dietitian to grow and constantly be challenged," says Sarah Ludmer, RD, associate director of nutrition marketing at Kashi. "No two days are ever the same, and there's never a day I don't learn something new. Food companies have allowed me to take my science background and bring it to life in everyday products that, as a dietitian, I can feel passionate about," Ludmer says. "Personally, my work has allowed me to meet and become friends with colleagues across the country, whom I would have never been able to meet otherwise. It also has allowed me to balance work and my family even more than my past clinical positions, since schedules can be flexible."
Indeed, many dietitians have established rewarding careers working with the food industry. Dietitians' names clearly are visible in many food companies' organizational charts, attached to positions that involve marketing, program direction, social media, communications, recipe development, education, scientific affairs, research and development, and more. RDs are working as employees, consultants, spokespersons, advisors, and ambassadors for food organizations across the country—and beyond.
 "Dietitians can play various roles within a food company, working across many departments, such as regulations, product development, communications, marketing, sales, etc. Therefore, depending on their role, dietitians have the ability to inform product development, to determine whether a product complies with FDA regulations to meet certain health claims, and to effectively communicate company and product news to the public," says Kate Wilson, RD, who works in nutrition communications at Ketchum Public Relations, where she works with food companies to effectively communicate news and translate the science, as well as inform food companies of what they can and cannot say to comply with regulations.
Laura Hershey, MBA, RD, works as the health and nutrition manager of brand marketing for Daisy Brand Cottage Cheese. Her responsibilities include developing nutrition initiatives, collaborating with creative and public relations agencies, coordinating research and development, determining media plans for health care professionals, supporting supermarket dietitians, and attending dietetics conferences. "The work is never mundane and each day brings a new challenge. I enjoy working toward a goal; in this case, it's determining the most effective routes to promote the health benefits of the product," Hershey says.
Neva Cochran, MS, RDN, LD, has had a long successful career as a communications consultant in Dallas, working with companies and organizations such as the Egg Nutrition Center, Sargento, and the American Beverage Association. "Industry clients want to work with me because I have a reputation honed by more than 30 years in the field. [Because I am] known for being science-based and a good communicator, they value me for my reputation, credibility, and the respect I have as a dietitian."
Compared with the opportunities that existed for dietitians in food companies some 25 years ago, it seems as though the sky is the limit for RDs wanting to break into the food industry. In fact, one might say that it has become cool for a food organization to have a resident dietitian on the payroll. However, for all of the advancements dietitians have made in the food industry, some concerns have arisen over whether relationships for RDs in food companies are appropriate. And there are questions about the ethics involved when dietitians receive income from food companies while still providing nutrition advice to the public.
Making Strides
Wouldn't it be something if every food organization or company had a dietitian on staff or as a consultant? It's exciting to think about the possibilities. After all, dietitians working in the food industry can bring about positive change.
"All dietitians, regardless of their career path, would agree that they became dietitians to help people lead healthier, more balanced lives. For dietitians working with food companies, while they may not see the immediate impact of their work like a clinical or private-practice dietitian may, they have the ability to impact food products that thousands, if not millions, of people will consume," Wilson says.
Amy Myrdal Miller, MS, RDN, founder and president of Farmer's Daughter Consulting, says that dietitians working with an industry can influence how the industry thinks about important issues, such as product or menu development and marketing. Hershey adds that dietitians can help develop healthful recipes for the public, as well as professional resources for dietitians, which in the end can help guide people to better health.
"Dietitians who work with food companies have an amazing opportunity to help improve public health," says McKenzie Hall, RDN, cofounder of the nutrition communications company Nourish RDs. "We are health professionals first. Dietitians are a source of sound evidence-based information, and for the most part, are not swayed by fads or gimmicks and really do have the health of the public at heart. It's so great for RDs to work with food companies and commodity boards, because it helps to ensure that the public is not being misinformed," Hall says.
Ludmer explains that, historically, many food companies have had a positive impact on public health, the fortification of cereals being one example. She notes that Kellogg's (which owns Kashi) was the first company to have a dietitian on staff. "In my role, I advocate for the nutrients Americans tend to lack, and seek ways for our products to incorporate them while ensuring the product delivers the taste people want," Ludmer says. "When I am able to incorporate the public health needs of Americans and help my company deliver a product people love and want to buy again, I have made a difference."
Standing By Your Product
One criticism food industry dietitians have faced centers on the products they represent for a particular food company, raising the question: Is it all right for a dietitian to work for any food company, no matter what their product? And where should a dietitian draw the line?
Andy Bellatti, MS, RD, a corporate wellness dietitian who has been active on the issue of ethics among dietitians, says, "It largely depends on the kind of company you're talking about and the role the dietitian is expected to hold in the company. It's one thing if you're working on issues like helping a company determine what sorts of health claims it can legally make about a product, but it's another thing if you tour the country and go on speaking gigs in order to make a case that added sugar is not a big deal from a health standpoint. It's not a one-size-fits-all answer."
Most dietitians seem to wholeheartedly agree that if you work with a food company or organization, you must be aligned with their products and principles. Lisa Samuel, RDN, MBA, cofounder of Nourish RDs, says, "We only accept work with products or foods we believe in, and that are in line with our own values. This means that we sometimes turn down work, but it's a decision we feel good about."
It's also important for RDs to work with companies and organizations that focus on science-based information. Hershey suggests dietitians use "scientific evidence as your guide" when it comes to making ethical choices when working with the food industry. Cochran believes RDs can work successfully with the food industry, but problems may occur when they partner with and promote products or messages that aren't science based. "Before I agree to work with any client, I carefully evaluate their products and services as well as the information they would like me to communicate to ensure that it's both accurate and backed by peer-reviewed scientific evidence," Cochran says. "I do not work with companies whose products or philosophy do not match my personal and professional beliefs. I have turned down clients that don't fit my criteria of being evidence-based."
Ethical Guidelines
In addition to the careful selection of food organizations dietitians can align themselves with, issues arise over how they conduct their professional work, which ultimately results in guiding clients and the community to making food choices for better health. If a dietitian is gaining financially from a food company or organization and making nutrition recommendations for the public—especially in the media—there's potential conflict of interest.
So if RDs are working with the food industry, it's important they understand and adhere to professional ethics guidelines. For starters, dietitians can look to the Academy of Nutrition and Dietetics' (the Academy) Code of Ethics for the profession of dietetics, published in 2009 in the Journal of the American Dietetic Association. This document provides guidelines for maintaining ethical professional relationships; these can be applied to people working with the food industry. The Academy has established a three-person committee to handle all ethics matters, and may issue opinions on ethics on its own initiative or in response to a member's request. Some highlights from the Code of Ethics that particularly apply to dietitians working for the food industry include:
• Principle 6: The dietetics practitioner does not engage in false or misleading practices or communications.
• Principle 12: The dietetics practitioner practices dietetics based on evidence-based principles and current information.
• Principle 15: The dietetics practitioner is alert to the occurrence of a real or potential conflict of interest and takes appropriate action whenever a conflict arises.
a. The dietetics practitioner makes full disclosure of any real or perceived conflict of interest.
b. When a conflict of interest cannot be resolved by disclosure, the dietetics practitioner takes such other action as may be necessary to eliminate the conflict, including recusal from an office, position, or practice situation.
• Principle 18: The dietetics practitioner does not invite, accept, or offer gifts, monetary incentives, or other considerations that affect or reasonably give an appearance of affecting his/her professional judgment.
To read the full Code of Ethics, visit www.eatright.org/codeofethics/.
The Federal Trade Commission (FTC) also creates and enforces guidelines on consumer protection laws that help ensure that products and services are described truthfully in media, including online. The FTC requires that disclosures must be clear and conspicuous. To review the full FTC report on "How to Make Effective Disclosures in Digital Advertising," visit www.ftc.gov/sites/default/files/attachments/press-releases/ftc-staff-revises-online-advertising-disclosure-guidelines/130312dotcomdisclosures.pdf.
The WOMMA (Word of Mouth Marketing Association) Code of Ethics includes the Social Media Disclosure Guidelines (available at www.womma.org), which focuses on responsible self-regulatory efforts concerning marketing practices. These guidelines include such standards as disclosure of identity in relation to marketing initiatives, disclosure of consideration or compensation received, and disclosure of relationships.
Disclosure, Disclosure, Disclosure
If you're working with the food industry in any capacity, and you give nutrition advice—in the media, on the Internet—or provide client, community, or professional education, it's absolutely essential to disclose your relationships. "I think the most important thing is that any dietitian who works with the food industry should be completely transparent about it," Bellatti says.
Kate Geagan, MS, RDN, nutrition and communications consultant for the food industry and author of Go Green, Get Lean: Trim Your Waistline With the Ultimate Low-Carbon Footprint Diet, adds, "The difference between individual dietitians working for the food industry in any capacity—be it as a consultant, a full-time employee, or even as a tweeter—is that they're legally obligated to disclose paid relationships and disclose conflicts of interest. So there's full transparency there, and the public, media, and fellow health professionals can then draw their own conclusions."
How do you know if you have a relationship you should disclose? According to Regan Jones, RD, founder of RDs4Disclosure (see sidebar), the FTC defines the benchmark for determining disclosure as: Do you have a "material" tie to the item you're promoting or recommending? "If you do, then you must disclose it," Jones says. "Material ties essentially create a conflict of interest, meaning you either have the potential to gain from the promotion of that product or the consumer could perceive it that way. RDs who work with the food industry should always ask themselves that question first. Do I have a material tie? Did money change hands? Was my trip paid for? Did I buy this product on my own, or was it given to me? Will I receive something of value for recommending this product? If the answer is 'yes' for any of these or similar questions, there's no question; you must disclose that."
One of the easiest ways dietitians can get started on full transparency is to maintain a disclosure page on their website. The RDs4Disclosure badge is a great way to show that dietitians are interested in maintaining transparent, ethical relationships with the food industry. In addition, it's important for RDs to disclose food industry ties in work relationships, media interviews, educational events, communications, and social media interaction. "We feel good about being completely transparent about our relationship with the companies and boards we work for," Hall says. "Disclosure is one of the most important things to be mindful of when working with food companies."
With so many RDs on social media today—blogging, tweeting, pinning, and posting—it can be especially difficult to disclose properly. Jones recognizes this, and says, "The caveat here is that I know we don't all get it right 100% of the time. We tweet from a sponsored trip quickly and forget to disclose that our trip was paid for. Or we pin an image from a sponsored post and forget to add an appropriate hashtag. It happens to all of us. But it doesn't mean we shouldn't consistently try to be more open, honest, and transparent with our patients, clients, and audience. Legally and ethically, it's the cornerstone of what each RD should aspire to do daily."
— Sharon Palmer, RDN, is nutrition editor of Today's Dietitian, author of Plant-Powered for Life, and communications consultant for a select group of organizations, including Daisy Brand Cottage Cheese.
RDS4DISCLOSURE
Just in the nick of time, as more and more dietitians started working with the food industry and the potential for ethical concerns arose, RDs4Disclosure was born. This US-based, peer-enacted community of RDs is committed to full disclosure to avoid giving false or misleading information to patients, clients, and consumers. Dietitians can find information on ethics, guidelines, sample disclosure policies, and more at RDs4Disclosure.org. Today's Dietitian (TD) sat down with RDs4Disclosure Founder Regan Jones, RD, to learn more about this program.

TD: What inspired the creation of RDs4Disclosure?
Jones: Having started my career in editorial for Weight Watchers and Cooking Light magazines, I understood the importance of disclosure very early on. Transparency is a fundamental concept in a journalist's code of ethics. It wasn't until I transitioned out of that area of practice and into spokesperson and general nutrition communications work that I realized that many, if not most, RDs working as spokespeople, and more recently as bloggers, didn't have the same background and on-the-job training. I quickly noticed RDs promoting products, foods, and brands for compensation without disclosing to their audience that they had been paid to do so. At the same time I began to notice this, the Federal Trade Commission (FTC) was actively updating their guidelines for bloggers and social media to reinforce the importance of the concept of transparency. As an RD who engages with 3,000+ bloggers, many of whom are RDs, I sought out guidance specific to our profession to not only guide my practice but also to share with others. I found essentially nothing specific to the RD. That's when I decided to start RDs4Disclosure.
TD: What is RDs4Disclosure's mission?
Jones: The core mission of the site and campaign since we started it in 2011 always has been about raising awareness, and never about "policing" peers. I do believe there are some within our profession who purposefully withhold their relationships with food companies, but for the most part, I believe most RDs simply don't understand the importance of transparency as it relates to them as either a spokesperson or a blogger. RDs4Disclosure is meant to raise awareness about not only the ethical concerns behind concealing financial ties to food [companies] who have hired you to promote their products, but also the legal requirements of the FTC. One critic of the campaign earlier this year questioned why I would try to "replace" the FTC guidelines with my own. Nothing could be further from the truth. The site consistently points to the FTC guidelines as the legal basis by which all of our recommendations are made. I simply want to help professionals navigate those guidelines and implement them in their own practices.
TD: How does it work?
Jones: There's no complicated set of rules or regulations for someone to join RDs4Disclosure or to support the campaign. We just ask that they review and implement our four guiding principles, all of which are based on FTC guidelines, the WOMMA (Word of Mouth Marketing Association) code of conduct, and general ethical best practices. As an awareness campaign, we then provide people who make the pledge a badge to display on their site and encourage them to help spread the word.
Is that enough? Probably not. Could we be doing more? Absolutely. But the reality is our little campaign is just a grass roots way to get the conversation started. My hope always has been that the Academy of Nutrition and Dietetics would see the urgency and importance of making this concept of disclosure and transparency among RDs a universal practice competency and give it the national spotlight it deserves. We're at a crossroads where the value of the RD above other "nutrition professionals" is being questioned from every side. Nothing will do more harm to this evaluation in the minds of allied professionals and consumers than the continuation of concealing monetary ties as it relates to the products, foods, or brands RDs recommend to consumers who look to them for honest advice, whether online or on-air.
For more information, visit RDs4Disclosure.org.
— SP