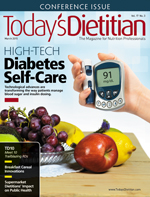 March 2015 Issue
High-Tech Diabetes Self-Care
By David Yeager
Today's Dietitian
Vol. 17 No. 3 P. 24
Technological advances in continuous glucose monitoring systems, mobile apps, and online services are transforming diabetes self-management.
Managing diabetes can seem like a full-time job for many clients and patients, but as with any job, having the proper tools can streamline the work and reduce frustration. However, which tools work best depends on the individual. Technology is one of those tools that can play an important role in helping people self-manage diabetes. Yet, it requires a flexible approach on the part of both dietitians and their patients. Patients have to be willing to make some changes in their self-care routines, and dietitians need to determine which technologies may work best for their clients.
"The management strategies you use with a person with diabetes depend on many factors, such as type of diabetes, level of control, the person's goals and, most importantly, their willingness and ability to actively self-manage," says Hope Warshaw, MMSc, RD, CDE, the 2015 president-elect of the American Association of Diabetes Educators (AADE) and the author of Eat Out, Eat Well: The Guide to Eating Healthy in Any Restaurant and its companion app, Eat Out Well—Restaurant Nutrition Finder from the American Diabetes Association. "There are people with prediabetes who need to focus on losing a few pounds and keeping that weight off, so their focus may be counting calories, fat grams, and steps. And there are people with type 1 diabetes who take four or five shots of insulin a day or are using an insulin pump along with a continuous glucose monitor (CGM). They're willing to share their data with their health care provider for consideration and feedback."
Monitors and Pumps
One of the most significant technological advances in diabetes self-care in recent years has been the development of CGMs. Unlike traditional blood glucose meters that use lancets and test strips to measure blood glucose, a CGM transmits continuous glucose readings from a small sensor placed under the skin to a monitor, although it's recommended that users perform regular finger sticks to calibrate them. Aside from reducing the need for lancets, CGMs offer benefits beyond traditional glucose readings. They allow users to see if their glucose levels are going up or down and put those numbers in context with their food and exercise choices, medication intake, and emotional states. Gary Scheiner, MS, CDE, the 2014 AADE Diabetes Educator of the Year and the owner and clinical director of Integrated Diabetes Services, says CGMs add a predictive element to glucose monitoring.
"It's really fascinating, just going through a typical day and seeing how your blood glucose reacts to different things you do and experience," Scheiner says. "One of my clients, when he watches a scary movie, his blood sugars jump up, so we learn about stress responses from things like that. Other people will see how they respond to different kinds of breakfast foods or different forms of workouts. Some workouts can make their sugars climb; some make them drop. It's a great learning opportunity for the user, as well as the clinician."
Some lancet-based glucose meters also offer data-storage capabilities. For example, the Dario Smart Meter interacts with a cloud-based mobile app that allows users to track their glucose readings, share them with their support network, and set alerts or reminders based on the readings. Users also can track their carbohydrate intake and insulin dosage. Livongo Health's In Touch meter communicates with Livongo for Diabetes, a cloud-based digital health platform that enables users to share information with their family or health care team and alerts a Livongo-employed CDE who immediately contacts the patient for problem solving if glucose levels are above or below a specified threshold.
For individuals interested in using insulin pumps, several companies offer them with different features. Insulet Corporation's OmniPod UST 400 is tubeless, waterproof, and can be used with a CGM. Asante Solutions' Snap is billed as a time saver because it uses prefilled insulin cartridges, automatically primes the tubing that delivers insulin, and has a battery that doesn't need charging. The pump body, which attaches to the monitor, is used for one week, then replaced. Tandem pumps offer diabetes management software that's compatible with Macs or PCs and displays data from the pump or supported meters. They can be used with seven currently available glucose meters, as well as Dexcom's G4 Platinum CGM. In January, the FDA approved Tandem's t:flex pump, which is the largest pump on the market; it holds 480 units of insulin.
Warshaw and Scheiner have seen increasing interest in the use of CGMs from people who use insulin pumps. Currently, only two companies, Dexcom and Medtronic, have CGMs available in the United States. Dexcom's G4 Platinum CGM is integrated with Animas' Vibe pump, and Medtronic's MiniMed 530G includes a pump. Both models alert users when blood glucose levels go above or below certain ranges and adjust insulin dosages based on user specifications. Some diabetes professionals consider the CGM and insulin pump combination to be the first step toward an artificial pancreas, although much more work needs to be done to perfect the technology.
Sharing Data
The ability to analyze and share data also is an emerging trend in diabetes self-care. Dexcom SHARE allows remote viewing of glucose readings, trends, and other data from Dexcom's G4 CGM. It's compatible with Apple's iPhone or iPod touch, and can be shared with loved ones or caregivers so they can monitor the data. The Nightscout Project, also known as CGM in the Cloud, was started by a group of users whose goal is to expand remote access to Dexcom G4 CGM data via smartphones, computers, tablets, and the Pebble smartwatch.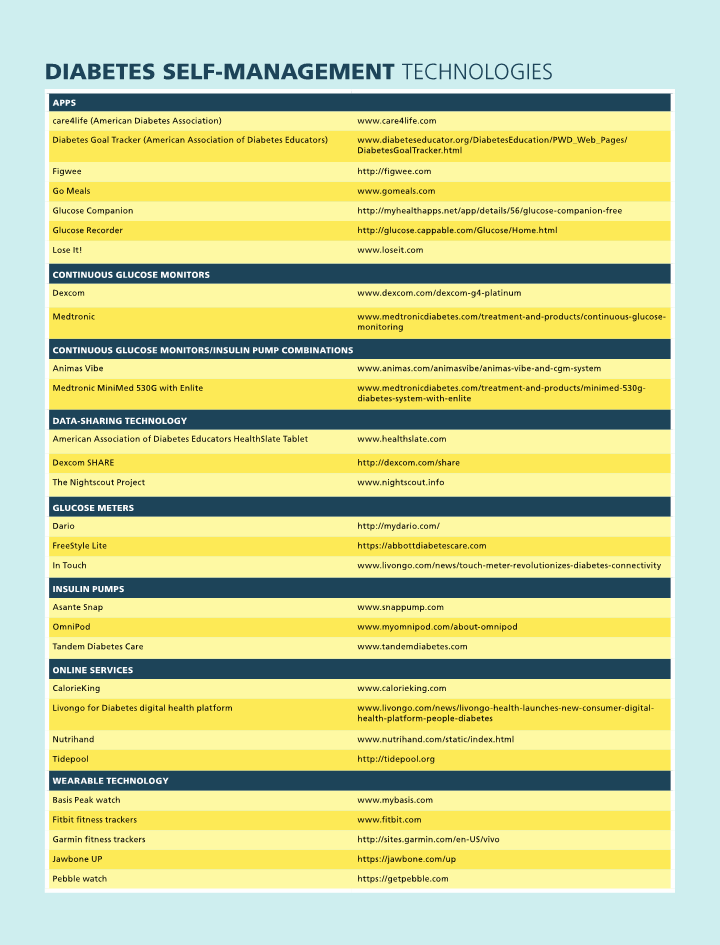 Moreover, there are a multitude of apps with various tracking and sharing features. Some, such as Glucose Recorder and Glucose Companion, are tracking apps that allow users to log their glucose readings. Other diabetes-specific apps are more interactive, such as the AADE's Diabetes Goal Tracker, which helps users set goals and problem solve for challenging situations, and care4life, which sends educational text messages to users and allows them to set up appointments and share data with their health care providers. There also are apps that focus on diet, such as Go Meals, which enables users to check the nutrient composition of their meals at home or in a restaurant and includes a restaurant locator as well as calorie, activity, and glucose trackers.
Constance Brown-Riggs, MSEd, RD, CDE, CDN, the author of The African American Guide to Living Well With Diabetes, says, because diet is an integral part of diabetes care, apps that help with portion control and nutrition education are invaluable. Two of her favorites are Figwee, which uses pictures of real food portions to help users estimate carbohydrates and calories and includes a food and activity tracker, and Lose It!, which provides information, carbohydrate and calorie tracking, and peer support for sustainable weight loss, as well as customized weight loss plans.
Brown-Riggs says she has received many questions from clients about wearable technology, such as fitness bands and watches. Companies such as Fitbit, Garmin, and Jawbone make bands that track activity. Each has an associated app that can help users set goals or make adjustments in their activity, diet, or sleep patterns. The Basis Peak watch allows individuals to track their heart rates and sleep patterns and set goals for activity or sleep.
"Diabetes self-management involves patient decisions and lifestyle choices," says Toby Smithson, MS, RDN, LDN, CDE, a spokesperson for the Academy of Nutrition and Dietetics, who has type 1 diabetes, founder of DiabetesEveryDay.com, author of Diabetes Meal Planning and Nutrition for Dummies, and a diabetes lifestyle expert for Livongo Health. "Tools that can be used 24/7 in real time can help with eating decisions, work as medication reminders, and track exercise levels. Technology lends itself to serve as a resource, reminder, or support," Smithson says. "As both an educator and a patient, I can appreciate just how far things have come. Forty years ago, I could only get an estimate of blood glucose levels at home—only if my level was high—and an accurate blood glucose reading from a laboratory. Now, my patients and I can have their result and be talking or texting in less than one minute."
As people with diabetes attempt to make more informed, personalized decisions, online services also are cropping up to help them. Services such as Livongo for Diabetes help them track blood sugar results, count steps, share information, or speak with a health care provider. Tidepool, a software company, is creating an open-source platform to develop apps that aggregate and manage diabetes data.
Other services that focus on nutrition advice also offer tools for people with diabetes. Nutrihand provides professional diet analysis and customized food plans. Users can track their diets, blood sugar, and share information with their health care providers. CalorieKing offers calorie, BMI, target heart rate, and waist-to-hip ratio calculators, as well as recipes, a mobile app for individuals with diabetes, desktop software, and books.
Moreover, the benefits of data sharing extend to health care providers and clinicians. Tools such as the AADE's HealthSlate Tablet have features for both patients and clinicians. HealthSlate can be used as a regular tablet, but it also contains information for diabetes education and management. Clinicians can use it to teach carbohydrate counting and portion control or generate handouts, videos, or animation to explain key diabetes management concepts. Information can be e-mailed directly to patients. Patients can use it to log glucose readings and insulin doses.
"My patients really enjoy it," Brown-Riggs says. "If I have someone in the waiting room, for example, I can give them the HealthSlate in patient mode and have them view a video on a topic that we're going to discuss."
Furthermore, hospitals and clinics are offering patient portals, secure online interfaces that enable patients to log information before a visit to save time and allow clinicians to focus on the most important aspects of care. Newer communication technologies enable clinicians to manage, train, and educate patients remotely, reducing the number of office visits. Scheiner says many patients have expressed interest in technologies such as videoconferencing and live chats as supplements to office visits.
Diabetes Online Community
The downside of all this data, says Susan Weiner, MS, RDN, CDE, CDN, the 2015 AADE Diabetes Educator of the Year and the author of The Complete Diabetes Organizer: Your Guide to a Less Stressful and More Manageable Diabetes Life, is that it can make patients feel like a set of numbers. Although numbers are undeniably important, she emphasizes that they don't tell the patient's entire story. She says emotional support is an important and often overlooked part of diabetes care.
Because diabetes can be a confusing and frightening disease, many patients have turned to the diabetes online community (DOC) for support. The DOC is a loose collection of websites, online communities, and bloggers dedicated to sharing information and experiences about living with diabetes and diabetes treatment. Depending on an individual's needs and interests, they can find a place in the DOC that addresses their concerns.
Websites such as diaTribe.org and DiabetesMine.com provide product news and information, as do communities such as TuDiabetes.org. Others, such as Type2Diabetes.net and Smithson's DiabetesEveryDay.com, focus on lifestyle and diet. Still others, such as Diabetes Social Media Advocacy (diabetessocmed.com), DiabetesSisters.org, and StripSafely.com, focus on more specific issues. There also are several popular blogs that reflect a range of personal experiences. Some of the most popular are Diabetes Dad, Six Until Me, and Sweet Success. All of these websites, communities, and blogs provide emotional support for people with diabetes.
Because the DOC largely is a grassroots effort that was started by people with diabetes, health care providers and clinicians haven't played a large role in its development. However, Weiner believes they can play an important role, and she has contributed to several blogs, including Diabetes Dad, DiabetesSisters, and Six Until Me. Many in the DOC community are well-educated about the latest in diabetes treatment. However, she says there's room for more clinical perspectives; with all of the information and data currently available, some professional guidance can be beneficial.
"I think the DOC is a place that we, as RDs and CDEs, have been missing from. Most of the people in the diabetes online community who started blogs started them because they felt very alone, very unsupported, and wanted to have a voice," Weiner says. "Most of the DOC has [involved] people with type 1, but the type 2 community is now coming in, as well. I think it would be great for more dietitians to become involved in the diabetes online community."
As time marches on, dietitians may become involved with the DOC to offer diet and nutrition advice as well as emotional support. But certainly, mobile health companies will continue to introduce more diabetes self-management technologies and online services to help individuals better monitor blood sugar, insulin dosing, eating patterns, weight, fitness goals, medications, and trends in real time, all in an effort to facilitate personal health care and prevent the many complications associated with uncontrolled diabetes.
— David Yeager is a freelance writer and editor in southeastern Pennsylvania.