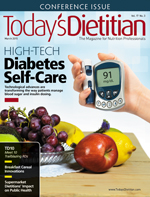 March 2015 Issue
Foodservice Forum: Sustainable Foodservice on College Campuses
By Beth W. Orenstein
Today's Dietitian
Vol. 17 No. 3 P. 12
Universities are offering locally grown produce and reducing food waste to preserve future resources.
Many who went to college in the '70s, '80s, or '90s wouldn't recognize their alma mater's dining hall today. Gone are the pans of tasteless lasagna and rubbery chicken served to students whether they wanted it or not. Now, students are more likely to find food choices that aren't only healthier for them but also for the environment.
The greens they eat may have been grown in a garden on campus or at least locally. The beef comes from ranches that raise cattle without hormones or antibiotics and are fed a vegetarian diet. The eggs are from cage-free chickens. The coffee is fair trade. The seafood comes from responsibly managed fish farms and marine fisheries. The trays? Well, they're relics of the past. Research shows that most people take only what they want and therefore waste less food when they dine in cafeterias without trays. And when trays don't have to be washed, dining halls save water and energy.1
Burgeoning Trend
These changes are part of the movement toward sustainability that has been sweeping through the foodservice industry for the last decade or so. Melissa McMahon, assistant director of marketing of culinary and hospitality services at Kennesaw State University in Georgia, says institutional food, whether hospital, hotel, or college, wasn't known for "being tasty or healthful or environmentally responsible" until recently. About 10 years ago, some early adopters in college and university dining services began to serve more food that was local, seasonal, and sustainable like others in their industry. Gary Coltek, senior director and chef de cuisine, and others on the Kennesaw culinary and hospitality services staff come from a restaurant/hotel background and knew that implementing a sustainable foodservice program could be done on campus, too, while still meeting the bottom line. Their efforts have led to Kennesaw's winning several awards, including the National Restaurant Association's Operator Innovations Award for Sustainability in 2013.
Students Leading the Way
Credit the students for pushing more campus dining services toward sustainability, according to Shawn LaPean, executive director of Cal Dining at the University of California, Berkeley, and Rafi Taherian, executive director of dining at Yale University in New Haven, Connecticut. "It was generated from students and student concern," says LaPean, who was shocked at how few recycling and other sustainable practices were implemented when he arrived on campus 12 years ago. Today, he says, at least half of the food served in Cal's student dining halls—30,000 meals per day—is from environmentally friendly, local, and sustainable sources. In addition, the buildings in which the food is housed are certified green by a third party.
Taherian says Yale's interest in sustainability dates to 1900 when it established the first forestry school in America. But students in one of Yale's residential colleges are credited with launching its drive toward sustainability in all its dining facilities. In 2000, students in a class about environmental health and policy organized a campaign to raise awareness and support for organic foods in the college's dining hall. Now the university has a model, which other academic institutions around the country follow, for serving seasonal and sustainable food across its campus, Taherian says.
Kristi Theisen, senior manager of sustainability and wellness for Sodexo, one of the nation's largest campus foodservice providers, says it makes sense that students were the ones to push for sustainable dining, as "today's generation of students is very well educated about sustainability and … grew up recycling." They appreciate when the dining halls make it easy for them to choose "sustainable" because they want to help the environment but are incredibly busy. "They like sustainable dining programs like ours because our programs make it easy for them to make a difference and make the choices that are right for them," Theisen says. Sustainable food items are differentiated with dining hall signage, such as cards saying "cage-free eggs" and icons that make it easy to identify menu items that are vegetarian, vegan, organic, local, and mindful (healthier or lower in fat).
Defining Sustainability
Sodexo uses the United Nations' definition for sustainability in all its divisions including campus dining. In 1987, the UN Brundtland Commission defined sustainable development as "development which meets the needs of current generations without compromising the ability of future generations to meet their own needs."2 In 2009, Sodexo adopted the Better Tomorrow Plan, a continuous-improvement approach to guide everyday company actions. This plan is Sodexo's global strategy for promoting sustainability and corporate social responsibility within Sodexo's core business. With guidance from its Better Tomorrow Plan, Sodexo offers its clients tools, awareness building resources, and valuable third-party partnerships that allow campuses to reduce energy and water use while also reducing food waste by 30% and allowing them to buy local and sustainable food. Theisen says interest is strong and growing exponentially.
Moreover, in 2013, Sodexo reached an industry-leading agreement with Real Food Challenge, the largest student food justice organization in the nation, which puts in place a rigorous and comprehensive set of standards for judging the social responsibility and sustainability of vendors and food producers. By the end of 2014, 27 universities and colleges committed to the Real Food Challenge, which means they will buy a minimum of 20% "real food" annually by 2020.3 Real food is that which is locally grown, fair trade, has a low environmental impact, and is humanely produced.
Ralph Zavala is executive chef for Pomona College in Claremont, California, which, like many, has committed to be a leader in sustainability since 2011. All of its produce is from local vendors. It grows the herbs used in cooking on the campus farm. As much wet waste as possible is composted on site. In the four years since the college committed to sustainability, reaction from students has been positive, Zavala says. "I've never seen anything negative in our comment cards."
Dollars and Cents
The one issue that may be keeping more colleges and universities from converting from traditional to sustainable dining is the cost. However, the food service directors agree that preparing meals with sustainable food and practices can be done economically. LaPean says it can take a little creativity to stay within budget. For example, "you serve a 2.5-oz rather than a 3-oz burger when your antibiotic-free beef is raised on ranches with sustainable practices," he says.
Or, McMahon says, "you grow your own tomatoes." Tomatoes, which many recipes use, can be expensive if the weather is bad. "So we've cut out the middleman with our tomato purchase and production," she says. "This way we don't have to go to the purveyor and buy tomatoes at whatever the market price. And we know we're getting a product that can be more expensive to get when it's naturally grown." Kennesaw also grows its own shiitake mushrooms, which she says can be prohibitively expensive, and has an aviary for honey. Colleges such as Pomona and the University of California, Berkley, may have an advantage being located in fertile California. But McMahon says many urban schools can do rooftop gardening. "Anywhere there's sunshine and dirt you can build a garden of some sort," she says.
Another way Kennesaw achieves its sustainable goals and saves money is by cooking from scratch in small batches. "We make 60% of everything we serve in our dining hall from scratch," McMahon says. "You'll never see a frozen chicken nugget here, ever." Because its chefs cook only what they anticipate needing, they have little, if any, waste at the end of the day. Also, McMahon says, the food is more nutritious because it hasn't been sitting around for hours waiting to be served. The downside: On rare occasions, if the planning is off or students eat more of an item than anticipated, the dining hall might run out.
Where do those who haven't introduced sustainable foodservice programs begin?
• Start small. "I don't think everybody needs to be doing everything. It's more important that you do one or two things well," McMahon says. Not every campus can have its own farms, but you can start with an herb garden, serve less red meat, buy more from local farms and those that implement sustainable practices, and start composting waste. As you succeed, you can expand. It helps to prioritize, Theisen says.
• Research your options. Determine what's feasible for your setting and what you can do within your budget, McMahon says. Zavala finds it's worth taking the time to compare prices. Different distributors have different prices for the same sustainable items as they do for conventional items, he says. Also, he says, when you locate sustainable products, determine where you can plug them into your dining program.
• Educate staff. When foodservice employees are educated on best practices in conservation and reduction, it ensures lower overall energy consumption, Theisen says. "[When] following established best practices for kitchen equipment management, water controls, energy, and food waste minimization, Sodexo employees play a significant role in the impact of campus sustainability programs."
Campus dining sustainability is a must, McMahon says. "Our natural resources are being depleted. That's just a fact. We have to find ways to be more responsible to the environment not just because it's the right thing to do, but also because we can't afford not to," she says. The issues of environmentally responsible dining wherever people eat "are going to be with us forever."
— Beth W. Orenstein is a freelance writer in Northampton, Pennsylvania, and a regular contributor to Today's Dietitian.
References
1. Thiagarajah K, Getty VM. Impact on plate waste of switching from a tray to a trayless delivery system in a university dining hall and employee response to the switch. J Acad Nutr Diet. 2013;113(1):141-145.
2. Sustainable development — concept and action. United Nations Economic Commission for Europe website. http://www.unece.org/oes/nutshell/2004-2005/focus_sustainable_development.html
3. About Real Food Challenge. Real Food Challenge website. http://www.realfoodchallenge.org/about-real-food-challenge