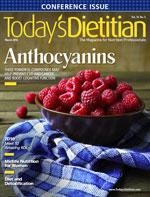 March 2014 Issue
Green Papaya — (Un)Ripe for the Picking
By Bryan Roof, RD, LDN
Today's Dietitian
Vol. 16 No. 3 P. 66
My wife believes in starting and upholding traditions. I believe in breaking them, especially once they've been around for three or more years—technically qualifying as a tradition. I do this to preemptively avoid boredom and keep things interesting.
I started veering from the standard Thanksgiving fare years ago and now also have moved squarely away from the prime rib of Christmas Eve into a pseudo Thai menu. This keeps me excited about cooking for a dozen adults and our collective dozen kids; it's much less work for me, believe it or not; and no one cries apostate when the food is served. The meal also is lighter than the aforementioned prime rib and accoutrements, which saves room for liquid calories.
One of the night's standout dishes is som tam, or green papaya salad. In addition to shredded unripe papaya (hence, the green) the salad contains, in the very least, green beans, small tomatoes, and peanuts and is balanced with a pungent spicy-sweet-sour-salty dressing of garlic, chiles, sugar, lime juice, and fish sauce. Many versions also contain dried shrimp and salted black crab, which I tend to forgo.
Unlike the gentle tossing of ingredients that other salads require, som tam uses a heavy hand to soften the otherwise woody papaya and massage the dressing into its fiber. Made with a large mortar and pestle, the aromatics first are pounded into a coarse paste that constitutes the dressing base. Then the vegetables are added and undergo a somewhat gentler thumping to tenderize and release their juices. The whole process is a bit of a workout, requiring several minutes of intense pestling.
Over the last few years, making the salad in front of guests has become part of the show, creeping ever so close to becoming tradition.
— Bryan Roof, RD, LDN, is a chef, dietitian, and food writer living in Boston. Follow him on Twitter @bryanroof.
Green Papaya Salad
Remove some or all of the seeds from the chiles for milder heat. The instructions below are for making the salad in a large bowl, assuming that most people don't own a Lao-style mortar and pestle. If you do own one, then you probably don't need this recipe anyway.
Serves 6
Ingredients
1 1/2 T brown sugar
2 fresh or dried Thai chiles, stemmed
2 garlic cloves, peeled
4 oz Chinese long beans or green beans, trimmed and cut into 11/2 inch lengths
1 (3 1/2 lbs) green papaya, peeled and julienned on a mandolin (about 6 cups)
2 1/2 T fish sauce
2 T fresh lime juice
4 oz grape tomatoes, halved
3 T chopped roasted, unsalted peanuts
Directions
1. Combine the sugar, chiles, and garlic in a large wooden bowl and pound with a wooden pestle or heavy wooden spoon to a coarse paste.
2. Add the green beans and pound them until lightly crushed but still intact. Add the papaya, fish sauce, and lime juice and pound firmly to tenderize the papaya, pausing to stir and toss the salad with a spoon occasionally, until the papaya is limp and the salad looks wet, about 2 minutes.
3. Add the tomatoes and 2 T of peanuts, and pound lightly to incorporate, about 30 seconds. Turn out the salad and its dressing onto a platter. Sprinkle with the remaining tablespoon of peanuts and serve.
Nutrient Analysis per serving
Calories: 150; Total fat: 4 g; Sat fat: 0 g; Trans fat: 0 g; Cholesterol: 0 mg; Sodium:  450 mg; Total carbohydrate: 28 g; Fiber: 4 g; Sugars: 18 g; Protein: 4 g