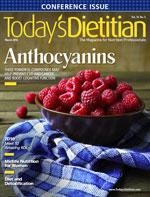 March 2014 Issue
The Perils of AGEs
By Judith Riddle
Today's Dietitian
Vol. 16 No. 3 P. 5
One important topic in dietetics that has gotten much attention in recent months is advanced glycation end products' (AGEs) impact on various aspects of our health. When I attended the Food & Nutrition Conference & Expo in Houston last year, I sat in on an interesting session about AGEs in the foods we eat and learned about the implications for nutrition therapy.
AGEs are harmful compounds that result from cooking foods at high temperatures. The American diet contains foods that are largely heat processed and include high levels of pro-oxidant AGEs, known to cause inflammation, suppress defense mechanisms, boost appetite, enhance obesity, and increase insulin resistance and diabetes risk. People should beware of overcooked foods, especially red meat that's charred in the oven, on the stove, or on the grill, as this is a sign that AGEs are present.
Does this mean clients will have to give up grilling this summer? Not exactly. But they'll need to learn how to modify their cooking methods and choose foods that don't produce large amounts of AGEs when cooked. You can learn how to counsel clients who may be overweight or obese, insulin resistant, or at risk of prediabetes and diabetes in "Advanced Glycation End Products" on page 12.
Your discussion about this matter will tie in nicely with National Nutrition Month®, a time for celebrating the hard work you do in the nutrition profession and helping clients focus on making informed food choices and developing regular exercise habits. "Enjoy the Taste of Eating Right" is this year's theme, which centers on how to combine taste and nutrition to develop healthful meals in line with the 2010 Dietary Guidelines for Americans.
In honor of National Nutrition Month® and Registered Dietitian Nutritionist Day, we're excited to bring you our fifth annual "TD10" feature on page 24, which includes profiles of the top 10 RDs you helped nominate for the phenomenal work they do in dietetics. We invite you to meet these exceptional nutrition professionals and read their incredible stories. And we hope you enjoy the rest of the features in this issue, including articles on midlife nutrition, anthocyanins, and the role nutrition plays in detoxification.
Happy National Nutrition Month® from all of us at Today's Dietitian!
TDeditor@gvpub.com