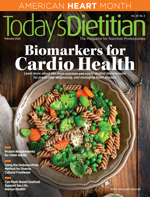 Editor's Spot: Sudden Cardiac Arrest in Athletes
By Judith Riddle
Today's Dietitian
Vol. 25 No. 2 P. 6
On January 2, Buffalo Bills defensive back Damar Hamlin, age 24, went into cardiac arrest after colliding with Cincinnati Bengals receiver Tee Higgins during an NFL football game. Hamlin's coach, teammates, family members, and friends were shocked and deeply concerned about his condition, what caused it, and whether he'd recover.
The Buffalo Bills tweeted on January 3 that Hamlin's heartbeat was restored on the field and that he was taken to the University of Cincinnati Medical Center for treatment, where he was listed in critical condition. A few days later, he was transferred to Buffalo General Medical Center/Gates Vascular Institute, where he underwent a series of cardiac, neurological, and vascular tests and evaluations. Shortly after, Hamlin's medical team determined he was well enough to complete his recovery at home and discharged him on January 10. He was hospitalized for only nine days.
According to an MSNBC Daily article by Esther Choo, MD, MPH, an emergency medicine physician, health policy researcher, and MSNBC opinion columnist, sudden cardiac arrest in pro athletes unfortunately has been occurring for centuries. Though it rarely happens (fewer than 1 in 100,000 athletes per year), it occurs often enough that the American Heart Association recommends cardiac screening of athletes before they're allowed to play competitive sports.
Choo says there are well-established causes of cardiac arrest in seemingly healthy athletes, such as undiagnosed structural heart disease (eg, hypertrophic cardiomyopathy), congenitally abnormal coronary arteries, commotio cordis, and cardiac conduction defects (eg, long QT syndrome or Brugada syndrome). Commotio cordis is a phenomenon in which ventricular fibrillation—an irregular heart rhythm that prevents life-sustaining blood flow—is precipitated by a blunt blow to the sternum. However, despite these possible etiologies, what caused Hamlin to go into sudden cardiac arrest remains unknown.
And while these unfortunate incidents continue to occur among pro athletes, plus the fact heart disease remains the leading cause of death among men and women in the United States, many clients and patients may be taking their heart health for granted. In honor of American Heart Month, discuss the importance of healthful eating and regular physical activity that, together, will promote heart health and help prevent or manage heart disease risk factors.
To learn more about the most common and newly studied biomarkers of heart disease, turn to "Biomarkers for Cardio Health" on page 18. Also in this issue are articles on protein requirements for seniors, the diabetes plate method for diverse cultural foodways, plant-based fish and seafood, and nutrition's link to a good night's sleep. Please enjoy the issue!
— Judith Riddle, Editor
TDeditor@gvpub.com