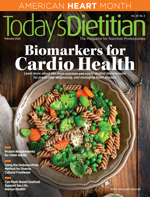 Plant-Based Fish & Seafood
By Mindy Hermann, MBA, RDN
Today's Dietitian
Vol. 25 No. 2 P. 30
Product innovations aim to save sea life and support human health.
It was only a matter of time before the alt-protein movement would transition from the meat and chicken industries to fish.
Consumers are concerned about the environment and sustainability, and this includes the health of oceans and marine species. They have good reason to worry. According to the Food and Agriculture Organization of the United Nations, 90% of fish stocks are either fully fished or overfished and can't support the current level of fish consumption, let alone any increase. In the United States, the 2020–2025 Dietary Guidelines for Americans' recommendation to eat fish twice weekly could negatively impact the seafood supply chain further if a high enough percentage of people complied.
Plant-based seafood is in its infancy. Close to one-half of consumers surveyed are familiar with the concept of plant-based seafood, according to Chicago-based Datassential, a food and beverage market research and insights firm. Over one-fifth of seafood-eating consumers, described in Datassential's 2022 Meat, Poultry, and Seafood Keynote, say they're interested in seafood alternatives, and one-quarter of Gen Z and Millennial seafood-eating consumers say the concept of plant-based seafood substitutes is appealing. Seafood-serving foodservice operators surveyed by Datassential show modest interest in adding plant-based seafood substitutes to their offerings. Although the term "plant-based seafood" currently appears on only 0.7% of US menus, it has grown in menu penetration by +135% over the last four years.
Simple to Complex Product Innovation
To produce plant-based seafood, various technologies are used. The simplest involves modifying an intact food to resemble fish. New York–based Ocean Hugger Foods was among the first companies to prepare alt-fish from a whole food—namely vegetables. Its Ahimi replicates raw ahi tuna using tomato plus soy sauce, sugar, water, and sesame oil, while its Unami converts eggplant, prepared with soy sauce, mirin, sugar, rice bran oil, algae oil, and konjac powder, into a freshwater eel alternative. Both are available in restaurants as vegan sushi but aren't sold at retail. Finless Foods in Emeryville, California, produces its plant-based tuna poke cubes from winter melon and flavoring and seasoning ingredients. Other companies use intact plant ingredients such as jackfruit and carrots.
Technology-driven plant-based protein alternative innovation is described as process-based or product-based in a white paper by Givaudan, a flavor and fragrance company based in Switzerland. Nearly all of today's fish and seafood alternatives employ process-based technology, where ingredients typically are combined, extruded, or molded and cooled in a way that creates a seafoodlike end product. Emerging product-based technology includes precision fermentation and cell cultivation methodologies for generating alt-seafood ingredients from various substrates.
Ingredients in process-based products vary but often include a plant-based protein source such as soy. Soy is popular for its protein quality, functionality, attractive cost, and fiber structure. "Manufacturers use a number of soy ingredients to make plant-based seafood alternatives, often in combination with one another or alongside other plant-protein sources," says Jean Heggie, soy protein consultant for the United Soybean Board. "Among the most common is soy protein concentrate, which is made by removing the soluble carbohydrates from defatted soybean meal, and soy protein isolate, from which both the soluble and insoluble carbohydrate has been removed. Soy protein ingredients can be texturized, made to resemble seafoodlike fibers, and flavored and colored to taste and look like seafood. They deliver high-quality protein and also provide important gelling and binding properties that contribute to the overall eating experience of plant-based seafood alternatives."
Other ingredients also appear in seafood alternatives. Sylvain Jouet, global product manager of meat, fish, and seafood substitutes at Givaudan, says, "Pea is the next most popular choice after soy. Pea protein contains few or no allergens with only slightly lower protein levels than soy, but it has stronger off-tastes that require masking. Wheat protein also is popular, with good sourcing options, a clean taste, and good functionality, but with much lower nutritional content. Other protein choices include chickpeas, lentils, flaxseed, fava, and navy beans."
Starch-based ingredients such as konjac, vegetable root starch, and yam flour, in combination with gums, more closely mimic the texture of shrimp, shellfish, and calamari. Seaweed and algae can contribute to a fishlike taste, and the gelling properties of algae help replicate the texture of shrimp.
Precision fermentation generates food components, such as mycelium protein and fishlike fat from microbes, that are modified to produce the desired ingredient and grown in a nutrient-rich bath of substrates. (Mycelium protein is the key ingredient in the poultry alternative Quorn.) The company Perfect Day generates cell-cultivated seafood alternatives from fish or seafood cells using a process similar to the production of animal-free whey. The cells are fed nutrients, such as proteins, sugars, minerals, and others, in a bioreactor that mimics in vivo growth and in the presence of scaffolding that enables growth into a 3-D form. Proponents promise that cultivation can replicate fish and seafood realistically, sustainably, and without the need to slaughter animals. Recognizing the potential of these technologies, Givaudan has partnered with other industry leaders working to innovate in this area. Moreover, funding has been flowing into cultivated protein companies, particularly in Singapore, and products are expected to roll out in the marketplace beginning in 2023.
"The cost of creating these products, the need for bioreactors, and the regulatory requirements mean that these products are still a ways from seeing supermarket shelves," Jouet says. "In addition, the complex structure of fish and seafood adds to the difficulty of cultivating their alternative counterparts. The Cultured Food Innovation Hub, recently created by Givaudan, is working to address these challenges and make precision fermentation and cellular agriculture viable options for future products."
Food Safety Measures
Food safety considerations for fish and seafood alternatives are similar to those of animal-based products. Potential allergic reactions, which aren't limited to known protein allergens such as soy and wheat, could surface as a result of increased exposure to previously less-consumed plant sources. Novel plant ingredients need to be evaluated for and cleared of any naturally occurring toxins, and processing facilities must follow safety protocols to prevent microbial contamination. To help inform consumers about food safety measures, manufacturers can provide shelf-life information regarding proper storage and handling and preparation methods for safe consumption of plant-based alternatives.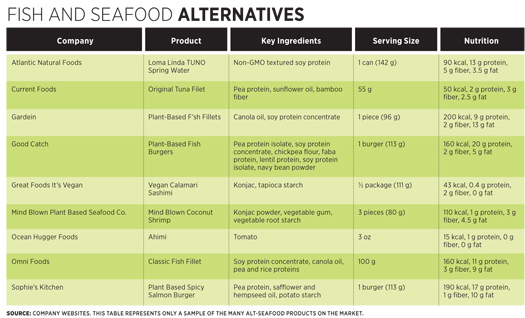 Plant-Based Nutrition Parity
On the subject of nutrition, consumers don't necessarily expect plant-based alternatives to match the nutrient content of their animal-based counterparts. In its 2022 Trends Survey, Innova Market Insights, based in Arnhem, Netherlands, asked US survey participants whether plant-based products are dietary replacements for meat and dairy. One-third responded yes, but a similar percentage said no. Other features may be bigger selling points: US consumers in the same survey named price and taste as top reasons for not purchasing plant-based products.
"Consumers simply are not willing to compromise on the taste and mouthfeel aspects of the food experience," Jouet says. "But as we work to innovate and address this challenge, nutrition may increasingly be viewed as the next biggest area for opportunity."
Emmy van Schijndel, business development manager at DSM, a Dutch multinational chemicals company that focuses on health and nutrition, says, "It's not easy to craft a winning fish alternative application that consumers will love for its taste, texture, mouthfeel, color, and nutritional value. And today's discerning consumers want it all." Van Schijndel cautions that unfortified plant-based fish alternatives typically lack some important nutrients found in traditional fish products, namely EPA and DHA omega-3 fatty acids and vitamin D. DSM provides manufacturers with vitamin and mineral premixes that can take some of the nutrition guesswork out of product formulations and has invested in developing the next generation of plant-based proteins that come close to animal-derived proteins for their functionality and nutritional profile.
"One ingredient we're really excited about for the plant-based seafood category is our vegan Omega-3 solution: life's™OMEGA," van Schijndel says. "This solution uses fermented, natural, non- GMO algae, enabling producers to fortify fish alternatives with the same long-chain omega-3 fatty acids found in traditional fish products without impacting the marine ecosystem." DSM also offers ingredients that help replicate the flavor, fatty mouthfeel, and color of fish and seafood.
Fish and seafood alternatives currently on the market can come close to the protein content of fish, depending on choice and use of plant protein sources. "Plant-based fish alternatives made with soy protein can be formulated to deliver comparable protein levels and quality as the fish species they're trying to emulate," Heggie says. "Additionally, soy protein is the only protein source with an FDA-approved health claim that links soy protein consumption to reduced cardiovascular disease risk."
Products with the highest protein content feature protein ingredients near the top of the ingredient list. Loma Linda Tuno Spring Water, a canned tuna alternative made with isolated soy protein, water, sea salt, yeast extract, seaweed, and DHA algal oil, provides 13 g of protein per single-serving can. Unlike tuna, it also provides fiber. Asia-based food start-up Omni produces a line of fillets, burgers, tuna, crab cakes, and sticks made with soy protein concentrate, pea protein, and rice protein. The plant-based fish burgers and cakes from Good Catch in New York City supply at least 20 g of protein per serving. Good Catch uses a proprietary blend of plant protein ingredients: pea protein isolate, soy protein concentrate, chickpea flour, faba protein, lentil protein, soy protein isolate, and navy bean powder. Brands that make soy-free products that mainly rely on pea protein include Sophie's Kitchen in Sebastopol, California, Current Foods in San Francisco, and Plant Ahead in Quebec, Canada.
Konjac, derived from the root of an Asian yam, provides a shrimplike texture to seafood alternative products. A familiar ingredient in shirataki noodles, konjac is low in carbohydrates and high in fiber but low in protein. Mind Blown Coconut Shrimp, by Plant Based Seafood Co. in Gwynn's Island, Virginia, is produced from a combination of konjac powder, vegetable gum and starch, and other ingredients. A three-piece serving has 3 g fiber and 1 g protein. The salmon sashimi and calamari sashimi from GreatFoods It's Vegan, based in Newport Beach, California, are crafted from a modified resistant starch, konjac flour, and locust bean gum. A serving of calamari has 2 g fiber along with 0.4 g protein.
Can Alt-Seafood Measure Up to the Real McCoy?
Replicating fish and seafood with a plant-based alternative poses challenges because of the broad array of nutrients in seafood. "Seafood delivers a whole package of vital nutrients that are needed for overall health and wellness, such as iron, B6, B12, selenium, protein, and the essential omega-3s EPA and DHA," says Jessica Miller, RDN, LD, nutrition communications manager, at Seafood Nutrition Partnership.
Elana Natker, MS, RD, director, Consumer and Healthcare Practitioner Communications at GOED (The Global Organization for EPA and DHA Omega-3s), agrees, adding that "The only way to get EPA and DHA omega-3s naturally from food sources is from seafood. All other foods need to be fortified with EPA and DHA, and often the source is algal oil. Algal oil has a neutral flavor and is considered vegan or vegetarian." Natker advises consumers to read the ingredient list to check for sources of these important omega-3 fatty acids.
To enhance the flavor of plant-based seafood, manufacturers are including nutritional yeast or MSG in their products. "Fish and seafood have natural umami notes, so an umami ingredient should be added to enhance the flavor," says Chris Koetke, corporate executive chef at Ajinomoto Health & Nutrition North America, Inc, in Itasca, Illinois. "If umami is missing, consumers may not be able to identify umami as the flavor note that's lacking, but they will know that the flavor isn't right."
It's possible to create plant-based fish and seafood dishes without special products. Mollie O'Kane, RDN, a dietitian with Gourmet Dining at Monmouth University in West Long Branch, New Jersey, says that interest in plant-based entrées inspired dining hall chefs at her university to create new vegan dishes such as crab cakes using hearts of palm and tuna melts with mashed chickpeas. "We've received very positive feedback about these options. The crab cakes were first served in the dining hall and are frequently requested for presidential events and other various catering events on campus. Students tell us through social media that the vegan tuna melt is one of their favorite meals."
Alt seafood is gaining ground, particularly as the manufacturing processes for plant-based alternatives become more sophisticated and better able to replicate the sensory properties of fish, crustaceans, and shellfish. How well they replicate the nutrition profile of seafood, however, remains to be seen.
— Mindy Hermann, MBA, RDN, is a food and nutrition communications specialist in metro New York and a market research consultant to Innova Market Insights, Arnhem, Netherlands.