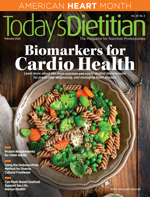 Healthful Fats: Spotlight on Tahini
By Michelle Dudash, RDN
Today's Dietitian
Vol. 25 No. 2 P. 12
With the ongoing popularity of plant-based foods and consumers' desires for global flavors, it's no surprise that tahini (tahina in Arabic) is trending hot. If clients aren't familiar with tahini, it's possible they've enjoyed it in hummus, a main ingredient of the bean-based dip, or drizzled over a gyro.
The COVID-19 pandemic had a significant impact on the global tahini market, but it's expected to bounce back due to the popularity of nut and seed butters and spreads.1
As a paste made of ground sesame seeds, tahini offers a wealth of nutritional benefits, including healthful fats. Clients can incorporate tahini into their diets in a variety of ways while adding flavor and mouth feel to everything from salad dressings to cookies.
Tahini is made by crushing sesame seeds (typically roasted) into a smooth paste. Upon opening a can or jar from the supermarket, there may be oil separated on top from the solids on the bottom. This is remedied by stirring until combined.
The Back Story
People around the world have enjoyed Tahini for centuries.
In fact, sesame seeds have been grown in various parts of the globe for more than 4,000 years and are commercially grown in the United States.2 However, most sesame is imported to the United States; domestically grown sesame typically hails from the south and southwestern states due to its proclivity to hot temperatures and sand. Because of its ability to grow in drought conditions and with low agricultural inputs, sesame has a place in sustainable food systems.
Tahini also has a storied past, since medieval times, eventually becoming a byproduct of sesame oil production.3 Tahini has been widely used in Persia (known today as Iran), where it's believed to have originated, as well as in other Middle Eastern countries, and Greece. Health food stores largely introduced tahini to the United States in 1940.
How It's Made
Tahini is manufactured by crushing washed, dried, and sieved sesame seeds in a mill to form a smooth paste. The seeds may be hulled (peeled) or, less commonly, unhulled. Tahini can be made with raw or low- and slow-roasted sesame seeds, which affects flavor and color. Lauded chefs, cookbook authors, and tahini experts prefer tahini made with Egyptian sesame seeds because of their flavor and texture.
Nutrient Profile and Health Benefits
Tahini is a good source of several nutrients, namely, nutritious fats, fiber, and minerals. Per 2 T serving, tahini gets the majority of its 180 kcal from fat: 15 g total fat, including about 7 g polyunsaturated fat, 6 g monounsaturated fat, and 2 g saturated fat.4 A tahini serving contains 6 g carbohydrate (3 g fiber), 5 g protein, and 14% DV for iron. Notably, tahini is a good source of phosphorus and manganese, nutrients important for bone growth, and thiamine and vitamin B6. Tahini is free of sodium, sugar, and cholesterol.
Despite tahini's 2 T serving size, RDs may find that using just 1 T of tahini is enough. Due to its thickness, a spoonful of tahini that's diluted with water and lemon juice makes it suitable for drizzling.
"If you have a nut allergy, it provides a nutrient-rich alternative to peanut butter and almond butter," says Mary Ellen Phipps, MPH, RDN, LD, author of The Easy Diabetes Desserts Cookbook. "Not only is tahini flavorful, but it's also [a good source of] protein and fiber, which makes it ideal for helping stabilize blood sugar and energy levels."
Special Note on Food Allergies
While tahini may be free of peanuts and tree nuts (always check labels), the FDA has newly minted sesame as the ninth major food allergen as of 2021.5 Sesame is now required to be declared in the allergen statement on packaged foods; effective January 1, 2023, or be listed as the common name (sesame) in the ingredients list. Therefore, people with a sesame allergy should be aware that tahini is made with sesame seeds.
Innovative Products
Some brands currently are taking tahini to the next level with added flavors and applications.
Mighty Sesame Co. Tahini comes in a patent pending squeeze bottle in plain and harissa-flavored varieties, making it easy to squirt into smoothies and onto sandwiches. The company also has launched TahiniBAR, a grab-and-go snack listing tahini as the first ingredient by weight.
Soom Vanilla Bean Tahini incorporates vanilla and powdered sugar for a sweet and silky topping or recipe ingredient. Soom Chocolate Tahini competes with popular hazelnut chocolate spreads but without palm oil, dairy, or artificial ingredients, and contains 67% less sugar and 5 g protein, according to the company's website.
Tahini has become a popular flavor in salad dressings, including Annie's Goddess dressing and Mother Raw Lemon Tahini dressing and marinade, adding vegan creaminess to salads.
Miami-based Tahini Goddess offers its smooth tahini in a variety of flavors, including Everything, Truffle, Curry, Caesar Style, Tzatziki, Pesto, and Za'atar. The company also sells sugar-free halva (a tahini-based confection), the first of its kind in the United States. Founder Sally Schimko says tahini is the "peanut butter" of Israel, her native country.6
Paramount, California-based Tattooed Chef sells Buddha Bowls including sweet potatoes and chickpeas over rice cauliflower with creamy tahini sauce.
Culinary Applications
In the home kitchen, tahini transcends being an ingredient in hummus or a condiment in gyro sandwiches.
"I love to use tahini just like you would nut butters in recipes," Phipps says. One of her creations includes a Cranberry Maple Tahini Granola recipe, where she scoops 1/2 cup tahini over oats, nuts, and seeds before baking.
Chef Abbie Gellman, MS, RD, CDN, pairs spiced lamb meatloaf with tahini sauce in her latest book Instant Pot Mediterranean Diet, combining tahini with plain yogurt, lemon juice, and salt. She also likes to pair beets with tahini yogurt sweetened with maple syrup, cumin, and cayenne.
In her new cookbook Eating From Our Roots: 80+ Healthy Home-Cooked Favorites From Cultures Around the World, Brooklyn-based Maya Feller, MS, RD, CDN, founder of Maya Feller Nutrition, has a less-known black sesame seed tahini that she describes as having a smoky flavor. "Tahini is delicious in marinades, as a crust for tahini-crusted tofu, and combined with miso over noodles."
Tahini also pairs well with beans, carrots, chickpeas, eggplant, falafel, garlic, ginger, chicken, and pork.
Counseling Strategies
Clients can incorporate tahini healthfully into their favorite meals and in the following recipes:
• Make a sauce to accompany roasted meats by whisking together tahini, water, lemon juice, and salt.
• Spread tahini in a thin layer on sandwiches or toast.
• Whisk tahini into vinaigrettes and creamy salad dressings and serve on vegetables.
• Use tahini in place of nut or seed butters in recipes.
• "Add to soups and stews for creaminess, which is a nice option for people who want that mouthfeel without the use of dairy," Feller says.
As these recipes demonstrate, tahini is a versatile food/ingredient that clients can enjoy in a variety of meals and snacks. Tahini is chock full of nutrients and healthful fats, and clients can store it in their pantries in a jar and take advantage of its long shelf life. If clients are looking to add a rich, nutty flavor to their meals or snacks, tell them about tahini and its nutritional and flavorful attributes.
— Michelle Dudash, RDN, is a Cordon Bleu–certified chef; author of Clean Eating Kitchen: The Low-Carb Mediterranean Cookbook (Fair Winds Press, 2021) and Clean Eating for Busy Families, revised and expanded; and creator of Spicekick Meal Spice Kits: Your Sidekick in the Kitchen.
References
1. Tahini market: growth trends, COVID-19 impact, and forecasts (2022-2027). Mordor Intelligence website. https://www.mordorintelligence.com/industry-reports/tahini-food-market
2. USDA Natural Resources Conservation Service. Plant guide: sesame (Sesamum orientale L.). https://plants.usda.gov/DocumentLibrary/plantguide/pdf/pg_seor4.pdf
3. What is tahini? Tahini ingredient 101. Roland Foods website. https://rolandfoods.com/blog/what-is-tahini-101. Published December 1, 2021.
4. FoodData Central. US Department of Agriculture, Agricultural Research Service. https://fdc.nal.usda.gov/fdc-app.html#/food-details/170189/nutrients
5. Food allergies. FDA website. https://www.fda.gov/food/food-labeling-nutrition/food-allergies. Updated October 20, 2022.
6. About me. The Tahini Goddess website.
https://thetahinigoddess.com/pages/about-me