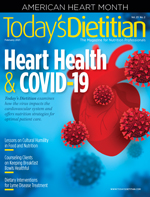 February 2021 Issue
Ask the Expert: Personalized Diet Plans
By Toby Amidor, MS, RD, CDN, FAND
Today's Dietitian
Vol. 23, No. 2, P. 8
Q: I've noticed several commercial weight loss programs offering personalized diet plans. What do these plans offer, and how can I help clients better understand them and their efficacy?
A: As awareness increases that one size doesn't fit all when it comes to dieting and weight loss—and as consumer demand grows for services that reflect this view—some weight loss companies have begun incorporating personalized diet plans into their weight loss programs. In terms of evidence, it's unclear how these personalized plans stack up against traditional weight loss regimens, but plans from three popular weight loss companies yield insights for RDs counseling clients regarding them.
Burgeoning Trend
Diet programs such as WW (formerly Weight Watchers), Jenny Craig, and Nutrisystem have been around for years, and recently each has launched a range of personalized diet plans and individualized weight loss experiences for its users. According to a 2018 survey by the marketing firm Epsilon, 80% of consumers are more likely to purchase a service when brands offer a personalized experience.1
In addition, given that an overwhelming majority of fad diets are highly restrictive and unsustainable long term, many dieters are looking for weight loss plans that meet their individual needs and desires, as well as those tailored to a variety of eating styles including plant-based, vegetarian, gluten-free, and dairy-free. Here's a look at personalized plans from Nutrisystem, Jenny Craig, and WW.
Nutrisystem
Nutrisystem's new NuMi SmartAdapt program claims to tailor its approach to weight loss based on a consumer's total daily energy expenditure, calculated using age, gender, weight, height, and activity level, which determine calorie limits; the consumer's body type (eg, "apple," "pear") dictates macronutrient distribution. The program adjusts for metabolic adaptation as consumers lose weight in a manner Nutrisystem says promotes ongoing, sustainable weight loss. Nutrisystem's programs typically include its branded frozen meals and ready-to-eat options while encouraging customers to balance meals with salads, sliced vegetables, and healthful snacks such as nuts, nut butters, fruit, and cheese. Of note, Nutrisystem has numerous RDs on staff for program development.
Jenny Craig
In December 2019, Jenny Craig announced the launch of Jenny30 and Simply60 programs, both of which include its DNA Decoder Plan. Through DNA analysis of 15 different markers collected via cheek swab, these programs purportedly provide insight into a member's individual genetic traits, specifically those that may impact weight loss, including metabolism, sleep quality, eating behaviors, and the body's response to exercise.
Based on these results, Jenny Craig develops a weight loss plan that works best for the individual and assigns a trained consultant to assist the customer through their journey. Tailored menus that align with DNA results are available, including, for example, more than 20 lower-carb menu items for those who possibly respond better to a lower-carb diet. The science behind a DNA-based approach to weight loss still is emerging; however, a 2018 study didn't support the notion that genetic variants can predict whether an individual will lose weight on a low-carbohydrate vs low-fat diet.2
WW
After launching the personalized program myWW in 2019, WW rolled out myWW+ last year, a program and corresponding app that provides individualized recommendations for diet as well as lifestyle factors including stress/mindset, sleep, and physical activity. After an initial assessment taking into account new members' habits and demographic information, users are then matched with a food plan that works best for their lifestyle and food preferences and a unique SmartPoints budget, used to limit intake of less healthful foods, and a personalized activity budget, wherein they earn FitPoints for physical activities based on height, weight, age, and sex, as well as the type and duration of exercise.
In addition, the myWW+ app uses artificial intelligence to "learn" members' preferences as they use the app; the more a member engages with the app's content and features, the more myWW+ delivers individualized information across food, activity, mindset, and sleep habits.
Recommendations for Clients
Although only three personalized diet programs are described in this article, each program uses different information to individualize users' experiences. While consumer demand has increased for these types of plans, research is scarce on whether personalized weight loss plans are more effective than one-size-fits-all regimens. Dietetics professionals should be familiar with companies' offerings and keep abreast of new types of individualized diet plans as they evolve and become more popular. When counseling clients who want to follow these plans, RDs should review programs' guidelines and pros and cons of each, remind clients to temper expectations (as the information they receive is based primarily on marketing materials), and provide guidance for a safe rate of weight loss. In addition, if clients choose a specific individualized plan, RDs should guide them to ensure they consume a balanced diet with adequate calories and essential nutrients.
— Toby Amidor, MS, RD, CDN, FAND, is the founder of Toby Amidor Nutrition (tobyamidornutrition.com) and a Wall Street Journal best-selling author. Her cookbooks include The Best 3-Ingredient Cookbook, The Best Rotisserie Chicken Cookbook, The Create-Your-Plate Diabetes Cookbook, Smart Meal Prep for Beginners, The Easy 5 Ingredient Healthy Cookbook, The Healthy Meal Prep Cookbook, and The Greek Yogurt Kitchen. She's a nutrition expert for FoodNetwork.com and a contributor to U.S. News Eat + Run and other national outlets.
References
1. Epsilon Marketing. The power of me: the impact of personalization on marketing performance. Slideshare website. https://www.slideshare.net/EpsilonMktg/the-power-of-me-the-impact-of-personalization-on-marketing-performance/1. Published January 4, 2018. Accessed October 3, 2020.
2. Gardner CD, Trepanowski JF, Del Gobbo LC, et al. Effect of low-fat vs low-carbohydrate diet on 12-month weight loss in overweight adults and the association with genotype pattern or insulin secretion: the DIETFITS randomized clinical trial.
JAMA
. 2018;319(7):667-679.