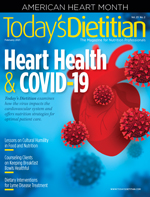 February 2021 Issue
Breakfast Bowls
By Toby Amidor, MS, RD, CDN, FAND
Today's Dietitian
Vol. 23, No. 2, P. 30
These popular dishes can include almost any food. Here's what's driving the trend and ways clients can build healthful meals.
Bowls at the breakfast table used to be reserved for oatmeal and cold cereal, but nowadays you can find most breakfast foods served in a bowl. Breakfast bowls even were offered at an event as high profile as the royal wedding between Prince Harry and Meghan Markle.1
Consumers can now find breakfast bowls on the menu at restaurants and recipes for breakfast bowls published online by bloggers and in cookbooks. These bowls dovetail with nutrition and culinary trends and help meet consumers' desires for variety, versatility, convenience, taste, and healthfulness. Here's a look at the burgeoning trend of breakfast bowls, pros and cons of their inclusion in the diet, and recommendations for clients who want to enjoy them healthfully.
Growing Trend
Lauren Harris-Pincus, MS, RDN, founder of NutritionStarringYOU.com and author of The Protein-Packed Breakfast Club, says "Food bowls are delicious, fun, and portable, with endless possibilities for customization. At breakfast, this includes everything from açaí and smoothie bowls to oat- and grain-based bowls or savory bowls with eggs, beans, cheese, and more. Restaurants, food companies, and home cooks are taking advantage of this trend."
Healthful bowls ranked fourth out of 10 overall restaurant trends for 2020, according to the National Restaurant Association's "What's Hot Culinary Forecast 2020," based on data from more than 600 professional chefs from the American Culinary Federation.2 Restaurants across the country now serve smoothie bowls, egg bowls, and yogurt bowls for breakfast. For example, popular chain restaurant Dunkin' has a Sausage Scramble Bowl made with scrambled eggs, sausage, melted jack cheese, peppers, and onions for 450 kcal and 21 g protein. It also has a more health-conscious Egg White Bowl made with egg whites, spinach, roasted potatoes, cheddar cheese, and caramelized onions for 250 kcal and 14 g protein. Taco Cabana, a Mexican fast-casual restaurant chain located throughout Texas and New Mexico, debuted its Choribean Breakfast Bowl in 2020 made with spicy chorizo, refried beans, potatoes, eggs, queso, and pico de gallo.
Food companies also have fallen into step with this trend. Daily Harvest, a subscription-based meal delivery service, has a line of frozen Harvest Bowls, with varieties such as Butternut Squash + Kale Shakshuka and Spinach + Shiitake Grits. Frozen foods company evol. offers breakfast bowls such as Breakfast Sausage and Uncured Bacon and Creamy Basil Veggie Morning Bowl. Gardein, a producer of meatless meals, has released several vegan breakfast bowls including Shakshuka Breakfast Bowl and Saus'age Benny Breakfast Bowl.
Restaurants and food companies aren't the only ones showcasing bowls for breakfast. The Instagram hashtag #breakfastbowl is associated with upwards of 700,000 (with more added each day) colorful posts of home cooks creating bowls, many topped with a variety of fresh fruits. However, these homemade bowls aren't limited to just fruit smoothies; there are bowls made with pancakes and strawberries, muesli bowls topped with hot cherries, and a creative vanilla yogurt bowl topped with butternut squash, bananas, apples, granola, and pecan butter.
Why So Popular?
There are a few reasons why breakfast bowls have become such a booming trend.
First, they're attractive to look at, which makes them enticing to eat. The gorgeously hued bowls of food can be filled with colorful fresh fruits, interesting nuts and seeds, eggs, and other delicious options.
They also can be cost-effective. Individuals can fill bowls with less-expensive ingredients, or combine a variety of inexpensive ingredients with a more expensive food—think smoked salmon in a breakfast bowl with an egg, a mini bagel, and cream cheese. For restaurants and food companies, these types of combinations enable them to charge a reasonable price point for breakfast bowls while still producing a profit.
Harris-Pincus says homemade breakfast bowls also can include leftovers; this is a good way to help minimize food waste. "Breakfast bowls are an easy way to combine a variety of foods in one meal; there are no rules," she says. Basically, you're tossing a variety of hot or cold foods or ingredients into a bowl and calling it breakfast.
From a nutrition perspective, "bowls have a health halo, and consumers are increasingly looking to diversify their intake of healthful foods such as whole grains, fruit, veggies, nuts, beans, and seeds," Harris-Pincus says. Does that mean all bowls are healthful? Absolutely not—breakfast bowls can turn into high-calorie meals that provide more than a moderate amount of sodium, added sugars, and saturated fat.
Keeping an eye on portions certainly is important, just as with any other meal. However, breakfast bowls do provide an opportunity for consumers to have a well-balanced and varied meal inclusive of numerous food groups that also may include fun, trendy ingredients such as açaí, flaxseeds, and hemp seeds.
Another benefit of breakfast bowls is that they can be customized to meet consumers' special dietary needs. They're suitable for those with food allergies, who follow a vegan or vegetarian diet, or who have other special needs. This is especially helpful for foodservice establishments that serve consumers following various dietary patterns. In these settings, food allergies easily can be managed by separating foods and assembling bowls on a line in front of the customer—of course, cross-contact between utensils still would need to be managed.
Whether made at home or bought premade, breakfast bowls are a perfect grab-and-go meal. As many consumers eat on the go, need something easy to tote to work, or have generally busy mornings, breakfast bowls provide the convenience consumers want. Breakfast bowls can be prepped in advance and eaten throughout the week. Because they can contain fresh produce, it may be a good idea to recommend preparing them twice per week so they last about two to three days. These quick and easy breakfasts also travel well in resealable containers.
Nutrition Advantages and Pitfalls
There are numerous nutritional advantages to breakfast bowls, including the following:
• Increased fiber. Harris-Pincus says breakfast bowls can provide "a jump start on fiber goals for the day, since most of the common ingredients used to create bowls are produce, whole grains, nuts, and seeds." With 95% of Americans missing the mark on fiber, Harris-Pincus says, "this is a golden opportunity to improve those statistics."
• Greater variety at breakfast. Breakfast bowls can include seasonal produce, leftover ingredients, and everything in between (eg, canned beans, canned corn). The increase in variety potentially can increase consumers' micronutrient, antioxidant, and phytochemical consumption.
• Higher fruit and vegetable intake. According to the 2020–2025 Dietary Guidelines for Americans, about 90% and 85% of Americans don't meet the recommended daily vegetable and fruit intake, respectively. Breakfast bowls have no restrictions on what they can include, as many recipes contain fruits such as berries, bananas, and mango, and vegetables such as spinach, kale, and butternut squash. They present a good opportunity to maximize consumption of both fruits and vegetables.
However, if not constructed carefully, breakfast bowls also can be unhealthful. Here are some of the pitfalls consumers should avoid.
• Large portions. "Some people can unintentionally end up with a 750-or-more–calorie bowl if they're too heavy-handed with items like nut butter and avocado," Harris-Pincus says. In addition, some bowls are meant to serve two people, but some individuals may consume these bowls alone in one sitting.
• Nutrient omissions. "Blending four servings of fruit with juice will leave the individual short on protein and heart-healthy fats," Harris-Pincus says. Often, consumers forget about balance and include only one food group, leading to simultaneous overconsumption of calories and underconsumption of a variety of food groups and nutrients.
• Extra added sugars. Premade smoothie bowls and smoothie bowl recipes tend to include a sweetener, and it's easy for consumers to go overboard, even when making bowls from scratch. For example, clients may be tempted to include an extra tablespoon or two of honey to their bowl, not realizing each tablespoon contains 17 g sugar.
• High saturated fat levels. A bacon and sausage bowl with eggs may sound delicious to consumers, but the amount of saturated fat—and sodium—can be excessive.
So it's important to remind clients that much like frozen meals and many foods served in restaurants and other foodservice establishments, breakfast bowl ingredients can be unhealthful, and portions can be larger than necessary, leading to overconsumption at breakfast.
Recommendations for Clients
Given that clients who eat breakfast bowls have to navigate nutrition information in supermarket aisles, restaurants, and at home, having the following tips available on paper or in digital form may be helpful:
• Select ingredients from different food groups. When creating a breakfast bowl, choosing foods from different food groups including fruits, vegetables, protein, grains (especially whole grains), low-fat and nonfat dairy, and healthful fats can help ensure a variety of nutrients are consumed first thing in the morning.
• Choose foods with varying textures and flavors. If clients choose to create a smoothie bowl with fruit and yogurt or milk, they can top it with crunchy chopped nuts and flaxseeds. The diverse flavors and textures make the meal more satisfying.
• Don't forget protein. According to Harris-Pincus, clients should aim for at least 20 g protein in a breakfast bowl from protein sources such as eggs, Greek yogurt, cottage cheese, tofu, beans, nuts, or protein powder. Protein takes longer to digest, making breakfast bowls more satiating.
• Add fruits and/or vegetables. Including fruits or vegetables (or both) at breakfast can help clients meet their daily recommended servings of produce. Harris-Pincus suggests adding spinach, mushrooms, peppers, or tomatoes to an egg-based bowl or using fresh or frozen fruit paired with a protein source such as Greek yogurt or cottage cheese and a healthful fat for a sweet bowl.
• Sweeten carefully. Although honey and pure maple syrup are "natural" ways to sweeten bowls, clients should use about one teaspoon of honey or maple syrup per serving to reduce the calorie count.
• Be mindful of portions. Bowls tend to include one or two higher-calorie ingredients such as hard cheese, avocado, shredded coconut, or granola; clients should measure these foods or otherwise add them sparingly to bowls.
• Use leftover ingredients. If clients have leftover salad, they can add it to a bowl and top it with a hard-boiled or poached egg. Leftover fresh fruits and vegetables also can be blended into smoothie bowls or cut up as a topping.
• Experiment with new ingredients and foods. Breakfast bowls provide an opportunity to include alternative nut butters, hazelnuts and pistachios, frozen blended açaí, hemp seeds, and chia seeds, or use familiar ingredients in a new way, such as adding quinoa or barley to a sweet breakfast bowl.
• Prep breakfast bowls in advance. To help save time during a busy morning, clients can prep several breakfast bowls in advance to eat for three or four mornings during the week. Storing them in resealable containers or glass jars make them easy to grab and go.
• Read food labels. If clients choose to use condiments or premade toppings such as granola, encourage them to read labels to determine the amount of unhealthful nutrients there are such as added sugars and added fats per serving.
• Modify bowls at restaurants. Encourage clients to ask servers to remove one or more high-fat ingredients or serve them on the side to control portions and calories. Clients also can modify their bowls to make them vegan or vegetarian, or remove items due to food allergies.
While breakfast bowls at many restaurants usually are presented as one serving, some contain enough food and calories to serve two people. If this is the case, suggest clients split the bowl with a friend or family member or take half of it home for tomorrow's breakfast.
— Toby Amidor, MS, RD, CDN, FAND, is the founder of Toby Amidor Nutrition (tobyamidornutrition.com) and a Wall Street Journal best-selling author. Her cookbooks include The Best Rotisserie Chicken Cookbook, The Create-Your-Plate Diabetes Cookbook, Smart Meal Prep for Beginners, The Easy 5-Ingredient Healthy Cookbook, The Healthy Meal Prep Cookbook, and The Greek Yogurt Kitchen. She's a nutrition expert for FoodNetwork.com and a contributor to U.S. News Eat + Run and other national outlets.
References
1. Wilson B. The comfort of bowl food. The Wall Street Journal. July 13, 2018. https://www.wsj.com/articles/the-rise-of-bowl-food-1531498359#_=_. Accessed November 23, 2020.
2. What's hot culinary forecast 2020. National Restaurant Association website. https://restaurant.org/research/reports/foodtrends. Accessed November 23, 2020.
[Recipes]
Toasted Coconut Wild Blueberry Smoothie Bowl
Serves 1
Ingredients
1 T unsweetened coconut, toasted
1/2 cup unsweetened coconut, almond, or cashew milk
1 tsp chia seeds
1 scoop (1/4 cup) vanilla whey protein powder, preferably grass-fed and sweetened with stevia
1 packet stevia
2 T coconut flour
1 cup frozen wild blueberries
1/2 cup ice
Optional: 1 tsp lemon juice and/or 1/8 to 1/4 tsp ground ginger
Directions
1. Place coconut flakes on aluminum foil in the toaster oven and toast for approximately 2 1/2 minutes, watching carefully to make sure it doesn't burn. Remove and set aside.
2. Add remaining ingredients into a blender and blend until smooth. You may need to scrape down the sides once or twice during blending.
3. Transfer to a serving bowl and top with toasted coconut.
Nutrient Analysis per serving
Calories: 300; Total fat: 8 g; Sat fat: 5 g; Sodium: 220 mg; Total carbohydrate: 31 g; Dietary fiber: 14 g; Sugars: 11 g; Protein: 27 g
— Source: Recipe and photo courtesy of Lauren Harris-Pincus, MS, RDN
Meal Prep Mediterranean Breakfast Bowl
Serves 5
Ingredients
5 Kirby or mini cucumbers, divided
1 1/4 cups cherry tomatoes, divided
5 peeled hard-cooked eggs, divided
2 1/2 large (8-in) 100% whole wheat pitas, divided
5 (3/4 oz) slices low-fat Swiss cheese, divided
1 1/4 cups prepared or homemade hummus
Directions
1. In each of 5 containers, place 1 cucumber, 1/4 cup tomatoes, and 1 egg.
2. Slice the 2 whole pitas in half.
3. Add 1 slice of cheese, 1 pita half, and 1/4 cup hummus to each bowl.
4. Cover and refrigerate for up to 5 days.
Nutrition Analysis per serving
Calories: 312; Total fat: 14 g; Sat fat: 3 g; Cholesterol: 193 mg; Sodium: 510 mg; Total carbohydrate: 28 g; Dietary fiber: 7 g; Sugars: 5 g; Protein: 21 g
— Source: Recipe and photo courtesy of Toby Amidor, MS, RD, CDN, FAND