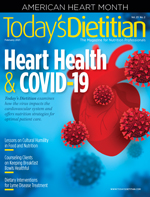 February 2021 Issue
Dairy Alternatives: Hottest Trends in Plant-Based Dairy — The Latest Dips, Yogurts, Spreads, and Cheeses
By Taylor Wolfram, MS, RDN, LDN
Today's Dietitian
Vol. 23, No. 2, P. 12
As recently as a decade ago, it was a challenge for those who avoid dairy to find creamy, satisfying alternatives. Fast-forward to today and the options for dairy alternatives are plentiful and increasingly accessible.
According to data from the Plant Based Foods Association, sales of plant-based foods grew 11.2% in 2019 compared with 2.2% for all foods.1 Plant-based yogurt is a huge driver, with sales soaring by 39% between April 2018 and April 2019.2 Plant-based cheese sales increased 19% during this time period; plant-based condiments, dressings and mayo by 7%; plant-based milks by 6%; and plant-based butters by 5%.2
Michael Robbins, a spokesperson for the Plant Based Foods Association, says much of this growth is driven by innovation by new and existing food companies. "We're seeing an increased desire by consumers to diversify their diet with plant-based alternatives. As new foods come on the market, consumers are jumping into them head first," he says. Robbins also reports greater environmental concern, especially among younger consumers, as a key driver of increased sales of these foods.
Advantages of Plant-Based Dairy Alternatives
In addition to environmental concerns, consumers choose plant-based foods due to animal welfare, dairy allergy, and lactose intolerance.3
According to Chris Vogliano, MS, RDN, a PhD candidate in public health nutrition and food systems at Massey University of New Zealand, "Plant-based products in general have lighter water and land footprints and require fewer natural resources than their animal-based counterparts."
Plant-based diets tend to be higher in fiber (which increases satiety) and lower in calories than standard diets, which can make it challenging for some plant-food eaters to consume enough calories.4 Plant-based dairy alternatives can help. Amy Good, RD, LD, a plant-based dietitian in Toledo, Ohio, says, "Individuals may find themselves feeling overly full when eating a plant-based diet due to the increase in volume. Plant-based cheeses, yogurts, dips, and spreads are often made with nuts and seeds, which are higher in dietary fat, making these foods excellent options to debulk a plant-based diet."
Plant-Based Cheeses
The world of plant-based cheese is vastly different than it was just a few years ago. Not only are there more plant-based cheese brands, varieties, and flavors, but shoppers now can find many of these products at traditional supermarkets and big box stores. Plant-based cheese options range from slices and shreds to wheels and spreads.
Daiya and Tofutti are popular brands that tend to be available in a variety of stores, whereas smaller or artisan brands such as Follow Your Heart, Miyoko's Creamery, Treeline, Violife, Field Roast, So Delicious, and Kite Hill may be available only in specialty stores, depending on the locale. Consumers also may find private-label and local plant-based cheese products in stores.
There's a plant-based cheese for just about any culinary use: sandwiches, pizza, nachos, pastas, sauces, snack boards, and more. Shoppers can find plant-based versions of mozzarella, cheddar, Colby-Jack, provolone, Gouda, parmesan, feta, and ricotta, among others.
Plant-based cheeses are made from a variety of ingredients. Many newer varieties are nut based, with cashew being the most popular. Some are made from chickpea protein, while others may be soy based. Common ingredients are coconut and/or palm oil, canola oil, tapioca and/or potato starch, and a variety of gums and salt.
There are a handful of cheese alternatives that contain casein or other dairy ingredients that are marketed mainly toward folks who are lactose intolerant. Vegan consumers should read food labels to ensure the plant-based cheese they buy is indeed fully plant based.
The main nutritional difference between these cheeses and their animal-based counterparts is that plant-based cheeses tend to be lower in total and saturated fat and, unless fortified, usually aren't a good source of protein or calcium. Some cheeses, such as those made by Violife, may be fortified with vitamin B12. If clients previously were relying on animal-based cheeses for protein and calcium and have switched to plant-based alternatives, RDs should counsel them on how to meet their needs through plant-based sources of these nutrients (eg, legumes for protein and calcium-fortified milks and juices, low-oxalate leafy greens, calcium-set tofu, and dietary supplements for calcium).
Plant-Based Yogurt
Plant-based yogurts are commanding more space in supermarket refrigerator sections than ever before, and they come in a variety of flavors. Coconut, almond, cashew, and oat currently are popular bases, with soy falling by the wayside. Shoppers can find plain and unsweetened plant-based yogurt as well as familiar flavors such as strawberry, blueberry, and vanilla.
Several plant-based brands, including Silk, Kite Hill, Forager, So Delicious, Daiya, and Follow Your Heart, are making yogurt; Califia Farms and Forager make plant-based probiotic yogurt drinks, while Daiya and Kite Hill offer Greek-style plant-based yogurt. There also are traditional dairy brands offering plant-based yogurts, such as Chobani, Nancy's, Stonyfield, and Yoplait.
Similar to plant-based cheeses, plant-based yogurts typically aren't good sources of calcium unless fortified. Most are low in protein (averaging 0 to 3 g per serving); however, soy yogurt (6 to 7 g protein per serving), Greek-style almond yogurt (10 to 11 g per serving), and those fortified with pea protein are good sources. Some plant-based yogurts are fortified with calcium and vitamin D (such as varieties from Silk and So Delicious). There are plain, unsweetened varieties of plant-based yogurt with zero added sugars as well as sweetened, which may contain 10 to 16 g added sugars per serving. Given the variety of plant-based yogurt, RDs can counsel clients on best options to meet their individual nutrient needs.
Angela Wortley, RDN, a vegan dietitian in private practice in Ypsilanti, Michigan, says, "My favorite plant-based yogurts are the Kite Hill Greek yogurts because they're thick, filling, and have much more protein (10 to 11 g per 5.3-oz serving from almonds) than most other plant-based yogurts. They make a great snack on their own and are good in smoothies, and I also like them for breakfast with cereal."
Plant-Based Spreads
Another popular category is plant-based spreads. From butter and mayo to cream cheese and cheesy spreads, there are many varieties on the market. Similar to yogurt, there are plant-based brands making these products as well as dairy brands looking to get a piece of the plant-based spread market.
Earth Balance, Forager, and Miyoko's Creamery are popular plant-based buttery spread brands, while Country Crock and I Can't Believe It's Not Butter also offer plant-based spreads. These products are cholesterol-free and usually are lower in total fat and saturated fat (ranging from 6 to 11 g per serving and 2 to 8 g per serving, respectively) compared with animal-based butter.
Vegenaise from Follow Your Heart has been the mayo of choice for many plant-food eaters for years. There are now additional options from brands including JUST, Earth Balance, and Hellmann's. These products usually contain typical mayo ingredients, such as oil, vinegar, lemon juice, sugar, and salt, minus the eggs. Plant-based mayos also are cholesterol-free and usually are comparable to animal-based mayo in total fat and saturated fat (ranging from 8 to 10 g per serving and 0.5 to 1 g per serving, respectively).
Tofutti had a corner on the plant-based cream cheese market for years until Kite Hill, Miyoko's Creamery, Daiya, and Violife came onto the scene. Plant-based cream cheeses are made from a variety of ingredients, including soy, almonds, and cashews. Total fat and saturated fat range from 5 to 7 g per serving and 0 to 6 g per serving, respectively, while protein content sits between 0 and 3 g per serving. Miyoko's Creamery also makes a Roadhouse Chedda cheese spread in three flavors that contain 9 g total fat, 4.5 g saturated fat, and 2 g protein).
Plant-Based Dips
Previously, if plant-based eaters wanted a creamy dip to go alongside potato chips, crackers, pitas, or raw veggies, likely they'd have to make it themselves. Now, there are several commercially available options. Similar to plant-based yogurts, these dips often are made from nuts.
With plant-based sour cream available from brands including Tofutti, Follow Your Heart, Forager, and Good Karma—which vary in sodium content but tend to be comparable to dairy sour cream in total and saturated fat—folks can use these products to make their own dips, or they can buy premade creamy plant-based dips.
Kite Hill makes a line of plant-based yogurt dips, including French Onion, Ranch, and Tzatziki. Since these dips are made from low-calorie almond milk yogurt, they're much lower in calories (30 kcal), total fat (2 g), and saturated fat (0 g) per serving than dairy-based versions; sodium ranges from 75 to 150 mg per serving.
Siete makes plant-based cheese dips à la nacho cheese, which the company calls Cashew Queso, available in mild nacho and queso blanco flavors. Per serving, the dips contain 30 to 35 kcal, 2 to 2.5 g total fat, <1 g saturated fat, 1 g protein, and 200 to 220 mg sodium.
Also popular is Bitchin' Sauce, a flavorful almond-based dip made with lemon juice, garlic, and nutritional yeast. The brand has several flavors, including Original, Chipotle, Cilantro Chili, and Pesto. The original flavor contains 90 calories, 10 g total fat, 1 g saturated fat, 2 g protein, and 150 mg sodium per serving. The company also makes an almond-based Caramel dip that contains 110 kcal, 8 g total fat, 1 g saturated fat, 2 g protein, 45 mg sodium, and 7 g total and added sugars per serving.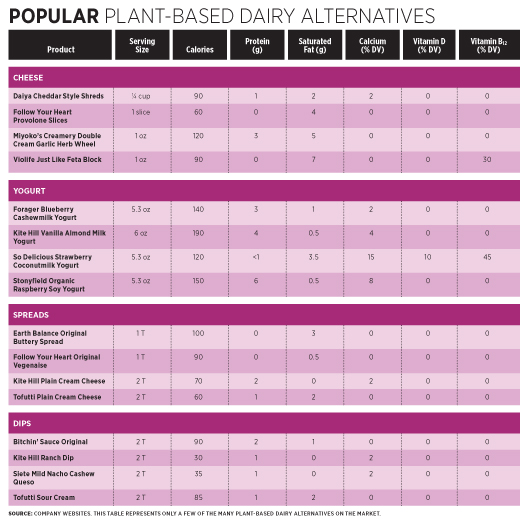 Click to enlarge
Environmental and Nutritional Considerations
Many clients who eat these plant-based products may do so for their eco-friendly appeal. According to Vogliano, the environmental impact of these foods varies. "The most environmentally friendly plant-based ingredients include minimally processed whole grains (wheat, oat, millet, corn), seeds (sesame, flax, chia, sunflower), tubers (tapioca, potato, sweet potato), and legumes (lentils, beans, peanuts, soy)," he says. "If possible, reduce the excessive use of tropical oils such as coconut or palm oil, unless they are Rainforest Alliance Certified."
And while these plant-based foods may excel in flavor and function, they're never an exact nutritional substitution for their animal-based counterparts. Unless fortified, these foods aren't a good source of calcium or protein. Many fortified options exist, so it's important for RDs to familiarize themselves with the products on the market and their nutritional content to help educate clients on nutrient-dense choices.
Saturated fat from coconut and palm oils in these products may be a concern for those with cardiovascular conditions. RDs should counsel clients on lower–saturated fat options and how to appropriately fit higher–saturated fat options into a balanced eating pattern and healthful lifestyle.
Some clients may have questions about whether these products are minimally or highly processed. Anya Todd, MS, RD, LD, a Cleveland-based vegan dietitian, says, "Yes, there are nondairy cheeses that have more ingredients than their dairy counterparts, but if you want something to melt and stretch and taste like cheddar, adding benign ingredients like starches, gums, and flavorings is essential. Plants are going to undergo processing in order to turn into yogurt and cheese, just like dairy milk does. As RDs, our understanding of food science matters here when explaining these innovative plant-based products to our clients."
— Taylor Wolfram, MS, RDN, LDN, is a vegan dietitian in private practice based in Chicago.
References
1. Retail sales data. Plant Based Foods Association website. https://plantbasedfoods.org/marketplace/retail-sales-data/. Accessed October 26, 2020.

2. U.S. plant-based retail market worth $4.5 billion, growing at 5x total food sales. Plant Based Foods Association website. https://plantbasedfoods.org/2019-data-plant-based-market/. Published July 12, 2019. Accessed October 26, 2020.
3. Melina V, Craig W, Levin S. Position of the Academy of Nutrition and Dietetics: vegetarian diets. J Acad Nutr Diet. 2016;116(12):1970-1980.
4. Norris J. Average nutrient intakes of vegans. Vegan Health website. https://veganhealth.org/average-nutrient-intakes-of-vegans/. Updated May 2017. Accessed December 1, 2020.