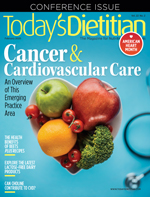 February 2020 Issue
Ask the Expert: Contaminated Herbs and Spices
By Toby Amidor, MS, RD, CDN, FAND
Today's Dietitian
Vol. 22, No. 2, P. 8
Q: Some of my clients are concerned about potentially contaminated herbs and spices on the market. What does the research say, and how can I counsel them effectively?
A: Numerous studies have shown that pathogenic microorganisms and heavy metals do appear in some imported herbs and spices and pose a safety risk in some populations, such as those with compromised immune systems. However, the US government and some individual manufacturers have procedures in place to ensure consumers' safety, and there are steps clients can take when purchasing and using herbs and spices to reduce their risk of being exposed to contaminants.
The Research
Most research has been conducted on contaminants in the form of pathogens, typically Salmonella; heavy metals; and debris such as insects and animal hair.
A 2013 study used FDA contamination data from 79 countries during fiscal years 2007–2009. An average of 6.6% of imported spices contained Salmonella, about twice the average level of all other imported, FDA-regulated foods. Salmonella prevalence was associated with spice properties, extent of processing, and export country. For example, a larger proportion of spices derived from the fruit, seeds, or leaves of a plant were contaminated compared with those from the bark or flower of a plant. Salmonella also was more commonly found in larger shipments of ground or cracked capsicum and coriander compared with their whole-spice counterparts.1
Other contaminants were present as well; 12% of spice shipments were adulterated with debris such as insects and animal hair, which could have resulted from inadequate packing or storage conditions. The most commonly contaminated spices included coriander, basil, oregano, sesame seeds, pepper, cumin, and curry powder.1
As reported in a 2017 study, the FDA sampled 11 different herbs and spices at a variety of retail establishments throughout the United States. (Previous studies looked at imported spices only during the shipment process, not when those products were available to consumers.) Less than 1% of retail spices were contaminated with Salmonella, likely because herbs and spices undergo a pathogenic reduction treatment, such as irradiation or pasteurization, once they enter the United States and before they reach retail establishments.2
Heavy metal, especially lead, contamination also has been a point of concern in herbs and spices. Researchers in a 2017 article collected 32 samples of turmeric from Boston-area retail establishments and found a median lead contamination of 0.11 parts per million (ppm)—just above the FDA's maximum allowable lead level for candy of 0.1 ppm (the FDA hasn't established limits for lead contamination in herbs and spices).3
Improving Safety
As part of the goals of the 2011 Food Safety Modernization Act to strengthen and broaden the FDA's regulatory authority, the FDA is establishing an accreditation program for third-party certifiers to learn to conduct rigorous food safety audits. The FDA also is developing training centers abroad to train local spice manufacturers better supply chain management to ensure safety. In addition, FDA scientists will participate in the Codex Committee on Spices and Culinary Herbs, part of an international organization that sets food safety standards, guidelines, and codes of practice.4
The American Spice Trade Association has published safety recommendations for spice companies as well as guidelines for companies to distribute to their suppliers and customers.5 In addition, many notable spice brands test the quality and safety of their products; for example, McCormick is a Safe Quality Food Certified Supplier at the highest level possible.6
Recommendations for Clients
While minimal contamination may be unavoidable, RDs should assure clients that herbs and spices are healthful and generally safe. Suggest clients stick to well-known brands and/or research brands to ensure that quality and safety are utmost priorities. Clients, especially those who are immunocompromised or more sensitive to contamination, should add dried spices and herbs during cooking or toast spices before using, as Salmonella is destroyed when heated to 160° F.
— Toby Amidor, MS, RD, CDN, FAND, is the founder of Toby Amidor Nutrition (http://tobyamidornutrition.com) and a Wall Street Journal best-selling author. Her cookbooks include Smart Meal Prep for Beginners, The Easy 5-Ingredient Healthy Cookbook, The Healthy Meal Prep Cookbook, The Greek Yogurt Kitchen, and the forthcoming The Create-Your-Plate Diabetes Cookbook and The Best Rotisserie Chicken Cookbook Ever. She's a nutrition expert for FoodNetwork.com and a contributor to U.S. News Eat + Run and Muscle&Fitness.com.

References
1. Van Doren JM, Kleinmeier D, Hammack TS, Westerman A. Prevalence, serotype diversity, and antimicrobial resistance of Salmonella in imported shipments of spice offered for entry to the United States, FY2007-FY2009. Food Microbiol. 2013;34(2):239-251.
2. Food and Drug Administration, Center for Food Safety and Applied Nutrition. Risk profile: pathogens and filth in spices. https://www.fda.gov/media/108126/download. Published 2017.
3. Cowell W, Ireland T, Vorhees D, Heiger-Bernays W. Ground turmeric as a source of lead exposure in the United States. Public Health Rep. 2017;132(3):289-293.
4. Questions & answers on improving the safety of spices. US Food and Drug Administration website. https://www.fda.gov/food/cfsan-risk-safety-assessments/questions-answers-improving-safety-spices. Updated March 2, 2018.
5. American Spice Trade Association. Clean, safe spices. https://www.astaspice.org/food-safety/clean-safe-spices-guidance-document/. Published 2017.
6. The McCormick quality story. McCormick Gourmet website. https://www.mccormick.com/gourmet/quality