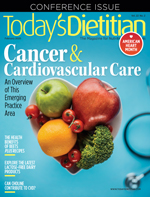 February 2020 Issue
Culinary Corner: Go Plant-Based for Cancer Prevention
By Jessica Ivey, RDN, LDN
Today's Dietitian
Vol. 22, No. 2, P. 66
Plant-based eating is everywhere. As of the end of 2019, the hashtag #plantbased has been used 25.3 million times on Instagram, and even fast food burger chains now serve plant-based burgers. This diet trend may help to protect against cancer.
While February is widely known as American Heart Month, it's also National Cancer Prevention Month, making it the perfect time to educate clients regarding a cancer-protective diet. Cancer is the No. 2 leading cause of death in the United States,1 but researchers estimate that between 30% and 50% of cancer cases are preventable.2 As part of its cancer prevention recommendations, the American Institute for Cancer Research recommends eating a diet rich in whole grains, vegetables, fruits, and beans. A predominantly plant-based diet that's rich in fiber and water also supports another cancer prevention recommendations, to maintain a healthy weight.
The Institute's New American Plate is a visual tool for helping clients transition to a diet rich in plant foods. At each meal, clients should be encouraged to fill two-thirds of their plate with plant foods, including nonstarchy vegetables, fruits, whole grains, and beans or lentils, and limit animal-based proteins to one-third of the plate or less. This realistic approach can be used to empower clients to make gradual transitions for lasting lifestyle changes. For example, a client who typically eats a large portion of beef or pork at dinner nightly can be encouraged to reduce their portion of meat while increasing their portions of nonstarchy vegetables and whole grains. Basic education regarding appropriate portion sizes with food models, especially for meat and poultry, can be eye-opening for clients.
Dietitians who develop recipes or host cooking demonstrations or classes can show clients how to incorporate these guidelines in their meals. Examples could include creating a recipe for a blended burger wherein one-half of the meat is replaced with mushrooms; this same substitution can be used in other recipes such as meatloaf. Try making a Bolognese sauce with veggies and lentils to introduce clients to an easy-to-cook pulse. Prepare a power bowl with a whole grain, vegetables, and a small serving of shredded chicken or flaked salmon.
This hearty meatless chili served in a spaghetti squash boat is full of flavor and nutrient-rich vegetables and beans without any meat.
— Jessica Ivey, RDN, LDN, is a dietitian and chef with a passion for teaching people to eat healthfully for a happy and delicious life. Ivey offers approachable healthful living tips, from fast recipes to meal prep guides and ways to enjoy exercise, on her website, JessicaIveyRDN.com.

References
1. Heron M; National Center for Health Statistics. Deaths: leading causes for 2017. https://stacks.cdc.gov/view/cdc/79488. Published June 24, 2019.
2. Cancer prevention. World Health Organization website. https://www.who.int/cancer/prevention/en/. Accessed October 17, 2019.
Recipe
Vegetarian Chili Spaghetti Squash Boats
Makes 4 servings (1 spaghetti squash half filled with about 1 1/2 cups chili)
Ingredients
2 small spaghetti squash (11/2 lbs each)
1 cup water, divided
1 1/2 tsp olive oil
1/2 cup chopped onion
1/4 cup chopped carrot
1/4 cup chopped celery
1/4 cup chopped bell pepper (any color)
3 cloves garlic, minced
4 tsp salt-free chili powder blend
1 1/2 tsp ground cumin
1 tsp smoked paprika
1/2 tsp dried oregano
1 15-oz can no-salt-added black beans, drained and rinsed
1 15-oz can no-salt-added pinto beans, drained and rinsed
1 14.5-oz can no-salt-added diced tomatoes
1 8-oz can no-salt-added tomato sauce
1/2 cup chopped walnuts
1/2 tsp salt
Hot sauce (optional)
Chopped fresh cilantro (optional)
Directions
1. Preheat oven to 375° F. Pierce both squashes several times with a sharp knife. Microwave each squash on high power for 2 minutes. Cut each squash in half lengthwise, and remove seeds with a spoon. Place squash halves, cut sides down, in a large baking dish; add 1/2 cup water to dish.
2. Bake 40 minutes or until squashes are tender when pierced with a fork. Let stand 10 minutes. Use a fork to scrape into spaghetti-like strands, leaving a 3/4-inch shell. Place spaghetti squash strands on a clean towel, and squeeze out excess moisture.
3. While squash bakes, heat oil in a pot over medium heat. Add onion, carrot, celery, and bell pepper, and sauté 5 minutes or until vegetables are tender. Add garlic, chili powder, cumin, paprika, and oregano, and sauté 1 minute or until fragrant. Add beans, tomatoes, tomato sauce, walnuts, 1/2 cup water, and salt to vegetable mixture in pot. Bring to a boil.
4. Reduce heat and simmer 30 to 40 minutes, or until spaghetti squash is ready. Stir spaghetti squash into chili, and spoon evenly into spaghetti squash shells. Sprinkle with hot sauce and cilantro, if desired.
Nutrient Analysis per serving
Calories: 330; Total fat: 13 g; Sat fat: 1.5 g; Sodium: 370 mg; Total carbohydrate: 44 g; Dietary fiber: 14 g; Sugars: 11 g; Protein: 13 g