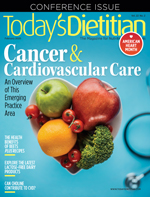 February 2020 Issue
Editor's Spot: Cancer and Heart Disease
By Judith Riddle
Today's Dietitian
Vol. 22, No. 2, P. 6
A few weeks ago, I read a riveting article about a woman named Toni who was diagnosed with breast cancer at age 29. She underwent a lumpectomy followed by radiation and the chemotherapy drugs cyclophosphamide and doxorubicin. At age 35, she discovered another malignant tumor in her other breast. She then had a double mastectomy and underwent more chemotherapy with the same drugs. Shortly after, she was diagnosed with heart failure due to the cardio-toxic effects of the drugs and would later need a heart transplant.
The good news is that she has returned to a normal and active life. She went from running 5Ks to marathons and is encouraging other female cancer survivors to eat healthfully, exercise regularly, and take care of their hearts.
Toni's story isn't unique. Many women diagnosed with breast cancer eventually develop heart problems months and even decades later as a result of radiation and chemotherapy treatments. Both modalities can scar or stiffen heart tissue and lead to hypertension, arrhythmias, myocardial ischemia, valvular disease, thromboembolic disease, and pericarditis. Breast cancer therapies and their association with CVD led the American Heart Association to publish a scientific statement in 2018—which reviewed the prevalence of CVD and breast cancer, their common risk factors, and the negative impacts of breast cancer treatments on cardiovascular health—and advocate for continued research in this area. In fact, the link between cancer and heart health is what spawned the emerging field of cardio-oncology, a medical specialty once considered two separate entities (cardiology and oncology), but in reality are inextricably linked.
In honor of American Heart Month, cardio-oncology is the subject of our cover story, "Cancer & Cardiovascular Care," by Karen Collins, MS, RDN, CDN, FAND. In this article, Collins provides an overview of this burgeoning medical field and discusses cancer treatment, CVD risk, and the key role dietitians can play to improve patient outcomes through diet and nutrition.
After reading this article, make sure you turn to the features on the nutrient content of beets, lactose-free dairy trends, choline and CVD, and picky eating in children. Please enjoy the issue!
Judith Riddle
Editor
TDeditor@gvpub.com