February 2019 Issue
Meal Replacement Solutions
By KC Wright, MS, RDN, LD
Today's Dietitian
Vol. 21, No. 2, P. 32
Research shows these products may help with weight management and blood sugar control.
Eating well can be a real challenge some days, even for dietitians who make their living counseling clients and patients to do just that. Travel, tight schedules, and unplanned circumstances can make it almost impossible to consume a well-balanced meal or snack comprising nutritious foods. That's when many people rely on meal replacement products—calorie-controlled, prepackaged foods such as bars and beverages—that offer an alternative to regular meals or snacks. Beyond their convenience, meal replacement products also play a major role in weight management programs and metabolic medicine.
Meal replacement beverages evolved from those used in clinical settings when patients couldn't tolerate regular food due to physical impairments or if they needed additional calories. Conversely, many meal replacement bars, such as Bonk Breaker, Clif Bar, and LÄRABAR, have been and continue to be developed by athletes and outdoor enthusiasts who find the market void of products that will satisfy their needs. Today, there are hundreds of meal replacement products on the market, available just about everywhere from gas stations to yoga studios.
Product Overview
The term "meal replacement" isn't defined in FDA regulations, but it generally refers to a calorie-controlled, prepackaged product in the form of a bar or beverage that replaces a regular meal.1 Meal replacement products usually provide a minimum of 200 to 250 kcal per serving and often bear nutrient content claims such as "low carb," "high protein," or "quick energy." They include a wide variety of products, many having different features and intended for different uses, such as Orgain organic shakes, Huel "complete nutrition" powder, Clif Bar "performance nutrition," and OPTIFAST, specific for weight loss.
Snack and granola bars don't meet the requirements to replace a meal, nor are meal replacement products the same as protein drinks and powders that have the sole purpose of adding more protein to the diet. Rather, most meal replacement products provide a more balanced ratio of protein, carbohydrate, and fat that's typical of a meal comprising prepared foods.
Most meal replacement products provide about 10 to 20 g protein per serving, but they vary widely in both the amount and type of carbohydrate and fat. Many also are fortified with vitamins, minerals, and other micronutrients, while serving size and calorie content differ depending on the form and product intent. Some contain herbs and other dietary supplements. Meal replacement beverages come ready to drink or in a powder form to be mixed with liquids.
Meal replacement bars need to contain enough carbohydrate, typically around 50% of the total macronutrient content, for both palatability and texture, and can range in energy content. Shakes and powders have more flexibility in macronutrient content, especially powders that can be mixed with a variety of liquids from water to plant-based milks to dairy half and half.
Meal replacement products vary in nutrition content as well as in the quality of ingredients used. Some products can be high in sugar, resembling more of a dessert, while others may not contain enough calories to adequately substitute for a meal. Products touted to meet nutrition needs in shelf-stable, controlled portions aren't necessarily equivalent to balanced diets that promote and sustain good health.
When it comes to nutrition, meal replacement products shouldn't replace all meals permanently. Nor should they replace the consumption of whole foods, especially fruits and vegetables, since they're unique sources of antioxidants and phytochemicals and are in a form where most nutrients are bioavailable.
Market Trends
When it comes to marketing, many meal replacement products are touted as weight management aids, meal substitutes, or energy boosters. Meal replacement products targeted for weight loss are moving away from restrictive claims about dieting, such as "low calorie" or "reduced sugar," and instead are highlighting the healthful, functional benefits of replacing meals.2
Today, there are close to 175 meal replacement product manufacturers experiencing growth driven by rising health-consciousness and higher demand for convenient food and snack products, along with other favorable shifts in consumer preferences.3 Industry revenues have grown by 2.9% each year from 2013 to 2018, reaching $4 billion,3 while analysts forecast global growth at a rate of almost 7% annually from 2017 to 2021.4
The industry, however, competes against more expensive weight loss products, including pills and diet food delivery services, so it gains some weight-conscious customers in times of tight spending.
Abbott Labs (Ensure) and Herbalife hold the largest market share in the meal replacement product industry.3 Herbalife encourages its consumers to turn their "passion for nutrition" into a business by becoming independent distributors.5
Boon for Weight Management
Some people may consider meal replacement products targeted for weight loss to be the ultimate healthful, fast food in that they're calorie controlled, fortified with nutrients, shelf stable (most requiring no refrigeration), and portable. Having ready access to meal replacements may help avoid impulsive consumption of unhealthful, highly processed foods. A systematic research review assessed participants' experiences using a very low-energy diet composed of total meal replacement products to lose weight. Results demonstrated that the meal replacements were well accepted and viewed positively by users.6
According to lead study investigator Claudia Harper, of the Boden Institute of Obesity, Nutrition, Exercise and Eating Disorders at The University of Sydney in Australia, "Research on very low-energy diets using meal replacements [has shown them] to be the most successful nonsurgical, nonpharmacological treatment for obesity."6
To successfully initiate weight loss, meal replacement products are generally used as an absolute replacement of an agreed-upon number of meals and snacks.7
Research has shown that foods high in sugar, salt, and fat may activate the brain's pleasure center and lead to overeating.8 This may contribute to the reason that consumers of meal replacement products believe more strongly than nonconsumers that, at times, meal replacements can compensate for overindulging in more palatable food.9 Yet, these same consumers believe that practicing certain health behaviors, such as physical activity aren't necessary when meal replacement products are consumed. However, in reality, physical activity is essential for long-term weight regulation and has many other known health benefits, including improvements in bone density and mental health.
Most meal replacement products are sold in retail stores and online, though a few, such as OPTIFAST, are available only through medically supervised programs. Some research suggests that meal replacement beverages have been shown to sustain feelings of fullness while consuming fewer calories,10 while other research demonstrates that solid high-protein meals suppress hunger more effectively during meal intervals than liquefied high-protein meals.11 When weight loss is the goal, some meal replacement products provide necessary micronutrients that may be lacking with limited food intake.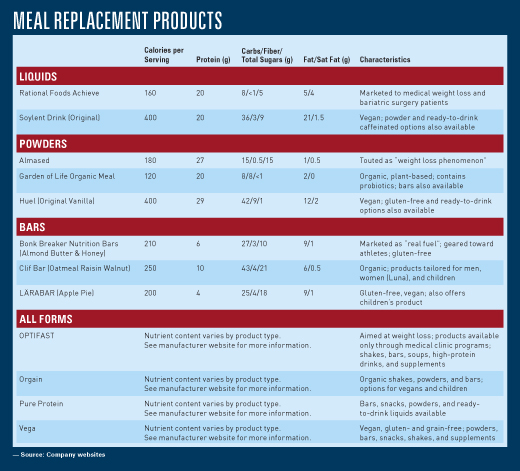 Updated Research Highlights
Much of the research on meal replacement products appears to focus mainly on drinks and powders rather than on bars, with weight loss and/or improved blood glucose control as the primary target. Several of the studies noted here were either company sponsored or conducted by full-time or contracted employees.
In a multicenter clinical trial, researchers tested the efficacy of a total meal replacement, with OPTIFAST as the intervention. Results, published in Obesity, showed that the meal replacement promoted a greater sustained weight loss, significant at 52 weeks from baseline.12
Another recent multicenter, randomized controlled trial found that short-term conventional diet control and a low-glycemic index meal replacement product both were associated with decreased body weight and BMI. Changes in other metabolic outcomes—HbA1c, total cholesterol, and triglycerides—were comparable on both diets, but the meal replacement group experienced greater decreases in LDL cholesterol.13
Researchers from the United Kingdom placed patients with type 2 diabetes on a very low-calorie diet for weight loss comprising three meal replacement shakes per day. Forty percent of participants (responders) achieved both weight loss and normal blood glucose levels that were sustained at least six months after returning to an isocaloric food-based diet. The responders differed primarily in having higher baseline plasma insulin levels and a degree of β-cell response to intravenous glucose.14 Senior investigator Roy Taylor, MD, a professor of medicine and metabolism at Newcastle University in England, says that meal replacement products are "essential to achieve substantial weight loss during normal everyday life and are effective and well tolerated." The likelihood of very low-calorie diet responders remaining free of diabetes indefinitely remains to be seen.
A population-based study of overweight and obese patients with type 2 diabetes diagnosed within the past six years randomized subjects to either a low-energy meal replacement intervention or a food-based diet control plan. Researchers discontinued all oral diabetes medications for both groups.15 In the intervention group, 46% achieved diabetes remission compared with only 4% in the control group, suggesting that weight management using meal replacements may be an effective strategy for addressing type 2 diabetes.
In another randomized controlled clinical trial, researchers gave 90 obese adults either meal replacement products or self-selected isocaloric food-based meal plans. Results showed that the meal replacement diet plan with a fixed macronutrient composition yielded significantly more weight loss at 12.3% of body weight vs 6.9% for the food-based group.16 Ninety-three percent in the meal replacement diet group lost ≥5% of their initial weight compared with 55% in the food-based group. Improvements in several health-related parameters during weight maintenance also were demonstrated, including inflammation and oxidative stress—two key factors that underlie most common chronic diseases.
Based on these studies, nutritionally balanced, portion-controlled meal replacement products may be therapeutic tools to assist patients trying to navigate the obesogenic environment. Though further research is warranted, some of the recent research also suggests that type 2 diabetes is a potentially reversible condition.14
Practice Pearls
It's important to keep in mind that meal replacement products aren't recommended as a total substitute for food, and they won't fix poor eating habits. Products that target weight loss should be used for a finite period of time, typically from several weeks to six months. Some people choose to use meal replacements as an occasional alternative to a meal or snack, but it's important to counsel them and steer them in the right direction.
Consider the following tips when counseling patients about meal replacement products:
• Think fiber. If clients want to consume meal replacement beverages, recommend they boost their fiber intake, especially with fruits and vegetables, to help increase satiety and aid in proper digestion. Whey protein in dairy-based meal replacement beverages also has been found to improve satiety.17
• Be mindful of the macronutrients. Nutrient-dense carbohydrate should be the primary ingredient of meal replacement products, along with healthful fats. They should contain at least 20 g protein and minimal amounts of added sugars. Some of the bars in the table on page 35 don't contain enough calories or protein to substitute for a complete meal. Adding a couple of tablespoons of nut butter (eg, peanut, almond, cashew), a cup of milk, some berries, and greens with these products at mealtime will provide a nutritionally balanced meal.
• Look for whole foods. The best meal replacement bars are made with whole foods and should have enough energy and protein to substitute for a meal. Although bars with nuts will be higher in total fat, it's mainly healthful monounsaturated fat, whereas some bars can be high in saturated fat, particularly those with greater amounts of protein. To limit calories, some meal replacement bars may contain sugar alcohols that can cause bloating and gas, and—in very high amounts (20 mg or more)—a laxative effect.
• Consider vitamin and mineral content. The amounts of fortified vitamins and minerals in meal replacement products also should be considered, along with any supplements already in the diet so the total micronutrient content doesn't exceed Recommended Tolerable Upper Intake Levels. For this reason, many meal replacement products may not be suitable for young children. However, there are several manufacturers that have meal replacement products formulated specifically for children.
• Scrutinize ingredient lists. Because the FDA doesn't routinely test meal replacement products for quality before sale, and the content of nutrients and toxic substances can be determined only with laboratory testing, it's imperative to thoroughly review ingredient and nutrition labels. Reading labels is also helpful when comparing products. Ideally, a few whole food ingredients are preferred over a long list of highly processed ingredients, many with chemical prefixes and suffixes. Be aware of products purported to promote "energy" that may have ingredients containing caffeine such as coffee extract, guarana, mate, and cocoa, which have the potential to interact with other stimulants.
• Keep a stash. Suggest clients keep a small supply of whole foods in their car, office, handbag, or backpack. Whole foods are less expensive than many meal replacement products and have nutrients that are more bioavailable, such as whole grain crackers, pretzels and peanut butter, nuts, dried whole grain cereal, cheese, hummus, apples, bananas, and yogurt. Making a smoothie as a meal replacement is relatively easy with fruits, greens, nut butters, yogurts, whey protein, and nonfat/low-fat dairy or unsweetened nondairy milk. This can be packed in a thermos or refrigerated for a meal or snack later in the day.
For everything there is a food, but when time constraints and calorie control take precedence, there are many meal replacement products from which clients can choose. Consumers, clients, and patients need the assistance of dietitians to help them navigate the vast marketplace for products that are safe and serve their purpose.
— KC Wright, MS, RDN, LD, maintains a nutrition communications practice and writes based on her research and clinical experiences. She advocates for good food and sustainable food systems at www.wildberrycommunications.com.
References
1. Krasny LT; Keller and Heckman LLP. Meal replacements — convenience or compromise? https://www.khlaw.com/Files/3040_WF0412_Krasny.pdf. Published December 2004. Accessed December 4, 2018.
2. Two in five US consumers are replacing their breakfast with nutritional and performance drinks. Mintel website. http://www.mintel.com/press-centre/food-and-drink/two-in-five-us-consumers-are-replacing-their-breakfast-with-nutritional-and-performance-drinks. Published June 1, 2016. Accessed November 2, 2018.
3. Meal replacement product manufacturing industry in the US. IBIS World website. https://www.ibisworld.com/industry-trends/specialized-market-research-reports/consumer-goods-services/food-production/meal-replacement-product-manufacturing.html. Published September 2018. Accessed November 2, 2018.
4. Global meal replacement products market — growth, trends and forecasts 2017-2022. Research and Markets website. https://www.researchandmarkets.com/reports/4387581/global-meal-replacement-products-market-growth#pos-0. Published January 2017. Accessed November 3, 2018
5. Herbalife Nutrition website. https://www.herbalife.com. Accessed November 3, 2018
6. Harper C, Maher J, Grunseit A, Seimon RV, Sainsbury A. Experiences of using very low energy diets for weight loss by people with overweight or obesity: a review of qualitative research. Obes Rev. 2018;19(10):1412-1423.
7. Hamdy O, Zwiefelhofer D. Weight management using a meal replacement strategy in type 2 diabetes. Curr Diab Rep. 2010;10(2):159-164.
8. Volkow ND, Wang GJ, Fowler JS, Tomasi D, Baler R. Food and drug reward: overlapping circuits in human obesity and addiction. Curr Top Behav Neurosci. 2012;11:1-24.
9. Hartmann C, Keller C, Siegrist M. Compensatory beliefs, nutrition knowledge and eating styles of users and non-users of meal replacement products. Appetite. 2016;105:775-781.
10. Frestedt JL, Young LR, Bell M. Meal replacement beverage twice a day in overweight and obese adults (MDRC2012-001). Curr Nutr Food Sci. 2012;8(4):320-329.
11. Martens MJ, Lemmens SG, Born JM, Westerterp-Plantenga MS. A solid high-protein meal evokes stronger hunger suppression than a liquefied high-protein meal. Obesity (Silver Spring). 2011;19(3):522-527.
12. Ard JD, Lewis KH, Rothberg A, et al. Effectiveness of a total meal replacement program (OPTIFAST program) on weight loss: results from the OPTIWIN Study. Obesity (Silver Spring). 2019;27(1):22-29.
13. Boonyavarakul A, Leelawattana R, Pongchaiyakul C, Buranapin S, Phanachet P, Pramyothin P. Effects of meal replacement therapy on metabolic outcomes in Thai patients with type 2 diabetes: a randomized control trial [published online October 1, 2018]. Nutr Health. doi: 10.1177/0260106018800074.
14. Steven S, Hollingsworth KG, Al-Mrabeh A, et al. Very low-calorie diet and 6 months of weight stability in type 2 diabetes: pathophysiological changes in responders and nonresponders. Diabetes Care. 2016;39(5):808-815.
15. Lean MEJ, Leslie WS, Barnes AC, et al. Primary care-led weight management for remission of type 2 diabetes (DiRECT): an open-label, cluster-randomised trial. Lancet. 2018;391(10120):541-551.
16. Davis LM, Coleman C, Kiel J, et al. Efficacy of a meal replacement diet plan compared to a food-based diet plan after a period of weight loss and weight maintenance: a randomized controlled trial. Nutr J. 2010;9:11.
17. MacKenzie-Shalders KL, Byrne NM, Slater GJ, King NA. The effect of a whey protein supplement dose on satiety and food intake in resistance training athletes. Appetite. 2015;92:178-184.