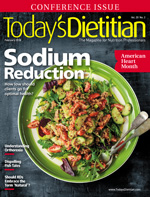 February 2018 Issue
Ask the Expert: IV Nutrition Therapy
By Toby Amidor, MS, RD, CDN
Today's Dietitian
Vol. 20, No. 2, P. 10
Q: One of my clients said IV nutrition therapy is a hot trend. What is it, and does it have any proven health benefits?
A: In IV nutrition therapy, a bag of IV fluids with some combination of vitamins and minerals is offered (in absence of a related illness) as a service to the general public. Independent clinics and house call-type services claim to help clients with a variety of health ailments. However, evidence of its proposed benefits touted by businesses offering IV nutrition therapy is vague and in its infancy.
The Trend
IV nutrition therapy is used most commonly in clinical practice. For example, a bout of gastroenteritis or hyperemesis gravidarum in pregnant women may call for a bag or two of IV fluids for rehydration. However, this new trend takes the idea of IV nutrition a step further. IV bags for the general public promise to help alleviate conditions including poor circulation, stress, hepatitis, Crohn's disease, cancer, asthma, and fibromyalgia, as well as aid with detoxification and weight loss. Customers often pay at least $80 to reap the "magical" benefits of these IV nutrition infusions.
In Las Vegas, New Orleans, Los Angeles, and other cities, companies such as VitaSquad and Hangover Club promote IV nutrition therapy as a hangover cure. The IV mixtures vary, and customers select an IV infusion "cocktail" from the menu. For example, VitaSquad's LiquidLife is described as "the ultimate IV infusion to relieve stress from excessive demands on the body." The ingredients include saline, L-carnitine, glutathione, trace elements (zinc, chromium, selenium, copper, and manganese), manganese chloride, vitamin C, vitamin B complex, and ketorolac (Toradol), an anti-inflammatory medication. Many of the companies promote the fact that a registered nurse is administering the IV nutrition therapy.
IV nutrition therapy is necessary when the intestines are damaged or diseased or in other critical situations. According to Brooke Bock, RD, LD, CNSC, a Boston-based certified nutrition support clinician, people should depend on food and drink to meet nutritional and/or hydration needs. "It's a favorite saying for dietitians," Bock says, "but if your gut works, use it!" It's also important for individuals to consult with medical doctors about any possible ailments to be sure there are no undiagnosed medical conditions exacerbating symptoms.
The Research
A 2009 study looked at the effects of IV nutrition therapy as a treatment for fibromyalgia in 34 adults.1 Subjects were randomly assigned either weekly IV nutrition therapy or placebo for eight weeks. The results found no statistically significant difference between the two groups. A 2016 study looked at the effects of high-dose IV vitamin C vs other nutrients on blood pressure.2 Among 77 normotensive subjects, one-third received IV vitamin C, and the remaining two-thirds received other IV nutrients. The study concluded that IV vitamin C had an acute blood pressure-reducing effect, while an IV with vitamin B12 significantly increased the mean blood pressure by 11 to 13 mm Hg. Researchers recommended that anyone receiving IV vitamin B12 should have their blood pressure carefully monitored in clinical practice.
When it comes to obtaining B vitamins, Bock stresses that eating a well-balanced diet and staying hydrated should enable an individual to get the B vitamins and fluids the body needs to work properly and produce enough energy. A multivitamin with minerals is a viable option to ensure adequacy of nutrients; however, an IV infusion is likely unnecessary. As for safety, "IV infusions can be safe if administered by trained medical staff," Bock says. "It's important to keep in mind, though, that there's always risk associated with IV infusions.
"Also, be sure to know what's being infused into your body and that the products are coming from safe and reputable manufacturers," Brock warns.
Recommendations for Practitioners
Nutrition professionals who encounter clients inquiring about IV nutrition therapy for various medical reasons should stress that the science isn't well established and they should visit a physician first to determine whether an underlying medical condition exists. Furthermore, dietetics professionals should promote a healthful lifestyle that includes a well-balanced diet, good hydration, adequate sleep, and regular exercise.
— Toby Amidor, MS, RD, CDN, is the founder of Toby Amidor Nutrition (http://tobyamidornutrition.com) and the author of the cookbooks The Greek Yogurt Kitchen: More Than 130 Delicious, Healthy Recipes for Every Meal of the Day and The Healthy Meal Prep Cookbook. She's a nutrition expert for FoodNetwork.com and a contributor to US News Eat + Run and MensFitness.com.
References
1. Ali A, Njike VY, Northrup V, et al. Intravenous micronutrient therapy (Myers' Cocktail) for fibromyalgia: a placebo-controlled pilot study. J Altern Complement Med. 2009;15(3):247-257.
2. Ried K, Travica N, Sali A. The acute effect of high-dose intravenous vitamin C and other nutrients on blood pressure: a cohort study. Blood Press Monit. 2016;21(3):160-167.