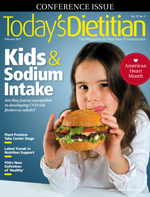 February 2017 Issue
Ask the Expert: What's With Eating the Placenta?
By Toby Amidor, MS, RDN, CDN
Today's Dietitian
Vol. 19, No. 2, P. 9
Q: What's behind the trend of new mothers eating the placenta, and does consuming the organ offer any proven health benefits?
A: In recent years it's become very trendy to eat the placenta, a practice known as placentophagy. A food blogger on a home and garden website touted the fact that a midwife attending her birth made placenta capsules, all the while placenta smoothies have become a popular beverage, with several hundred placenta photos hashtagged on Instagram. However, should nutrition professionals advocate mothers eating the placenta?
The act of eating the placenta can be found in traditional Chinese medicine. The first documented case of human placentophagy in the United States was in the 1970s, although almost all nonhuman mammals do it. Today, it has become trendy to eat cooked, encapsulated, or raw placenta, which is thought to prevent postpartum depression, sleep disorders, and menstrual problems and to help relieve pain, strengthen the immune system, enhance maternal bonding, and speed uterine recovery. Advocates also assert that the placenta retains hormones and provides nutritional benefits. Numerous studies have sought to determine whether some of these claims can be backed by science.
A 2015 study published in Archives of Women's Mental Health sought to determine whether any health benefits truly exist by reviewing 10 published studies (four human, six animal).1 There was insufficient evidence to link placenta consumption with facilitating uterine contractions, resumption of normal cyclic estrogen cycles, and milk production. Furthermore, animal research in support of pain reduction hasn't been conducted on humans at this time, making this purported health benefit inconclusive. Studies on many of the other supposed benefits haven't been conducted and conclusions are unavailable.
A 2016 study published in the Journal of Midwifery & Women's Health aimed to determine whether consuming encapsulated placenta provided any benefits to the iron status of the mother.2 The randomized, double-blind, placebo-controlled pilot study included 23 participants who were randomly assigned to consume encapsulated placenta or an encapsulated beef placebo for three weeks. Iron status was measured with blood samples drawn during the 36th week of pregnancy and on three additional occasions soon after delivery. There was no statistical significance in the mothers' iron status between the women consuming the placenta supplement vs the encapsulated beef placebo three weeks postpartum. The average iron concentrations were higher in the encapsulated placenta group (0.664 mg/g) compared with encapsulated beef placebo (0.093 mg/g); however, the encapsulated placenta only provided 24% of the recommended dietary allowance of iron for lactating women. Researchers concluded that encapsulated placenta neither improves nor impairs postpartum iron status of mothers consuming the recommended dietary allowance for iron during pregnancy and lactation compared with an encapsulated beef placebo. This means that taking encapsulated placenta as a sole means of iron supplementation is insufficient to meet women's postpartum needs, especially if they're lactating or have an iron deficiency.
Dietitians' Role
Although the thought of consuming placenta may be unappealing to many, it's each client's choice and nutrition professionals should avoid passing judgment. However, RDs should convey the science, which doesn't support the health claims of consuming placenta. Moreover, iron-deficient women consuming placenta as the sole form of supplementation should be alerted that additional iron supplementation may be necessary. If a client is considering consumption of raw placenta, then food safety is also an issue. The client should be encouraged to consume the placenta cooked and employ proper food safety measures (eg, prevent cross-contamination, wash hands properly) to prevent illness, which could potentially impact breast-feeding.
— Toby Amidor, MS, RD, CDN, is the founder of Toby Amidor Nutrition (http://tobyamidornutrition.com) and the author of the cookbook The Greek Yogurt Kitchen: More Than 130 Delicious, Healthy Recipes for Every Meal of the Day. She's also a nutrition expert for FoodNetwork.com and a contributor to US News Eat + Run, MensFitness.com, and Muscle & Fitness.

References
1. Coyle CW, Hulse KE, Wisner KL, Driscoll KE, Clark CT. Placentophagy: therapeutic miracle or myth? Arch Womens Ment Health. 2015;18(5):673-680.
2. Gryder LK, Young SM, Zava D, Norris W, Cross CL, Benyshek DC. Effects of human maternal placentophagy on maternal postpartum iron status: a randomized, double-blind, placebo-controlled pilot study [published online November 3, 2016]. J Midwifery Womens Health. doi: 10.1111/jmwh.12549.