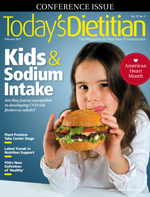 February 2017 Issue
Holistic Nutrition: Cranberries and UTI Prevention
By Caroline Young Bearden, MS, RD, LD, RYT
Today's Dietitian
Vol. 19, No. 2, P. 18
Here's a review of the research and why it's still OK for RDs to recommend cranberry products to patients.
Research associating cranberries with the prevention and healing of urinary tract infections (UTIs) dates back to the early 1900s. As a result, it's common for today's physicians and dietitians to prescribe cranberry products, whether in the form of juice or capsules, to patients with UTIs.
However, there's conflicting research surrounding cranberry products and UTIs, mainly in the area of prevention. Some medical experts believe cranberries contain components that actively prevent UTIs, while others believe the link between cranberries and UTI prevention is an old wives' tale.
UTI Basics
UTIs are infections of the urinary system and usually start when bacteria enter through the urethra and go into the bladder.
Since the female urethra is comparatively short and close to the anus, bacteria can infect women more easily than men. In fact, a woman's lifetime risk of developing a UTI is more than 50%, and about 20% of young women who have had a UTI will have another one.
Some UTI symptoms include strong and constant urges to urinate, cloudy urine, and a burning sensation when urinating.1,2
Mechanism of Action
Cranberries are known as a potent source of antioxidants and for their antiadhesion activity, which helps protect the body from harmful bacteria that cause UTIs. Their antiadhesion activity is mainly due to natural compounds called proanthocyanidins (PACs). These compounds promote antiadhesion activity in the uroepithelium, the epithelial lining of the urinary tract, blocking the first step in the infection process. Most infections occur from the bacteria E. coli, which usually live in the colon and cause about 80% of UTIs in adults.
"When you give people various doses of PACs, you see [an] increase in urinary antiadhesion activity that tracks right along with dose," says Amy Howell, PhD, an associate research scientist at the Marucci Center for Blueberry and Cranberry Research at Rutgers University in New Brunswick, New Jersey.
For example, bacteria adhere to cells with hairlike fimbriae (pili). PACs in cranberries are said to inhibit the adhesion capabilities of the fimbriae, causing the inhibited bacteria to pass through the urethra. P-fimbriae is a strain, or adhesion protein, in E. coli, which has bacterial tips that bind to the uroepithelium. PACs are said to competitively prevent the adhesion of the protein by binding to the tips themselves and, according to Howell, they may turn on an antiadhesive chemical signal in the urinary tract.3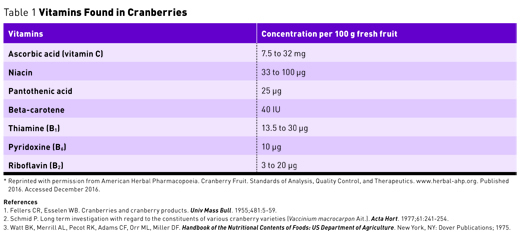 Conflicting Research
Researchers of one randomized, double-blinded, clinical trial studied 373 women aged 20 to 70 with a history of recent UTIs for six months to determine whether drinking one 8-oz serving of cranberry juice cocktail vs placebo would help prevent UTI. The investigators found significant results between the intervention and control group, as there were only 39 episodes of UTI in the intervention group and 67 episodes in the control group.4
However, in another randomized, double-blinded study of 319 college-aged women (average age 21) with UTIs, researchers set out to determine whether drinking 8 oz of cranberry juice cocktail twice per day could prevent recurrent UTIs. Women were randomly assigned to a placebo juice group or a cranberry juice cocktail group for six months or until another UTI occurrence. Each 8-oz dose contained an average PAC concentration of 112 mg. The women in the cranberry group didn't have any more protection against a recurring UTI than the placebo group.5
Manisha Juthani-Mehta, MD, and colleagues recently led a controversial trial published in the November 2016 issue of JAMA. The randomized, double-blinded clinical trial included 185 women older than 65 in nursing homes. At the beginning of the one-year trial, participants either had or didn't have bacteriuria plus pyuria (BPP), which is characterized by bacteria and white blood cells in the urine. The experiment group took two cranberry capsules per day, each with 36 mg of PACs, while the control group took a placebo each day. By the end of the year, there was no significant difference between the presence of BPP in the two groups (29.1% in the treatment group vs 29% in the control group).6
In addition, research published in The Cochrane Database of Systematic Reviews examined 24 trials that evaluated cranberry products for UTI prevention over 12 months. The review, which was an update from the 2008 Cochrane review that initially concluded cranberry juice might prevent UTIs over 12 months, included a total of 4,473 participants. Nine of the studies looked at cranberry tablets, 13 looked at cranberry juice, one compared juice with tablets, and one compared capsules with tablets. Researchers concluded that, when compared with placebo pills, water, or no treatment, there's no longer enough evidence to support the use of cranberry products as preventative therapy for UTIs.7
"At this point, most of the evidence suggests that cranberry products, juice, or capsules, don't work," Juthani-Mehta says.
However, Howell says there's a piece missing in the research on cranberries and UTIs in order to produce comparable results: standardization of cranberry products. "Cranberries are made into a number of product types, [such as] juices, powders, and dried fruit, and they're all made differently through different processes," she says, adding that PACs are possibly degraded during processing, a variable that can skew the PAC content tested in some studies. Moreover, cranberry skins, which don't have the same PAC bioavailability of the juice portion, sometimes are dried, put into capsules, and called cranberry, Howell adds.
Despite the conflicting research, according to The Cranberry Institute, decades of independent research demonstrate that regular consumption of cranberries supports a healthy urinary tract especially in individuals who experience recurring UTIs.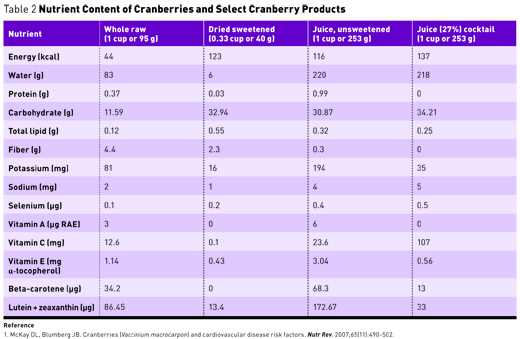 Controversial JAMA Study
Juthani-Mehta says the goal of her 2016 JAMA study was to replicate the findings of a similar study published in JAMA in 1994. Like her 2016 study, the 1994 trial included older women in nursing homes and assisted-living facilities, but instead of ingesting capsules, the women in the experiment group drank 10 oz of cranberry juice cocktail, and they did experience lower levels of BPP.
"The problem with cranberry juice is that for many women it has a very acrid flavor. They can't drink the volume that's necessary, [and] they don't like the load of sugar that potentially comes with it," she says. In her 2016 study, Juthani-Mehta gave patients two cranberry capsules per day containing 36 mg PACs instead, which is the equivalent of drinking 20 oz cranberry juice cocktail, and double the amount used in the 1994 study. She reasoned that by reducing the hydrating effects of drinking cranberry juice, patients would need a higher dose of PACs to eliminate the bacteria. However, "even with this high PAC content, we were unable to show that capsules worked," Juthani-Mehta says.
Nonetheless, Howell says she's surprised JAMA published the research because of what the researchers studied. They studied an older population that often develops BPP, adding that in order to diagnose UTIs properly, symptoms (eg, frequent urination) must be gauged alongside a urinalysis measuring BPP.8
Juthani-Mehta says that her study wasn't designed to detect the differences in UTI symptoms, and that her results can't be applied to other younger populations. "Younger, newly sexually active women are one high-risk group. Older, postmenopausal women, particularly those who are disabled and in nursing homes are another high-risk group," Juthani-Mehta says.
In addition, a commentary published with the 2016 JAMA study included a suggestion for further research in using antibiotics for UTI prevention. "When global antibiotic resistance is dramatically increasing and alternatives are desperately needed, it's incongruous that JAMA would encourage continued use of antibiotics," Howell says.
Juthani-Mehta says she prescribes antibiotics regularly at low doses only for prevention in women who have had two UTI episodes in six months or three episodes in one year.
Primarily, Juthani-Mehta recommends drinking fluids and staying hydrated for optimal UTI prevention. "Other juice studies in other populations have shown no difference between treatment and control groups, but both groups have had lower rates [of UTIs]," she says. "This would suggest that hydration alone might reduce bacteriuria and UTI." Therefore, she says she doesn't shun the use of cranberry products entirely—especially juice in particular. "The hydration that juice provides may be sufficient for UTI prevention. Capsules without hydration may not be sufficient," she says.
Barbara Hopkins, MMSc, RD, LD, didactic programs in dietetics director at Georgia State University and supervised practice preceptor at Grady Memorial Hospital ICU agrees: "Bacterial growth in the urinary tract may be prevented by increased urinary flow, which hydration would promote." Most people should aim for six to eight 8-oz glasses of fluids per day. It's been shown that most people will stay hydrated if they drink when thirsty and drink fluids with meals.9
In addition, Hopkins says there are a few other rules of thumb to help patients with UTI prevention. "Good hygiene: Wipe front to back, and wear looser-fitting undergarments made of breathable material," she says.
RDs can encourage patients to urinate shortly after they feel the urge, because bacteria can form when urine sits in the bladder. Dietitians also can tell patients to urinate and drink water after sex to help flush bacteria that may have accumulated. Furthermore, Hopkins says RDs can suggest patients develop a healthful gut microbiota by recommending a plant-based diet, foods containing probiotics (eg, yogurt and kefir), and cranberry products and other foods containing PACs—such as chocolate, apples, and red grapes—to female patients.
— Caroline Young Bearden, MS, RD, LD, RYT, is an Atlanta-based dietitian, freelance health care journalist, and certified yoga instructor. She serves as a part-time dietitian and marketing and communications specialist at the National Peanut Board, and as a PRN dietitian at Ridgeview Institute. She also blogs at thewholeyogiRD.com.


References
1. US Dept of Health and Human Services. Urinary tract infection in adults. National Institutes of Health, National Institute of Diabetes and Digestive and Kidney Disease website. https://www.niddk.nih.gov/health-information/urologic-diseases/urinary-tract-infections-utis. Published May 2012.
2. Urinary tract infection (UTI). Mayo Clinic website. http://www.mayoclinic.org/diseases-conditions/urinary-tract-infection/basics/symptoms/con-20037892. Updated November 30, 2016. Accessed December 5, 2016.
3. Hisano M, Bruschini H, Nicodemo AC, Srougi M. Cranberries and lower urinary tract infection prevention. Clinics (Sao Paulo). 2012;67(6):661-667.
4. Maki KC, Kaspar KL, Khoo C, Derrig LH, Schild AL, Gupta K. Consumption of a cranberry juice beverage lowered the number of clinical urinary tract infection episodes in women with a recent history of urinary tract infection. Am J Clin Nutr. 2016;103(6):1434-1442.
5. Barbosa-Cesnik C, Brown MB, Buxton M, Zhang L, DeBusscher J, Foxman B. Cranberry juice fails to prevent recurrent urinary tract infection: results from a randomized placebo-controlled trial. Clin Infect Dis. 2011;52(1):23-30.
6. Juthani-Mehta M, Van Ness PH, Bianco L, et al. Effect of cranberry capsules on bacteriuria plus pyuria among older women in nursing homes: a randomized clinical trial. JAMA. 2016;316(18):1879-1887.
7. Jepson RG, Williams G, Craig JC. Cranberries for preventing urinary tract infections. Cochrane Database Syst Rev. 2012;10:CD001321.

8. Bates BN. Interpretation of urinalysis and urine culture for UTI treatment. US Pharm. 2013;38(11):65-68.
9. Water & Nutrition. Centers for Disease Control and Prevention. https://www.cdc.gov/healthywater/drinking/nutrition/. Updated October 5, 2016. Accessed January 13, 2017.