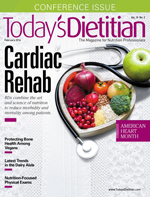 February 2016 Issue
Culinary Corner: Oatmeal for Dinner
By Jessica Fishman Levinson, MS, RDN, CDN
Today's Dietitian
Vol. 18 No. 2 P. 66
Make heart-healthy oats a part of your day at any meal, morning or night.
Oatmeal is one of my go-to breakfasts during the cold winter months, and for very good reason. It warms me up, it's satiating, and it never gets boring when I top it with a variety of nutritious and delicious ingredients like fruit, nuts, seeds, and spices. But sometimes it's fun to really mix it up and make oatmeal for dinner. My kids were bewildered when I told them we'd be having oats for dinner—but why not? Breakfast for dinner is quite popular and fun for families, and oatmeal should be no exception, especially given all its health benefits.
Oats are well known for their role as whole grains that are particularly rich in soluble fiber, specifically beta-glucan, which is the main component in oats that has been shown to lower total and LDL cholesterol and blood glucose levels.1 However, the benefits of oats go well beyond heart health and reduced risk of type 2 diabetes. Recent research shows that polyphenols in oats, called avenanthramides, may possess antioxidant, anti-inflammatory, and anticancer properties.2 Oats also have shown a positive effect on gut health, an area of growing research.3 And cholesterol-reducing beta-glucan also may improve the health of our immune system by protecting against bacteria, viruses, fungi, and parasites.4
Needless to say, there are many reasons for dietitians to encourage clients to consume oats. Help patients think outside the box and try oats in various forms, including granola, ground into breadcrumbs to coat fish and chicken, as a healthier crumble topping for dessert, mixed with low-fat milk or yogurt for overnight oats, or paired with vegetables, herbs, and cheese like this savory oatmeal frittata, perfect for lunch or dinner.
— Jessica Fishman Levinson, MS, RDN, CDN, is a New York-based nutrition consultant, writer, and recipe developer, and the founder of Nutritioulicious (www.nutritioulicious.com).
References
1. Wang Q, Ellis PR. Oat B-glucan: physico-chemical characteristics in relation to its blood-glucose and cholesterol-lowering properties. Br J Nutr. 2014;112(Suppl 2):S4-S13.
2. Fu J, Zhu Y, Yerke A, et al. Oat avenanthramides induce heme oygenase-1 expression via Nrf2-mediated signaling in HK-2 cells [published online September 2, 2015]. Mol Nutr Food Res. doi: 10.1002/mnfr.201500250.
3. Rose DJ. Impact of whole grains on the gut microbiota: the next frontier for oats? Br J Nutr. 2014;112(Suppl 2):S44-S49.
4. Rondanelli M, Opizzi A, Monteferrario F. The biological activity of beta-glucans. Minerva Med. 2009;100(3):237-245.
Sun-Dried Tomato, Spinach, and Goat Cheese Oatmeal Frittata
Heart-healthy oats are combined with sun-dried tomatoes, baby spinach, thyme, and creamy goat cheese in this savory oatmeal frittata. Serve with a side salad for lunch or dinner.
Serves 8
Ingredients
Cooking spray
1/2 cup chopped sun-dried tomatoes in oil
1/2 cup chopped onions
2 cloves garlic, minced
1/2 cup chopped bell peppers
1 cup chopped baby spinach
1 tsp whole-grain Dijon mustard
1 T fresh thyme
2 cups quick cooking oats
2 cups low-sodium vegetable broth or water
1 large egg
1 tsp baking powder
1 1/4 tsp kosher salt
Freshly ground pepper, to taste
1/2 cup crumbled goat cheese
Directions
1. Preheat oven to 375° F. Spray pie dish with cooking spray and set aside.
2. Heat a large sauté pan over medium heat. Add sun-dried tomatoes and heat until oil is released. Remove sun-dried tomatoes and set aside.
3. Add onions and garlic to remaining oil and sauté for two minutes. Add peppers and cook until tender, two to three minutes.
4. Return sun-dried tomatoes to pan along with baby spinach, mustard, and thyme. Cook until spinach is wilted, about three minutes.
5. Combine oats with broth or water, egg, and baking powder. Season with salt and pepper. Fold in cooked vegetables and cheese.
6. Transfer oat, vegetable, and cheese mixture to prepared pie dish.
7. Bake for 40 minutes until top is golden-brown.
Nutrient Analysis per serving
Calories: 196; Total fat: 9 g; Sat fat: 2 g; Trans fat: 0 g; Cholesterol: 32 mg; Sodium: 285 mg; Total carbohydrate: 24 g; Dietary fiber: 4 g; Sugar: 5 g; Protein: 7 g