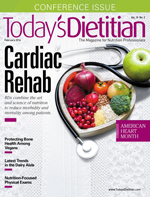 February 2016 Issue
Second-Career Dietitians
By Lindsey Getz
Today's Dietitian
Vol. 18 No. 2 P. 40
Today's Dietitian interviews five RDs to find out why they left their former professions and how they overcame challenges to embark on a successful journey the second time around.
In recent years, career opportunities in dietetics have become increasingly diverse and available. Dietitians can become clinicians in hospitals and long term care facilities, food industry and communications consultants, entrepreneurs, media specialists, culinary professionals, and foodservice leaders, and can obtain certifications in various medical fields. According to US Bureau of Labor Statistics, employment of dietitians and nutritionists is projected to grow 21% from 2012 to 2022. Many people had anticipated and learned early about these opportunities and have made dietetics their first career choice. Others learned about them while established in other professions and decided later to pursue dietetics as a second career.
In this article, Today's Dietitian speaks with five second-career RDs to find out why they left their first profession to pursue dietetics. They discuss how they overcame their fears of leaving established, well-paying jobs; going back to school; and how their education and the skills they acquired in their first career opened doors and are now making a positive impact on the nutrition profession. Read on to learn how they reinvented and reestablished themselves, became successful, and realized it's never too late to follow your dreams.
Krista Ulatowski, MPH, RDN, founder of KUcumber Nutrition Communications, LLC, in Seattle
After graduating with undergraduate degrees in English, advertising, and business, Ulatowski went to work in advertising and public relations. Though she envisioned the creativity flowing in this line of work, her primary clients were technology-oriented—a field for which Ulatowski admittedly lacked passion and enthusiasm. Ulatowski always had been interested in health and wellness and wanted to find a way to combine that passion with her skill set. While on a food tour with her mom one weekend, the way to combine the two became apparent.
"A dietitian was leading the brewery portion of the tour and talking about grains and the way beer was made," Ulatowski recalls. "I thought it was fascinating and my mom made the suggestion that I look into the career. I loved the idea but I thought it would be all chemistry and science. Still, I made the leap and signed up for classes."
What Ulatowski discovered were the vast career opportunities the dietetics field offers.
"I think that the variety this profession offers in regard to employment opportunities makes it an attractive field," Ulatowski says. "Dietitians can form private practices, serve as media spokespeople, counsel individuals with eating disorders, write cookbooks, give tours for food companies, or start their own marketing business. Basically, you name it, dietitians can do it!"
For Ulatowski herself, she saw the opportunity to combine her existing communications skills with a love for food and nutrition. And though she admits the science classes intimidated her at first, Ulatowski says she ultimately enjoyed them.
"Getting the knowledge of the science behind the food ended up being fascinating," Ulatowski says.
Though it took her some time to find her true passion, Ulatowski says she has no regrets about the path she took to enter the dietetics field. In fact, she feels that her unique background gave her a helpful skill set that she wouldn't have had otherwise. She was able to bring marketing, social media, creativity, and strategic thinking skills to her current role as the owner of a nutrition communications and public relations firm that helps other dietitians, health and wellness professionals, and food and beverage companies with their marketing and communications needs. Ulatowski says that one of her favorite aspects of this type of career is that no two days are alike.
"One day I may be pitching a magazine on behalf of a dietitian and the next I may be putting together plans for an ancient grain commodity company. I really like the variety of clients I'm able to work with as well as the opportunity to work for myself. My best advice to those who are looking to get into dietetics as a second career is to put yourself out there—you never know what will come of it until you try."
Barbara Spalding, MA, MS, RDN, CDN, owner of Barbara Spalding, RDN, LLC, in East Windsor, New Jersey
As a health insurance broker and consultant for more than 15 years, Spalding found the thought of a career change more than a little intimidating. Spalding had not only founded but strategically grew a health insurance and employees benefits agency in the New York/New Jersey region. The business was her baby for more than a decade when the advent of managed care and health insurance reform made it increasingly apparent that selling her business to a larger insurance agency was inevitable. After several more years of working in outside sales for that agency, Spalding made the decision to return to school and pursue her passion for food and nutrition. She admits the decision was unnerving.
"When you give up a successful first career to return to school for nutrition, there is no guarantee that you will be able to complete the training since there are many more candidates than openings for the internship spots," Spalding says. "I tried to minimize this risk by working hard to get good grades. I also worked as a dietetics technician and did other volunteer jobs while also studying for my degree so that I would be a desirable candidate when the time came for the 'match.'"
Though the uncertainties made it scary, Spalding, now in private practice, says she loves being a second-career dietitian. She attributes much of her success to those former life and business experiences.
"I was able to start a private practice and consulting business while still a relatively new dietitian because of my prior experience," Spalding says. "My experience has also allowed me to find a number of opportunities which I don't think I could have found without my previous background. In my consulting business I help dietitians build their business using sales and marketing skills. This allows me to use the skills I acquired during my more than 20 years in sales to help RDNs who may have great clinical training but may not have the business skills they need to succeed."
Spalding suggests that anyone who's looking to succeed as a second-career dietitian should hone in on those skills they have formed elsewhere.
"Try to find unique work situations where your life experience will be considered an asset," she says. "And use the skills you have from your prior career to network, find mentors, and learn as much as you can about your new career."
Jessica Beardsley, MS, RD, LDN, a nutrition counselor in Chapel Hill, North Carolina
The right career path isn't always obvious. Though Beardsley started off studying bioengineering in both undergraduate and graduate school, she ultimately wound up in graphic design. But even that wasn't her true calling. Beardsley says that after four years of doing graphic design work for an advertising agency, she began to feel like she had more to offer the world. She says she wanted to serve others or even teach. While on a sabbatical from designing, Beardsley began volunteer work at a cancer services center. While there, she picked up a copy of Today's Dietitian and began leafing through it. After reading an article about a second-career dietitian who had left a top-level corporate career to go into dietetics, Beardsley says she was inspired.
"I started looking into what I needed to do to get a job in dietetics," Beardsley says. "I had always been interested in health and wellness; I just thought of it more as a hobby than a possible career. Once I began to realize I could make a career out of something I enjoyed so much, it became obvious that I should have been a dietitian all along. Hindsight is always 20/20."
Though dietetics made sense, Beardsley admits she was nervous. She says that "starting over" at age 30, when those around her seemed to be moving up the trajectory in their careers, was a difficult decision. But the chance to do something she was truly passionate about was the catalyst.
Although she was on a very different path, Beardsley says that her previous experiences have still helped her as a dietitian. While studying bioengineering, she had taken several biology and chemistry classes, giving her a solid science background. Beardsley says she even uses her graphic design skills today when creating handouts and presentations for corporate clients. Beardsley currently is on extended maternity leave but plans to go back to nutrition counseling.
"Before I left my former career I often found myself wondering 'What am I doing?'" Beardsley admits. "I had a lot of education and a lot of skills, and I really wasn't using them. Mostly, I just really missed human interaction. Now, I would say my favorite thing about dietetics is counseling and teaching. I get to help others and feel like I'm really making a difference."
Mandy Unanski Enright, MS, RDN, RYT, creator of Nutrition Nuptials in Red Bank, New Jersey
From the time she was in high school, Enright says she knew she wanted to work in advertising. After graduating, Enright went to work at some of Manhattan's top-name advertising agencies and worked her way up the ladder. But she says she realized something important—Enright hated what she was doing. While it was the field she always thought she was destined to work in, Enright says she felt she needed to make a major change.
"At that time I had begun teaching a few fitness classes at a local kickboxing gym and I fell in love with the health and wellness field," Enright says. "While I thought about going the personal trainer route, I learned it could lack stability. I always had an interest in nutrition and decided it was something I was not only passionate about, but was something that would allow for multiple avenues."
Among all the career opportunities Enright read about in the field of dietetics, she says she was most intrigued by the idea of working for herself. After working in corporate America for almost a decade, Enright says there was no greater motivator than the thought of being her own boss. Though she says she was "petrified" to go back to school—particularly in a sciences field—that motivation kept her going.
Enright admits she sometimes misses the paycheck that came with corporate America. But she says her health and happiness were suffering as a result. Now, in private practice, Enright says she's finally doing something she's passionate about. And she was able to use her communications background to open doors. In less than one year since becoming an RDN, Enright was named media representative for the New Jersey Dietetic Association. Enright says she's also constantly using her skills to promote herself and her blog in the digital world.
In addition, Enright says her background in corporate America has opened doors for her in corporate wellness. She's able to empathize with corporate clients who struggle to eat healthfully due to the everyday grind and long working hours. Enright says she can provide realistic advice.
"Because trust me, I've been there," she says. "Having the life experience to relate to your clients can make all the difference."
Jacqueline B. Marcus, MS, RDN, LDN, CNS, FADA, FAND, president and owner of TheFitFoodPro in Highland Park, Illinois
As a child, Marcus says her wish list included two seemingly juxtaposing items—an art kit and a chemistry set. Later, as a teenager, she wrote an autobiography proclaiming that she wanted to be both a scientist and an artist when she grew up. In retrospect, Marcus says these passions were quite foretelling of a dietetics career. But it wasn't a direct path. Starting off in design and home/fashion merchandising, Marcus first honed those creative skills before ultimately pursuing a master's degree in nutrition. Doing so required some blind faith and patience. Marcus gave up a lucrative career to return to school and says it didn't happen without doubts.
"I almost quit halfway through the program," Marcus admits. "I was commuting daily through rough, unfamiliar territory. I lived far from family who were experiencing illness, and I had lost my income and glamorous profession. But I had an epiphany. I decided to persevere and not lose what I had accomplished to date."
Since becoming a dietitian, Marcus has gone on to finally blend her love of science and the arts. She says dietetics appeals to her right-brain/left-brain mentality, and she loves that the career she has built is versatile and ever changing. On the long list of accomplishments as an RDN, Marcus lists nutrition writing, speaking, consulting, and counseling. She has authored an international award-winning book, developed original recipes, and served as a spokesperson. All of this has been possible as an RDN, a field which she says is constantly offering new frontiers. And though she has embraced dietetics as a second career, Marcus says she employs what she has learned and practiced in her first career every day.
"I used to think that I was not valid because I didn't experience dietetics like my colleagues," Marcus says. "Now I think that my first career has given me a competitive edge."
— Lindsey Getz is a freelance writer based in Royersford, Pennsylvania.
[Sidebar]
VALUABLE RESOURCE
Consider becoming a member of the Second Career Dietitians Specialty Group, which is part of the Nutrition Entrepreneurs Dietetic Practice Group within the Academy of Nutrition and Dietetics. Members include second-career dietitians, second-career students studying to become dietitians, or dietitians who provide mentoring or other services to second-career RDs or students who want to find support and networking opportunities. For more information, visit www.nedpg.org or e-mail secondcareer@nedpg.org.