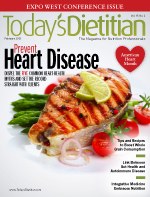 February 2013 Issue
Apps for Gluten-Free Eating
By Lindsey Getz
Today's Dietitian
Vol. 15 No. 2 P. 16
Dining out and cooking at home are a snap with a simple tap on your smartphone touch screen.
With increased smartphone usage often comes a greater interest among clients in mobile app technology that will help them keep up with their busy lifestyles. And when it comes to living gluten free, like so many other things, there are apps for that.
Several apps tailored to the gluten-free set are available free or for under $9. These apps can help clients with tasks such as finding restaurants that serve gluten-free foods domestically and internationally, grocery shopping for gluten-free products and ingredients, and learning to read labels.
Technology can be a huge time-saver, says Toby Amidor, MS, RD, CDN, founder of Toby Amidor Nutrition in New York City. "If you can use an app that allows you to scan or look up a food and see if it's gluten free, that can take out a lot of the guesswork," she says. "When dietitians aren't up-to-date in recommending apps, clients end up going elsewhere—oftentimes to nonreputable sources—because they want this kind of information."
Melissa O'Shea, MS, RD, a corporate wellness dietitian in New York City, says the almost constant presence of a mobile phone makes apps an easy solution for quick references. "I do have a lot of clients ask me about them," she notes.
While apps can be useful for successfully living a gluten-free lifestyle, Rachel Begun, MS, RD, CDN, a spokesperson for the Academy of Nutrition and Dietetics (the Academy), says it's important to remember apps aren't foolproof or a replacement for using common sense. "Everything we've learned to do to avoid contact with gluten still applies, such as asking questions about ingredients and preparation at the restaurant and performing diligent label reading at the grocery store," she says. "What these apps do offer is awareness about restaurants and products out there that cater to the gluten-free community and do so responsibly."
Though some dietitians may feel they can't keep up with app technology because they're simply not tech savvy, the truth is most apps are easy to use. "Many gluten-free apps are definitely user friendly," O'Shea says. "The other nice thing is there are several to choose from. If you decide you don't like one, you can easily find another that appeals to you. There's always something else to try."
Begun says many of the gluten-free/allergy-free apps available are peer rated, which means the information provided is based on users' experience with a restaurant, recipe database, or grocery store. "The age-old adage 'give and you shall receive' applies here," she says. "When you provide feedback for a peer-rated app, you're making the app a better resource for the gluten-free community."
Today's Dietitian reviewed the top 10 apps clients can use to follow a healthful gluten-free lifestyle:
1. AllergyEats (Free): This app for iPhone and Android users includes a database of restaurants that cater to those with celiac disease, gluten sensitivity, and food allergies. Users can find restaurants based on their "level of allergy friendliness." Once clients determine where they want to dine, they can call the restaurant or find directions. It also allows users to rate restaurants instantly to give other users helpful feedback.
2. Cook IT Allergy Free ($4.99): With hundreds of gluten-free recipes that can be customized to meet most food allergy needs, this iPhone app is handy for clients who like to cook. Users can easily find substitutions within recipes for common items such as eggs, butter, milk, yogurt, cream, cheeses, and nuts. Recipes can be customized by saving them to a "Grocery List" so there's always a quick-reference shopping list that clients can organize by recipe category or by grocery aisle.
3. Eating Out G-Free (Free): This iPhone app is meant to accompany Elisabeth Hasselbeck's best-selling book The G-Free Diet. The app offers advice on how to live a gluten-free life, with tips varying from finding gluten-free restaurant menus to creating gluten-free shopping lists.
4. Gluten Free and Allergy Free Travel Checklists ($1.99): Available for both iPhone and Android users, this travel checklist is a great aid for travelers who need to eat gluten- or allergen-free foods. Users can access expert travel advice on how to order airline meals and safely explore new destinations by land or sea with a hotel and cruise checklist. There are even international travel tip guidelines for those headed overseas.
5. Gluten Free Registry ($1.99 for iPhone, $0.99 for Android): Available for both iPhone and Android, the Gluten Free Registry is a handy database of gluten-free restaurants, coffeehouses, grocers, caterers, and more. With more than 28,500 business locations listed, it simplifies the users' search for a place to dine or order food. Users can read reviews and ratings by the gluten-free community, post their own reviews, view gluten-free restaurant menus, and instantly call the business or peruse the website from their phone.
6. Healthy Diet & Grocery Food Scanner (Free): This ShopWell app for the iPhone can help clients find foods to fit their specific dietary needs at the grocery store. The app identifies foods that contain gluten and then displays a red hand symbol so clients know to avoid them. Besides helping users avoid foods, the app can suggest similar product alternatives that don't contain gluten.
7. iCanEat OnTheGo Gluten Free & Allergen Free ($2.99): With this handy iPhone app, users can enter their allergen concerns and find safe items to eat at popular fast-food style restaurants. It saves time at home from having to search through restaurant websites on the computer. This app is part of the award-winning Let's Eat Out! series of apps, books, and e-books.
8. iEatOut Gluten Free & Allergen Free ($2.99): This app (also part of the Let's Eat Out! series) was designed for the diner who misses "eating anywhere." No gluten-free menu or allergy chart available? Users can still confidently eat safe meals in Chinese, French, Indian, Italian, Mexican, steak, and Thai restaurants close to home and around the world. The iPhone app can be customized based on any combination of 10 common food allergens (including gluten, of course).
9. Is that Gluten Free? ($7.99): This iPhone app features a database of 23,000 gluten-free products from more than 510 brands, making it a great app for grocery store shopping. Users can search by category, brand, or product name and can rate and add notes to products. Comments from manufacturers appear about the gluten-free foods, cross-contamination, and other topics.
10. The Gluten Detective ($1.99): This app, developed by the Academy, is an easy tool to help users determine whether a food contains gluten. It has information on food labeling, ingredients, nutrition tips, gluten-free grains, and cross-contamination. The app also can be useful to dietitians who want to teach label reading to clients.
— Lindsey Getz is a freelance writer based in Royersford, Pennsylvania.