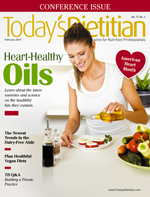 February 2015 Issue
Culinary Corner: Sweet Potatoes and Black Beans — A Taco Full of Nourishment for Loved Ones
By Grace Dickinson
Today's Dietitian
Vol. 17 No. 2 P. 66
February is the month in which Valentine's Day falls—the day loved ones exchange sentimental cards, boxes of chocolates, flowers, and other gifts as an expression of love. But Valentine's Day also can be a special time to give the gift of a homemade meal that not only warms the heart but contributes to its health and well-being, too.
The following meal presents an opportunity to promote heart health in the form of a tasty, tortilla-wrapped gift. Inside the tortilla lies an innovative, spicy ingredient combination of the Southwest, featuring sweet potatoes and black beans—two fiber-rich foods of high nutritional value. The black beans contain approximately 8 g of fiber per 1/2 cup cooked, and the sweet potatoes contain 4 g of fiber per medium potato (with peel), which can help lower cholesterol, and improve heart and gastrointestinal health.
Unwrap the black beans by themselves and they also become a natural gift to your bones, because of their high calcium and magnesium content. But beans usually are most recognized for their protein. When combined with corn, as they are in the traditional Native American diet, beans offer a high-quality source of protein. Black beans offer approximately 8 g of protein per 1/2 cup, or 15% of the DV.
In this recipe, nutty corn tortillas conveniently wrap all remaining ingredients, and provide a slight sweetness and contrasting flaky texture to the creamy sweet potatoes. Let's not forget about those orange tubers, which contain many nutrients, particularly potassium and beta-carotene. It's the beta-carotene that gives sweet potatoes and these tacos their vibrant color. Beta-carotene is converted by the body into vitamin A, enabling one medium sweet potato to account for approximately 438% of an individual's DV.
Here, chili powder plays off the natural sweetness of the potatoes, while goat cheese adds a bit of tanginess. Feel free to add a squeeze of lime for extra tanginess and a dash of hot sauce for additional spiciness. What will result is a flavorful, handheld package that will make your taste buds feel every bit as loved as your heart.
— Grace Dickinson is a photo enthusiast, food blogger, and recipe developer for FoodFitnessFreshAir.com.
Roasted Sweet Potato and Black Bean Tacos With Goat Cheese
Black beans and sweet potatoes team up for an innovative southwestern taco flavored with classic chili powder and cayenne pepper, topped with tangy goat cheese, and wrapped with flaky corn tortillas.
Serves 4
Ingredients
3 medium sweet potatoes, cubed
1/2 tsp smoked paprika
2 T olive oil, divided
1/8 plus 1/4 tsp salt
1 large onion, diced
4 large cloves garlic, minced
1/2 T chili powder
1/2 tsp cumin
1/8 tsp cayenne pepper
1 15-oz can black beans, drained and rinsed
8 small corn tortillas
5 oz goat cheese, crumbled
1/3 cup cilantro
1 lime, cut into wedges, optional
Directions
1. Preheat oven to 400° F. Line a baking sheet with aluminum foil, and place sweet potato cubes on top. Toss with smoked paprika, 1/2 T olive oil, and 1/8 tsp salt. Bake 20 to 25 minutes, or until sweet potatoes are soft.
2. Meanwhile, heat remaining 11/2 T olive oil in a large skillet over medium-high heat. Add onion and garlic and sauté for 6 to 8 minutes, until onion is translucent, stirring frequently. Add chili powder, cumin, cayenne pepper, and 1/4 tsp salt, and sauté for 60 seconds, until fragrant. Add beans, and reduce heat to medium-low. Cook beans for 10 minutes to let the flavors meld, stirring occasionally. Remove from heat.
3. Wrap tortillas together in aluminum foil and heat in oven for 3 to 5 minutes, or until warm. Remove and top with a spoonful of sweet potatoes and beans. Divide goat cheese crumbles between tacos, and add cilantro leaves. Finish with a squeeze of lime (optional).
Nutrient Analysis per serving
Calories: 433; Total fat: 16 g; Sat fat: 6 g; Trans fat: 0 g; Cholesterol: 16 mg; Sodium: 268 mg; Total carbohydrate: 55 g; Dietary fiber: 11 g; Sugar: 1 g; Protein: 18 g