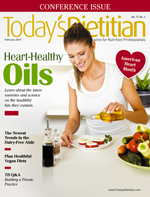 February 2015 Issue
Focus on Fitness: Winter Workouts for Kids
By Jennifer Van Pelt, MA
Today's Dietitian
Vol. 17 No. 2 P. 58
Years ago, a day off from school for snowy weather meant a day filled with sledding, snowball fights, and building snowmen for children and teens. Today, technology generally wins out for snow day fun, and children and teens tend to choose computer and video games, TV, online chatting or texting with friends, and surfing the Internet instead of outdoor activities. Overweight and obesity are becoming the norm for a majority of children and teens, and keeping them active during winter can be challenging. Children and teens who participate in winter sports, such as indoor swimming and basketball, have required team practices and competition to motivate them to exercise during the winter. But for those who don't participate in winter sports, exercise may occur only during school physical education classes once or twice per week. To increase the daily exercise of children and teens during the winter, there are several outdoor and indoor options.
Outdoor Activities
Snow-related activities, including the following, offer the most potential for winter calorie burning:
• Downhill skiing and snowboarding are good activities for a winter family vacation, or weekly outings for families lucky enough to live close to a ski slope. Both sports require coordination and practice, and investing in lessons for children and teens will help them learn skills and safety. However, finances may limit the frequency of these activities.
• Cross-country skiing is one of the most effective total-body winter workouts, engaging upper and lower body muscles for movement and core muscles for balance and stability. It's also a high calorie-burner. Once equipment is purchased, there's no need to pay for ski slope access—a nearby snowy field or park will do. However, if equipment will be purchased rather than rented, this winter activity may be more suitable for teens than children, who quickly outgrow skis and poles.
• Sledding with friends and family provides fun going downhill as well as leg strengthening and cardiovascular exercise while dragging the sled back uphill. For a fun variation on sledding, try snow tubing using inflatable tubes (like those for summer water sports) on local hills, or check out a local ski slope that offers tubing.
• Ice skating is another activity that involves some skill and coordination, but children are fast learners. Skating is a great family outing to get both parents and kids moving. Indoor or outdoor rinks with maintained ice are the safest option; skating on unsupervised local frozen ponds may not be safe if the ice isn't thick enough. For children and teens who develop advanced skating skills and have an interest, ice hockey and figure skating are good activities to pursue for regular exercise during the winter. If an indoor rink is available, ice skating may be possible all year.
• Snowshoeing has been growing in popularity as a winter workout, and affordable snowshoes are now available from sporting goods stores. In areas where deeper snow may cover the ground for most of the winter, snowshoeing at local parks and on snow-covered streets can be a fun and effective cardiovascular and lower-body workout.
• Playing in the snow with a group of friends or family members can add up to quite a bit of exercise. Snowball fights, playing with the family dog, and building igloos and snowmen provide longer-duration, low- to moderate-intensity cardiovascular activity.
• Snow shoveling is probably the least desirable of all winter activities. Teens who are motivated to earn money can get a total body-strengthening and cardiovascular workout shoveling sidewalks and driveways in their neighborhood. For younger children, providing smaller kid-sized shovels can get them involved and make shoveling the driveway a fun family workout.
Indoor Exercise
Outdoor workouts aren't always possible due to weather or medical conditions. Children and teens with asthma should avoid strenuous activity in cold weather and take extra care when outside. Studies have shown that cold-air exposure exacerbates bronchial constriction, especially in those with asthma.1,2 For those with skin conditions such as eczema and psoriasis, exposure to cold air and low winter humidity can aggravate symptoms, even when skin is covered.3,4 Indoor exercise options are better in these cases, as well as on days when the weather is just too cold or stormy to permit safe outdoor activity. Indoor winter activities that may get kids moving include the following:
• bringing outdoor fun indoors using a Wii for simulated skiing, skating, and even Olympic sports such as luge and bobsledding;
• using a Wii for dancing competitions and other active games;
• visiting indoor play areas and gyms hosting children's activities, such as yoga for kids and teens, pool parties, dance, martial arts for kids, rollerskating, and ice skating (provided weather allows for safe driving);
• joining family fitness programs at local community centers and gyms to motivate all family members to stay active; and
• exercise and dance DVDs geared toward children and teens.
Keeping younger children active indoors often is easier because there are many DVDs for physical activity specifically for young children, including Zumba and yoga for kids, and other dance and exercise programs with their favorite Sesame Street characters. Older children and teens are likely to become bored faster and may be more challenging to motivate at home.
— Jennifer Van Pelt, MA, is a certified group fitness instructor and health care research analyst/consultant in the Reading, Pennsylvania, area.
References
1. Driessen JM, van der Palen J, van Aalderen WM, de Jongh FH, Thio BJ. Inspiratory airflow limitation after exercise challenge in cold air in asthmatic children. Respir Med. 2012;106(10):1362-1368.
2. Stensrud T, Berntsen S, Carlsen KH. Exercise capacity and exercise-induced bronchoconstriction (EIB) in a cold environment. Respir Med. 2007;101(7):1529-1536.
3. Langan SM. Flares in childhood eczema. Skin Therapy Lett. 2009;14(8):4-5.
4. Bouchez C. As cool winds blow, psoriasis flares. WebMD website. http://www.webmd.com/skin-problems-and-treatments/psoriasis/features/as-cool-winds-blow-psoriasis-flares. September 16, 2005.