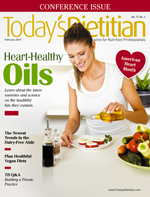 February 2015 Issue
Editor's Spot: Stroke Prevention
By Judy Riddle
Today's Dietitian
Vol. 17 No. 2 P. 4
It's common knowledge that heart disease is the leading cause of death in the United States, and unfortunately this statistic hasn't budged since 1921. The good news is that stroke has dropped from fourth to fifth place among the 10 leading causes of death in the country, according to the National Center for Health Statistics, a trend medical experts say may be attributable to improvements in stroke treatment.
Dietitians can share this news plus newly published information from the American Heart Association (AHA) and American Stroke Association (ASA) with their clients and patients on how to reduce stroke risk and other risk factors for cardiovascular disease, such as hypertension, overweight and obesity, high cholesterol, and type 2 diabetes.
Last October, the AHA and ASA published updated stroke prevention guidelines focusing on diet and lifestyle behavior changes, which many dietitians are excited about. While mortality from stroke has declined, the number of people having strokes in the United States is increasing every year and resulting in great disability—even among young people, possibly because of the rising obesity and type 2 diabetes epidemics.
The new stroke guidelines emphasize that following the Mediterranean or DASH diet can lower stroke risk along with regular physical activity. And they challenge dietitians and other health care professionals to develop higher skill sets to assess stroke risk among clients and patients during counseling sessions so they can better develop individualized treatment plans. To learn more about the new guidelines and how to apply them to daily practice, read "Updated Stroke Prevention Guidelines" on page 12.
Afterward, turn to page 24 to read about what's trending in heart-healthy oils and the latest science on the healthful fats they contain so you can educate clients on what oils to buy and how to use them in cooking. Read the other articles on planning vegan diets, building a private practice, benchmarking, and the latest dairy-free products, and tell us what you think of them on Facebook and Twitter. Please enjoy the issue!
Judith Riddle
Editor
TDeditor@gvpub.com