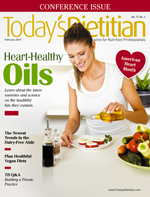 February 2015 Issue
Building a Private Practice
By Lindsey Getz
Today's Dietitian
Vol. 17 No. 2 P. 36
Today's Dietitian speaks with successful entrepreneurs to get answers to common questions about what it takes to start a nutrition business.
Choosing to start a private practice is a big decision. There are several factors to weigh as dietitians consider whether or not it's the right choice for them. While it can be rewarding and lucrative, running a nutrition business doesn't come without its stresses and challenges. Today's Dietitian (TD) speaks with five RDNs who successfully have built their private practices from the ground up. We asked them many of the questions dietitians often ponder, concerning topics such as skills needed, finding office space, setting rates, and getting referrals. The experts on our Q&A panel include the following:
• Angela Lemond, RDN, CSP, LD, founded Lemond Nutrition in Plano, Texas, in 2008, when she decided she needed more flexible work hours and grew tired of commuting to the pediatric hospital where she worked in downtown Dallas—up to 75 minutes daily each way. Today, her practice has grown to include a second dietitian and an office manager on staff.
• Faye Berger Mitchell, RDN, LDN, is the coauthor of Making Nutrition Your Business: Private Practice and Beyond and the editor-in-chief of FoodieOnCampus.com. She has helped thousands of dietitians nationwide start their businesses through her workshops, speaking engagements, and Be Your Own Boss Starter Kit.
• Maye Musk, MS, RDN, is a wellness spokesperson and speaker in private practice in Los Angeles. She has run her own nutrition business for more than 40 years in eight cities and three countries, including South Africa and Canada. Musk also has been a professional fashion model for the last five decades.
• Jennifer Neily, MS, RDN, LD, FAND, is the founder of Neily on Nutrition and provides science-based advice through counseling, coaching, public speaking, consulting, writing, and teaching. She launched her private practice in 2009 and works from her home office in Dallas.
• Jill Weisenberger, MS, RDN, CDE, FAND, is in private practice in the Yorktown and Newport News, Virginia areas. She's the author of The Overworked Person's Guide to Better Nutrition, Diabetes Weight Loss — Week by Week, and 21 Things You Need to Know About Diabetes and Your Heart. She's also a writer and nutrition and diabetes consultant to the food industry.
TD: What skills are required to go into private practice?
Lemond: What's really essential for someone to be successful in his or her private practice is a superior work ethic driven by the passion for what you do. And patience! It's such a slow process to build the business, and you have to be OK with that. There have been times I've wanted to give up and go back to working for someone else, but I'm glad I didn't because now I can see that on the other side of those particular times a breakthrough occurred. One of those times was when I knew I had to hire an office manager to book appointments and file claims for me.
Berger Mitchell: It takes a person who likes to take initiative; someone who doesn't give up. You have to be willing to put yourself out there, speak to people, and promote yourself. That's not easy for everyone. If you don't like public speaking or are naturally very shy, you may want to polish up your networking and speaking skills. You definitely need to be comfortable selling yourself if you're going to be successful with building a practice.
TD: What's involved with finding office space?
Lemond: I searched for office space online and spent a lot of time thinking about the best area in which to start my business. That step is critical. Think about what MD practices you serve or where your current patients come from. In a metroplex as large as Dallas, people can come from a 20-mile radius or more. But when possible, you want to be within five to seven miles of most of your referrals.
Weisenberger: It took about one year before I found an office, and in that time I saw a handful of people in their homes and others in a private room I reserved at our local library. I thought this would turn people off but it didn't seem like anyone was turned off. Because my practice is very small, it didn't make sense for me to buy space or lease a full office suite. I looked for space within other offices. The space I have now is ideal. I see patients in my own office within the offices of a research clinic.
Musk: I've had offices in fitness centers, doctor's offices, and even a modeling agency. But mostly my home has been my primary office. I started off in my home and that kept the financial investment to a minimum—a scale and paper. For most, rental is the biggest expense. I didn't rent until I could afford it.
Berger Mitchell: An entire chapter of my book is devoted to this topic. A lot of people start with part-time office space. Many find it helpful to find a physician who isn't using their office every day. For myself, I've sublet with psychotherapists, which has been perfect. Most therapists don't use their offices full time and often sublet to others. Plus, the dynamic of working in that type of environment works well.
TD: How do you set your rates?
Berger Mitchell: The first thing is to create your payment policies. Your first decision to make within those payment policies is the important question of whether you're going to become an insurance provider or not. If you do decide to become a provider, most insurance companies have what they call "standard and customary fees." Many private practitioners will use those reimbursement fees to base their payment requirements.
Lemond: We set them based on what other dietitians in the area are charging—and we're at the top end the last time we checked. We believe that we provide some of the most thorough services with unlimited support so we feel good about our pricing.
TD: What are your payment practices?
Lemond: Payments must be made when patients check in—just like when someone checks in at a doctor's office. We are insurance providers so any copayments are made at this time as well. Our website and paperwork states that any benefits not paid by their insurance are the responsibility of the patient.
Berger Mitchell: I was completely fee for service when I was in private practice. I took payments via cash, check, or credit card at the end of each visit, but I provided each patient with a superbill listing accurate diagnoses and MNT [medical nutrition therapy] codes so they could file with their providers for reimbursement.
Neily: I am strictly self-pay. Early on I decided that would be my business model. If I saw clients 100% of the time that might be different but I do have other sources of revenue including teaching and consulting. Being an insurance provider can get many people in the door, but I also think it opens the door for more no-shows and cancellations. I find that when people are committed and ready to change they're willing to make an investment in themselves. I handle my own billing.
TD: How do you handle cancellations or no-shows?
Berger Mitchell: Your time is money, and it's valuable. I base my cancellation policies around what other therapists do. I always have used a 24-hour cancellation policy or the patient pays the full fee. While that has worked with established patients, it's pretty impossible to collect from a brand-new patient. Some practitioners actually may ask for a credit card on file when the initial appointment is booked so that no-shows can be charged but that's a bit cumbersome. But, if a first-timer cancels on me more than once for his or her initial appointment I will request payment in advance via credit card before I will rebook them.
Lemond: We ask that anyone who needs to cancel do so 48 hours before his or her appointment time. We have automated e-mail reminders that go out to them 48 hours ahead of time that allow them to click a link to confirm. If they don't do that, then they get a phone call reminder. The original booking e-mail and the appointment reminder states that they may lose their appointment slot if they don't confirm—though we haven't carried this one out thus far. We also don't charge for cancellations because I have learned that you may win the battle but you won't win the war. We get a lot of our referrals from networking and physician referrals, and we don't want people having a negative experience with us by charging for a no-show. Those people will never come back and will most likely never recommend your services.
TD: What are some tips for the office management side of the business, such as making appointments?
Berger Mitchell: Many dietitians find this to be the hardest part of private practice. After all, we're not trained on the business side of things. You need to set up a system for yourself in order to be successful. Over time you may require a virtual assistant, a remote administrative assistant, or secretary, if you get to the point where you realize you're spending too much time on administrative work that takes away from your available time to see patients or bill for your services, whether it be scheduling patients or taking on other consulting projects that pay. The best place to find a virtual assistant is through colleague referrals.
Musk: I take all of my appointment requests by e-mail. Since I don't answer the phone while counseling, it's best that e-mails are sent. For new clients, there's an online form for them to complete. I then call them before their first appointment to hear their concerns in detail. I book all appointments myself and send reminders the day before. I also see all clients in person, one on one. Families I see together, then separately.
TD: How do you handle clients who have psychological issues such as eating disorders?
Neily: The majority of my clients are in my three-month program, and before enrolling them I really try to screen them as best as I can and refer those that need it to an eating disorder specialist. On the rare occasion that something will come up in the course of our coaching, I will make the referral later. I once worked with a woman and not quite halfway through our three months it was obvious we weren't making any progress. I brought it up that there might be something deeper, beyond my scope of practice. I asked if she would be willing to seek the help of a therapist. Thank goodness she was. We put her program on hold so she could sort out the issues. After a few months of working exclusively with the therapist, she resumed with me like a new person.
Berger Mitchell: The more you work with clients, the more skilled you become at identifying those psychological issues. In time you may even notice certain red flags in just a phone conversation. Because of my specialty in eating disorders and disordered eating, I've always had a policy that if a client has an eating disorder or other psychological issues, I won't see them unless they're also engaged in psychotherapy. Even as an RDN who's more specialized in these areas I wouldn't feel fully equipped to deal with all of the psychological issues, and it's outside of our scope of practice. As dietitians, we need to be able to recognize when something is out of our range of expertise.
TD: What do you believe are the biggest challenges with owning a private practice?
Musk: In South Africa, the doctors love to send patients to dietitians. In the USA and Canada, doctors don't. I'm not sure why, but it's something you have to make up for by working hard at marketing yourself. You have to meet and contact as many doctors as you can to find one that cares. Then you get many referrals.
Weisenberger: The two biggest challenges with having a private practice are tending to all the details of HIPAA and trying to keep my nonbillable hours down to a reasonable level. I don't think that I do a good job of minimizing nonbillable hours. The opportunity cost is high because other aspects of my business pay better.
Berger Mitchell: Dealing with insurance is probably one of the biggest challenges that those in private practice face these days. Even just the decision on whether or not to take insurance can be challenging.
TD: What do you see as the greatest rewards?
Musk: At 22 years old and pregnant on my honeymoon, private practice felt like my only option. I've since started my practice and have done so in eight cities and in three countries and always have found that it gives me flexibility for my family and modeling, which is my other profession. Now that I no longer have to feed three kids, the pressure is off and I can continue with my private practice at my own enjoyable pace.
Neily: A huge reward for me is having my own schedule—doing what I want, when I want. I've never been much of a morning person so I rarely schedule early morning meetings. I don't sleep with an alarm so I always get my needed seven to eight hours of sleep, which is fabulous. That's what helps me be my best self. Another reward is being able to create my own destiny. I'm not limited by a corporation's annual pay raise. If I want something—and I do want lots of things—I am going to have to work hard to get it.
Lemond: The biggest reward is making an impact in peoples' lives. That's why I became a dietitian. When I worked in the outpatient area of the hospital, I got 20 minutes with a family. There was no time to build a rapport. At Lemond Nutrition, we have 90 minutes for initial child or adult consultations. In that time, we can develop a sense of trust with our patients, which I believe has helped us in optimizing outcomes. It does mean you can't see as many people in one day, but it has created trust in our medical and family communities and that has helped generate more referrals and business.
TD: How do you get referrals?
Weisenberger: Many of my referrals come from other patients. A few do come from doctors, but the vast majority of people simply find me online.
Neily: For the past several years, I've been getting a lot of referrals through healthprofs.com. Today, speaking to women in my target market also has driven new referrals.
Lemond: We get the bulk of our referrals from area physicians. That's definitely where I recommend starting. If you win over a practice, you get a ton of referrals that continue month after month. We do free brown-bag lunch 'n learns at physicians' offices, and they choose the topics. It allows us to meet the doctors and staff so they can place a name and face with our services.
TD: Where do you see yourself and your practice in the next five to 10 years?
Lemond: I'd like to expand the business to include more dietitians, staff, and locations in the Dallas area. We may start differentiating our clinical and wellness sides more. I'm about to study for my ACSM [American College of Sports Medicine] certification, so I hope to expand our practice to other wellness focus areas.
Neily: I'm excited about the future. Nutrition coaching has been my business model for several years, and I'm taking it to the next level by offering new programs. I know in that time I also will be an author, and I will be doing a lot more speaking and reaching even more people than what I can now through my private coaching business.
— Lindsey Getz is a freelance writer based in Royersford, Pennsylvania.