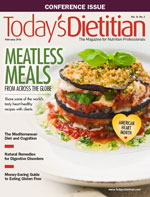 February 2014 Issue
Rapping to the Beat of Nutrition
By David Yeager
Today's Dietitian
Vol. 16 No. 2 P. 52
Hip Hop Public Health aims to educate kids through hip-hop music.
The release of a new album often is accompanied by much fanfare, and Hip Hop Public Health's (HHPH) Songs for a Healthier America is no exception. What's uncommon is that the group is giving away the album.
Is HHPH a new group trying to draw attention with unusual marketing tactics? Not exactly. Its album features some of the biggest names in the hip-hop and R&B music industry, including Doug E. Fresh, DMC, Ashanti, and Jordin Sparks. But rather than trying to turn a profit, HHPH is trying to turn the tide of childhood obesity.
Unusual Beginnings
As if that wasn't far enough out of the ordinary, HHPH (http://hhph.org) was started not by a music producer but by a neurologist.
Olajide Williams, MD, MS, is the chief of staff of neurology, an associate professor of clinical neurology, and the director of acute stroke services at NewYork-Presbyterian/Columbia Medical Center. He began his foray into hip-hop music in 2005. Looking for a way to teach school-age children how to recognize the signs of stroke in elders, he decided to use popular music to convey the message and enlisted hip-hop royalty Doug E. Fresh as a collaborator. The success of their initial track, "Stroke Ain't No Joke," led Williams to consider other ways to use the new platform.
"We realized that this isn't merely a stroke communication vehicle; this potentially could be used to address a whole host of other content areas, including nutrition, physical activity, smoking, or anything else. This model that we'd created could be an incredibly powerful vehicle," Williams says. "We then decided that we were going to go into the prevention space, so we began with a focus on childhood obesity."
With Williams' persistence and Fresh's musical contacts, more big-name artists were convinced to join the effort, such as multiplatinum music producer Artie Green. In addition to their stroke program, HHPH now has four other established programs at schools throughout New York City. Three of them deal directly with kids' eating and exercise behaviors: Hip Hop H.E.A.L.S. (Healthy Eating and Living in Schools), which is the main program for nutrition education; Hip Hop F.E.E.T. (Finding Exercise Energy Thresholds), which teaches kids how to find their proper exercise rate; and Hip Hop P.O.P. (Pouring on the Pounds), which teaches how the calories in soda add up. Along with music, HHPH produces animated and live-action music videos as well as comics and interactive games.
Initially, HHPH reached out to schools in New York City to offer its programs, but Williams says the overwhelmingly enthusiastic responses from students and positive word-of-mouth referrals from school administrators quickly generated interest among other schools. Today, the programs reach 12,000 students each year in New York City's Queens, Brooklyn, Manhattan, and Bronx boroughs, and HHPH is in the process of expanding to San Antonio, Philadelphia, and Washington, D.C. Williams says HHPH has received requests from school districts across the country, and the group hopes to expand to at least 12 cities by the end of 2014.
Getting on Board
To build the nutrition education components of HHPH's programs, Williams brought in Vanessa Sawyer, MS, RD, in 2009. Sawyer, senior project officer for Hip Hop H.E.A.L.S. and Hip Hop F.E.E.T., had experience developing nutrition education for preschool and elementary children in urban communities. After considering different possibilities for educational focus, the HHPH team decided to start with something that was in the news.
"The calorie labeling laws here in New York City had just started to roll out, so we decided to figure out a way to focus the education on that," Sawyer says. "We decided to piggyback off of the legislation because the labeling was happening, but people were utilizing it without the appropriate information. So we focused the messaging specifically on calorie literacy and that evolved into menu board literacy."
Sawyer worked with various hip-hop artists to develop the concepts that are taught in the program, and she's the point person for ensuring that the lyrics are relevant and accurate. Combined with the educational videos, Sawyer says the songs help teach kids concepts that can be difficult to express with words alone. She adds that the inclusive nature of hip-hop culture, along with the physical activity of break dancing, makes hip hop a highly effective means of communicating health messages to young people.
HHPH has one-, two-, and three-day programs, although Sawyer says the group tries to provide two- or three-day programs whenever possible. The curriculum is delivered by MCs, who are trained by HHPH, and the programs have the feel of a hip-hop concert. An informal dance competition, or dance-off, at the end of each program serves as a reward. "[The kids] walk away with a lot of information, but it's all very fun and dynamic," Sawyer says.
Students are given questionnaires before and after the programs to measure what they've learned. HHPH also uses an audience response keypad system that interfaces with a computer screen to provide real-time responses immediately following the programs. In some cases, HHPH has conducted behavioral studies by monitoring student food purchases for calorie content and nutrient density and to determine the influence of the food purchases on the students' parents—unbeknownst to the students, of course. Occasionally, students are reevaluated six months later. The results have been encouraging, and Sawyer believes her involvement with HHPH has allowed her to provide nutrition education that makes a lasting impression on kids.
"I've been in a unique position to create nutrition education in a very novel way, and it's fun to think that dietitians have the opportunity to do this kind of work," Sawyer says. "I think that, moving forward, we really need to be thinking out of the box and thinking of new ways to educate our kids, so I feel very fortunate to have the opportunity to do something like this. I feel there's something to this, and it may actually make a difference, so that's a really cool position to be in."
Continuing Research
Williams and his colleagues have published several studies and presented papers at medical conferences showing the efficacy of their methods on stroke education; the results have exceeded their expectations. HHPH also has published smaller studies showing positive results with Hip Hop H.E.A.L.S.; Williams says one study demonstrated a 25% calorie reduction in student food purchases.
He adds that original, policy-relevant HHPH questionnaires targeting preadolescent children are being psychometrically validated so they can be used more widely. And Sawyer says a study currently is under way that measures students' abilities to balance their calorie needs based on their food choices and levels of physical activity.
With all of the momentum behind HHPH, the group potentially could make a fortune, but all of the programs and materials are free. With more than one-third of US children and adolescents considered overweight or obese, Williams says the real reward is the potential effect HHPH can have on kids' lives. Based on what he's seen so far, he thinks he may have found a way to reach children in previously hard-to-reach places.
"We want to get as many people as possible motivated and learning about this because we think that nutrition and physical activity are so important. And the ways we communicate these issues are equally important, especially when we're dealing with the type of populations that we've been targeting, which are the relatively low-income and disadvantaged inner city communities that, traditionally, public health has struggled to penetrate," he says. "We think we've found a way to really communicate with kids, communicate with the youths, no matter what stripe of life they're from, and we just want to get the word out so that as many people as possible can benefit from our resources, which are currently free."
— David Yeager is a freelance writer and editor based in Royersford, Pennsylvania.