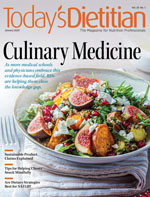 Ask the Expert: Herbal Supplements
By Toby Amidor, MS, RD, CDN, FAND
Today's Dietitian
Vol. 25 No. 1 P. 8
Q: Many of my clients are asking about herbal supplements for a variety of health conditions. What's the best way for dietitians to approach this topic?
A: Herbal supplements fall under the umbrella of dietary supplements, which are defined as products that contain a vitamin, mineral, an herb, or other botanical, and are sold in capsule, tablet, powder, liquid, or other form. Many cultures have used herbs as medicine for centuries in the form of traditional Chinese and Ayurvedic medicine. Some herbal supplements have benefits that are supported by science, including ginger, chamomile, and valerian. There has been an influx of herbal supplements gaining popularity among American consumers, such as ginseng and green tea extract. Ginseng has been used as a calming agent in traditional Chinese medicine. It's also touted to help with memory and thinking skills, Alzheimer's disease, and depression. Green tea extract is touted to help improve high cholesterol and high blood pressure and prevent heart disease and ovarian cancer.
Herbal supplements aren't regulated by the FDA in the same manner as prescription and over-the-counter medications. The Dietary Supplement Health and Education Act of 1994 set the regulatory framework for herbal supplements. The FDA doesn't set standards for the contents or nutrient composition of herbal supplements or take responsibility for their safety and effectiveness or labeling claims. Dietary supplement companies are responsible for ensuring they meet product safety standards and labeling requirements.1
What follows are the pros and cons of herbal supplements dietitians can discuss with clients and recommendations to help them choose wisely.
Market Growth
According to Businesswire, the size of the US herbal supplements market was estimated at $2.2 million USD in 2021 and is projected to reach 4.1 million USD by 2027.2 That's a 10.6% compound annual growth rate.
Consumers are turning to a variety of supplements to help with various health concerns. IFIC's 2022 Food and Health Survey says that 60% of people who wanted to improve immune function turned to vitamin C, 51% to vitamin D, and 15% to other dietary supplements such as elderberry and echinacea.3 The IFIC survey also found that 30% of respondents took dietary supplements that are supposed to reduce stress or the effects of stress (eg, headaches, fatigue). However, there's a variety of concerning issues consumers aren't aware of when it comes to herbal supplements.
Various Concerns
Since the FDA doesn't approve labeling claims of herbal supplements before they're marketed, many claims are misleading. Products may contain lower or higher amounts of certain ingredients or those that aren't listed on the label. A 2019 study compared the ingredients in herbal supplements with what was written on the label and found that of the 272 products examined, 51% were mislabeled.4 The best way to circumvent this issue is to look for third-party certification seals of approval on supplement labels. The three certifying organizations that independently assess supplement quality, purity, potency, ingredient composition, and other criteria are ConsumerLab.com, NSF International, and the US Pharmacopeial Convention.
Another issue is dosage. Often, consumers take one supplement for a variety of health problems because it's marketed as one that can help improve different health challenges. The problem is there's little research on most herbal supplements regarding proper dosing and length of treatment to help with specific health issues. And while there are some dosing and treatment guidelines for herbal supplements based on short-term studies, more research is needed for consensus.
Recommendations to RDs
Speaking to clients who want to resolve medical issues with herbal supplements can be challenging. First, dietitians should build rapport with clients so they feel comfortable discussing the herbal supplements they take. Second, RDs should ask why clients are taking a specific supplement or refer them to a physician or specialist. To learn more about herbal supplements, RDs should visit the American Botanical Council (www.herbalgram.org), Consumerlab.com, and the National Institutes of Health Office of Dietary Supplements (https://ods.od.nih.gov) websites.
— Toby Amidor, MS, RD, CDN, FAND, is founder of Toby Amidor Nutrition (tobyamidornutrition.com) and a Wall Street Journal bestselling author. She's written nine cookbooks, including Diabetes Create Your Plate Meal Prep Cookbook: 100 Delicious Plate Method Recipes and The Family Immunity Cookbook: 101 Easy Recipes to Boost Health. She's also a nutrition expert for FoodNetwork.com and a contributor to U.S. News Eat + Run and other national outlets.
Send your questions to Ask the Expert at TDeditor@gvpub.com or send a tweet to @tobyamidor.
References
1. FDA 101: dietary supplements. FDA website. https://www.fda.gov/consumers/consumer-updates/fda-101-dietary-supplements
2. U.S. herbal supplements market report 2022-2027: inclination towards botanical ingredients and herbal supplements among health conscious consumers driving growth - ResearchAndMarkets.com. Businesswire website. https://www.businesswire.com/news/home/20220720005700/en/U.S.-Herbal-Supplements-Market-Report-2022-2027-Inclination-Towards-Botanical-Ingredients-and-Herbal-Supplements-Among-Health-Conscious-Consumers-Driving-Growth---ResearchAndMarkets.com
3. IFIC. 2022 food and health survey. https://foodinsight.org/wp-content/uploads/2022/06/IFIC-2022-Food-and-Health-Survey-Report-May-2022.pdf
4. Navarro V, Avula B, Khan I, et al. The contents of herbal and dietary supplements implicated in liver injury in the United States are frequently mislabeled. Hepatol Commun. 2019;3(6):792-794.