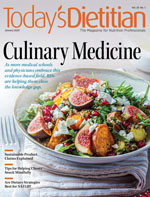 Editor's Spot: Nutrition Trends in the New Year
By Judith Riddle
Today's Dietitian
Vol. 25 No. 1 P. 6
Time has flown by and has ushered us into a new year! A new year of exciting career and educational opportunities for RDs as well as science-based diet and nutrition trends to explore and include in discussions as you counsel clients, engage in clinical health care, and communicate to the masses via TV segments and social media platforms.
Many of the hottest diet and nutrition trends from 2022, such as sustainability, plant-based eating, functional foods, probiotics, and immunity, will spill over into 2023 as new technologies and cutting-edge research continue to advance to improve human and planetary health. Here's what RDs can expect in the following categories this year:
• Sustainability. In 2023, dietitians will learn more about sustainable diets and how to counsel clients to plan menus and choose plant-based whole foods with smaller carbon footprints and minimal processing. More information and educational opportunities will be available on sustainable farming and sourcing practices, closed-loop supply chains, and better solutions to feed food-insecure populations.
• Plant-based eating. What's exciting about the trend in plant-based eating is that food companies are using advanced technologies to develop plant-based products fortified with nutrients in a variety of categories such as fishless seafood (eg, flaked tuna, shellfish, scallops), beef (eg, soy-, grain-, legume-, and pea protein–based alternatives), poultry (eg, chicken analogs), snacks (eg, vegan jerky, vegetable chips, snack bars, and vegan muffins), and sweet treats (eg, vegan donuts, cookies, and cakes). Companies also are introducing more plant-based beverages (eg, plant milks, nut milks, flavored water, sodas, and energy drinks).
• Functional foods. Online and in-store retailers will continue to introduce foods and beverages made with cannabidiol, hemp, collagen, psilocybin, and a variety of botanicals such as ginger, ginkgo, ginseng, ashwagandha, and turmeric, as well as those fortified with added vitamins and minerals, omega-3s, and protein.
• Probiotics. New research on probiotics suggests they may play a role in lowering the frequency and duration of upper respiratory tract infections, reducing weight gain, insulin resistance, feelings of depression and anxiety, stress, and even infertility. Products touting these messages will follow.
• Immunity. More research is underway on the role of food in immune health in all life stages (ie, infancy through older adulthood). Fueling these efforts is the COVID-19 pandemic, prompting manufacturers to develop foods and beverages formulated with added vitamins, minerals, botanicals, and other nutrients to boost immunity.
Today's Dietitian (TD) will cover these and a host of other diet and nutrition trends throughout 2023. Starting with this issue, TD is featuring articles on culinary medicine, sustainability, body positivity, mindful snacking, functional foods, and probiotics.
Stay tuned for more coverage of the latest trends, and please enjoy the issue!
— Judith Riddle, Editor
TDeditor@gvpub.com