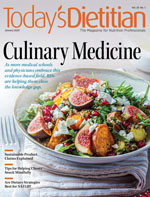 Culinary Medicine
By Densie Webb, PhD, RD
Today's Dietitian
Vol. 25 No. 1 P. 16
A Collaboration, Not a Competition, Between Physicians and Dietitians
It's no secret that poor dietary and lifestyle habits are the leading modifiable risk factors for chronic diseases, such as type 2 diabetes, CVD, and some types of cancer. Plenty of research supports these associations. A study published in the Journal of the American Medical Association found that diseases relating to diet were the leading causes of death in the United States.1 Internationally, nutrient-rich dietary patterns are associated with a reduced risk of death from all causes.2
While for decades dietitians have been spreading the word and educating clients and patients about how diet either can contribute to or help prevent disease, historically, doctors haven't been so interested in listening or studying nutrition science. But that's changing. Enter the emerging field of culinary medicine. Although a consensus definition has yet to be established, culinary medicine is essentially an evidence-based field of medicine that blends the art of food and cooking with the science of medicine.3
The Goldring Center for Culinary Medicine (GCCM) at Tulane University's School of Medicine, founded in 2012, was the first teaching kitchen operating within a medical school. Now, 11 years later, doctors, medical students, chefs, nurses, and dietitians are listening more than ever. But, according to Jaclyn Albin, MD, FACP, FAAP, an associate professor of internal medicine and pediatrics and director and certified culinary medicine specialist in the culinary medicine program at the UT Southwestern (UTSW) Medical Center and Children's Health System of Texas, in Dallas, "It's still in the early days. Much more needs to be done in terms of sustainable funding for educational programs and insurance coverage for patient care in teaching kitchens." Albin, a tireless supporter and promoter of culinary medicine, says, "There's tremendous potential for advocacy in the area of culinary medicine."
Nutrition Education in Medical Schools
Many individuals in the medical field acknowledge that an evidence-practice gap exists between the knowledge and skill required to counsel patients and the level of nutrition education provided to medical students.4 In fact, on average, students in medical schools in the United States spend less than 1% of lecture time learning about diet, falling far short of the National Research Council's recommendation for baseline nutrition curriculum that was set in 1985. The council's recommendation requires a minimum of 25 to 50 hours of nutrition education in undergraduate medical training.5
A 2018 survey of 248 physicians found that only 13.5% felt adequately trained to discuss nutrition with their patients, and 78.4% said that additional training in nutrition would enable them to provide better clinical care.6 The authors of the survey concluded there exists "a clear deficiency in medical education." Despite the acknowledged need, a minority of medical schools offer culinary medicine courses, and the courses are seldom mandatory. A recent review of culinary medicine courses and curriculums offered at medical schools in the United States identified programs that used hands-on teaching kitchen experiences. They found significant variability in the length of courses, learner level, instructor type, and application to real-life situations.7
A small study of 10 first-year medical students at the Wayne State University School of Medicine evaluated students who completed a four-part, eight-hour course in culinary nutrition instruction and hands-on cooking.8 At the end of the course, participants said they were better prepared to counsel patients on a healthful diet, and scores on an objective test of culinary knowledge increased significantly immediately after the course and in a two-month follow-up. Similarly, all programs in the review consistently improved student knowledge in nutrition application and positively impacted attitudes about the role of food in health.
Increasing health professionals' knowledge of basic nutrition is only one aspect of culinary medicine in which medical schools are sorely lacking. The 2019 report from the Harvard Law School Food Law and Policy Clinic (FLPC), "Doctoring Our Diet: Policy Tools to Include Nutrition in US Medical Training," highlighted the current lack of education on diet-related diseases and nutrition that doctors receive over the course of their medical careers and called for greater nutrition education in the medical field. FLPC provides guidance and engages law students in the practice of food law and policy. The report identified actionable policy approaches to increase nutrition competency of US-trained physicians.9 The report contains several recommendations, but one that potentially could have the biggest impact is "Amend the Liaison Committee on Medical Education accreditation standards to require nutrition education." The Liaison Committee on Medical Education accredits medical education programs in the United States and Canada. Accreditation is required for eligibility for some federal grant programs. Creating such a requirement for accreditation would serve as an incentive for medical schools to incorporate culinary medicine programs into their curriculums. Just last year, the House of Representatives passed a resolution that encourages medical schools, graduate medical education programs, and other health professional training programs to provide education on nutrition and diet. The resolution also calls upon federal agencies to conduct or fund research that assesses the status of nutrition education in health care professionals' training and quality of care. While the resolution doesn't create binding law, FLPC says it represents a step forward in responding to the growing burden of diet-related disease by raising awareness and encouraging future action.
Culinary Medicine Curriculums
The full spectrum of culinary medicine education includes not only basic nutrition knowledge but also instruction on how to apply that knowledge to diet therapies, often referred to as "Food as Medicine." Culinary medicine also includes the practical applications that take place in the supermarket and in the kitchen at home. Despite these inroads, there remains a lack of quality control and standardization in nutrition education programs among those offered in medical schools. Some provide basic nutrition education, but only a few offer fully developed culinary medicine curriculums.
As part of GCCM, future physicians are educated and trained to understand and apply nutrition in practical ways. The center's stated goal is to enable medical trainees to assist their patients with diet and lifestyle modifications that improve their health. In addition to training future physicians, GCCM teaches continuing medical education classes for existing medical professionals and offers free nutrition-focused cooking classes to the community. GCCM uses its own curriculum along with hands-on cooking classes to help participants learn how to plan, shop for, and cook food that tastes good and that's part of healthful eating. Tulane collaborates with Johnson & Wales culinary school in Providence, Rhode Island, to offer culinary classes for medical students.
Albin, in a collaborative teaching effort with Milette Siler, MBA-HC, RDN, LD, CCMS, an oncology teaching kitchen manager and culinary medicine lead instructor at UTSW, manages UTSW's culinary medicine program and teaches nutrition through hands-on cooking classes to medical students, residents, health care professionals, and the community. The program, called Health meets Food, is courseware consisting of more than 30 teaching modules. UTSW offers a culinary medicine elective to medical and other health professional graduate students. The elective includes four modules (12 hours of instruction) each semester. Health meets Food curriculum is available for licensing in the United States. For a small annual fee, more than 60 medical schools, residency programs, and nursing schools currently license the full curriculum.
Health meets Food also offers the only certification program in culinary medicine for physicians, nurse practitioners, registered nurses, physician assistants, dietitians, master's- and doctorate-level nutritionists, pharmacists, and certified diabetes care and education specialists. The Certified Culinary Medicine Specialist program, which consists of 60 hours of continuing medical education, provides nutrition education and teaches culinary skills. It takes about two years to become certified. The hands-on teaching modules, online education, and conference sessions are accredited for dietitians' continuing education. Certification is valid for five years after successfully passing an examination. After five years, additional coursework is required to maintain certification, similar to maintaining RD status. To date, about 200 professionals have been fully certified with the program.
Another major player in the culinary medicine field is the Teaching Kitchen Collaborative (TKC), a joint project of the Harvard T.H. Chan School of Public Health and the Culinary Institute of America. TKC is led by David Eisenberg, MD, who's also the director of culinary nutrition and an adjunct associate professor of nutrition at the Harvard T.H. Chan School of Public Health. TKC is a nonprofit organization with 45 member organizations, which make up a network of teaching kitchens in libraries, schools, veterans' hospitals, and medical schools, that use teaching kitchen facilities to enhance personal and public health in medical, community, school, and corporate settings. Officially launched in 2016, TKC sponsors a conference each year, which can count toward CE credits for health professionals. While the network allows for collaboration among the organizations, the curriculums and teaching methods vary among the member organizations and institutions.
The Institute of Lifestyle Medicine in Charlestown, Massachusetts, offers the CHEF (Culinary Healthcare Education Fundamental) Coaching Program in an 18-hour, online, evidence-based program focused on culinary coaching. It's a telemedicine approach to improve nutrition through culinary training, combined with health coaching principles. Physicians' time with patients is limited, and Rani Polak, MD, MBA, Chef, founding director of the CHEF program, says, "A very important component of the CHEF Coaching training is providing efficient tools for busy physicians that can be incorporated in a short meeting." The main components of the online instruction, he says, are culinary training, behavioral change strategies, overcoming barriers to home cooking, and implementing culinary medicine in their medical practices. There's no hands-on instruction, but it provides an option for students who don't have access to a teaching kitchen.
Dietitians vs Physicians
Albin says dietitians shouldn't worry that doctors will encroach on their territory or supplant their role in nutrition education. "There's plenty of room at the table," she says. "We need all hands on deck. The collaboration potential with culinary medicine is huge."
Polak emphasizes that point: "The role of RDs in integrative culinary medicine is essential, and the CHEF Coaching training is approved for CE credits by the Academy of Nutrition and Dietetics."
Albin wants medical schools to understand that culinary medicine classes and programs aren't just about reducing a population's chronic disease risks. Investing in culinary medicine will elevate each medical school's mission to provide a well-rounded education for future physicians and help their program attract more applicants.
Siler, who serves as a coinstructor with Albin, says, "By offering these classes, we're not giving physicians all the tools that the RD has to educate patients, but RDs can step up and partner with physicians. Some medical students had never even heard of a dietitian or weren't familiar with what dietitians do." Siler says that in Health meets Food, first year students increased their understanding of what a dietitian does and how they contribute to the team from 37% to 93% after attending the culinary medicine elective.10 "We have to accept that the physician is the primary entry point for most patients," Siler says. "They are the ones who can refer. If a physician doesn't know what you do, why would they refer?"
Thus far, medical students at UTSW have shown great interest in learning about culinary medicine. "The first year we offered the elective classes, we filled 32 slots in 24 seconds (that's seconds, not hours) and had a waiting list of two to three times that amount." The students were so eager to get in, she says, that they were misspelling their names on the online application. "Culinary medicine is the most popular elective on campus by a wide margin."
Chef Polak agrees: "Medical schools report that students look for lifestyle medicine courses when they review the medical school curriculum." In fact, he says, "There are also a number of medical schools that showcase their focus on lifestyle medicine as a marketing strategy to attract students."
Bottom Line
The potential to educate medical students and physicians about nutrition and health and its practical application at the supermarket, at home, and in the kitchen, is enormous. Albin says health professionals need to start thinking of nutrition as being a medical intervention, similar to pharmaceuticals. Currently, she says, the main obstacle isn't a lack of interest from future physicians but a lack of funding. "We cannot meet demand."
Siler suggests, if dietitians are interested in getting involved or initiating a small program for health professionals or their community, they may have to do some digging to find funding sources. "Make sure you're keeping abreast with what the White House is doing with nutrition funding." There also are commercial partners, such as Kroger and other supermarket chains, or food companies, including Siggi Yogurt, that may offer grants. Siler also points to TKC's free seminar on how to start a teaching kitchen (See "Resources" sidebar below). Education in culinary medicine is the future of nutrition education for all health professionals. The search for grants and institutional support, Siler says, is best accomplished with clinical and academic collaboration, a necessary component of every other aspect of culinary medicine.
— Densie Webb, PhD, RD, is a freelance writer, editor, and industry consultant based in Austin, Texas.
Resources
• Health Meets Food: https://culinarymedicine.org
• Teaching Kitchen Collaborative: https://teachingkitchens.org
• Nutrition in Medicine (free online curriculum): www.nutritioninmedicine.org
• Johnson & Wales Tulane/JWU Culinary Medicine Collaboration: www.jwu.edu/news/2013/02/tulane-jwu-culinary-medicine-collaboration.html
• Institute of Lifestyle Medicine, CHEF Coaching Program: www.instituteoflifestylemedicine.org/?page_id=511
• List of medical schools, nursing schools, and residency programs using components of the Health meets Food® curriculum: https://culinarymedicine.org/culinary-medicine-partner-schools
---
Conferences
Several culinary medicine conferences, as well as nutrition conferences with culinary medicine tracks, are being held, some annually. Here are a few conferences focusing on culinary medicine coming up this year:
• Healthy Kitchens, Healthy Lives, February 8-10, 2023, in Napa Valley, California. For more information, visit www.healthykitchens.org.
• Health meets Food: The Culinary Medicine Conference®, June 8-11, 2023, in Orlando, Florida. For more information, visit https://culinarymedicine.org/ conference. (The recording for the 2022 conference is available for purchase at https://culinarymedicine.org/shop/conferences/2022.
• National Culinary Medicine Symposium, Summer 2023 (date TBA), in Missoula, Montana. For more information, visit https://chefdrmike.com/culinary-medicine/national-culinary-medicine-symposium .
References
1. US Burden of Disease Collaborators, Mokdad AH, Ballestros K, et al. The state of US health, 1990-2016: burden of diseases, injuries, and risk factors among US states. JAMA. 2018;319(14):1444-1472.
2. English LK, Ard JD, Bailey RL, et al. Evaluation of dietary patterns and all-cause mortality: a systematic review. JAMA Netw Open. 2021;4(8):e2122277.
3. La Puma J. What is culinary medicine and what does it do? Popul Health Manag. 2016;19(1):1-3.
4. Crowley J, Ball L, Hiddink G. Nutrition in medical education: a systematic review. Lancet Planet Health. 2019;3(9):e379-e389.
5. Council NR. Nutrition education in U.S. medical schools. Washington, D.C.: The National Academies Press; 1985.
6. Harkin N, Johnston E, Mathews T, et al. Physicians' dietary knowledge, attitudes, and counseling practices: the experience of a single health care center at changing the landscape for dietary education. Am J Lifestyle Med. 2018;13(3):292-300.
7. Newman C, Yan J, Messiah SE, Albin J. Culinary medicine as innovative nutrition education for medical students: a scoping review. Acad Med. 2022;10.1097/ACM.0000000000004895.
8. Wood NI, Gleit RD, Levine DL. Culinary nutrition course equips future physicians to educate patients on a healthy diet: an interventional pilot study. BMC Med Edu. 2021;21(1):280.
9. Food Law and Policy Clinic, Harvard Law School. Doctoring our diet: policy tools to include nutrition in US medical training. https://chlpi.org/wp-content/uploads/2013/12/Doctoring-Our-Diet_-September-2019-V2.pdf. Published September 2019. Accessed October 13, 2022.
10. Magallanes E, Sen A, Siler M, Albin J. Nutrition from the kitchen: culinary medicine impacts students' counseling confidence. BMC Med Edu. 2021;22(1):88.