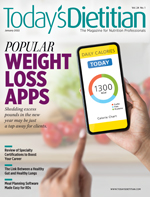 January 2022 Issue
Specialty Certifications
By Kim Crudele, RDN
Today's Dietitian
Vol. 24, No. 1, P. 24
Obtaining them is a strategy to boost your career in a variety of health care professions.
Dietitians know the value of specialized education and the credentials that come along with it. After all, they've put in countless hours of schooling, interning, studying, and passing a board-certified exam to earn the RD/RDN credential.
But why stop there? According to data from the market research firm Meticulous Research, the human nutrition market will grow to a $465.4 billion industry by 2025.1 Dietitians are the connectors between the food and nutrition industry and the consumer, so this predicted growth inherently means greater opportunity. The ongoing boom in the health and wellness industry signifies a meaningful change in consumer wants and needs (not to mention changes in nutrition and food science). Dietitians keep abreast of these new advances by reading articles and staying current with industry news and research, but nutrition is changing so quickly that sometimes this effort doesn't seem to be enough. And that's where certifications come into play.
Why Obtain Additional Certifications?
According to Kim Arnold, RDN, CSOWM, founder and owner of Enlitened Nutrition, LLC, a Ringoes, New Jersey–based virtual nutrition practice specializing in health empowerment and sustainable wellness solutions, acquiring additional certifications is necessary continuing education for dietitians. "Nutrition is based on science, and science is always evolving," Arnold says. "Continuing your education through certifications helps you to stay on top of the latest research and specialize in areas that are most relevant to your work." In Arnold's specialty, certifications are valuable because "prospective clients are interested in specialized training and certifications when they're researching prospective coaches."
And because dietitians work in a wide variety of specialties, certifications will only help the dietetics profession grow. Certifications give RDs greater visibility and respect and, in many cases, an increased scope of practice, leading to opportunities beyond traditional RD roles. In addition, the process of obtaining additional certifications can help build complementary skills, be a cost-effective way to obtain CPEs (some programs allow you to meet the 75-CPE requirement in one shot, minus the required ethics credit), and help give dietitians the boost they need to meet a wide variety of career goals.
Importantly, obtaining additional certifications can boost dietitians' salaries as they become more specialized medical experts. According to the Academy of Nutrition and Dietetics 2021 Compensation & Benefits Survey, 24% of RDs/RDNs have one or more specialty certifications. The median wage reported for dietitians holding any type of specialty certification was $35 per hour compared with $33.17 per hour for those without a specialty certification. Although this was the average, dietitians with a specialty certification have reported earning up to 19% more than their colleagues without specialty certifications. Of the dietitians surveyed, those with a Certified Specialist in Sports Dietetics (CSSD) credential reported the highest earnings at an average of $39.04 per hour, followed by $37.45 per hour for Certified Diabetes Care and Education Specialists (CDCESs), and $37.25 per hour for RDs with a Certified Specialist in Obesity and Weight Management (CSOWM) certification.2
Dietitians have two general routes to obtaining additional certifications. The first is through the Academy of Nutrition and Dietetics, which offers several certification and specialization options via the Commission on Dietetic Registration (CDR). Second, dietitians can seek outside certification programs through other professional organizations.
CDR Certifications
The CDR offers seven specialty certifications and an advanced practice certification. Each certification requires dietitians to obtain 2,000 specialty practice hours within the past five years and then pass a board-certified exam to obtain the certification. For most of them, the CDR allows certain educational and professional experiences to count toward the required hours, up to a maximum of 800 hours. Dietitians can earn 75 CPEs for acquiring a specialty certification through the CDR. Each certification requires applicants to have an RD/RDN credential that has been maintained with the CDR for at least two years, unless otherwise noted below. The exam fee is between $350 and $500 for each certification. The certifications include the following:
• Board Certified Specialist in Pediatric Nutrition (CSP);
• Board Certified Specialist in Pediatric Critical Care Nutrition (CSPCC);
• Board Certified Specialist in Renal Nutrition (CSR);
• Board Certified Specialist in Gerontological Nutrition (CSG);
• Board Certified Specialist in Oncology Nutrition (CSO);
• Board Certified Specialist in Sports Dietetics (CSSD);
• Board Certified Specialist in Obesity and Weight Management (CSOWM), which is open to credentialed health professionals other than RDs, as long as they have been credentialed for at least two years; and
• Advanced Practitioner Certification in Clinical Nutrition (RD-AP or RDN-AP), which requires the RD credential to have been maintained for at least four years before certification.
Certifications Through Outside Organizations
If none of the CDR certifications fit your niche, there still are ways to pursue continuing education and obtain additional credentials. Many professional organizations offer certification options complementary to the dietetics profession. Acquiring certifications outside of the CDR presents more options but doesn't come with some of the same assurances of CDR certifications; the CDR is a nationally accredited organization recognized as evidence based, but the same may not hold true for all organizations offering certifications, so it's important for dietitians to do their research. In addition, credentialing and certification programs through organizations outside of the CDR may be more expensive and not earn RDs CPEs. (If dietitians are relying on certifications to give them credits toward their professional learning plan requirements, it's important to check first with the CDR to make sure they qualify.)
There are many credentialing options outside of the CDR, but here are a few that are popular among dietitians.
If your niche is working with children, options include the following:
• School Nutrition Specialist (SNS). Offered through the School Nutrition Association for professionals working in school nutrition, this certification focuses on the skills and knowledge required to manage school nutrition programs. The certification is open to all school nutrition professionals, not just those who are RDs/RDNs.
• International Board Certified Lactation Consultant (IBCLC). Calling all members of the maternal-child care team, this certification is offered through the International Board of Lactation Consultant Examiners. It focuses o the skills needed to provide lactation and breast-feeding care in a variety of settings. Pediatric nutrition and lactation consultant Lauren Sams, MS, RD, CSP, CBS, LD, is the owner of Grow Baby Nutrition + Lactation and an IBCLC candidate based in Waco, Texas. For Sams, working toward the IBCLC certification was a no-brainer. "My specialty is in neonatology and general infant care. Because so many babies grow via breast-feeding, it just made so much sense to marry the profession of dietetics with the profession of lactation. I can support the moms in the process of growing their babies," Sams says.
Dietitians who specialize in clinical nutrition have the following options:
• Certified Nutrition Support Clinician (CNSC). RDs who like working with enteral and parenteral nutrition patients may find the CNSC certification beneficial. Offered through the National Board of Nutrition Support Certification (an independent credentialing board established by the American Society for Parenteral and Enteral Nutrition), this credential encompasses the skills and knowledge needed to provide nutrition support care. "The main benefits I've gained through obtaining my CNSC were increased knowledge and confidence when speaking with doctors and nurses," says Atlanta-based dietitian Bethany Clement, MS, RDN, LD, CNSC. Clement also notes that although dietitians need to pass an exam, there are no practice hours required for this certification, which makes it perfect for those at all levels of experience.
• Certified Diabetes Care and Education Specialist (CDCES). A CDCES certification can be beneficial for any dietitian interested in diabetes management. Offered through the Certification Board for Diabetes Care and Education, this multidisciplinary certification focuses on the skills and experiences necessary to provide comprehensive diabetes care and education.
RDs focused on sports and fitness have the following credentialing options outside of the CDR:
• National Academy of Sports Medicine Certified Personal Trainer (NASM-CPT). There are many routes to becoming a Certified Personal Trainer, but the certification offered through the National Academy of Sports Medicine is worth exploring. This certification is accredited by the National Commission for Certifying Agencies, an independent credentialing agency established in cooperation with the federal government and reflects that the practitioner has been educated on the scientific principles behind fitness training. Even if RDs don't work directly with clients on fitness training, this certification will enable them to make fitness recommendations to clients with whom they do work.
• Certified Strength and Conditioning Specialist (CSCS). Offered through the National Strength and Conditioning Association, this certification is for professionals who want to use scientific knowledge to help improve performance in athletes. Danielle Beck, MS, RD, LD, CSCS, a California-based dietitian working in private school nutrition, obtained this certification because neither her education in nutrition nor her daily duties focused largely on sports and fitness, an area of dietetics in which she's interested. "[The CSCS certification] has helped me establish side gigs coaching recreational athletes, as many people want to hire someone who has both nutrition and fitness knowledge," she says.
Dietitians interested in other health care and food-related certifications can pursue the following credentials.
• Certified Health Education Specialist (CHES). If RDs want to provide more comprehensive health and wellness education than they can as a dietitian, this certification will give them the education they need. Offered through the National Commission for Health Education Credentialing, the CHES certification establishes a national standard of practice for health education specialists. The advanced-practice level for this certification is Master Certified Health Education Specialist, which has more stringent eligibility requirements.
• Certified Food Service Professional (CFSP). Dietitians who work in the foodservice industry may be interested in the CFSP certification. Offered through the North American Association of Food Equipment Manufacturers, this certification focuses on the skills necessary to run a successful foodservice operation and raises industry standards for foodservice professionals by offering opportunities for continuing development and advancement. This certification can give dietitians more confidence in their knowledge of foodservice, even if they don't hold the title of foodservice director.
Take the Leap
Dietitians interested in pursuing additional credentials but aren't sure which to choose due to the wide variety available at several organizations can begin by jotting down what area in the dietetics field interests them most and what type of continuing education might help them reach their career goals.
They should ask themselves, "What do I want my career to look like in the future?" According to Arnold, "Once you have decided on that, you can evaluate whether or not your current training or experience is adequate in that area. If not, you may want to pursue additional credentialing."
RDs can reach out to colleagues they admire to find out what types of continuing education or certifications have or haven't been helpful for them. If fellow colleagues are working in their area of nutrition and have one or more additional certifications, chances are obtaining them will increase their credibility and help attract more clients.
Nutrition professionals who want to pursue an additional certification through the CDR should visit its website to learn how to get started. Most of the CDR certifications have similar requirements in terms of obtaining and maintaining the certification, and the process of acquiring specialty practice hours followed by an exam is fairly straightforward. The CDR provides detailed information for each certification, including content outlines for each exam.
Dietitians in pursuit of certifications outside of the CDR should do some research. Beck says because there are many competing certifications, it's important to make sure the certification is well established and well regarded before getting started. "I wanted a certification that was considered the gold standard, or the best of the best," she says. "That's difficult to determine, as different certifications are better suited for certain jobs. However, the CSCS credential is widely recognized and many athletic organizations regard it as a high-standing credential."
Once RDs have determined the caliber and value of the certifications they want to pursue, they should contact the issuing organization or visit its website to learn about the eligibility requirements. This will give them a roadmap for their next moves. Typically, dietitians need to meet certain education and/or experience requirements, obtain and record specialized practice hours, and then apply to sit for the certifying exam—though some organizations may do things differently.
The next step for RDs is to study. Many organizations offer certification exams only at certain intervals throughout the year, so jot down the dates and use time wisely to prepare.
After dietitians get their certifications, they'll need to maintain them. Julie Stefanski, MEd, RDN, CSSD, LDN, CDCES, FAND, owner of Stefanski Nutrition Services in York, Pennsylvania, says "it's important to look at how the credentialing is maintained" before getting a certification. For example, Stefanski says her CSSD certification requires her to take the full exam every five years for maintenance, while she maintains her CDCES certification through continuing education. This is an important consideration when getting an additional certification because after dietitians put in the hard work, they'll want to ensure they can maintain it long term.
Lastly, before taking steps to earn a specialty certification, RDs should check whether their employers offer education days or stipends to help offset out-of-pocket costs, especially if the certification is relevant to their current position. Even if an employer can't offer assistance, inquiring at least invites a conversation about career goals and how dietitians can work with the employer to achieve them moving forward. Obtaining a specialty certification is a great way to open the door to new opportunities, increase one's negotiating power, and boost visibility of the dietetics profession, so the sooner dietitians determine what interests them the sooner they can start mapping out their path to improve the future of dietetics.
— Kim Crudele, RDN, is a New Jersey–based dietitian specializing in school nutrition and nutrition communications. She's the owner of Well Balanced RD, where she does school and corporate wellness consulting, and a freelance writer concentrating on food, nutrition, health, and agriculture.

References
1. Human nutrition market worth $465.4 billion by 2025, growing at a CAGR of 6.6% from 2019 - global market opportunity analysis and industry forecasts by Meticulous Research. GlobeNewswire website. https://www.globenewswire.com/news-release/2020/06/23/2051787/0/en/Human-Nutrition-Market-Worth-465-4-Billion-by-2025-Growing-at-a-CAGR-of-6-6-from-2019-Global-Market-Opportunity-Analysis-and-Industry-Forecasts-by-Meticulous-Research.html. Published June 23, 2020. Accessed October 7, 2021.
2. Compensation & benefits survey of the dietetics profession 2021. Academy of Nutrition and Dietetics website. https://www.eatrightstore.org/product-type/books/compensation--benefits-survey-of-the-dietetics-profession-2021. Published June 22, 2021.

[Sidebar]
Resources
• Commission on Dietetic Registration Certifications: cdrnet.org/certifications/board-certified-specialist
• Certified Strength and Conditioning Specialist: nsca.com/certification/cscs
• School Nutrition Specialist: schoolnutrition.org/certificate-and-credentialing/credentialing-program
• International Board Certified Lactation Consultant: iblce.org
• National Academy of Sports Medicine Certified Personal Trainer: nasm.org
• Certified Nutrition Support Clinician: nutritioncare.org/NBNSC/Certification/Certification_Main_Page
• Certified Diabetes Care and Education Specialist: cbdce.org/become-certified
• Certified Health Education Specialist: nchec.org/health-education-credentialing
• Certified Food Service Professional: nafem.org/cfsp