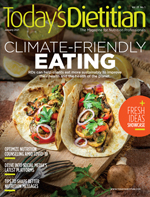 January 2021 Issue
Editor's Spot: Anticipations for the New Year
By Judith Riddle
Today's Dietitian
Vol. 23, No. 1, P. 6
If you're looking forward to what the new year may bring, certainly you're not alone. Last year ushered in a pandemic, the likes of which we haven't seen in 100 years, one that has claimed the lives of more than 300,000 people in the United States and 1.6 million globally. While we're beginning a new year with renewed hope that the United States finally will roll out a national strategy to begin flattening the curve and distributing an effective vaccine to the masses, the pandemic is still with us and continues to impact our lives and the way in which we work—and play—and the way your clients and patients receive care.
Dietitians in private practice have long transitioned, partially or fully, from in-person nutrition counseling to telehealth services; they're meeting with colleagues and conducting cooking classes and demos online, via Zoom and other apps, and many are working in various areas of dietetics remotely.
Because many of your clients and patients also are working from home, as well as homeschooling children, they may not be as physically active as they once were before the pandemic and have packed on the pounds—aka the "quarantine 15"—and eagerly want to embark on a plan to shed the excess weight.
Meal planning, food shopping, cooking more at home, and, in some instances, 'round-the-clock childcare have left clients stressed and exhausted and often unable to maintain healthful eating patterns and make time for regular physical activity.
This month, in the article "Nutrition Counseling During COVID-19," on page 26, Today's Dietitian provides an overview of how nutrition counseling has changed in the age of COVID-19. We offer strategies on how to help clients find creative ways to incorporate more physical activity at home or outside in their neighborhoods to live more healthfully and manage their weight more successfully while lowering the risk of coronavirus infection.
Clients who had worked out regularly at gyms and boutique fitness studios prepandemic, using treadmills, stationary bikes, ellipticals, and other machines, but no longer can because of temporary or permanent closings, also have options. Focus on Fitness on page 50 discusses the various types of home exercise equipment and gadgets clients can buy at various price points to help them maintain their fitness in the comforts of home.
Also in this issue are articles on climate-friendly eating, shaping better nutrition messages, the latest in social media, and the diet's role in opioid addiction recovery. Please enjoy the issue!
— Judith Riddle, Editor
TDeditor@gvpub.com