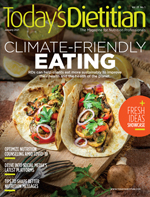 January 2021 Issue
Social Media's Latest Happenings
By Ginger Hultin, MS, RDN, CSO
Today's Dietitian
Vol. 23, No. 1, P. 32
Here's an update on what's new and ways RDs can use the platforms for great success.
If you feel like you woke up one day and realized everything about social media had changed, you're not alone. From newer platforms presenting fresh opportunities and existing platforms with added features and ever-changing algorithms, there's no doubt the world of social media is rapidly evolving.
Aside from the changing platforms, such as TikTok, Instagram, Facebook, YouTube, Twitter, and others, the sudden shift in the culture due to COVID-19 and its associated quarantine measures has affected the way people use social media. More individuals are working from home and children are participating in online learning, so the times of day they engage in social media, usage behavior, and the type of content posted continues to shift.1
Despite these changes, dietitians are finding creative ways to engage on social media that will help them better interact with their target audiences, spread nutrition messages, market themselves as the true nutrition experts, grow their businesses, and support their work with brands.
Platforms to Know About
New platforms have come onto the scene that dietitians should be aware of as well as new features on existing platforms that are critical to their success. This article reviews the most popular platforms, their history and reach, the technology they use, and how the savviest RDs are working them to their advantage.
TikTok
TikTok, an app in which individuals create short videos, was launched late in 2016 and now has more than 800 million users worldwide.2 Given TikTok's explosive popularity, Instagram has since rolled out a similar feature called Reels. Some say that being on TikTok vs Instagram has its advantages in that it's easier to build a follower base more quickly.
"I would highly recommend RDs start using TikTok ASAP," says Rachel Paul, PhD, RD, founder of Rachel Paul Nutrition, LLC, and CollegeNutritionist.com, a nutrition counseling business based in San Francisco. "It's like when Instagram first started, and it was super easy to grow. It's so easy to grow your following on TikTok since it's a new platform. One viral video can get you millions of views and thousands of new followers overnight. I'm not exaggerating."
However, when you first log on to TikTok, it may seem daunting because of its complex video features such as special effects, music options, editing functions, and an emphasis on dance choreography and lip syncing. Nevertheless, dietitians are jumping onboard, using this platform to promote nutrition messages in an entertaining and relatable way that enables their personalities to shine through.
If this technology sounds unappealing, take heart. Paul suggests dietitians allow themselves to be beginners as they jump in and learn. "Try different things, and don't worry about looking silly, especially when you're just starting your account and don't have a lot of followers. Put yourself out there," she says, adding that she highly recommends taking an online course or class that many social media companies and marketing experts offer to boost their TikTok following quickly and easily.3
Instagram Live, IGTV, and Reels
By now, most if not all dietitians have heard of Instagram, as have 1 billion other people using it.4 Known as a visual platform, members engage with their followers via photos and videos. Individuals can post static pictures or videos to their grid for followers to comment on and interact with through "likes" and "shares." But this was just the base of Instagram's capabilities, now in its 10th year.4
In 2016, Instagram launched its "Stories" feature, enabling users to post photos and short videos that remain for only 24 hours, and then they disappear for good. Instagram Live (IG Live), a live story, was launched later in 2016. Dietitians started using these features immediately to interact with their audiences and share nutrition knowledge.
DJ Blatner, RDN, CSSD (@djblatner), a Chicago-based book author and founder of dawnjacksonblatner.com, where she provides healthful eating resources and nutrition counseling and other services, says what's most fun for her is hosting an IG Live, in which she invites dietitians to appear with her live in a video and interviews them or has them demo recipes or ingredients in front of a live audience. This increases her interaction on Instagram and serves as a way to share audiences and reach more people. "It's amazing to be able to interact in real time with your audience and have in-real-time Q&As," she says.
In 2018, Instagram launched IGTV (Instagram TV) in an effort to capture the mobile video audience. Many videos posted on IGTV aren't edited much, if at all, and they're often short. It's designed to be a true mobile video experience, and, unlike Stories, you can store them on your account as long as you wish under the icon with the small square and antennas on top in the middle of the screen. Dietitians are using IGTV to educate followers, showcase their cooking skills, and engage with brands or promote brand partnerships. To boost audience engagement when using IGTV, Blatner suggests dietitians create a call to action by asking a quick question to encourage viewers to interact with you via tagging, commenting, or direct messaging.
In 2020, Instagram introduced Reels (similar to TikTok's short video platform), a 15-second, multiclip video feature often set to music, using effects such as verbiage overlay, emojis, and change of speed or filter. Dietitians are jumping on board to create short, educational videos that feature their clinical specialties or highlight healthful recipes, meals, snacks, or products. To gain access to the music options dietitians will need to make Reels a success, they'll need to convert their personal or business account to a "creator account," by going to settings, account, and clicking on "switch to creator account."
Based on the increased time people spent on social media last year, The US Social Media Usage Report 2020 has projected that Instagram likely will see more sustained usage than Facebook.1 Dietitians are taking advantage of this boost. Blatner is using IG Live, IGTV, and Reels to interact with her audience and further her work with brands. "IG Live and IGTV are basically like [having] your own TV studio at home," Blatner says. "Over the pandemic, I started my own IG Live show and did it weekdays, just like Oprah or Ellen. Those IG Live shows gave me the opportunity to share new ideas with my audience, promote other professionals, and even open doors to new types of brand partnerships and spokesperson work. I've moved from a daily talk show to now doing more branded cooking demos and events like happy hour snack boards and green juice mocktails. That's the fun of IG Lives. You can test out new ideas and pivot quickly, depending on what your audience is responding to and what brings you the most joy."
Facebook Live, Watch Parties, Rooms, and Groups
While Facebook launched in 2004, usage declined significantly between 2017 and 2019. However, this downward trend changed in 2020. One report showed an increase in US users of 1 minute to 34.4 minutes per day, breaking the streak in declined usage in recent years.1
At a Facebook Group Summit on October 1, 2020, Facebook CEO Mark Zuckerberg celebrated 10 years of the platform's community-building Group feature, citing there are more than 70 million Group administrators worldwide.5 Dietitians are using Groups not only to showcase their businesses, build community, and host programs for clients but also to search for and become part of special interest groups within dietetics. There are dietitian Groups that focus on video production, private practice, diversity and inclusion, writing, and much more.
Another feature, called Watch Parties, was launched in 2018 and was designed for people to watch live or prerecorded videos together. Dietitians can use them to host live Q&As on cooking or nutrition topics for more audience interaction. With so many RDs writing books and launching products and programs, this feature can provide a great opportunity to share more information interactively.
In addition, the feature Rooms was launched in 2020, complete with virtual backgrounds and lighting filters, to compete with Zoom and other similar apps as another option for people to spend time together face to face. It's unclear how dietitians will use Rooms, although they could use it the way Zoom is used to connect with coworkers, friends, and family during this time of social distancing.6 Of all the features Facebook offers, dietitians are most likely to use Live. Launched in 2016, Live enables dietitians to broadcast live videos using their computer or phone from their private or business Facebook pages.
Deanna Segrave-Daly, RDN, and Serena Ball, MS, RD, co-owners of Teaspoon Communications, LLC, a culinary-focused nutrition communications group based in the Greater Philadelphia area, use Facebook Live weekly. They haven't used Watch Party or Rooms but say they may in the future as they explore new ways to support their audience.
Despite other social media platforms available, such as TikTok and Instagram, Segrave-Daly says Facebook works well for her business. "Serena and I have been doing Facebook Live for almost five years and have stayed with this platform vs doing more on IGTV or Instagram Reels, as our audience is mainly on Facebook," she says. "We love that you can interact live with viewers but also via replay because the video stays on the feed. And we always reference it in our weekly newsletter, too, for fans who may have missed that week's episode."
Another perk: Because Facebook owns Instagram, dietitians can engage in cross-promotion by sharing their Instagram Stories and Grid photos on their Facebook business pages.
YouTube
Launched in 2005, YouTube probably is the most popular video platform to date, and it's getting only bigger and more important as dietitians continue to hone their craft. One trend that's been sustained on YouTube, unlike other platforms, is that the algorithms favor longer rather than shorter videos such as those seen on TikTok and Instagram Reels. With 2 billion active monthly users and 30 million active daily users, RDs have a great opportunity to build an audience.7
Abbey Sharp, RD, a food and nutrition blogger, award-winning cookbook author, and owner of Abbey's Kitchen, Inc, a food and nutrition consulting company in Toronto, Ontario, Canada, says that when she originally started on YouTube, followers preferred shorter videos, but as the algorithm changed, they began to favor longer videos. Sharp says YouTube currently is beta testing its own version of Reels, but for now she suggests dietitians continue uploading videos that are 15 minutes or longer. She also recommends dietitians experiment with other social media video formats to determine which one suits their audience best. Once they figure this out, Sharp says they should continue making the videos their audience likes, watch their "analytics carefully and switch things up as needed."
What's great about YouTube is that it can elevate dietitians as the true nutrition experts. Sharp believes YouTube helped differentiate her from other wellness influencers and bloggers. "There's not a lot of sound evidence-based nutrition advice on YouTube (but there's a ton of misinformation), so being one of the only dietitians in this space has helped me stand out and command a lot of brand work from companies looking for video integration. It also has helped me bring more new fans and followers to my blog and Instagram. I've found that YouTube fans are the most loyal fans, which is great for helping me shape my content and brand."
Twitter
Among the older platforms on social media, Twitter, launched in 2006, has 330 million active monthly users and 145 million active daily users.8 Dietitians can use Twitter to educate, share nutrition information, and have conversations with other professionals.
Cara Harbstreet, MS, RD, LD, (@StreetSmartRD on Twitter), owner of Street Smart Nutrition, a nutrition business specializing in intuitive eating, Health at Every Size®, and corporate wellness, in Mission, Kansas, says dietitians shouldn't "write off Twitter as a fading app. Though social media users are flooding to visual platforms, such as Instagram and TikTok, there are still niche communities on Twitter where your expertise can shine. Many in academia are using Twitter, so this is one of the best platforms for me to learn about new research, learning opportunities (such as CEUs and conferences), and stay connected to current research."
Notably, Twitter can be an intimidating place for RDs, as it's full of political messages and opinions of all types, including on controversial nutrition topics. "You'll have to deal with your fair share of critics and opposition, especially if you choose to post about topics that flow against the mainstream," Harbstreet says. "This seems to have increased in recent years, with more and more people citing the negativity as a primary reason they choose not to use Twitter. Don't let that deter you, though, as it is still one of the best platforms for back-and-forth dialogue that can educate, connect, and inspire those who want to learn from you."
One of Harbstreet's favorite features is the ability to search hashtags to stay connected to conversations she's interested in and other dietitians. To keep abreast of the fast-paced Twitter platform, dietitians can use software designed to make this easier, such as TweetDeck, which Harbstreet uses to see multiple threads based on the hashtags she's following. She also has found that Twitter has improved its selection of GIFs, which "help add some levity and humor to conversations that may otherwise allow our tone to be lost in translation, something critical on a platform that relies on written text vs vocal tone and intonation." According to Twitter Business, Tweets with accompanying GIFs garner up to 55% more engagement.9
Pinterest
This visual search engine–style platform, which celebrated its 10-year anniversary in January 2020, continues to pivot and change. Perfect for dietitians who blog and create recipes, Pinterest can be a major driver of traffic to their websites and a vehicle to sell products.
Pinterest launched a feature called Story Pins in 2020, a way to create multiple pages of text, images, videos, and links, though not all users have access to this feature. "I think Story Pins can be valuable when used for revenue streams like sponsored content," says Chrissy Carroll, MPH, RD, LDN, ACSMCPT, a USA Triathlon Level I Triathlon Coach and creator of the blog Snacking in Sneakers, a site specializing in food, fitness, and running and triathlon training tips, in Quincy, Massachusetts. "[Do you] have a food brand that's compensating you to do a series of Instagram Stories? Ask for an extra fee to cross-post the story to Pinterest, where it could get thousands more impressions and interactions. It's a win-win for you and the brand."
Carroll says Pinterest's algorithms are enabling fresh ideas and new pins to reward those who regularly post new content instead of repeatedly sharing old content. She says, "This new content doesn't necessarily have to be a completely new blog post, but it can be a new image showcasing a concept in a different way." Pinterest interfaces with partner scheduling software, such as Tailwind, which features ways to schedule content at the high volume needed to build community through Tribes, or share groups, with those that have similar content.10
For example, Carroll says RDs who have a recipe for apple crisp can create multiple images to share on Pinterest using different titles, such as Homestyle Apple Crisp and Vegan Apple Crisp. She says descriptions for each pin should be key worded appropriately so RDs can reach a wider audience than before and determine what draws in their audience most.
Recommendations for Dietitians
Without a doubt, dietitians are using social media to bolster their businesses. Some RDs are experimenting with new platforms to expand their reach while others are sticking with what works for them while using new features and adapting to changing algorithms.
Learning how to navigate the various social media platforms may take a little time and patience to master, but it will be time well spent once you determine which platform works best for you and your audience.
Keep in mind that uploading videos and fresh content regularly has become a priority for optimal audience interaction and recognition. Though it may seem overwhelming to try and keep up with social media and its evolving changes, this communication vehicle likely will remain a critical tool for dietitians to promote their brands and businesses, communicate nutrition messages, interact with colleagues and clients, and further their education opportunities in years to come.
— Ginger Hultin, MS, RDN, CSO, is a nutrition and health writer based in Seattle. She's president of the Seattle Dietetic Association, chair-elect of the Academy's Member and Student Advisory Committee, a spokesperson for the Academy of Nutrition and Dietetics, and owner of concierge nutrition practice Champagne Nutrition LLC.

References
1. Samet A. 2020 US social media usage: how coronavirus is changing consumer behavior. Business Insider website. https://www.businessinsider.com/2020-us-social-media-usage-report. Published June 9, 2020. Accessed October 1, 2020.
2. Zhong R. How TikTok's owner tried, and failed, to cross the U.S.-China divide. The New York Times. August 3, 2020. https://www.nytimes.com/2020/08/03/technology/tiktok-bytedance-us-china.html. Accessed October 3, 2020.
3. How to make money, go viral, and become influential on TikTok without having any video skills, looking foolish, or wasting time. Beat the Algorithm website. https://beatthealgorithm.teachable.com/p/tiktok-for-entrepreneurs. Accessed October 5, 2020.
4. Chen J. Important Instagram stats you need to know for 2020. Sprout Social website. https://sproutsocial.com/insights/instagram-stats/. Published August 5, 2020. Accessed October 4, 2020.

5. Your one-stop resource center for building a thriving community. Facebook website. https://www.facebook.com/community/. Accessed October 1, 2020.
6. Constine J. Facebook launches drop-in video chat Rooms to rival Houseparty. TechCrunch website. https://techcrunch.com/2020/04/24/faceboo-launches-drop-in-video-chat-rooms-to-rival-houseparty/. Published April 24, 2020. Accessed October 1, 2020.
7. YouTube by the numbers: stats, demographics & fun facts. Omnicore website. https://www.omnicoreagency.com/youtube-statistics/. Updated October 28, 2020.
8. Lin Y. 10 Twitter statistics every marketer should know in 2020 [infographic]. Oberlo website. https://www.oberlo.com/blog/twitter-statistics. Published May 30, 2020. Accessed October 3, 2020.
9. Sehl K. How the Twitter algorithm works in 2020 and how to make it work for you. https://blog.hootsuite.com/twitter-algorithm/. Published May 20, 2020. Accessed October 6, 2020.
10. Tailwind website. https://www.tailwindapp.com/. Accessed October 2, 2020.