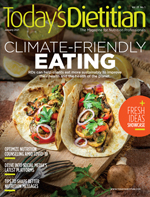 January 2021 Issue
Plant Proteins: 'Sei-What'?
By Hadley Turner
Today's Dietitian
Vol. 23, No. 1, P. 16
Today's Dietitian brings RDs up to speed on this lesser-known plant protein.
Without a doubt, the popularity of plant proteins has skyrocketed in the past several years. Pulses, tofu, tempeh, and increasingly authentic-tasting faux meats abound on restaurant menus and in home kitchens. There's never been an easier time to enjoy varied and exciting plant-based dishes, whether simply plant-forward or vegan/vegetarian.
But one food seems to be underappreciated in the mainstream plant protein portfolio: seitan (pronounced SAY-tan). For the uninitiated, seitan essentially is pure gluten, which gives wheat-based breads their chewiness. In modern wheat breads, gluten often is added as a separate ingredient to enhance texture. This isolated form is called vital wheat gluten and can be purchased as such at most grocery stores in the baking aisle. Combining vital wheat gluten with water, herbs, and spices yields seitan (see recipe on page 19).
Seitan is common in fully vegan and vegetarian restaurants—it's often the "steak" in vegan cheesesteaks, the "bacon" in a vegan BLT, and the "ground beef" in tacos and chili—and is beloved for its chewy, meaty texture and umami flavor. It also boasts the highest protein content of all plant sources, with roughly 19 g per 100 kcal.1 So why are so many consumers—and RDs, for that matter—unfamiliar with it? Today's Dietitian answers this question while providing an overview of this protein-packed food's history, nutrient profile, and culinary uses.
History and Popularity
As with tofu and tempeh, seitan has been around since ancient times. It first appeared in writings as kofu, which translates to "wheat gluten," during China's Song dynasty (960–1276 AD) and was highly praised. The Song dynasty poet Wang Yên (1138–1218 AD) wrote, "It has the color of fermented milk, and a flavor superior to chicken or pork," while the famous Taoist monk Ge Changgeng admitted enjoying it more than the staple tofu: "Tender tofu is said to be delectable. But it is gluten that has the cleanest taste."2,3
Seitan found its way to the United States as part of the macrobiotic movement in the 1960s, when macrobiotic proponent George Osawa coined the word "seitan."3 Today, it's found in many mainstream, local, and specialty US grocers—usually refrigerated or frozen but sometimes canned as well—as pure seitan (simply the wheat gluten with limited flavoring) or as the primary ingredient in vegan sausages, bacon, burgers, crumbles, and roasts.
Still, seitan hasn't been embraced as enthusiastically in some plant-based circles as have other plant protein sources such as pulses and tofu, likely due to unfounded gluten fears and greater awareness surrounding celiac disease and nonceliac gluten sensitivity—after all, seitan is essentially pure gluten. "In more of the mainstream, health-focused plant-based conversation, I haven't really seen [seitan] come up much," says Taylor Wolfram, MS, RDN, LDN, a private practice dietitian, health writer, and consultant based in Chicago, who specializes in vegan nutrition. "Even outside of celiac disease and nonceliac gluten sensitivity, there's this antiwheat/antigluten movement among the wellness sphere."
Ginger Hultin, MS, RDN, CSO, Seattle-based owner of Champagne Nutrition, LLC, and a past chair of the Academy of Nutrition and Dietetics' Vegetarian Nutrition Dietetic Practice Group, agrees, emphasizing that some statistics show that "up to 20% of Americans try to avoid gluten." Wolfram adds that seitan also hasn't found its way into popular meat substitutes such as Impossible Foods and Beyond Meat products. "So many of the novel vegan proteins in the world are focused on pea protein," she says. Unlike Impossible and Beyond products, seitan isn't especially common outside of exclusively vegan and vegetarian restaurants.
Nutrition
So how does seitan stack up nutritionally? The USDA's FoodData Central only includes branded nutrition labels for seitan, so limited micronutrient information is available and nutrient profiles vary across brands; but in general, seitan is a high-protein, low-fat, low-carbohydrate food. A 2.5-oz serving of one brand of seitan with a base of purely vital wheat gluten (many brands include other ingredients such as chickpea flour or other legume flours) comprises 90 kcal, 1 g fat, 4 g total carbohydrate, 2 g sugars, 1 g fiber, 17 g protein, and 45% DV for iron. Because it's often flavored with a variety of soy sauce, it can be somewhat high in sodium; the aforementioned brand contains 340 mg per 2.5-oz serving.1 It also contains selenium and phosphorus, according to Hultin.
These attributes make seitan a standout among plant proteins, at least in terms of protein content; it's closer to lower-fat meat products in this respect. For example, a 3-oz grilled chicken breast without skin contains 150 kcal, 25 g protein, no carbohydrate, 5 g fat, and 2% DV for iron.4 Comparing seitan with plant proteins, 1/2 cup cooked black beans contains 113 kcal, 8 g protein, and 20% DV for iron5; 1/2 cup firm tofu has 98 kcal, 11 g protein, and 11% DV for iron6; and 1/2 cup tempeh contains 160 kcal, 17 g protein, and 12% DV for iron.7
Of course, pulses and soyfoods come with their own unique nutrients, so seitan shouldn't edge out all other plant proteins simply because it's the highest in protein. One major component missing in seitan is the essential amino acid lysine, which is found in animal proteins and legumes. As such, seitan intake notwithstanding, Wolfram stresses to her vegan clients the importance of having a serving of legumes per day to get that essential nutrient. "I think seitan is fine to have, as long as clients remember that while it's high in protein, it's not high in lysine, so don't make all your protein choices seitan. That's not to say that even having it every single day is bad, as long as you're having legumes as well," Wolfram says.
Takeaways for RDs
Seitan is an overall healthful food that's high in protein and relatively low in calories, especially in proportion to its protein content, and it can be fun to experiment with or enjoy in restaurants that serve it. Much like tofu and tempeh, it's a blank slate for whatever flavors or types of cuisine one would like to enjoy it in.
"You can put Asian-style sauces on it to have it in a stir-fry or noodle dish, or you can have it in tacos or Italian dishes," Wolfram says. "I think it is truly versatile. It really just depends on how adventurous folks are, if they want to make their own from scratch or sauté [store-bought seitan] and throw it into something else." Wolfram's favorite seitan dish to make at home includes crumbled Italian-style seitan in pasta sauce served with legume pasta such as chickpea pasta, enabling her to enjoy seitan while still obtaining lysine from the pasta.
Still, both Wolfram and Hultin more commonly enjoy seitan when eating out—Hultin loves ordering it in Asian-style cuisine, while Wolfram's favorites are pepperoni made from seitan on pizza and sliced seitan on sandwiches.
For clients interested in trying seitan, it's fairly easy to make their own—but, Wolfram says, let them know "it might not turn out exactly how you might buy it from the store or a restaurant." Vital wheat gluten, which can be found in many supermarkets alongside other types of flour and baking products, simply needs to be made into dough and simmered.
That said, prepackaged seitan may be difficult for some clients to find without going to a specialty grocer. Wolfram keeps accessibility in mind when discussing seitan with clients. "In small town Kansas, for instance, I'm not sure how accessible seitan is going to be without going to Whole Foods or a local equivalent of that," she says. In areas such as these, it may be even more challenging to find seitan-based menu items. However, it's worth mentioning that some companies, such as Minneapolis-based The Herbivorous Butcher, produce seitan-based foods and ship them nationwide. Plus, several seitan brands—including Upton's Naturals, a Chicago-based company selling seitan crumbles in different varieties such as Italian- and Chorizo-style and seitan-based bacon strips, and Field Roast, which offers seitan sausages, burgers, deli slices, roasts, and snacks—are available from national online grocery delivery services.
Another consideration is that some clients, typically those who are vegan or vegetarian because they don't enjoy meat, are bothered by seitan's texture, finding it too similar to meat, Wolfram and Hultin say.
The bottom line? While RDs don't need to go out of their way to recommend seitan, it's worth filling in their knowledge gaps, Wolfram says, adding that she's been surprised at how many RDs are unfamiliar with this ancient food. As long as clients understand that it shouldn't be their only protein source, there's no harm in trying it, and experimenting with a new food can be a joyful learning experience, especially with so many Americans continuing to cook more at home. "If you're a person who's looking for more variety and new recipes, plant-based or not, including seitan as another protein option is a great idea," Hultin says.
— Hadley Turner is associate editor for Today's Dietitian and RDLounge.com, a blog written by RDs for RDs.
[Recipes]
Homemade Seitan
Serves 10
Ingredients
Broth
6 cups water
1 T garlic powder
3 T seasoning blend (eg, Italian blend)
1/4 tsp salt
3 sprigs fresh Italian flatleaf parsley
1 tsp turmeric
1 large garlic clove, peeled and smashed
1 T low-sodium soy sauce
1 T balsamic vinegar
2 T tomato paste
Dough
1 1/2 cups water
1/4 cup low-sodium soy sauce
3 T tomato paste
1 1/2 tsp miso paste, any variety
2 tsp chili powder
2 tsp garlic powder
2 tsp black pepper
2 cups vital wheat gluten flour (see Notes)
2 T nutritional yeast
Directions
1. To make Broth: Combine water, garlic powder, seasoning blend, salt, parsley, turmeric, and fresh garlic in a large pot over medium heat. Add soy sauce, balsamic vinegar, and tomato paste to the pot, mixing well until it comes to a simmer. Cover and reduce to low heat.
2. To make Dough: Combine all ingredients except the gluten and yeast (follow same order as noted in the Ingredients list) in a blender. Process until smooth. Pour into the bowl of an electric mixer (or large bowl). Add vital wheat gluten flour and nutritional yeast and mix with a pastry hook (or by hand) until well combined and the dough starts to look saggy and stretchy. Knead by hand or with electric mixer for 1 minute. Transfer dough to a cutting board.
3. Use a sharp knife to slice the dough into cubes or strips. Move quickly and keep pieces from touching each other to avoid sticking.
4. Add pieces of dough to the simmering broth. Cover, increase heat to medium and cook, stirring occasionally until pieces are fluffy, and rise to the top (about 1 hour). Serve with broth immediately, or transfer seitan with broth to an airtight container and refrigerate to use for the next 6 days in recipes. May freeze for as long as 3 months.
Notes: Look for vital wheat gluten flour in your grocer's baking aisle. Vital wheat gluten flour is 100% gluten protein that was separated from wheat flour and packaged in powder form. Vital wheat gluten flour is distinct from "wheat flour" or "gluten flour," so be sure the package says "vital wheat gluten flour."
Nutrient Analysis per 1/2-cup serving*
Calories: 105; Total fat: 1 g; Sat fat: 0 g; Cholesterol: 0 mg; Sodium: 516 mg; Total carbohydrate: 22 g; Dietary fiber: 1 g; Sugars: 1 g; Protein: 4 g
* Please note that calories and carbohydrate tend to be minimized and
protein maximized in seitan during the cooking process, so these nutrition
facts likely don't represent the end product of homemade seitan.
Easy Peanut Soba Noodles With Seitan
Serves 6
Ingredients
1 tsp sesame oil
1 medium bell pepper (red, yellow, or orange), coarsely chopped
1 cup frozen peas
1 medium garlic clove, minced
1 tsp minced ginger
1 small chili pepper, finely diced (or 1/4 tsp red pepper flakes)
1 8-oz package seitan, sliced, drained
2 T unsalted creamy peanut butter
2 1/2 cups vegetable broth
1/4 cup orange juice
1 T reduced-sodium soy sauce
1 7-oz package dried soba noodles
3 T coarsely chopped roasted peanuts
3 green onions, white and green parts, sliced
1 T chopped basil or cilantro
Directions
1. Heat the sesame oil in a large skillet or wok over medium heat. Add the bell pepper, peas, garlic, ginger, and chili pepper, and sauté for 3 minutes. Add the seitan.
2. In a medium bowl, mix together peanut butter, broth, orange juice, and soy sauce with a whisk until mixed well (may still be lumpy).
3. Add liquid to skillet with vegetable mixture, and add dried soba noodles.
4. Cook, stirring for about 5 minutes, until noodles and vegetables are just tender (but not overcooked), and liquid has been absorbed. May add additional water if needed to create a fluffy, yet not too dry noodle dish.
5. Sprinkle with peanuts, green onions, and fresh basil or cilantro.
Nutrient Analysis per 1-cup serving
Calories: 293; Total fat: 8 g; Sat fat: 1 g; Cholesterol: 0 mg; Sodium: 351 mg; Total carbohydrate: 38 g; Dietary fiber: 7 g; Sugars: 4 g; Protein: 18 g
Photos and recipes courtesy of Sharon Palmer, MSFS, RDN, the Plant-Powered Dietitian.

References
1. Original seitan. FoodData Central website. https://fdc.nal.usda.gov/fdc-app.html#/food-details/571769/nutrients. Updated April 1, 2019. Accessed October 7, 2020.
2. Shurtleff W, Huang HT, Aoyagi A; Soyinfo Center. History of soybeans and soyfoods in China and Taiwan, and in Chinese cookbooks, restaurants, and Chinese work with soyfoods outside China (1024 BCE to 2014). https://www.soyinfocenter.com/pdf/176/Chin.pdf. Published 2014.
3. Reinagel M. What is seitan? Scientific American website. https://www.scientificamerican.com/article/what-is-seitan/. Published January 31, 2018. Accessed October 7, 2020.
4. Chicken breast, grilled without sauce, skin not eaten. FoodData Central website. https://fdc.nal.usda.gov/fdc-app.html#/food-details/782112/nutrients. Updated April 1, 2020. Accessed October 7, 2020.
5. Beans, black, mature seeds, cooked, boiled, without salt. FoodData Central website. https://fdc.nal.usda.gov/fdc-app.html#/food-details/173735/nutrients. Updated April 1, 2019. Accessed October 7, 2020.
6. Tofu, firm, prepared with calcium sulfate and magnesium chloride (nigari). FoodData Central website. https://fdc.nal.usda.gov/fdc-app.html#/food-details/172448/nutrients. Updated April 1, 2019. Accessed October 7, 2020.
7. Tempeh. FoodData Central website. https://fdc.nal.usda.gov/fdc-app.html#/food-details/174272/nutrients. Updated April 1, 2019. Accessed October 7, 2020.