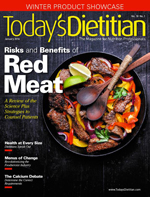 January 2016 Issue
Focus on Fitness: Fitness Trends for 2016
By Jennifer Van Pelt, MA
Today's Dietitian
Vol. 18 No. 1 P. 56
Happy New Year!
It's once again that time to set and maintain New Year's resolutions and make plans for the months ahead. For the last 10 years, the American College of Sports Medicine (ACSM) has published the results of an annual survey on worldwide fitness trends (available at www.acsm.org/about-acsm/media-room/news-releases/2015/10/26/annual-survey-reveals-new-1-fitness-trend-in-2016). In this article, I'll discuss the top 20 ACSM fitness trends for 2016 and how 2016's results compare with previous surveys. I'll also briefly comment on any fitness trends not included in these results that may be "hot" in 2016, based on research and media coverage I've reviewed over the last year.
In an unusual occurrence, a trend not previously ranked in the top 20 by ACSM jumped to number one for 2016. Wearable technology takes the top spot this year, indicating the tremendous and rapidly increasing popularity in fitness tracker devices, such as those marketed by Fitbit, Garmin, Jawbone, Misfit, and other companies. Recently, sport-specific models have become available for swimming, cycling, and triathlon training. The Apple Watch combines fitness tracking with a new prompt to remind wearers to get up and exercise or stretch if they're sedentary. The ACSM survey results article notes that the wearable technology market is expected to reach $6 billion in 2016.
A related trend, smartphone exercise apps, landed at number 17 on the fitness trend survey and are new to the ACSM's list this year. Numerous free and inexpensive fitness apps are available for iPhone and Android smartphones for a wide variety of activities, including running, cycling, swimming, yoga, and CrossFit training. Personal trainer and fitness instructor apps are available to take users through daily workouts. Fitness progress tracking and comparison with friends or other online users can be used for motivation. Diet and nutrition apps, as well as meditation and brain-fitness apps, also are increasing in use. Smartphone apps related to health and fitness also are expected to grow rapidly in popularity, as app developers introduce more advanced monitoring capabilities. I predict this trend will rise to the top 10 in next year's ACSM survey.
The third new trend on this year's ACSM list is flexibility and mobility rollers. Foam rollers (covered in the October 2015 issue of Today's Dietitian) are used for myofascial release and self-massage of muscle tissue. After many years of use by athletes and therapists to aid in muscle recovery and injury rehabilitation, foam rollers are now more widely used at home by other exercisers and those with chronic pain conditions. The ACSM notes that a growing market exists for foam rollers, despite limited research.
Compared with last year's ACSM top trends list, a few activities remained high in the top 10, including the following:
body weight training: last year's number one trend was bumped to number two by wearable technology;
high-intensity interval training (HIIT): at number two last year, HIIT is the number three trend this year;
fitness programs for older adults: holding strong at number eight two years in a row;
educated, certified, and experienced fitness professionals: dropped to number five this year, after coming in third last year;
strength training: remained at number four; and
yoga: although it dropped from number seven to number 10 this year, its popularity continues due to the variety of styles, newly released instructional videos, and the growing number of certifications available, according to the ACSM.
Dropping off the top 20 trends list this year were children's exercise for obesity, worker incentive programs, and boot camp. Even though childhood obesity continues to be of high interest to health professionals, the ACSM notes that children's programs don't seem to be trending well in the industry; however, they may be a potential new market for commercial and community-based organizations, ACSM concluded. Children's fitness programs are, in fact, growing and being offered more at gyms, health facilities, community centers, and schools. In my opinion, they're trending well in the overall fitness industry but not with personal trainers, who represent the majority of the ACSM's survey respondents. Children's fitness is a specialization, and perhaps has dropped off the ACSM's trends list because personal trainers already have enough business with the growing adult market. (Next month's column will discuss the variety of available children's fitness certifications.)
The ACSM reported that worker incentive programs have been absorbed into the larger overall trend of worksite health promotion, which landed at number 12 on the top trends list for 2016. The ACSM speculates that boot camp workouts no longer may be a popular trend because improvements in the world economy make a "back-to-basics" exercise program a "thing of the past." Boot camp programs still exist and remain quite popular, but I believe have been renamed to capitalize on the latest buzzword: HIIT.
The ACSM's annual fitness trends survey is a valuable indicator of what's trending in the fitness industry, but it does have some flaws. As mentioned, personal trainers are the largest group of survey responders; hence, many of the trends are directly related to personal training. Gym owners and group fitness instructors appear to be underrepresented in the survey; these two fitness occupations are knowledgeable about fitness trends outside of personal training that may not be adequately represented in the survey results. And, finally, the ACSM provides survey participants with a list of 40 possible trends to choose from, composed of the top 25 trends from previous years and 15 other trends identified by staff and editors of the ACSM's Health & Fitness Journal. So, some emerging trends may be omitted.
It will be interesting to see the evolution of the newly identified trends over the next few years. For 2016, help clients and patients make a resolution to try one or more of the fitness activities listed in the ACSM's top 20.
— Jennifer Van Pelt, MA, is a certified group fitness instructor and health care researcher in the Reading, Pennsylvania area.
TOP 20 WORLDWIDE FITNESS TRENDS FOR 2016
Keep an ear out for questions from clients and patients about the following up-and-coming popular exercises and tools:
1. Wearable technology
2. Body weight training
3. High-intensity interval training, or HIIT
4. Strength training
5. Educated, certified, and experienced fitness professionals
6. Personal training
7. Functional fitness
8. Fitness programs for older adults
9. Exercise and weight loss
10. Yoga
11. Group personal training
12. Worksite health promotion
13. Wellness coaching
14. Outdoor activities
15. Sport-specific training
16. Flexibility and mobility rollers
17. Smartphone exercise apps
18. Circuit training
19. Core training
20. Outcome measurements
— SOURCE: AMERICAN COLLEGE OF SPORTS MEDICINE