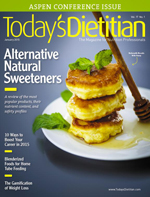 January 2015 Issue
The Gamification of Weight Loss
By Maura Keller
Today's Dietitian
Vol. 17 No. 1 P. 40
Making a game of losing weight using smartphone apps, online programs, and social media platforms is a fast-growing trend that's improving lives.
The terms "fun" and "weight loss" usually aren't synonymous, but there's a growing trend called gamification—the application of game design techniques to engage and motivate people to achieve their goals—which uses technology and social media to encourage individuals to compete with one another while increasing physical activity and adopting healthier eating habits.
Individuals are participating in online calorie-burn contests and corporatewide weight-loss competitions, and wearing tracking devices to count the number of steps they walk each day. Groups of people and entire cities are gamifying weight loss to improve health and wellness. Participation through social media and the number of interactive gamification networks are increasing as this trend gains ground across the country.
The gamification of weight loss means "to make a game out of" losing weight, says Misti Gueron, MS, RD, medical nutrition therapist at the Khalili Center in Beverly Hills, California. "Groups of people are offered a friendly yet competitive challenge to get healthier and lose weight in a group format," she says. "Often, there are technological applications utilized that teach healthful food choices and exercise, and encourage competition among members."
According to Felice Kosakavich, chief clinical dietitian for Cassena Care Health Systems in New York City, many people want to set goals for weight loss and achieve a healthier lifestyle, and now they can use gamification as part of their exercise regimens to follow their progress and boost morale. "Based on obesity projections and the financial impact of the Affordable Care Act, it's critical to help people find ways to participate and stick with a healthful lifestyle by changing behaviors in fun and social ways," Kosakavich says, adding that gamification may be the trend that captures the attention of thousands of weight-loss aficionados.
The recent survey "Emerging Technology in Health Engagement," conducted by WorldatWork, a nonprofit human resources association for professionals and organizations, found that gamification is the most effective tool in achieving wellness objectives. Of the employers surveyed:
• sixty-two percent reported currently using gamification in one or more instances to promote wellness engagement;
• sixty percent use contests such as weight-loss or walking competitions to increase engagement;
• fifty-two percent are considering implementing online or mobile games within the next three years; and
• thirty-one percent said they planned to integrate other gamification elements into their current wellness strategy in the coming year.
"In these scenarios, many individuals have gotten healthier, minimized or eradicated health problems, and changed the course of their lives," Gueron says. "Perhaps this method is a reasonable approach. It is, after all, doing something for a good cause, and it holds the potential for more individuals getting involved."
Gaming in Action
UnitedHealth Group, a health care company that provides health care coverage and benefits services as well as information and technology-enabled health services, developed a family-based pediatric obesity treatment program, JOIN for ME, which involves an active video game component using the Xbox 360 console with Kinect to encourage children to increase daily physical activity. According to a company press release, "the introduction of an active video gaming component to JOIN for ME resulted in a significant increase of 7.5 minutes per day of moderate-to-vigorous activity, with one-third of that time devoted to vigorous physical activity compared with participants who completed JOIN for ME without the gaming component." A study published in the May 2014 issue of JAMA Pediatrics showed that including active video gaming in a 16-week pediatric obesity intervention program resulted in a clinically significant increase in physical activity and a decrease in excess weight among overweight and obese children.
Insurance companies also are beginning to use gamification strategies to encourage healthier lifestyles among their members. Major insurers such as Aetna, Cigna Health, UnitedHealth, and Blue Shield offer games to encourage physical activity, smoking cessation, healthier eating, and other areas of wellness. For example, Aetna offers Mindbloom Life Game, an online game that uses behavioral science, personalized media, and social gaming techniques for people interested in improving the quality of various aspects of their lives.
Wayne Scott Andersen, MD, cofounder and medical director of Take Shape For Life, a program that focuses on healthful eating, exercise, and overall wellness, says many people are using gamification, from the everyday person looking to lose weight to corporations hoping to decrease health care costs. "It's a way to cast a wide net and get more people interested in creating healthful habits in a fun way," Andersen says.

Take Shape For Life recently participated in a health transformation program that uses a gamification platform, which attracted more than 30,000 participants. Called Stop. Challenge. Choose., the 12-week health transformation initiative provides participants with an e-book, personal health coach, and free daily e-mails to help guide participants and answer questions along the way. The health coach helps people set realistic fitness and dietary goals, and provides expert advice.
"As a result, we've exposed thousands to a health-oriented community with the intention of providing viable ways to improve their health," Andersen says. "As a health professional, I encourage my clients and patients to use these devices to help generate a sense of awareness of their habits. It's a form of accountability that can help people become interested in creating healthful habits, but it's important that there's a plan in place to help people shift to intrinsic motivation for long-term success."
As gamification for weight loss becomes more prevalent, Gueron says people may begin to see more of these programs offered in hospitals and other health care settings, or provided by their doctors. "We're also seeing these programs in some school systems," she says.
The Khalili Center hasn't yet implemented gamification, but it has a program that's part of its foundation that involves going into at-risk schools and helping raise awareness of unhealthful eating habits by discussing foods being consumed.

"To get kids moving, we provide pedometers to see how many steps the groups of participating classes involved can walk in one month's time," Gueron says. "The results of our last challenge showed that those kids together could have walked [from California] to New York City and back."
Other gamification programs targeted to groups of people outside of these venues include HealthyWage and DietBet, online programs that offer cash weight-loss challenges. Runkeeper, Nike+ Running, and Fitocracy allow users to track physical activity, interact with other participants, and earn rewards for achievements. Skinnyo focuses on weight loss and calorie counting within a competitive community of participants.
"Gamification is heavily dependent on ease of use and goals set by the consumers," Kosakavich says. "Many of the apps and tools rely heavily on iPhones, iPads, computers, or other smartphone devices, and use social networking strategies to promote positive competition, which can lead to behavior changes that are fun and interactive."
Doesn't Work for Everyone
Despite the many health benefits of gamification for weight loss, this gaming strategy may not work for everyone. David A. Wiss, MS, RDN, CPT, founder of Nutrition In Recovery, which specializes in the nutritional management of food addiction, substance abuse, eating disorders, weight management, sports nutrition, and general wellness, believes gamification works well for specific personality types and those who have a healthy relationship with food.
"For individuals who are math minded and don't have a dysfunctional relationship with food, gamification can provide the data and structure that's needed to meet health-related goals," Wiss says. "For other individuals who are struggling with their relationship with food, gamification can make their food issues worse—if not in the short term, then in the long term. Those people might wonder why games and apps work so well for others but not for them. For individuals who have eating disorders, addictions, severe body image disturbance, and other behavioral issues, apps that turn nutrition and health into a math equation would be contraindicated. For this population, apps that can track food groups, thoughts, emotions, behaviors, and self-reported hunger and fullness scores are much more effective in helping them make peace with food."
Wiss adds that the overemphasis on "calories in, calories out" and "energy balance" apparently hasn't worked in addressing the obesity epidemic, and may represent oversimplified and outdated paradigms of nutrition.
"What we eat has a profound impact on our gut health, brain chemistry, and hormones, and none of this can be accounted for in a game or app," Wiss says. "Food isn't simply fuel, it's information we're sending to our brains and bodies. I don't use gamification because I work with people who need to see food as more than fuel, and health as more than a game or math equation."
Successes and Challenges
One of the challenges facing healthy individuals, who don't have eating disorders or a poor relationship with food, is staying motivated to continue using gamification for long-term weight loss. It's possible they may lose interest and stop trying to achieve their weight-loss goals.
"Some people don't want to change their ways. [They] need personal attention or a pat on the back," Kosakavich says. "I've had patients say they prefer meeting with a weight-loss specialist to be weighed weekly because they feel more accountable for their actions."
Andersen agrees: "The main challenge or drawback of gamification is that it doesn't support long-term success because it's an extrinsic form of motivation. That is, the motivation comes from outside a person, usually in the form of rewards. And these types of things also don't address all areas of a person's health. Some may focus only on physical activity or pounds lost, which doesn't effectively move someone toward a healthful lifestyle."
Nevertheless, gamification can be an excellent tool for people interested in weight loss, especially for those with busy lifestyles who want to find an activity that's fun, offers immediate feedback, tracks progress over time, allows for friendly competition, and provides social feedback.
"I've suggested the Wii and Kinect for patients as a cheaper alternative to a costly gym," Kosakavich says. "Downloading apps to cell phones also has increased daily activity for patients trying to lose weight. Many also have reported that they love comparing how many steps they now walk daily to keep up with friends, family, and coworkers."
Tips for Dietitians
Dietitians interested in recommending gamification programs to clients and patients should first refer them to an eating disorder specialist to be screened for eating disorders, according to Wiss. "If an individual has an eating disorder, gamification can exacerbate their problems," Wiss says. "Make sure individuals have the right personality type for whatever game or app they're using. This may require having several gamification options for different patients depending on their needs."

Kosakavich says it's important for RDs to remain open minded when counseling patients for weight loss. "Keeping up on the latest apps and games can help with different ideas and strategies for weight loss," she says. "Some patients need to be physically seen for weigh-ins or need interpersonal motivation and weight-loss strategies, while others prefer personal tracking and peer interaction and socialization."
Dietitians should tell clients that gamification for weight loss is an engagement tactic, a way to have fun and motivate themselves in the short term, Andersen says. And it should be only part of a larger plan to maintain momentum and encourage long-term success. It's critical to have a comprehensive program to change habits.

Andersen also believes that in the short term, people will experience success with gamification programs, but it's fleeting. "It's a great way to help people become more aware of their habits and encourage them to make changes," he says. "However, people need discipline, and in order to have lasting change, there must be a plan to help the person become motivated beyond the prizes and fun."

While some see gamification for weight loss as a fad, others see it being around for a long time, especially because there's plenty of pressure for companies to find ways to cut health care costs. This may result in an actual increase of gamification in corporate wellness programs.
"Cell phones, iPads, tablets, and computers promoting motivational techniques in a private, or online group setting, will help players meet their weight-loss goals by always coming up with new games and social experiences—all at cost savings compared with personal gyms, trainers, or one-on-one settings," Kosakavich says. "Companies also will benefit with healthier employees promoting gamification. If someone is really interested in weight loss, there will be many beneficial rewards when participating."
— Maura Keller is a freelance writer based in Minneapolis.