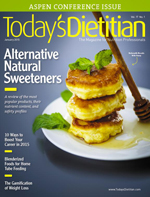 January 2015 Issue
Corporate Sponsorships: Food Industry Relationships in the Dietetics Profession
By Sharon Palmer, RDN
Today's Dietitian
Vol. 17 No. 1 P. 34
Editor's Note: Today's Dietitian (TD) will report on the complex relationship between the food industry and registered dietitians—as a profession and on an individual level—in this two-part series. Part 1 will look at the issue of the Academy of Nutrition and Dietetics' corporate sponsorships. We've asked several nutrition experts to weigh in with their feedback surrounding this hot issue. In part 2, TD will cover the ethical relationships between dietitians and the food industry.

"Big Food Exerts Unhealthy Influence on America's Nutritionists" is the title of a Grist article about RDs. Over the past few years, similar articles have appeared in several publications and websites, including the Huffington Post, Boston Globe, Mercola, Mother Jones, Forbes, and Prevention. While the internal debate over how the dietetics profession should navigate relationships with the food industry has been swirling for several years, it now has broken out of the professional circle and into the mainstream. Unfortunately, the implication in such coverage is that dietitians' credibility and reliability—things every dietitian holds dear—are on the line.
It may seem like a new concern, but the Academy of Nutrition and Dietetics (the Academy) has sponsored relationships with food companies for a long time. But dietetics isn't the only health field to receive scrutiny over financial ties to industry.

"Industry has influenced other health fields," says Andy Bellatti, MS, RD, a nutrition consultant who has been active in the issue of corporate sponsorships for dietitians. "For example, tobacco once had—and pharmaceutical companies now have—ties to the medical field. And now we see this with the food industry and dietitians. Public health experts have been calling out industry ties for years, so it was only a matter of time before it came to light within our field."
The medical field has been under fire over the years for the risks associated with financial ties to industry for both individuals and institutions that conduct research, provide education and patient care, and develop practice guidelines. In fact, the Institute of Medicine developed a report examining the extent of the medical field's financial relationships with industry and conflict of interest, identifying specific goals, such as protecting the integrity of professional judgment and preserving public trust.1
Is There Reason for Concern?
"These ties reflect poorly on our credential, because anybody who wants to criticize dietitians can make such an easy argument. If we got rid of these ties, we would take away a huge source of criticism," Bellatti says.
Marion Nestle, PhD, MPH, the Paulette Goddard Professor of Nutrition, Food Studies, and Public Health at New York University and author of Food Politics, says, "The pervasive sponsorship by food product makers puts the Academy in flagrant conflict of interest."
While Kate Geagan, MS, RDN, a nutrition and communications consultant for the food industry and author of Go Green, Get Lean, wants to make it clear that she supports the Academy, she says, "There are real concerns with the Academy's current policies on sponsorships, both from some of our own members, and from the public at large. My concern is that the Academy is in an echo chamber when it comes to this issue."
Not all dietitians believe the corporate sponsorship issue is problematic. "I believe this is a tempest in a teapot," says Neva Cochran, MS, RDN, LD, a nutrition communications consultant who's held many positions within the Academy, including past president of the Texas Dietetic Association and member of the board of directors. "While there's perceived controversy because a few very vocal people, including nonmembers and non-RDNs, are working hard to create it, I don't believe that there's actually that much real controversy," Cochran says.
Barbara Ruhs, MS, RD, LDN, who has worked in public health, private practice, and supermarkets, doesn't see concerns with current sponsorships. "I welcome the opportunity to build these partnerships as a means to improve our food supply and the products sold in our supermarkets," Ruhs says. "Working as a supermarket dietitian, I have developed an even stronger appreciation for the role that the food industry plays in improving public health and our food supply. What many don't realize is that if a large company like McDonald's or PepsiCo makes a modest change in their formulation or products to improve nutrition, it can impact millions and have a seismic impact on public health."
According to Amy Myrdal Miller, MS, RDN, founder and president of Farmer's Daughter Consulting, "Working with sponsors allows us to be engaged in an ongoing dialogue with the food industry about what we, as food and nutrition professionals, want to see in sponsors' products and services. Without our input, how would industry know what we want to see them do differently? The vast majority of sponsors that support the Academy also employ RDNs, which allows our profession to have even greater influence."
While the Academy declined to make any new comments regarding its corporate sponsorship program for this article, it referred to a March 2013 interview with Today's Dietitian. In this interview, Ethan Bergman, PhD, RD, then president of the Academy, stressed that the Academy doesn't endorse any company, product, or service, regardless of sponsorship. "Improving the health of the public is our highest concern, and the Academy is very sensitive to even the perception of conflict of interest that may occur when working with sponsors. We make every effort to make sure that communication for consumers contains credible food and nutrition information that supports the Academy's existing science-based positions," Bergman said in the article.
The "All Foods Fit" Philosophy
One of the main principles guiding the Academy's Corporate Sponsorship Program is the total diet approach to healthful living—an Academy position stating that the overall pattern of food eaten is the most important focus of healthful eating. All foods can fit within this pattern, if consumed in moderation with appropriate portion size and combined with physical activity, the position states. This philosophy explains why current sponsors include The Coca-Cola Company Beverage Institute for Health & Wellness and PepsiCo.2
"If a member cannot support the Academy's total diet approach or 'all foods can fit' philosophy, but instead believes there are 'good' and 'bad' foods, they could have problems with some of our corporate relationships," Cochran says.
Nestle says, "Dietitians ought to be advising clients and the public about what to eat to stay healthy and prevent chronic disease. This necessarily means promoting consumption of some foods and discouraging consumption of others. Dietitians cannot speak truth to clients and protect corporate sponsorship at the same time."
Geagan believes that, in some cases, the issue may be more about what's not being said about foods, such as the case of the Academy not speaking up on antibiotic use in livestock. She adds, "I believe the problem is the lack of transparency regarding the full nature of these relationships—financial and access-wise—to both RD members and the public. When breakfasts are sponsored by fast-food companies and soda logos are emblazoned on our Academy bags, to me it is in direct conflict with the obligation we have as food and nutrition experts to consider the multiple lines of evidence about what the latest science says about healthful eating—very little of which points to any of these foods as foods that drive lifespan or health span."
However, according to an Academy membership survey, many dietitians aren't uncomfortable with sponsorship arrangements. Cochran explains that the Academy conducts an internal all-member needs assessment survey, which isn't published, every two to three years to improve member services, and that these surveys haven't shown any major concerns among members.
Nevertheless, the Academy's Hunger and Environmental Nutrition Dietetic Practice Group (HEN DPG) identified that a large number of its members expressed concern over corporate sponsorships and even dropped their memberships as a result, according to Ashley Colpaart, MS, RD, past-chair of HEN DPG. In addition, a survey of Academy members' attitudes toward corporate sponsorships was published in the Journal of Hunger & Environmental Nutrition in 2012. Among nearly 3,000 Academy members who took part in the survey, 68% stated that the acceptability of corporate sponsors depended on who the sponsor is, and 13% disapproved and 19% approved of any Academy corporate sponsorship. In addition, 83% felt that members should have a say in deciding who should be Academy sponsors, and 97% felt that the Academy should verify that a sponsor's corporate mission is consistent with that of the Academy before accepting them as a sponsor. Fifty-four percent stated that they would be willing to pay additional dues if it meant having fewer sponsors.3
Influencing Dietitians' Education?
One of the criticisms of corporate sponsorship is how it might impact dietitians' education. "We see examples at our conference of educational materials that repeat industry talking points disguised as science," Bellatti says.
"I wonder what clear benefit members are receiving, aside from RDNs that are employed by industry," Bellatti continues. "The winners seem to be the food companies who gain direct access to members to promote products and to provide education to members about their products. That's where we're really failing; we're disarming ourselves as the experts and instead allowing the industry to tell us what's valuable. The food industry is now authorized to educate us through continuing education programs provided to RDs, rather than the other way around."
Geagan says, "Certain tiers of corporate sponsorships are given exclusive access to the Academy's media spokespeople and to the board, and are allowed to sponsor sessions at FNCE® and essentially get a subtle stamp of approval from the Academy through fact sheets and continuing education opportunities. While certain continuing education programs may have a strong level of credibility, in my opinion there are unfortunately many that come off sounding like commercials or endorsements, and it's hard for RDs to receive an unvarnished, multiperspective update of the latest science from food companies and their sponsored materials."

Both Myrdal Miller and Ruhs say that the Academy has strong guidelines in place to ensure that educational content isn't biased by sponsor support. "Where I do see room for improvement is with affiliates and DPGs that have fewer human resources to manage the oversight and policy enforcement related to sponsorship of continuing education programs," Myrdal Miller says.
"Corporate sponsorships of meetings and educational events does not mean that they control the content of the meeting," says Ruhs, adding that she has successfully organized several dietitian conferences and worked closely with industry partners to ensure that instead of marketing they focused on education and providing tools to help RDs do their jobs better.
Public Perception
Critics of corporate sponsorships also raise the issue of public perception, given today's environment that includes journalists sharing images of dietitians in front of soda and fast-food booths at nutrition conferences with the sensational captions, "Our national nutrition experts are in bed with Big Food."
According to Colpaart, "Consumers are so hyperaware right now of conflicts of interest, and like it or not, it creates an image that our profession has been co-opted by industry. Consumers don't know how the sponsorship program works, and it's obvious that few RDs do as well. Since individual dietitians have worked so diligently to establish themselves as the nutrition experts, it makes sense that members of our own profession have concerns with this perception in the public."
Geagan says, "The Academy's own statements simply don't square with the facts on the public's perception. Regardless of the carefully crafted language and framework that the Academy itself has established to feel that there's no conflict, that there's no direct or indirect influence, the reality is that the public and many RDs see it as a false sense of division. If we ignore this as an organization, we do so at the risk of our own credibility and our own relevance."
"If nothing else, food industry sponsorship gives the appearance of conflict of interest," Nestle says. "It makes the Academy appear as an arm of food company marketers. But it also affects—or appears to affect—the Academy's positions on key issues in nutrition and health. Overall, the cozy relationship between the Academy and food industry sponsors undermines the credibility of the Academy's positions on food issues."
Cochran, however, doesn't believe the vast majority of consumers are even aware of the Academy and its corporate relationships. "Those who have individual relationships with RDNs base their opinions on their interactions with the practitioner and how well they meet their needs. I believe that, in turn, frames their impression of the profession as a whole and the organization."
Financial Support
Working with the food industry offers the Academy financial support. According to its 2013 annual report, the Academy and its related organizations (excluding the Academy of Nutrition and Dietetics Foundation) received just under $2.3 million in sponsorship revenue in fiscal year 2013. That figure represents 6.7% of its $34.4 million reported operating revenue. Membership dues comprised approximately $13.3 million of that revenue. The net expenses reported totaled $37.3 million, producing an operating shortfall just under $3 million. That operating shortfall was covered using a portion of the $4.3 million investment income generated by the organizations' $31.3 million investment portfolio.4
The separately reporting Academy of Nutrition and Dietetics Foundation reported an approximately $500,000 operating loss on revenues of $3.5 million. Again, the operating loss was covered by a portion of the $2.3 million investment income from the foundation's separate $16.6 million investment portfolio. The foundation received approximately $1.98 million in corporate contributions and other sponsorships, representing 56% of the foundation's fiscal year 2013 revenue.4
Cochran believes cutting off financial support from sponsors would have a negative impact on programs and resources the Academy provides to both members and the public. Ruhs adds, "Corporate sponsorships make it possible for more dietitians to attend events by lowering the cost burden."
Dialogue and Opportunity
Corporate sponsorship also promotes dialogue between RDs and the food industry, according to some dietitians. "Industry partnerships provide an opportunity for us—both as individuals working with industry and the Academy partnering with them—to sit at the table with these groups and have input and influence on their products, services, and messages," Cochran says.
"Many of the companies or organizations that the Academy partners with employ RDNs and some in significant numbers," Cochran continues. "That's probably one reason we're able to bring them on as sponsors. Also, more positions and consulting opportunities for RDNs are being created in the food industry. These are some of the higher-paying positions in our field. What a great way for us to have influence and input into the development of new food products and nutrition messaging to consumers."
Myrdal Miller says, "When we collaborate with industry, we create doors. When we criticize industry, we create walls. We want open communication so that we can have impact. If we shut out industry, then they'll likely shut us out. And then what? We've lost our influence."
According to Ruhs, "Dietitians working with industry partners can influence their priorities when it comes to product innovation, such as adding more fruits and veggies in the food supply in a form that will get more of the public eating them. Food companies need exposure to food and nutrition professionals to gain valuable feedback on products, marketing strategies, and consumer health needs. Working together, food industry partners can provide resources and tools that dietitians can use to have a bigger impact."
Better Guidelines?
"We should establish ties with companies that have the same goal as ours: improving the health of America. A company that profits by mainly selling as much sugar-sweetened beverages as possible—does that help our end goal?" Bellatti asks. "The conversation should focus on identifying better sponsors that are more appropriate for a national nutrition organization."
Bellatti believes the Academy would benefit from very specific guidelines about what responsible, ethical, appropriate, and relevant sponsorship for a nutrition organization should look like. "Right now the guidelines are vague and completely open to interpretation," he says. "The Academy could act much like the World Health Organization and publicly denounce the food industries that battle public health policy and get in the way of health."
Nestle suggests that the Academy needs to establish a firewall between corporate sponsorship and content or opinion. She believes this requires setting up rigorous guidelines for what food companies can and can't expect from their donations. She says that corporations should not, for example, be permitted to sponsor content sessions at meetings.
"The goal of food companies is to sell products and expand sales to increase profits. That's their job," Nestle says. "The goal of dietitians is to improve the health of individual clients, patients, and groups. Ideally, companies would produce health-promoting products and their goals and the goals of dietitians would be compatible. In practice, such compatibility only rarely occurs."
Nestle thinks the real question that needs to be asked is what to do to raise the image of dietitians to the point where the public is willing to pay more for their services. "Better—and broader—education is one approach, but higher ethical standards and greater professional integrity are essential. If the Academy is sold out to the food industry, then dietitians appear as contributing to current health problems, not to their solution," she says.
Geagan believes the best next step for the Academy would be to hire a truly independent third party to conduct an audit across other health organizations to identify the best practices in continuing education and sponsorship. "How can we find new innovative models that make financial sense? Can we leverage technology in ways so we don't have to rely on the former models of financing things? Every conference I go to these days, I see old power structures are crumbling and new innovation is being unleashed. We are dramatically behind in this regard," Geagan says.
According to Colpaart, dietitians should focus on solutions, instead of complaining and tearing each other down. "The Academy leadership has an opportunity to engage members and offer them the platform to have a difficult conversation about this. This has created a painful and deep divide. By ignoring issues and not openly offering a forum for debate, people feel like they aren't being heard. Let's think outside of the box. How about letting members vote on sponsors or partnering with tech companies instead of food companies. The world is changing around us; we need to change with it or we'll become obsolete," Colpaart adds.
Cochran believes that the relationships between the food industry and the Academy and its members should include "mutual respect and benefit that provides education, and products and services that support the RDNs' and Academy's efforts to optimize the nutrition and health of the public. RDNs working together with industry can help ensure a safe, nutritious, and adequate supply of foods people like and will be able to prepare and eat and educate the public on making good choices."
Myrdal Miller says that the most successful DPGs and affiliates have very transparent sponsorship benefits and guidelines. "If you have concerns, the best way to manage this is to get involved. Don't just sit on the sidelines and criticize the leaders who are striving to enhance member benefits," she says.
Corporate Sponsorship Taskforce
In response to concern over corporate sponsorships, the Academy recently formed a sponsorship taskforce. Ryan O'Malley, media relations manager for the Academy, reports, "This taskforce is made up of nine Academy members from all sectors of the profession, including foodservice, university, business development, supermarket, nonprofit, consulting, and food development arenas. They will be reviewing policies and practices regarding industry-sponsored continuing education, suggesting criteria for establishing a pro-bono category, and ultimately making recommendations regarding the Academy's sponsorship guidelines." The first results from the taskforce's work are anticipated later this year.
— Sharon Palmer, RDN, is nutrition editor of Today's Dietitian and the author of The Plant-Powered Diet and Plant-Powered for Life.
References
1. Introduction. In: Institute of Medicine (US) Committee on Conflict of Interest in Medical Research, Education, and Practice; Lo B, Field MJ, eds. Conflict of Interest in Medical Research, Education, and Practice. Washington, D.C.: National Academies Press (US); 2009. http://www.ncbi.nlm.nih.gov/books/NBK22932/. Accessed October 25, 2014.
2. The academy's corporate sponsorship program. Academy of Nutrition and Dietetics website. http://www.eatright.org/HealthProfessionals/content.aspx?id=6442478680. Accessed October 25, 2014.
3. Reitshamer E, Schrier MS, Herbold N, Metallinos-Katsras E. Members' attitudes toward corporate sponsorship of the Academy of Nutrition and Dietetics. J Hunger Environ Nutr. 2012;7(2-3):149-164.
4. The Academy of Nutrition and Dietetics/Foundation Fiscal Year 2013 Annual Report. http://www.eatright.org/WorkArea/linkit.aspx?LinkIdentifier=id&ItemID=6442479456&libID=6442479433
[Sidebar]
The Academy's Corporate Sponsorship Policy1
The Academy of Nutrition and Dietetics (the Academy) has a policy in place for corporate sponsorships.1 The policy outlines that its corporate sponsorship program "allows for purposeful collaboration with food and nutrition organizations" in order to advance its mission of empowering members. Objectives of the corporate sponsorship program, per its website, include the following:
• working with industry to build awareness of the Academy and its members;
• sharing science-based information, new research, and industry trends in food and nutrition with members; and
• enabling the Academy to reach millions of consumers with healthful eating messages.
The Academy enforces the following principles in its relationship with sponsors:
1. Adherence and commitment to the Academy's mission, vision, positions, and policies. The Academy stresses that sponsors must be committed to "the mission and vision of the Academy." Each sponsor's objectives must reflect this commitment and be aligned with the Academy's strategic goals.
2. Scientific accuracy. The Academy states that all sponsor materials, presentations, and information shared with members must be internally reviewed for scientific accuracy, adherence with the Academy's positions and policies, and for audience appropriateness. The Academy Knowledge Center, a team of Academy staff RDNs, augmented by nonstaff member experts on areas of specialization, handle these reviews as necessary.
3. Nonendorsement. The Academy doesn't endorse any brand, company product, or service, according to Academy guidelines.
4. Noninfluence. The "programs, leadership, decisions, policies, and positions" of the Academy are not to be influenced by sponsors. Based on this guiding principle, the Academy's procedures and formal agreements with other organizations are designed to prevent "any undue corporate influence."
For a full review of the Academy sponsorship guidelines and a list of current sponsors, visit www.eatright.org.
Reference
1. The academy's corporate sponsorship program. Academy of Nutrition and Dietetics website. http://www.eatright.org/HealthProfessionals/content.aspx?id=6442478680. Accessed October 25, 2014.