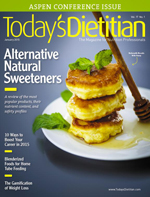 January 2015 Issue
Boost Your Career in 2015
By Juliann Schaeffer
Today's Dietitian
Vol. 17 No. 1 P. 24
Experts provide 10 proven strategies that will help take you and your business to the next level.
The start of a new year causes many dietitians to reflect on what's come to pass and aspire to what lies ahead. Whatever happened professionally last year, resolve to make 2015 a banner year for your dietetics career. To help you do just that, Today's Dietitian asked RDNs for their best career advice, and they've developed 10 ways to help dietitians stand out and succeed in today's nutrition profession. From finding (then becoming) a mentor to finally writing that book that's been on your mind for years, there's no one way that works best for everyone. But whether you decide to spruce up your website or volunteer in your community, your best bet is to just get started on something new today.
"Step outside your comfort zone and do not be afraid to put yourself out there," says Philadelphia-based Susan Zogheib, MHS, RD, LDN, of DaVita Kidney Care. "Life is all about taking risks and unless you try, you will never know your self-worth and capacity. What's the worst that can happen? You pick yourself up and move on."
As a first step in taking your nutrition career to the next level, evaluate the following top 10 business strategies from the RDNs interviewed and maximize your efforts in the coming year.
1. Fine-Tune/Improve Your Website
Think having a static Web presence is enough to stand out in today's nutrition community? Think again. A professional website is the Internet version of yourself, says Lauren Elkins, RDN, director of nutrition for Marina Del Rey Hospital in California, and it's the image that millions of people have access to every day. Therefore, RDNs should put at least as much effort into that image as they do for the one they see in the mirror each morning.
"If your website has a sleek professional design with focused intent, you will likely draw the attention you want from the right people," Elkins says. "The more visible you are to your professional world, the more likely you are to make the contacts and acquaintances that will further your career."
Remember, you only get one chance to make a first impression, says Michelle Dudash, RDN, chef and author of Clean Eating for Busy Families. "And your website is how many potential clients, fans, and media will be introduced to you."
Whereas five years ago, clients might have been impressed with any website design or content, today's websites must be dynamic to catch potential clients' attention, says Julie Beyer, MA, RDN, author of You CAN Write a Book: The No-Nonsense Guide to Self Publishing and Interstitial Cystitis: A Guide for Nutrition Educators.
"By spending a little time on it regularly, either by adding content, blogging, or simply tweaking a page or two, you not only keep Google and other search engines interested, but you have new content to advertise to your followers on social media, effectively driving more clients to your website," Beyer says.
When reviewing your website for possible areas to rework, Elkins advises keeping content fresh and up-to-date. "Keeping your content current and very matter of fact is always a good idea, especially when your professional reputation is always in view," she says. "Continually update the content with topics that are on the forefront of dietetics and also keep up with current events and happenings in your professional line of work."
For RDNs who can't find the time to give their website a total makeover, Dudash says a professionally and newly designed masthead can make a big difference on its own. "Do your logo and masthead right the first time by hiring a graphic designer," she says. "Ask around and you can probably get a quality logo within your budget."

Regarding what not to do, Elkins advises against straying from your field of work (whether posting personal beliefs or irrelevant topics), which can take the focus off of your credentials and services, as can an unnecessarily busy website design or content that's too technical. "Remember that not all of these readers are registered dietitians or nutritionists," she says.
Moreover, be cognizant of your online presence, which means scrutinizing every last detail that could affect the image you want to project. This includes something as small as (seemingly minor) misspellings. "Edit, edit, and re-edit your website for misspellings and grammar," Dudash says.
2. Embrace Social Media
Leigh Tracy, RD, LDN, a dietitian at The Center for Endocrinology at Mercy Medical Center in Baltimore, sees social media as a great way to present the public with accurate nutrition information amid a sea of misinformation on the Internet. "Many people today search the Web to answer their nutrition questions, but they may not know which sources are reliable," Tracy says. "It's important as dietitians and nutrition experts to use social media as an opportunity to provide accurate information."
Social media is a powerful marketing tool that allows you to grow your community and network with people you wouldn't ordinarily have access to, Dudash says. But while it can do a world of good by combating food and diet falsehoods, Elkins cautions that it's not just the easiest way to market yourself—it also can be the easiest way to break your career.
"Twitter, Facebook, and Instagram all have their ups and downs," she says. "Not a day goes by that you don't see a news outlet writing a story about someone's social media posts and how they were wrong. When you use these outlets the proper way, it's a powerful tool to market yourself and your career. People now use these outlets to research who they're taking advice from and see what they post. If done right, you can increase your career possibilities exponentially."
The dietitians who choose not to embrace social media are just making it easier for "experts" to give unfounded advice and cash in on unwarranted credibility, says Faye Berger Mitchell, RDN, LDN, editor-in-chief of Foodie On Campus, an e-zine that provides college students with practical nutrition and fitness information so they can live a healthful lifestyle on campus, and coauthor of Making Nutrition Your Business: Private Practice and Beyond.
"Unfortunately, in today's market, numbers are more important than credentials," Berger Mitchell says. "Like it or not, many self-proclaimed nutrition experts are getting the media gigs and book deals from publishers because they have more followers, likes, retweets, and shares on Facebook, Twitter, Instagram, Pinterest, and other social media outlets."
Berger Mitchell advises nutrition professionals new to the social media game to attend educational sessions geared toward boosting their social media skills. "If social media is not second nature to you, look for students to teach you the ropes or even run your social media for you," she says.
When you're ready to get into the game, Berger Mitchell suggests first identifying your market to see which media will capture your clients. "For example, college students are more likely to engage in Twitter (though that's decreasing), Instagram, and Tumblr, while baby boomers are using Facebook, so make sure you have an active presence on the right media."
Elkins suggests keeping social media posts very short and to the point to keep their audience's attention.
And familiarize yourself with the right hashtags, Dudash says, to ensure you're reaching the most relevant people. "For example, #rdchat is read by thousands of registered dietitians," she says. "A tweet without a hashtag can easily get lost in all of the chatter."
Uploading images with tweets can draw more attention, Dudash adds. "And play nice," she says. "While controversy can draw engagement, rudeness can be a turn-off to readers. If you disagree with something, do so professionally."
Of all the advice to learn, there's one big thing Berger Mitchell says is important to avoid: overpromotion. "The biggest mistake is promotion without engagement," she says. "I learned this the hard way. Social media is 20% engagement and 80% interaction. Make sure to interact with others, share fun facts or important info in your area of expertise, and promote others."
3. Get Involved in Your Community
If community nutrition is important to you, being involved in community organizations that promote healthful eating or food access is essential, according to Mary Purdy, MS, RDN, a clinical supervisor and private practitioner at Bastyr Center for Natural Health and an adjunct professor at Bastyr University in Seattle.

Whether it's working with local food banks, community churches, or other outreach programs, getting involved in community nutrition issues can further not only a good cause but also your career, Purdy says.
"Not only does it provide education around how organizations are approaching this issue, it gets your face and name out there and in association with an issue or nonprofit business," Purdy says. "When I continually see the same person at events or mentioned in an organization's promotional materials, I have the impression that that person is truly dedicated, hardworking, and passionate—all great characteristics to have when one thinks about hiring."
Robin Plotkin, RD, LD, a culinary and nutrition expert based in Dallas, credits much of her career success to her first nutrition job working at a local food bank. "As a brand-new dietitian working at my local food bank, I was ready to throw in the towel after 11/2 years on the job," she recalls. "I spoke to one of my RD mentors, Mary Kimbrough, who told me to stay in that job for at least two years before I considered changing positions. I listened to her advice and stayed for nearly five years."
Plotkin says that job not only jump-started her career in culinary nutrition but also helped her build invaluable relationships with other food-minded people in her community. The job taught her much more than nutrition principles, since working at the food bank molded her personal ideals as well as her professional persona, she says. "Not only did those five years help to create and mold me into the dietitian I am today, it crystallized for me the kind of person I wanted to be," Plotkin says.
Before getting your feet wet in community work, Purdy recommends reading up on any organization that interests you to ensure their values are in alignment with yours. And don't do too much, too soon, she says. "Don't get involved in too many organizations that are doing something you care about," Purdy says. "Instead, choose one or two and devote yourself to getting a deeper understanding of the company and the issue."
Reaching out to those around you doesn't just serve your interests, Tracy says. It will also help you better serve those around you. "Whether collaborating with a grocery store or teaching a class at the local school, it's important to get your name out there," she says. "The better you know your community, the better you can serve them."
4. Write That Book
Have an idea for a book that you've shelved for years because the fear of publishing or a lack of time has prevented you from moving it forward? "Stop procrastinating," urges Beyer, who says all it takes is one glance at the list of bestselling diet books to see the need for more RDNs to become authors.
"As nutrition and wellness experts, it's critical to get our names and credentials on the shelves or we will continue to lose our share of the market," Beyer says.

Publishing a book will establish you as an expert and lend more credibility to your name, she says—but that's not even the most valuable aspect of authorship. "My books create reciprocal revenue for nearly every other element of my business," Beyer says, explaining that she uses her book content for social media posts and vice versa. "I have created entire presentations based on my books and sold my books to the attendees after the presentations. The books I've written are without question the most effective marketing tools I have."
Becoming published and being seen as an expert on a particular topic also can lead to a wealth of other opportunities, according to Berger Mitchell. "It can lead to speaking engagements, media placement, and other consulting positions," she says.
If you're uncertain about what topics to pursue, Rebecca Bitzer, MS, RD, CEDRD, who just independently published the workbook Welcome to the REBELution: Seven Steps to Creating the Nutrition Counseling Practice of Your Dreams, recommends following your passion.
Then once you settle on a topic, do your research. "Find out what's hot and how your expertise ties into that," says Dudash, who notes the importance of having—and building—a platform. "Build your platform as much as possible as you work on your proposal and book. Your platform basically is the means by which you will sell your book—whether it's through your social media presence, blog, a show, column, or restaurant. "The bigger the platform, the better," she says.
No publisher? No problem, says Beyer, who says self-publishing is a great option for new writers as well as health writers who have trouble getting traction with large publishers, because self-published work can be more easily modified as new nutrition research becomes available.
For aspiring nutrition writers not ready to take the plunge into a book-length project, Purdy recommends reaching out to local or community papers, newsletters, and neighborhood blogs. "They're always looking for helpful information to publish," she says.
5. Present at Nutrition Conferences
Another credibility booster, Purdy says, is presenting at a professional conference. It's a great way to introduce yourself to your peers as an expert on any given niche. "This is a fantastic way for your fellow dietitians and health practitioners to view you as someone who has expertise on a topic and who was organized enough to take the time to develop a well-thought-out, well-documented, and dynamic presentation," she says.
Being a speaker at nutrition conferences also can help build your platform, adds Dudash, who says presenting can expand your audience and get you some new, great connections. "Meeting people face to face makes things memorable," she says.

Memorable is good—but only if you leave a positive lasting impression. To do that, keep references in your back pocket for the inquiring and critically thinking minds in your audience, Purdy says.
"Be prepared, do your research, anticipate what questions you might be asked, and practice in front of others before the presentation," says Linda Ulerich, RD, clinical transplant dietitian at Indiana University Health Methodist Hospital, who notes that presenting can be a great confidence builder.
Zogheib agrees that practice is the key to delivering a successful presentation, no matter the topic. "I usually ask a colleague of mine to look over my presentation," she says. "They always provide feedback I can use to make it better."
"Do not take on a topic you don't feel you can adequately prepare for if there isn't enough time or information for the topic," Ulerich adds. "And even if you give the same presentation to another group, make sure to update your information and reassess for any omissions you may have missed the first time."
No matter how nervous you may be or afraid your mind will go blank at the first glance of an audience, Dudash cautions against filling your PowerPoint slides with too much text. Practice extensively so you know your content inside and out, and then use slides just to keep you on track, she says. "Talk to your audience, not the laptop," Dudash adds.
6. Partner With Physicians to Increase Referrals
When doctors and other health care practitioners better understand how integral good nutrition—and RDNs—are to the health of their patients, they're much more likely to refer their patients to them, Purdy says. Make sure you're the person local physicians are referring patients to by reaching out to them.
According to Bitzer, physicians rarely will come looking for you, so dietitians must make contact with them if they want to make a connection. First, she recommends sending a report to every physician a client has seen (as long as you have on file documentation that patients have given you consent to communicate with their referring physician). "Make sure the report is clear, professional, and educational, and make sure that you communicate your value with the doctor," Bitzer says. "Let the doctor know your assessment, your intervention, and your plan for follow-up. This is the chance to show your value and the way you will help the doctor save time and provide the best possible service to their clients."
In addition, Bitzer recommends routinely mailing brochures and business cards to the physicians in your area, not only around the holidays but periodically, to keep your name on their tongue. "Set a goal of sending out five 'thank you' notes or flyers to physicians in your area each month," she says.
7. Focus on Your Brand
Who is your target market? What are your weaknesses, and how can you capitalize on your strengths? According to Berger Mitchell, these are all questions addressed in branding, and she says it's one of the most helpful things she's done recently. "If you take the time to work on branding you or your company, it will allow you to identify your target market and help you clarify your weaknesses, strengths, and goals," Berger Mitchell says, adding that targeting your market will then guide your marketing strategies.
To help identify your brand, Dudash suggests RDNs examine what they're about, what they stand for, and what makes them different from the competition. Once you know the "what," she says, you can then build your brand from there.
Nutrition professionals unaccustomed to thinking about themselves in this way may want to elicit the help of a branding expert, Berger Mitchell says.
"Once you've worked on branding and figured out your target market, don't let it scare you," Berger Mitchell says. "I was afraid that I was narrowing my patient base once I branded, but in reality, there's enough business to go around, and if you work with your targeted audience, you will be that much more passionate about what you do, and it will pay off in the long run."
8. Host a Webinar
Speaking of branding, Beyer says hosting a webinar is another way to get your brand in front of clients and patients and other nutrition experts. Beyer, who has hosted webinars on topics as varied as business and entrepreneurship to interstitial cystitis and chronic illness, says that the influence of the webinars spreads farther than the live event.
"Not only have many dietitians written books and helped interstitial cystitis patients based on the information I have taught them, but I receive referrals from attendees for clients who may not have heard my talks," Beyer says.
9. Join Professional Organizations
Whether it's local or state dietetic associations, the Academy of Nutrition and Dietetics, or other professional nutrition organizations, the contacts you acquire from membership can be priceless, according to Berger Mitchell.
"You will make invaluable contacts, meet people, and gain skills to help you along the way," she says. "My first book offer came from a colleague in the Nutrition Entrepreneurs practice group. She was approached and told the editors that my business partner and I were the go-to girls for expertise in private practice. I also became the media spokesperson for the DC Dietetic Association more than 20 years ago and gained invaluable media training and made contacts that help me to this day."
Moreover, look to volunteer in an area you're passionate about that's relevant to your business, Berger Mitchell adds, and don't overcommit yourself. "This is volunteer work, so make sure you still have time for the paid work. Don't commit unless you can do the job 100%."
10. Find (Then Become) a Mentor
Jenna A. Bell, PhD, RD, senior vice president and director of food and wellness at Pollock Communications in New York, says one of the best things any RDN can do to advance his or her career is to find a mentor.
"Look for someone that you admire and is doing what you think you'd like to do—and is excelling," Bell says. Once you find that person, don't ask for help, she says; ask them how you can help them.
"You will learn from their experience, make valuable contacts, and likely come out with a direction and opportunities of your own," says Bell, adding that becoming a mentor won't only pay it forward but may just help you in the long run as well.
"Remember what comes around, goes around," Bell says. "When I was a professor, I treated my students like peers. Why? Because in just a few short years, they will be. Or better yet, they may provide you with a career opportunity in the future."
Bell says it's not just about giving back to those under you, but helping those around you as well. "If someone needs a presentation that you already wrote, give it to them," she says. "We aren't competing with each other, so be helpful. Sure, you'll find that some colleagues take more than they give, but I've always let this go. I have never said no to connecting people or finding opportunities for others. It brings me joy, and I also find that it creates good RD karma."
Berger Mitchell agrees: "Share with others and be authentic. I'm a firm believer in giving back. I've spent my career mentoring others first by mentoring and coaching RDs starting or growing their private practices, which I still do, and now I'm mentoring students through Foodie On Campus. I promise, it comes back to you."
— Juliann Schaeffer is a freelance writer and editor based in Alburtis, Pennsylvania, and a frequent contributor to Today's Dietitian.