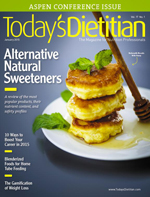 January 2015 Issue
Starving for Two
By Lindsey Getz
Today's Dietitian
Vol. 17 No. 1 P. 14
When women deprive their body of nutrients during pregnancy, they also put a second life at risk.
Leah had always pushed the limits when it came to her relationship with food. Although she'd never been diagnosed with an eating disorder, her extremely tight rein on the food she ate would have raised the eyebrows of a dietitian. But Leah was able to keep her eating behaviors under control—that is, until she became pregnant.

As soon as she started gaining weight, Leah's behaviors became much more extreme. She ate less and worked out more. And as time went on, although her obstetrician had some questions about why the baby was smaller than it should have been, she never asked Leah about how much she was eating.
Pregorexia
This scenario is more common than many realize. While the focus these days is on gaining too much weight during pregnancy, there are some women who don't gain enough. Of course, not everyone who struggles with weight gain during pregnancy has pregorexia, a term the media coined to define women who exhibit eating disorder behaviors during pregnancy to avoid gaining weight. But experts say that a small percentage of women are going to that extreme and putting themselves and their babies at risk. Though not an officially recognized term, pregorexia describes behavior involving extreme dieting, overly strenuous exercise, and sometimes binging and purging during pregnancy.
While most women don't go to such extremes, they still feel the pressure to be thin. And that certainly doesn't go away during pregnancy, says Bonnie Taub-Dix, MA, RDN, CDN, owner of BTD Nutrition Consultants, with offices on Long Island and in New York City. In fact, weight gain during pregnancy can be stressful.
"Getting on the scale and seeing numbers you've never seen before can be overwhelming for anyone—but particularly for those who watch their weight very closely," Taub-Dix says. "In my practice, I see a lot of young women who are already hung up on food issues. Those don't go away just because you're pregnant." 
The pressure on pregnant women can be intense, says Karen Beerbower, MS, RD, LDN, CEDRD, president of Nutritional Guidance and clinical director of Blue Horizon Eating Disorder Services in Winter Park, Florida. It's not uncommon for women to feel pressured to see how long they can go without having to buy maternity clothes. Not to mention the pressure from the world of celebrities, who often bounce back so quickly from pregnancy that it sets an impossible precedent. These are just some of the messages that put massive pressure on what you're "supposed" to look like during pregnancy, Beerbower says.
"These days they even call pregnancies a 'baby bump' as though you are only supposed to gain weight in your stomach where the baby is," Beerbower adds. "But weight in the hips and thighs as well as on other areas of the body is necessary to support carrying a child. Calling your pregnancy a 'bump' doesn't account for all that other weight that is—and should be—put on in a healthy pregnancy. These impossible ideals create a lot of pressure."
Noticing the Signs
Because there's no definition for pregorexia, women who may be considered pregorexic may fall into two main categories: those with a previous eating disorder that has carried into their pregnancy, and those who began exhibiting eating disorder behaviors after becoming pregnant. Like Leah, some may have previously walked a fine line and the sudden weight gain put them over the edge. What's scary about that is the fact that the warning signs may not be on anyone's radar.
Obstetrician/gynecologists (OB/GYNs) are on the frontlines of this issue as they're seeing the patient most often, Beerbower says. Unfortunately, OB/GYNs usually don't receive training in eating disorders so they often miss the signs.

"They aren't really looking or asking about eating disorders, and with the little time they often have to spend with patients, these issues often go unrecognized," Beerbower says.
"Medicine has really changed," says Sondra Kronberg, MS, RD, CEDRD, a spokesperson for the National Eating Disorders Association and the director of the Eating Disorder Treatment Collaborative and FEED programs of New York. "It went from spending a half hour or more with your family doctor to being rushed in and out in 15 minutes or less. Pregorexia is easy to hide in a quick visit with your doctor."
Secretive behavior is in fact a possible warning sign, Beerbower says. "There's a high level of shame associated with this, which is why the behavior is so secretive," she continues. "This can even make it difficult for family members to spot. If the individual appears to be eating during the day, a problem might not be evident. But clinicians need to ask the right questions and screen for this up front."
Someone struggling with pregorexia also may seem detached from their pregnancy—avoidant or even in denial about their developing baby, adds Crystal Karges, MS, RDN, IBCLC, of Eating Disorder Hope & Addiction Hope in Redmond, Oregon. "Other warning signs may include expressing the desire for weight loss during pregnancy, avoiding or restricting certain food groups or calories, skipping meals, eating alone, avoidance of social functions, increased isolation, and engaging in strenuous exercise regimes."
While staying physically active during pregnancy has great benefits to both mom and baby, cases of extreme exercise can be dangerous. After having been through a difficult case of pregorexia early in her career in which her client's baby was born with deformities, Kronberg really toughened up her stance on what she finds acceptable. She says some patients will compensate for feeding themselves with extreme exercise and obstetricians may be OK with that—possibly even encourage it—if they don't recognize the signs of a problem.
"In situations like that, you need to be very clear with the [obstetrician] about the patient's history," Kronberg says. "I will only work with patients where I have direct access to the physician and the spouse or partner. This has to be a collective effort to be successful."
According to Beerbower, poor nutritional intake during pregnancy can have dire consequences for the baby and mother, including low birth weight, anemia, ADHD, rickets, heart disease, poor growth and cognitive development, and an increased risk of miscarriage or preterm delivery.
Successful Treatment
It's important for dietitians to ensure their clients are meeting their nutrient needs for calories, as well as proteins, fats, carbohydrates, and micronutrients for proper fetal development and growth. The Academy of Nutrition and Dietetics' new guidelines for nutrition and lifestyle for a healthful pregnancy outcome, available at www.eatright.org/About/Content.aspx?id=8375&terms=pregnancy%20nutrition, may be a valuable resource.
Teamwork often is beneficial during any eating disorder treatment, but with pregnant patients it's critical to include the OB as well as the spouse or partner. In these cases, more than one life is at risk.
"Collaborative efforts among health professionals may be the most effective way for treating a patient with pregorexia," Karges says. "If an RDN recognizes symptoms in a patient, it's important to address these concerns with the patient, involve family members, and the patient's OB doctor. Comprehensive treatment also may involve a psychotherapist/counselor, a support group, and a psychiatrist. Given the complexity of eating disorders, particularly during pregnancy, it's crucial that the RDN coordinates treatment with other health care professionals to ensure the best outcomes for the woman and her developing baby."
RDNs also should keep in mind that pregorexia is a complicated issue that may require specialized skills. If you suspect a patient has this condition and you don't feel equipped to handle it, it's critical that you refer that patient to an eating disorder specialist, Taub-Dix says.
"This is a very serious issue with a little life at risk, and if you feel you're not successfully meeting your patient's needs you shouldn't be ashamed to refer that patient to someone who can," Taub-Dix says. "Just because we're professionals doesn't mean we're an expert in all fields. Dietitians need to be able to recognize if they're in over their head."
— Lindsey Getz is a freelance writer based in Royersford, Pennsylvania.
[Sidebar 1]
Guidelines to Consider
The Institute of Medicine (IOM) suggests the following pregnancy weight guidelines:
Prepregnant BMI                        Recommended Weight Gain               
Underweight                                28 to 40 lbs                   
Normal weight                            25 to 35 lbs
Overweight                                   15 to 25 lbs
Obese                                           11 to 20 lbs
The IOM states that in order to meet women's needs health care practitioners should record a woman's prepregnancy height and weight and a woman's weight gain throughout the pregnancy. Since many obstetrician/gynecologists don't spend much time doing this, it's an area where RDNs can help. With regard to physical activity, the American College of Sports Medicine recommends exercise intensity not exceed prepregnancy levels. Maintaining a workout regimen that was already in practice is the safest measure. In addition, the Academy of Nutrition and Dietetics suggests that women who aren't overweight or obese will need between 2,200 and 2,900 kcal/day and a recommended total beverage intake of 10 cups per day. These guidelines should help dietitians recognize if a client is off base.
— LG
[Sidebar 2]
Where Does the Weight Go?
Some RDNs have suggested that if clients understood how the weight gain is distributed during pregnancy they'd be less reluctant to gain the weight. The Mayo Clinic in Rochester, Minnesota, suggests the following breakdown for an average-size baby:
• Baby: 7 to 8 pounds (about 3 to 3.6 kilograms)
• Larger breasts: 2 pounds (about 1 kilogram)
• Larger uterus: 2 pounds (about 1 kilogram)
• Placenta: 11/2 pounds (about 0.7 kilogram)
• Amniotic fluid: 2 pounds (about 1 kilogram)
• Increased blood volume: 3 to 4 pounds (about 1.4 to 1.8 kilograms)
• Increased fluid volume: 3 to 4 pounds (about 1.4 to 1.8 kilograms)
• Fat stores: 6 to 8 pounds (about 2.7 to 3.6 kilograms)
— LG