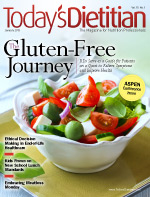 January 2013 Issue
Garlic — One of Nature's Brightest Bulbs
By Bryan Roof, RD, LDN
Today's Dietitian
Vol. 15 No. 1 P. 66
My mother used to tell me that the secret to her cooking was salt, pepper, and garlic—lots of garlic. She'd make potent Caesar dressings, bracingly sharp aiolis, and fragrant garlic-rubbed roast chicken. I loved her cooking because of it.
We never understood how people could dislike garlic. (Some people are just plain crazy, I suppose, with their fear of garlic breath.) She added garlic for flavor and flavor alone long before it was eaten for its health benefits. Garlic has been found to reduce cholesterol and blood pressure, improve circulation and immune function, and lower overall cancer risk. Not bad for something that tastes so good.
Garlic imparts its flavor based on how it's prepared before cooking. By crushing, mincing, or puréeing garlic, you release its essential oils, the bulk of its potency. You could stick a whole head of unpeeled garlic into a braise or stew and still not impart as much oomph as a few finely minced cloves.
When shopping for garlic, opt for fresh bulbs over the prepeeled or the prechopped stuff in a jar, which bears little resemblance to its fresh counterpart. Prepeeled garlic is inarguably convenient, but the blanching process that removes the skin also robs it of some of its flavor. Look for firm, fresh bulbs with taut papery skin. Once you get it home, store garlic in a cool, dark place, such as a kitchen cupboard.
While I'm a true garlic fan, I realize many people don't share the same affinity for its aggressively strong flavor. So for you, we'll turn to roasting. Roasted whole, the cloves develop a pleasant sweetness that even haters seem to fancy. You can use roasted garlic for any number of dishes, from bruschetta to salad dressing to pasta sauce. You'll still get all the health benefits and most of the flavor but less of the garlic breath—if you're at all concerned.
— Bryan Roof, RD, LDN, is a chef, dietitian, and food writer living in Boston. Follow him on Twitter at @bryanroof.
Quinoa Salad With Roasted Garlic
While this recipe gives directions for cooking 1 bulb of garlic, you can easily roast two or three at a time for later use. This salad is great garnished with feta cheese.
Serves 6 as a side dish
Ingredients
1 garlic bulb
1 cup water
3/4 cup quinoa
1/4 cup red wine vinegar
3 T fresh lemon juice
3 T extra-virgin olive oil
2 tsp Dijon mustard
1/2 tsp fine sea salt
3/4 tsp black pepper
1 red bell pepper, stemmed, seeded, and chopped
1 cup diced English cucumber
1 cup fresh cilantro leaves, coarsely chopped
2 scallions, sliced thin
1/4 cup sliced red onion
1/4 cup cashew pieces
Directions
1. Adjust the oven rack to the middle position and heat the oven to 350˚F. Cut off the top 1/4-inch stem of the garlic bulb and discard. Wrap the bulb in aluminum foil and roast until tender and fragrant, 1 to 11/4 hours. Let the foil-wrapped garlic sit at room temperature until cool enough to handle.
2. Meanwhile, bring water to a boil in a small saucepan over medium-high heat. Stir in the quinoa and return to a boil. Remove the pot from the heat, cover, and let sit undisturbed for 20 minutes. Fluff the quinoa with a fork and let cool to room temperature.
3. Whisk the vinegar, lemon juice, olive oil, mustard, salt, and pepper together in a large bowl. Add the quinoa, bell pepper, cucumber, cilantro, scallions, onion, and cashews. Squeeze the root end of the garlic bulb, forcing the roasted garlic out of the cut end and into the bowl. Toss the ingredients to combine. Season with salt and pepper to taste. Serve.
Nutrient Analysis per serving
Calories: 210; Total fat: 11 g; Sat fat: 1.5 g; Trans fat: 0 g; Cholesterol: 0 mg; Sodium: 240 mg; Total carbohydrate: 23 g; Dietary fiber: 3 g; Sugars: 4 g; Protein: 5 g