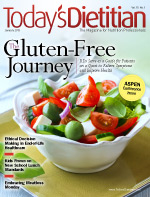 January 2013 Issue
Educating Young Palates
By Juliann Schaeffer
Today's Dietitian
Vol. 15 No. 1 P. 42
MindStream Academy is blending food, nutrition, and education to teach students how to live healthfully for the rest of their lives.
The number of children suffering from childhood obesity has more than tripled in the past 30 years, according to the Centers for Disease Control and Prevention, putting them at an increased risk for much more than teasing from schoolyard bullies. The US Department of Health and Human Services has reported that "being overweight during childhood and adolescence increases the risk of developing high cholesterol, hypertension, respiratory ailments, orthopedic problems, depression, and type 2 diabetes as a youth."
These conditions are a serious public health concern facing children today, but a new weight-loss academy based in Bluffton, South Carolina, is hoping to make a dent in these troubling statistics by looking at much more than just children's weight. The academy is attempting to forge an innovative partnership with a Missouri school district to expand its reach to more kids nationwide.
MindStream Academy: What It's About
MindStream Academy, a full-service boarding school, is in many ways like your typical high school, fully credentialed to offer academic coursework to students of all levels. Yet it's designed specifically for "kids whose health, future, and very lives are on the line due to obesity and its attendant physical and psychological burdens," says MindStream Academy Founder and CEO Ray Travaglione.
In addition to their regular coursework, MindStream students are taught the basics of nutrition, cooking, and fitness in an attempt to get to the root of their weight issues and address them for the long term. "Their instruction ranges from neurobiofeedback to gardening, psychological counseling to the care of horses, and from lengthy bike rides to the preparation of wholesome, gourmet meals," Travaglione explains.
He says the idea for MindStream Academy came from his work with children who are among the fittest for their age group: athletes. "My background is in passion-based learning for teens. Beginning with student athletes, I created programs that provided the opportunity to develop their skills and test them against their peers, founding both Hank Haney International Junior Golf Academy and the International Junior Golf Tour, where many of the young PGA and LPGA players have either attended or competed," he explains. "To accommodate our students' training schedule, I then created a school that views pursuing a passion as important as core academics: Heritage Academy."
As Travaglione became more aware of obesity's increasing stranglehold on today's youths, he decided he had to get involved. "Obesity in our youth has the potential to bring this country to its knees in a very short period of time, and I could not stand idly by and allow this to happen," he says. "I decided it was time to do something to turn the tide on this epidemic and founded MindStream Academy."
A Mind-Body Approach to Wellness
The biggest difference between MindStream and other weight-loss programs is its overall focus. While it's no secret that it addresses obesity, the school takes pride in its mind-body approach to health and wellness, impressing on children that life is about much more than what the scale dictates.
"MindStream Academy has created a school climate in which optimal health and wellness is equally as important as high academic standards. Ultimately what we offer is an education for lifelong vitality and vibrancy," Travaglione says, noting that in addition to a lower weight, students also are pursuing the far loftier goals of optimal wellness and their fullest life potential.
MindStream staff aim to help students achieve these goals with targeted fitness, nutrition, and culinary education as well as counseling. "We're not interested in quick fixes and don't focus solely on weight loss," Travaglione says. "Physical fitness and proper nutrition are part of what we do but not all we do. The weight loss and developing fitness habits is a product of self-confidence and self-management skills. We want our students to take the skills they've learned here and maintain their success for life, which is why our program is so experiential in nature."
What kinds of skills are these kids learning? Stress management, gardening prowess, and cooking basics to start. "Our boarding program for teens requires a semester minimum, as it takes about four months for behavioral changes to stick. In that time, our students learn to better manage stress; to be mindful; to garden; cook fresh, delicious foods; enjoy moving their bodies—perhaps for the first time—social and emotional well-being; and to appreciate the great outdoors—overall becoming more grounded to the earth," Travaglione says.
To address what's at the core of the teens' weight issues, MindStream staff use experiential therapies, such as equine-assisted psychotherapy and neurobiofeedback, which are designed to better reach children by offering counseling in a more fun, solution-focused, and nonthreatening way than traditional one-on-one therapy.
Even students' families get in on the action. "Our students' families participate in our program through weekly counseling sessions via Skype, nutrition education, and weekend workshops so the changes that are made at MindStream will continue at home," Travaglione says, adding that by supporting the whole child—and not just focusing on weight loss—he hopes to put students on a path of lifelong health and wellness.
Nutrition Nuts and Bolts
MindStream bases its nutrition program on what it calls the FLOW concept (Fresh, Local, Organic, Whole food style and nutrition program), which Travaglione says gives importance to the following principle: Meals prepared with seasonal, farm-fresh, local and regional wholesome ingredients taste better and, when eaten in appropriate quantities, will lead to optimum weight and wellness.
"Our nutrition program has been designed to rekindle our natural relationship with simple healthful eating and demonstrate the essential life skill of how to select and lightly prepare one's own food," he says.
The importance of the "farm-fresh, organic, and local" part of the program is demonstrated in MindStream's own Soul Garden, a 1-acre garden of herbs, fruits, and vegetables that students take care of. "They participate in all aspects of the garden's care, from planting the seeds to harvesting their crops and bringing them into the kitchen," Travaglione says, adding that many students love the experience so much that when they return home they start a garden of their own.
An RD/chef team, which works to bring MindStream's nutrition philosophy to life, develops all student meals. This year's offerings were expanded from a three-week to a six-week menu cycle to give students more options.
"The menus are based on a 1,500-kcal diet, which is broken down into three meals and two 100-kcal snacks," says Tina Steinberg, MEd, RD, LD, who's behind MindStream's nutrition curriculum. Steinberg and MindStream's chef work hard to make all choices healthful and kid friendly.
"The majority of foods served are made from scratch, including dressings and sauces; grains/breads are whole wheat; fruit is served with breakfast; and salads are served with lunch and dinner," she says. "Foods are minimally processed and contain very little sugar—under 6 g. Beverage choices are water and milk. The kids drink water all day long to stay hydrated."
Targeted Education
Not only are students served the healthiest and freshest foods available, they're also taught how to integrate various culinary skills, nutrition tips, and fitness into their day-to-day lives.
• Culinary skills: Students learn how to prepare the types of foods they eat at MindStream by participating in culinary demos that are conducted once or twice per week. The kids learn hands-on how to make their own meals and healthful desserts. "The demos have been a great hit with the kids," Steinberg says.
"The culinary education program begins from the ground up," Travaglione says, noting that at the academy students learn about food from its true beginnings: the earth. "Students have the opportunity to assist in gardening fresh plant foods grown on site, harvesting ingredients for the kitchen, and working hands-on side by side with our chefs."
Through this hands-on experience, MindStream aims to give students the tools they need to prepare simple, delicious, fresh, and healthful meals after their return home.
• Nutrition: According to Steinberg, students attend two-hour-long nutrition classes once per week, which always are taught by a registered and licensed dietitian. "The classes are lecture type but also include student participation, classroom discussion, and hands-on activities," she says. "While the classes follow a 16-week syllabus, they're also redesigned to incorporate popular topics, which the kids may discuss during class time."
In addition to nutrition basics, the classes hit on topics such as the importance of portion sizes, how to make good choices when eating out, healthful substitutes for recipes, and how to navigate the grocery store and decipher food labels—all intended to give students a well-rounded knowledge base of what it will take to continue their healthful habits at home.
• Fitness: Students are enrolled in a fitness program to get them moving—for life. Staffed by certified personal trainers as well as dance, martial arts, Zumba, and yoga instructors, the program is designed to get students to improve overall body movement and learn to enjoy it.
"To fuel their desire toward fitness, we've created a movement playground," Travaglione says. "It's this same belief that correct movement is the backbone of a lifelong commitment to fitness that has inspired us to focus on body weight-driven exercise. We believe so strongly in body weight movement that there are no traditional exercise machines at MindStream Academy."
According to Travaglione, MindStream students define their own fitness path, as all fitness regimens are individualized. "Our four-phase program is based on the values we gain from initial fitness evaluations," he explains. "Training is based off of one's own baseline, and a student's current fitness level helps determine his or her program, pace, and progression. As fitness level increases, so does the pace of the program and the difficulty of the activities."
The biggest difference between MindStream's approach compared with most weight-loss programs may not be in what they're doing but in what they're not doing, which is anything too extreme. "What makes our program so unique is that there's nothing extreme about what we're doing; we've just brought students back to the basics," Travaglione says. "They have put down their electronics, developed a relationship with themselves, their bodies, and the world around them, and as a result are achieving goals they never thought possible."
He explains that while under some weight-loss programs, such as those popular on TV, participants might endure severely restrictive diets of 600 kcal or fewer to achieve dramatic results. Travaglione says MindStream students achieve similar results but not in such an extreme atmosphere.
Still, while the scale tells a compelling story, Travaglione says perhaps the most significant change MindStream students undergo is related to their mental health, which can have a far more lasting effect: "They arrive feeling despondent, and they leave feeling like a new person. The changes that are made here aren't skin-deep. There are tremendous shifts in personal responsibility, self-esteem, healthful risk taking, and a sense of hope through accomplishing tremendous goals.
"When our students go home, they're maintaining their weight loss, and some have continued on their weight-loss journey," he adds. "Students report better grades, being more socially outgoing, and embrace their role as a healthful lifestyle ambassador."
Branching Out
While MindStream is satisfied with the success its students are achieving, it wants to effect change in more children's lives. It's hoping a new partnership with Independence School District will help it do just that.
"This semester we're piloting a direct relationship with a public school district," Travaglione says. "Essentially, MindStream is taking in a cohort of kids whose obesity/metabolic and psychosocial problems are too complex for a public school to handle. This potentially frees up resources in the public school district while MindStream helps these kids turn their health and lives around so they can return as 'ambassadors' of what they've learned and pay it forward."
The idea for the partnership came from the collaboration of Travaglione and two others: Jim Hinson, superintendent of the Independence School District, and noted prevention expert David L. Katz, MD, MPH, FACPM, FACP, director of the Yale University Prevention Research Center. "We saw this unique opportunity to partner and help obese kids in his district, and the rest as they say is history," Travaglione says.
Designed to provide the promise of a better quality of life and longevity for students in need, Travaglione hopes partnerships such as this one will eventually help "turn the tide on this epidemic and turn our country's future around.
"If these kids drop out, if they don't realize their fullest potential, if they remain in poor health, if they die before their life begins, we all lose," he adds. "The best economic stimulus we can do is get these kids healthy."
To ascertain which kids in the school district are best suited for the MindStream program, the staff looks at more than students' BMI. "The selection criteria is based on a variety of assessments performed by members of our counseling team, academic program, admissions officers, the students' guidance counselors, and other relevant advocates," Travaglione explains.
Under the current partnership, the school district can offset a portion of the cost of tuition ($28,500 per semester, and most students attend for one semester). "Primarily, this is done through the collection of average daily student attendance while they attend MindStream and reporting this to the State Department of Elementary and Secondary Education for state funding," Travaglione says. "Parents, corporate partners, private donors, and the School District Foundations all participate in contributing money that helps offset the cost of tuition."
"Rather than waiting on the world to change, MindStream gives these kids the world as it should be—a world that leads to health and away from bullying and ridicule," Katz says. "It's as much about community and solidarity as it is about fitness, nutrition, and academics. It is, in a word, extraordinary. The true beauty of this 'better world' is that it imparts a skill set the kids take back with them to the world as it is, making them far better able to deal with it.
"MindStream also gives the kids skills they can pay forward," he adds. "They can help others with what they learn there. MindStream isn't about giving kids a better BMI; it's about giving kids both the will and the way toward a better life."
And so far, results are promising. According to Travaglione, 13 Independence School District students attended MindStream during the first semester of its partnership. At press time, those students had collectively lost more than 500 lbs—and gained much more. "Their self-confidence is through the roof. They're performing better academically, loving the cooking demos, and are preparing to return home as a community resource and motivate other kids to get healthy and fit," he says.
This is great news for these teens but also good news for students struggling elsewhere across the country, as MindStream has more school district partnerships currently in the works.
"We're at various stages of replicating this partnership in South Carolina, Florida, Mississippi, Ohio, New York, and Kentucky," Travaglione says, "and we plan to do so in every state and school district in the country."
— Juliann Schaeffer is a freelance writer and editor based in Allentown, Pennsylvania, and a frequent contributor to Today's Dietitian.