E-News Exclusive
Brussels Sprouts
Packed With Nutrition and Flavor
By Jessica Ivey, RDN, LDN
Brussels sprouts tend to evoke a strong response—people either love them or hate them. A member of the Brassicasaeae family, this cruciferous vegetable looks like a mini cabbage and is, in fact, a cabbage variety with hypertrophied, budding stems. Brussels sprouts have been grown since around the 17th century and have a robust nutrient profile and a broad spectrum of culinary uses.1
Nutrient Composition
Rich in nutrients and low in calories, each half-cup serving of cooked Brussels sprouts has just 36 kcal and provides 2.6 g fiber. They're especially high in vitamins K and C, providing 116% and 68%, respectively, of the recommended dietary intake per serving. In smaller amounts, each serving of Brussels sprouts provides potassium, iron, vitamin B6, thiamin, riboflavin, magnesium, and phosphorus.2
In addition, Brussels sprouts are rich in phytonutrients, including the carotenoids, beta-carotene, lutein, and zeaxanthin. The carotenoids act as antioxidants and have beneficial effects on eye health and vision as well as cognitive function.3 Indoles and glucosinolates found in Brussels sprouts help to protect against certain types of cancers.4 It's the breakdown of sulfur-containing glucosinolates that gives Brussels sprouts and other cruciferous vegetables their distinctive odor and somewhat bitter flavor.5
Brussels sprouts also have a role to play in maternal and infant nutrition. One serving provides 60 mcg dietary folate equivalents, which is 10% of the Recommended Dietary Allowance for pregnant women, and 40 mg choline, which is 9% of the Adequate Intake for pregnant women. Folate can help reduce the risk of neural tube defects in infants, and choline is a critical nutrient for cognitive development and health.6,7
Flavor Compounds
So what causes Brussels sprouts to have that pungent smell? Whole fresh Brussels sprouts have hardly any odor, but chop, cook, or chew them and you'll catch a whiff of their sulfurous scent. In fact, Brussels sprouts have larger amounts of glucosinolates, which are sulfur pungency precursors, than green cabbage and broccoli. Chopping or cooking releases odor and flavor compounds from the glucosinolates, some of which are bitter themselves, and initiates enzymatic activity that converts glucosinolates to thiocyanates, some of which are also bitter. So whether cooked quickly to reduce the production of thiocyanates or cooked slowly to convert more of the bitter precursors to their end product, the resulting sprouts will have some bitterness.5
Cooking Methods
To minimize the bitterness of Brussels sprouts, cut the sprouts in half and cook them in a large pot of boiling water. The flavor compounds are most concentrated in the center and cutting sprouts in half enables the compounds to leach out into the water.
Roasting results in a sweeter, nuttier flavor thanks to the Maillard reaction, a chemical interaction between amino acids and sugars that results in browning and caramelization.5 The contrast in texture that results from roasting at a high temperature is particularly enticing. Toss halved Brussels sprouts with olive oil, salt, and pepper, and use a large pan, giving the sprouts plenty of room. If you crowd the pan, the Brussels sprouts will steam rather than roast and you'll miss out on the browned, crispy exterior that makes roasted vegetables so appealing.
Brussels sprouts also can be shredded and used raw as the base for a salad or slaw, blanched and served chilled with a vinaigrette or dip, or halved and sautéed in bacon drippings or olive oil.
Incorporating Brussels Sprouts Into a Plant-Based Diet
Roasted Brussels sprouts pair well with other hearty vegetables, such as sweet potatoes and onion wedges, for a sheet pan dinner. Top with eggs during the last few minutes of cooking for a boost of protein or serve the roasted vegetables in a bowl with sautéed chickpeas, cooked quinoa, and a vinaigrette dressing. Shaved Brussels sprouts can serve as the base for a main dish salad with edamame, dried cranberries, chopped nuts, and balsamic vinaigrette. You also can combine stir-fried Brussels sprouts and tofu for an Asian-inspired meal. See below for a roasted Brussels sprouts recipe.
— Jessica Ivey, RDN, LDN, is a dietitian and chef with a passion for teaching people to eat healthfully for a happy and delicious life. Ivey offers approachable healthful living tips, from fast recipes to meal prep guides, and ways to enjoy exercise on her website, JessicaIveyRDN.com.
References
1. Toussaint-Samat M. A History of Food. New York, NY: Barnes & Noble Books; 1998:622,625.
2. FoodData Central. US Department of Agriculture, Agricultural Research Service website. https://fdc.nal.usda.gov/. Updated 2019. Accessed September 19, 2019.
3. Eggersdorfer M, Wyss A. Carotenoids in human nutrition and health. Arch Biochem Biophys. 2018;652:18-26.
4. Phytochemicals: the cancer fighters in your foods. American Institute for Cancer Research website. https://www.aicr.org/reduce-your-cancer-risk/diet/elements_phytochemicals.html. Accessed September 19, 2019.
5. McGee H. On Food and Cooking: The Science and Lore of the Kitchen. New York, NY: Scribner; 2004:320-324,778.
6. Folate: fact sheet for consumers. National Institutes of Health website. https://ods.od.nih.gov/pdf/factsheets/Folate-Consumer.pdf. Updated December 7, 2018. Accessed September 20, 2019.
7. Choline: fact sheet for health professionals. National Institutes of Health, Office of Dietary Supplements website. https://ods.od.nih.gov/factsheets/Choline-HealthProfessional/. Updated July 9, 2019. Accessed September 20, 2019.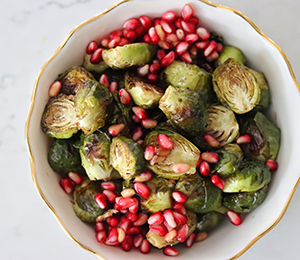 Ingredients
1 lb Brussels sprouts, trimmed and halved
2 T olive oil, divided
1/2 tsp salt
1/4 tsp pepper
2 T balsamic vinegar
1 T honey
1/4 cup pomegranate seeds
Directions
1. Preheat oven to 425° F. Line a large rimmed baking sheet with foil.
2. Toss Brussels sprouts with 1 T olive oil, salt, and pepper in a large bowl. Spread into a single layer on prepared baking sheet.
3. Bake for 20 to 25 minutes or until Brussels sprouts are tender and browned.
4. Toss warm Brussels sprouts with remaining 1 T olive oil, vinegar, and honey in a serving bowl, and sprinkle with pomegranate seeds. Serve immediately.
Nutrient Analysis per serving
Calories: 140; Total fat: 7 g; Sat fat: 1 g; Sodium: 320 mg; Total carbohydrate: 18 g; Dietary fiber: 4 g; Sugars: 9 g; Protein: 4 g 
— Source: Jessica Ivey, RDN, LD, www.jessicaiveyrdn.com