E-News Exclusive
Meat-Free Meat Snacks On the Go
By Hadley Turner
We're not jerkin' you around—vegan meat snacks are growing in popularity and variety.
As a veteran vegan, this I can say with confidence: Most vegans and vegetarians don't miss beef jerky. We don't stand in line to check out at the dollar store and sigh wistfully at the strips of oversalted, barely recognizable meat. We don't long for the days when we could sink (or is it grind?) our teeth into a stick of "pepperoni" alongside a stick of yellow cheese.
But then came the meat snack revolution. As Today's Dietitian reported in November 2016, meat snacks are back as consumers seek high-protein, portable pickings. It's predicted that US meat snack sales will reach $1.2 billion by 2018.1
That doesn't mean vegans will be snappin' into a Slim Jim, though. They don't have to. The plant-based jerky market, while still a small subcategory of meat alternatives, is growing at seven times the rate of the traditional meat snacks category.2 "For those who don't eat meat, the protein snack options are growing," says Matt Ruscigno, MPH, RD, past chair of the Vegetarian Nutrition Dietetic Practice Group of the Academy of Nutrition and Dietetics and coauthor of No Meat Athlete: Run on Plants and Discover Your Fittest, Fastest, Happiest Self.
Meat-Free Fuel
Protein-packed snacks in general have been on consumers' radars in the past several years. Nielsen data from 2014 show that 31% of consumers are seeking snacks higher in protein.3 High protein isn't just an arbitrary trend, either. Research has shown beneficial effects of protein on satiety and weight management.4 Portability also is a major benefit of plant-based meat snacks. A 2015 survey by Mintel showed that 77% of consumers prefer prepackaged, ready-to-go snacks.5 Where meat snacks meet these desires for omnivores, vegan jerkies fill the plant-based gap in this category.
The rise in plant-based meat snacks is good news for vegan and vegetarian athletes as well, as they may not always want to consume sweet protein bars such as Clif and Luna bars during workouts. "It's important to vary what one consumes while exercising, and, maybe more importantly, it's easy to get tired of eating sweet foods," Ruscigno says. "I've worked with many endurance athletes who simply stop eating because they can't stomach any more sweet snacks," he continues. "So savory becomes very important." Easy to throw into a bag to take to a workout or on an outdoor excursion, vegan meat snacks may be a good savory solution. Keep reading for some of the popular options that have hit store shelves virtually and tangibly.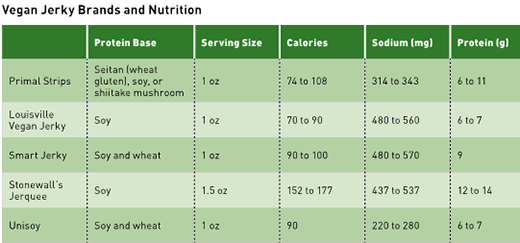 — Source: Company Websites
Primal Strips
Founded in 2001, Primal Spirit Foods, maker of Primal Strips vegan jerky, has been around longer than most other brands in the category. Three varieties of the strips (Teriyaki, Thai Peanut, and Mesquite Lime) are made from seitan, or wheat gluten, a high-protein meat alternative; two (Texas BBQ and Hickory Smoked) are made from soy protein; and one (Hot & Spicy) is made from shiitake mushrooms and soy protein.
All varieties have 10 or 11 g protein per 1-oz strip, except for the mushroom-based Hot & Spicy, which contains 6 g. Their sodium content is less than other soy- and wheat-based jerkies (13% to 16% DV), and each serving contains 74 to 108 kcal. Hickory Smoked also is a good source of iron.
Louisville Vegan Jerky
"Keep It Fake" is Louisville Vegan Jerky's mantra, but the brand does so in a very real way. Since its founding in 2012, the company has stuck to seasoning and bagging its soy-based jerky, which is made in small batches using non-GMO soy and local maple syrup and sorghum, by hand. Uniquely, Louisville Jerky offers a Jerky of the Month Club that includes three bags of jerky per month.
The jerky is available in five varieties: Pete's Bourbon Smoked Black Pepper, Todd's Bourbon Smoked Chipotle, Enid's Sriracha Maple, Carrie's Sesame Teriyaki, and Paulette's Maple Bacon. Each 1-oz serving contains 6 or 7 g protein and 70 to 90 kcal. This jerky is a bit higher in sodium, with 480 to 560 mg (20% to 23% DV) per serving. All varieties are a good source of iron.
Smart Jerky
Lightlife has been a significant player in the faux meat market since 1979 with products such as Fakin' Bacon, Tofu Pups, Smart Dogs (one of my favorite childhood treats—they're that old!), Meatless Bowls, and Gimme Lean Sausage. It expanded to release its soy- and wheat-based Vegan Smart Jerky in September of last year.
Smart Jerky comes in Original and Teriyaki varieties. Original contains 90 kcal, 480 mg sodium, and 9 g protein, while Teriyaki contains 100 kcal, 570 mg sodium, and 9 g protein per 1-oz serving.
Stonewall's Jerquee
Soy-based Stonewall's Jerquee is available online in nine unique varieties: Original Mild, BBQ "Beef," Teriyaki "Beef," Tandoori "Chicken," Country "Bacon," Original Wild, Spicy "Chicken," Peppy "Pepperoni," and Hot "Pastrami." (Note: BBQ "Beef" is not vegan.)
The jerkies contain 152 to 177 kcal, 437 to 537 mg sodium, and 12 to 14 g protein per 1.5-oz serving. They also stand out at 3 to 4 g fiber, 27% DV iron, and 16% DV calcium per serving.
Unisoy Vegan Jerky
Based in Los Angeles, Unisoy offers three varieties of vegan jerky: Cracked Black Pepper, Mild Spicy, and Teriyaki. The jerky is made from non-GMO textured vegetable protein, which has a soy and wheat base.
Unisoy's jerky is the lowest in sodium of the brands in this article, with 220 to 280 mg per 1-oz serving (9% to 11% DV). Each serving also contains 90 kcal and 6 or 7 g protein.
Many in the vegan and vegetarian community will be happy sticking solely with protein sources such as pulses, tofu, and nuts and seeds. But for those of us who crave a convenient source of grab 'n' go protein every once in a while, or who are simply looking for a savory snack with a bit more nutrition, vegan meat snacks may be the answer. There certainly are many to choose from!
— Hadley Turner is an editorial assistant for Today's Dietitian who's excited to take some new vegan jerkies on her next hiking trip.

References
1. Crawford E. Soup-To-Nuts Podcast: the rise and evolution of meat snacks in America. Foodnavigator-USA.com website. http://www.foodnavigator-usa.com/Suppliers2/
Soup-To-Nuts-Podcast-The-rise-and-evolution-of-meat-snacks-in-America. Updated October 24, 2016. Accessed May 26, 2017.
2. Watrous M. Expo East 2016: plant-based a powerful force in the food industry. Food Business News website. http://www.foodbusinessnews.net/articles/news_home/Consumer_Trends/2016/09/
Expo_East_2016_Plant-based_a_p.aspx?ID=%7BD9098A27-0B58-4122-BAE2-5BC1AAFBFD98%7D&cck=1. Published September 27, 2016. Accessed May 31, 2017.
3. Neilsen. Snack attack: what consumers are reaching for around the world. http://www.nielsen.com/content/dam/nielsenglobal/kr/docs/global-report/2014/Nielsen%20Global%20Snacking%20Report%20September%202014.pdf. Published September 2014. Accessed June 1, 2017.
4. Paddon-Jones D, Westman E, Mattes RD, Wolfe RR, Astrup A, Westerterp-Plantenga M. Protein, weight management, and satiety. Am J Clin Nutr. 2008;87(5):1558S-1561S.
5. A snacking nation: 94% of Americans snack daily. Mintel website. http://www.mintel.com/press-centre/food-and-drink/a-snacking-nation-94-of-americans-snack-daily. Published July 9, 2015.