E-News Exclusive
Careful Planning for Kid-Friendly Gluten-Free Snacks Is Key
By Marlisa Brown, MS, RDN, CDE, CDN
Dietitians know that on any given day kids love to snack. And when school is out for the summer the demand for snacks can grow even more.
Of course, the key to healthful snacking is for clients to plan ahead, especially if their children have celiac disease or nonceliac gluten sensitivity and must follow a gluten-free diet. Clients will need to prepare healthful snacks their kids (and their friends) will enjoy and avoid making them feel any differently than their peers who don't need to eat gluten-free foods.
Therefore, the goal for RDs is to provide clients with easy-to-make snacks that are healthful, gluten-free, and yummy—a challenge but one that's definitely possible.
For starters, parents will need to work on clean surfaces and take additional steps to prevent cross contamination if they're making snacks containing gluten for others. For example, parents must make sure that none of the ingredients needed for recipes have been contaminated with gluten, such as previously used butter, mayonnaise, peanut butter, or jam, and that all ingredients are, in fact, gluten-free.
Dietitians can provide clients gluten-free snack and recipe ideas that kids will love, including the following:
• popcorn;
• corn chips or nachos with salsa;
• gluten-free pretzels;
• a cup of gluten-free whole grain cereal with low-fat milk;
• gluten-free flavored milk or almond milk;
• cottage cheese and fruit;
• berries or fruit with whipped cream;
• gluten-free oatmeal;
• 1/2 cup bean salad;
• baked potato chips (ingredient labels for flavored chips must be checked for gluten);
• gluten-free flavored mini rice cakes;
• gluten-free large rice cakes with peanut butter;
• veggie sticks with light gluten-free salad dressing;
• gluten-free ice pops or ice cream;
• hummus with veggies on gluten-free quinoa or rice crackers;
• one-half of a gluten-free sandwich;
• a low-fat cheese stick;
• gluten-free cookies and milk;
• gluten-free cake, muffins, or cheese cake;
• fruit or a fruit cup;
• low-fat pudding; and
• yogurt.
— Marlisa Brown, MS, RD, CDE, CDN, is an award-winning dietitian, chef, and public speaker. She's president of Total Wellness, a private nutrition consulting company specializing in diabetes, CVD, gastrointestinal disorders, gluten-free diets, culinary programs, corporate wellness, and medical nutrition therapies, in Bayshore, New York, and is author of Gluten-Free, Hassle Free and Easy Gluten-Free. Brown blogs at http://marlisaspeaks.com/marlisas-blog and www.GlutenFreeEZ.com.
Crispy Gluten-Free Zucchini Sticks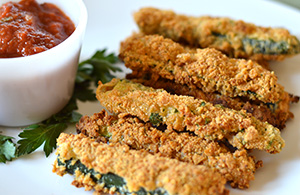 Serves 4
Ingredients
Gluten-free cooking spray or 1 tsp olive oil
1/4 cup tapioca flour
1/2 tsp sea salt
1/4 tsp black pepper
1 egg
1 egg white
1/2 cup gluten-free cornflakes, finely ground
1 tsp onion powder
1 tsp garlic powder
2 T grated Parmesan cheese
1 T chopped fresh parsley
2 medium zucchini, unpeeled
Directions
1. Heat oven to 425° F. Spray baking sheet with cooking spray.
2. Mix tapioca flour, salt, and pepper in a sealable bag.
3. Beat egg and egg white with fork in a shallow dish.
4. Mix cornflake crumbs, onion powder, garlic powder, Parmesan cheese, and parsley in another shallow dish.
5. Cut zucchini into 3-in sticks.
6. Place zucchini in bag with flour a few pieces at a time and shake to coat. Remove from flour and place in egg mixture, then roll in crumbs. Place on prepared baking sheet. Repeat with remaining zucchini.
7. Bake in oven for 20 minutes until browned and crispy. Serve with marinara sauce.
Nutrient Analysis per serving
Calories: 80; Total fat: 2 g; Total carbohydrate: 11 g; Sodium: 367 mg; Dietary fiber: <1 g; Protein: 4 g
Tips: Reheat leftovers for 5 to 10 minutes in a 400° F oven. Check label on gluten-free cornflakes for nuts. To make dairy-free, omit the Parmesan cheese. To make soy-free, check label on cornflakes for soy, and use soy-free cooking spray or olive oil. To make egg-free, use 1/3 cup egg substitute in place of the egg and egg white.
---
Peanut Butter Truffles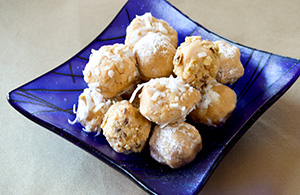 Serves 24
Ingredients
1/2 cup creamy peanut butter
1/2 cup unsalted butter
1 tsp vanilla extract
2 cups confectioner's sugar
1/2 cup gluten-free granola, crushed
1/2 cup toasted gluten-free sweetened coconut
Directions
1. Melt peanut butter and butter in a medium-size bowl in the microwave, about 1 minute.
2. Stir in vanilla and sugar.
3. Form into 24 1-inch balls. Roll half of the truffles in granola the other half in coconut.
4. Place on a cookie sheet lined with parchment paper and refrigerate for at a least 1 hour.
Nutrient Analysis per serving
Calories: 123; Total fat: 7 g; Total carbohydrate: 13 g; Sodium: 32 mg; Dietary fiber: <1 g; Protein: 2 g
Tips: You can use almond butter and almond extract or cashew butter instead of peanut butter. And you can use any topping you desire in which to roll to the truffles such as powdered sugar, or leave them plain.
---
Gluten-Free Cannoli Cones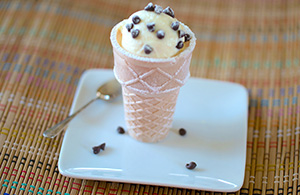 Serves 12
Ingredients
1 lb whole milk ricotta cheese
1 cup powdered sugar
1 tsp pure vanilla extract
3 T mini semi-sweet chocolate chips
12 small gluten-free ice cream cones
Directions
1. Blend ricotta, powdered sugar, vanilla extract, and mini chocolate chips.
2. Use an ice cream scoop to fill cones and serve.
Nutrient Analysis per serving
Calories: 124; Total carbohydrate: 13 g; Total fat: 6 g; Sodium: 36 mg; Dietary fiber: <1 g; Protein: 4 g
Tip: For chocolate filling, add cocoa powder to taste.
— Source: Recipes were adapted from The Gluten-Free Hassle-Free Cookbook by Marlisa Brown, MS, RDN, CDE, CDN.