Physical Fitness During the Coronavirus Pandemic



At the time of this writing (April 13, 2020), in the United States, there were more than 500,000 confirmed cases of coronavirus (COVID-19) and over 20,000 reported deaths. Globally, there were approximately 1.8 million cases and 112,000 reported deaths.

This pandemic has been nothing short of shocking, frightening, overwhelming, and downright heartbreaking. It's an extreme understatement to say that COVID-19 has taken a huge debilitating toll on individuals' and families' lives; small, medium, and large businesses and their employees; medical personnel who continue to put their lives on the line to perform diagnostic testing, care for sick patients, and pronounce the deaths of tens of thousands; and of course the dietitians who are risking their lives every day in hospitals, long term care facilities, foodservice institutions, and private practice.

Many people who are sheltering in place and have the privilege of working from home are wondering what they can do to remain physically active if they've been accustomed to working out in a gym or exercising with friends. In this month's E-News Exclusive, Today's Dietitian (TD) speaks with fitness experts about what clients and patients can do to remain physically fit while hunkering down at home.

After reading the article, visit TD's website at www.TodaysDietitian.com to read the digital edition of the April issue, which includes articles on omega-3s for sports performance, malnutrition in hospitalized older adults, soyfoods and thyroid health, food insecurity on college campuses, and eating to heal a leaky gut.

Don't forget to check out RDLounge.com where you can read and comment on blogs written by RDs for RDs. We're welcoming new guest bloggers, so if you're interested in writing, please contact me at the e-mail listed below.

Please enjoy the E-Newsletter and give us your feedback at TDeditor@gvpub.com, and don't forget to like us on Facebook and follow us on Twitter.

— Judith Riddle, editor



Counseling Clients About Physical Activity During COVID-19


By Jenna A. Bell, PhD, RD

There's no shortage of questions about health and wellness from clients, family members, and friends during this complicated and extraordinary time of the coronavirus (COVID-19) pandemic.

Among the many questions are inquiries about physical activity: Is it safe? What should I do? How do I stay motivated? Are there any resources I can tap into?

Many of your clients who are sheltering in place may need some tips on how to stay healthy and physically active at home. Resources are available to the fitness industry such as the American College of Sports Medicine's (ACSM) webpage "Personal Trainers, Fitness Professionals and the Coronavirus (COVID-19)," an online treasure trove of information geared to helping sports medicine and fitness professionals and their clients stay safe.

In addition to ACSM's resource, your colleagues' creative input also is helpful to add ideas to your toolbox. Today's Dietitian (TD) sits down with a panel of fitness industry experts to get their perspective on how individuals can remain as healthy as possible during this difficult time.

Full story »






New Self-Study Courses Available!

Dietary Supplements and the Kidneys

This continuing education course examines current research on dietary supplements and their role in kidney health or toxicity, and provides recommendations RDs can use when counseling their clients on safe dietary supplement use.

Offal — Health Benefits of Organ Meat

This continuing education course examines current offal usage in the United States and internationally and examines benefits of, considerations for, and barriers to use in the US food market. It also offers recommendations for how RDs can apply this information to public health and private nutrition settings.




Upcoming Live Webinars



The French Paradox: New Research on Wine, Alcohol, and Heart Health
Join Ginger Hultin, MS, RDN, CSO, for an engaging webinar presentation on Thursday, April 30, 2020, from 2–3 PM EDT, as she helps fellow dietitians wade through the oceans of research since this discovery. This webinar is about more than just alcohol. Ginger will help RDs better understand the relationship between wine and health; she will review current guidelines and research on saturated fat consumption; and she'll dive into recent research on cardiovascular disease around the world. This is a complex topic delivered in an entertaining way so participants walk away with concrete advice on the subject and are prepared to discuss it with their clients, patients, the media, and peers in the industry. Register Now »

CBD and Cannabis Use at the End of Life: Evolution and Evidence
Join Janice Newell Bissex, MS, RD, FAND, on Wednesday, June 3, 2020, from 2–3:30 PM EDT, for a webinar that will provide a historical perspective on cannabis use and an overview of the endocannabinoid system. She will discuss the conditions cannabis/CBD may be helpful for, as well as proper administration methods and dosing. Janice will dive into the evidence-based research, pros and cons of cannabis/CBD, and its appropriate medical use, with particular focus on the use of cannabis/CBD in end-of-life situations. Register Now »

Dietary Supplement Use in Older Adults: Help, Hype, or Hope?
On Wednesday, June 10, 2020, from 2–3 PM EDT, Christine Rosenbloom, PhD, RDN, LD, FAND, will deliver a webinar focusing on dietary supplement use in older adults. Rosenbloom will discuss research that supports (or refutes) supplements' claims and the potential interactions with prescription and over-the-counter medicines taken concurrently with supplements. She will also cover supplement forms, dosage, and deliver a risk/benefit evaluation that will arm dietetics professionals with pertinent information on the most popular supplements, including multivitamins, vitamin D, magnesium, fish oil, turmeric, CoQ10, and probiotics. Register Now »

Food and Fitness After Cancer
Join Shayna Komar, RD, LD, and Joel Hardwick, ACSM/EP-CET, EIM2, on Thursday, June 25, 2020, from 2–3 PM EDT, for a webinar that will address how food and fitness impact the cancer survivor. Shayna and Joel will discuss how to create a healthy plan post treatment and educate dietitians on how to team up with their local exercise experts to help patients manage post treatment side effects. Register Now »



Complimentary Recorded Webinars

Alphabet Soup: The ABCs of Omega-3s

Join

Elana Natker, MS, RD,

as she presents the latest research on omega-3s; a review of the science of omega-3s, including which are considered essential and why; and learn why it's important to stress sources of EPA and DHA omega-3s to your clients. Elana also discusses how vegetarians and vegans can still get EPA and DHA omega-3s without relying on ALA-based sources.

Sponsored by AlwaysOmega3s.com. Register Now

»

News in Nutrition Therapy for Prediabetes and Type 2 Diabetes: Getting From Didactic to Pragmatic

In part one of this two-part webinar series, join

Hope Warshaw, MMSc, RD, CDE, BC-ADM,

 to examine how much and what types of carbohydrates, proteins, and fats to recommend, and optimal eating patterns. The webinar delineates the common denominators of the American Diabetes Association's nutrition guidance, and reviews case studies that highlight common clinical challenges and client scenarios to offer clinical considerations and counseling tips.

Sponsored by Love One Today®. Register Now

»

Helping Clients Make Lifestyle Changes That Get and Keep Pounds Off — What Works?

In part two of this two-part complimentary webinar series,

Hope Warshaw, MMSc, RD, CDE, BC-ADM,

 reviews evidence from recent and long-term studies that demonstrates the value of weight loss and long-term maintenance. Hope shares the cadre of successful strategies for weight maintenance accumulated from research studies and other expertise. She will also share insights gleaned from a panel discussion at the 

Today's Dietitian

 2019 Spring Symposium with several health care providers and their clients who have successfully kept lost pounds off.

Sponsored by Love One Today®. Register Now

»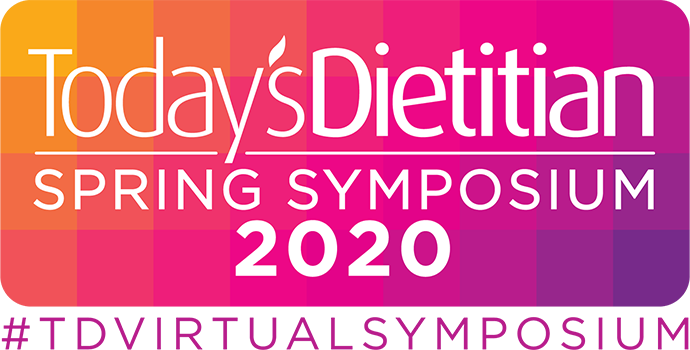 Today's Dietitian Spring Symposium — May 17–20, 2020

There's still time to register for this year's Today's Dietitian Spring Symposium. We are very excited because our new virtual format gives you the opportunity to earn up to 24 CEUs, and you will have 1 full year of access to the content in order to complete and claim your credits!

Our expert presenters are ready to provide a continuing education program like no other. They will equip you with the tools and knowledge you need to provide exceptional dietetics counsel to your clients, as well as supply you with tips to grow your professional career and practice.




From messenger bags and tote bags to apparel and journals, the Today's Dietitian gift shop has the perfect gift for long-time professionals, recent grads, or even the RD-to-be. Check out our secure online shop today or call toll-free 877-809-1659 for easy and fast ordering.


Have a dietetics-related question that you'd like our expert Toby Amidor, MS, RD, CDN, FAND, to answer? Email TDeditor@gvpub.com or send a tweet to @tobyamidor, and we may feature your query!


Study Links Obesity With Pancreatitis



A study by researchers at Mayo Clinic in Arizona published in the Journal of Clinical Investigation has found that obesity is implicated not only in chronic diseases such as diabetes but also in sudden-onset diseases such as pancreatitis.

"In our study, we were able to demonstrate that fat within the belly is rapidly degraded during acute pancreatitis, but not during diverticulitis, despite inflammation," says Vijay Singh, MBBS, a Mayo Clinic gastroenterologist.

Singh says while both diseases present with sudden belly pain and account for about 300,000 cases annually in the United States, the rapid fat degradation that occurs in pancreatitis is triggered by a pancreatic enzyme called PNLIP. This enzyme can form fatty acids that cause vital body systems such as circulation, kidney, and lung functions to fail. Singh says this multisystem failure is much more common in acute pancreatitis than in diverticulitis.

Read more »


Make Meal Prep Work


Joanna Foley, RD, CLT

If you've been a dietitian for any length of time, you're familiar with the concept of meal preparation. With so many clients looking to get healthful meals on the table quickly and easily, it can seem as though meal prep and being a dietitian go hand in hand.

This is true now more than ever. In the midst of the COVID-19 pandemic, most clients want to go to the grocery store as little as possible, yet they're cooking at home most of the time. And though events and gatherings are canceled, parents and caregivers with school-aged children are overwhelmed with work, childcare, and/or home-schooling for the first time. In light of this, clients may perceive meal prep as another chore to add to their to-do list, as they're already overwhelmed with running their households.

Read more »


COVID-19 Puts Pressure on Food Banks Nationwide


With more people in need of food assistance and supermarkets and farms having less surplus to donate, food banks and pantries are struggling to obtain and distribute adequate resources, NBC News reports.



Food Allergy–Friendly Foods Harder to Find


With more empty shelves in grocery stores amid the COVID-19 crisis, availability of foods free from common allergens is lower, too, making it a struggle for some families to build nutritious, balanced meals, according to The New York Times.


In the May Issue



Skeptics of the Med Diet

Probiotics in Diarrhea Treatment

Insulin Delivery Devices in 2020 and Beyond

The Ultimate Guide to Pulse Flours

Seals & Certifications


Vetted Personal Trainers and Yoga Instructors


The Kanthaka app, available for Apple and Android, connects certified personal trainers and yoga instructors with private clients. Users set their location, date, and time and are matched with a trainer, with details about sessions recorded in the app. The app also now offers virtual training sessions with personal trainers and yoga instructors. All payment takes place through the app, and Kanthaka uses only certified, insured, and background-checked instructors. Learn more »



Organic Produce Subscription Boxes


Farmbox Direct is a subscription-based produce delivery service offering seasonal fruits, vegetables, and herbs. Users can choose between organic and conventional produce and small, medium, or large boxes to be delivered each week and can skip any delivery, all through the service's app. The company published recipes on their website using seasonal produce that may be found in that week's boxes. Farmbox Direct also offers Juicing Boxes featuring green, orange, or red produce. Learn more »




A Secure, Anonymous Résumé Bank
Job Alerts Sent to Your E-mail


Have a product or service you want to market to dietitians and nutrition professionals or an open position that you need to fill quickly? Today's Dietitian offers many flexible advertising programs designed to maximize your results. From print advertising to E-Newsletter sponsorships, website advertising to direct mail opportunities, Today's Dietitian helps achieve your goals. Email our experienced account executives today for more information or call 800-278-4400!

Coming up in our July issue is our Summer Showcase. Email a sales representative to be part of this unique advertising opportunity.

AlliedHealthCareers.com is the premier online resource to recruit nutrition professionals. Post your open positions, view résumés, and showcase your facility's offerings all at AlliedHealthCareers.com!